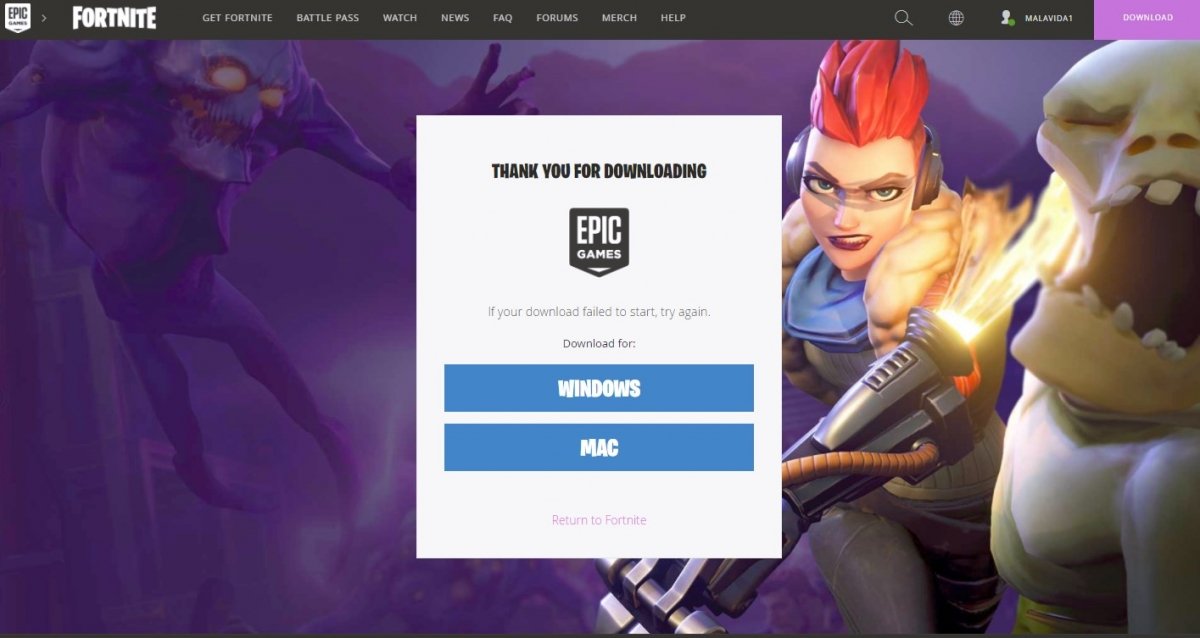 To be able to download Fortnite to your computer, there are two ways of doing so. You can download the installation file from Malavida which will subsequently download the game or go to the official web page. In the case of dosing so from Malavida, just follow these instructions:
Step 1: you need to download the game's installer. It's only about 30 MB and it's the file by means of which you'll manage to download and install the game on your computer. Just go to the Fortnite datasheet at Malavida, click on the green Download button and follow the instructions.
Step 2: once downloaded the installation file, just open it and it will take care of automatically downloading all the game's files to your computer.
If you decide to go to the official website, you'll need to follow these steps:
Step 1: on the game's webpage, you have to click on the button labelled as Download.
Step 2: choose the download platform, whether Windows or Mac. Click on Windows (or Mac if you want to play on your macOS) if the installer doesn't start to download automatically.
Step 3: once on your hard drive, you only have to run the installer to start to install all the game's components on your system and download the rest of files necessary to play.
As you can see, you can download Fortnite free of charge. But it hasn't always been a free game as before we had to pay. Since they released the Battle Royale game mode, turning the title into a MOBA, it became free-to-play financed by means of in-app purchases corresponding to different packs available within the game to customize its features and other interesting aspects.