Stadia is coming to an end. Google's cloud gaming platform promised a lot when it was announced in 2019. Play top-tier titles in the cloud from Android devices without purchasing a gaming PC or a next-generation game console. But competition is tough in the video game industry. So from January 2023, Stadia will no longer be available to its users.
If you are one of the lucky ones who got the chance to play on Stadia, you will have a Stadia controller in your possession. And it would be a shame to abandon it in a drawer or throw it away. However, thanks to its Bluetooth mode, you can keep using it to play games on any device with a Bluetooth connection. This means you can connect your Stadia controller to your TV, smartphone, computer, tablet, or other supported devices.
Before configuring your Stadia controller in Bluetooth mode, you need to know two things. The first is that this change is permanent. But this is not a problem since the only downside is that it would prevent you from continuing to play over WIFI with Stadia. However. With Bluetooth mode, you can continue playing via a USB cable.
The second thing you should know is that the switch to Bluetooth mode will only be available until December 31, 2023. This means that after that date, your Stadia controller will officially be unusable. Unless some developer decides to publish a solution. But the easiest thing to do is to go ahead and activate the Bluetooth mode of your Stadia controller.
How to unlock your Stadia controller for use with other devices
To continue using your Stadia controller when this cloud gaming platform is no longer available, Google offers you the opportunity to use that controller on other devices via Bluetooth connection. To do this, you will need to use a tool available from the web browser. Google recommends doing this from Google Chrome using a PC or Mac.
Before starting, it is recommended that you have the Stadia controller charged to at least 10%. And finally, connect the controller to the PC or Mac with a USB cable.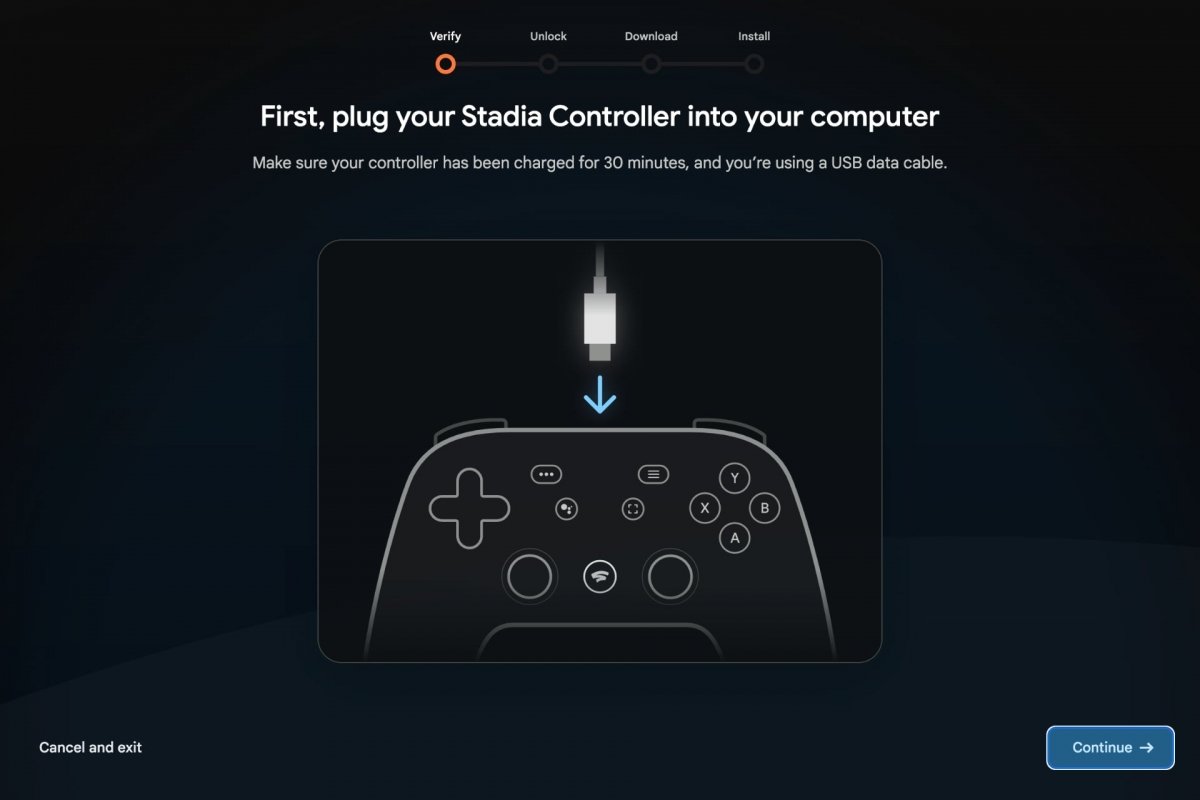 How to verify the Stadia controller
To unlock your Stadia controller:
Open Google Chrome.
Enter the online wizard to activate the Bluetooth mode on your controller.
Tap on the Start button under Switch to Bluetooth mode.
Give Chrome permission to configure the Stadia controller.
Tap the Connect button to link the wizard with your Stadia controller.
In the next screen, you will see some steps to follow.
First, disconnect the USB cable from the controller.
Then press and hold the ... (Options) button while reconnecting the USB cable.
Finally, press the ... (Options), A, Y, and Google Assistant buttons simultaneously.
If everything goes well, it will ask you if you want to download an update.
Confirm the download and tap Connect on the next screen.
The device is now listed as SP Black RT Family or similar.
Allow Chrome to install the update again.
When finished, you should have Bluetooth mode activated on your Stadia controller.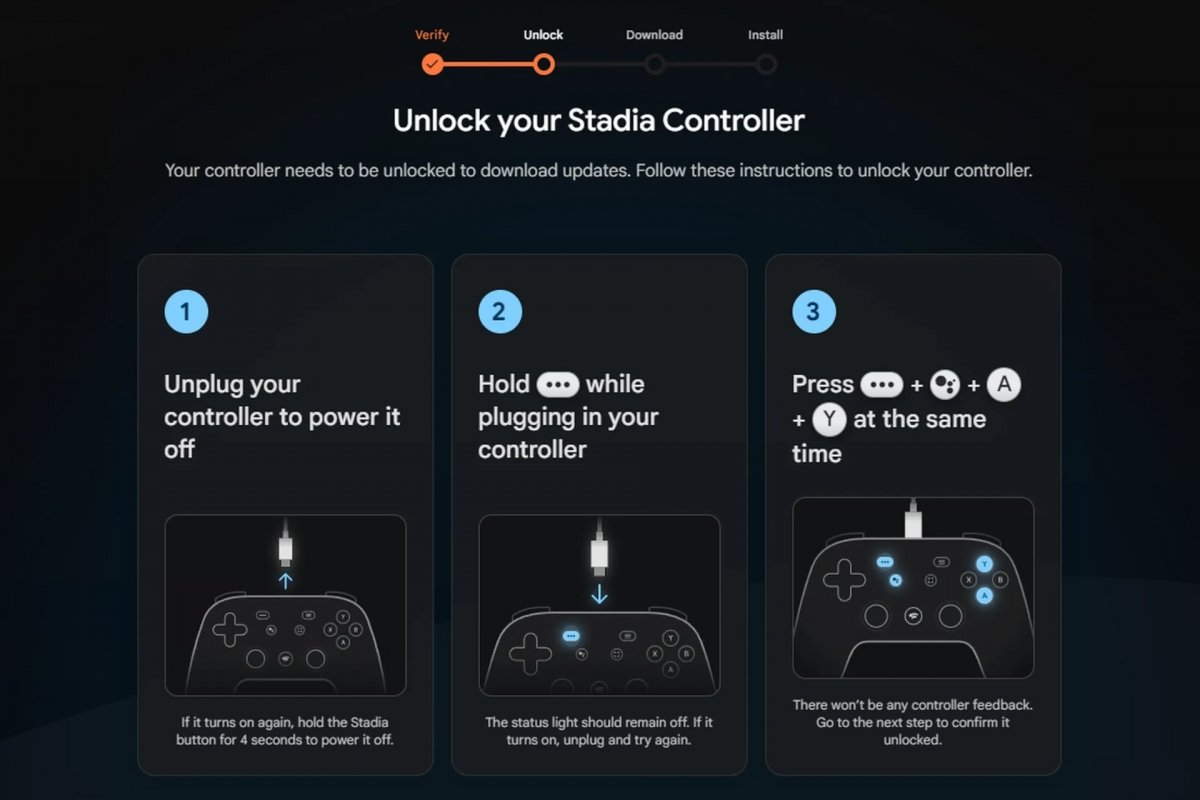 How to unlock the Stadio controller
How to connect your Stadia controller to another device via Bluetooth
If the above process goes well, your Stadia controller is now updated and configured in Bluetooth mode. Now, we need to know the steps to connect the controller to a compatible device via a Bluetooth wireless connection.
The Stadia controller is compatible with Windows 10 and 11 through Steam, macOS 13 through Steam, ChromeOS, and Android. All other platforms are not officially supported, but it is a matter of trying it yourself and checking the result.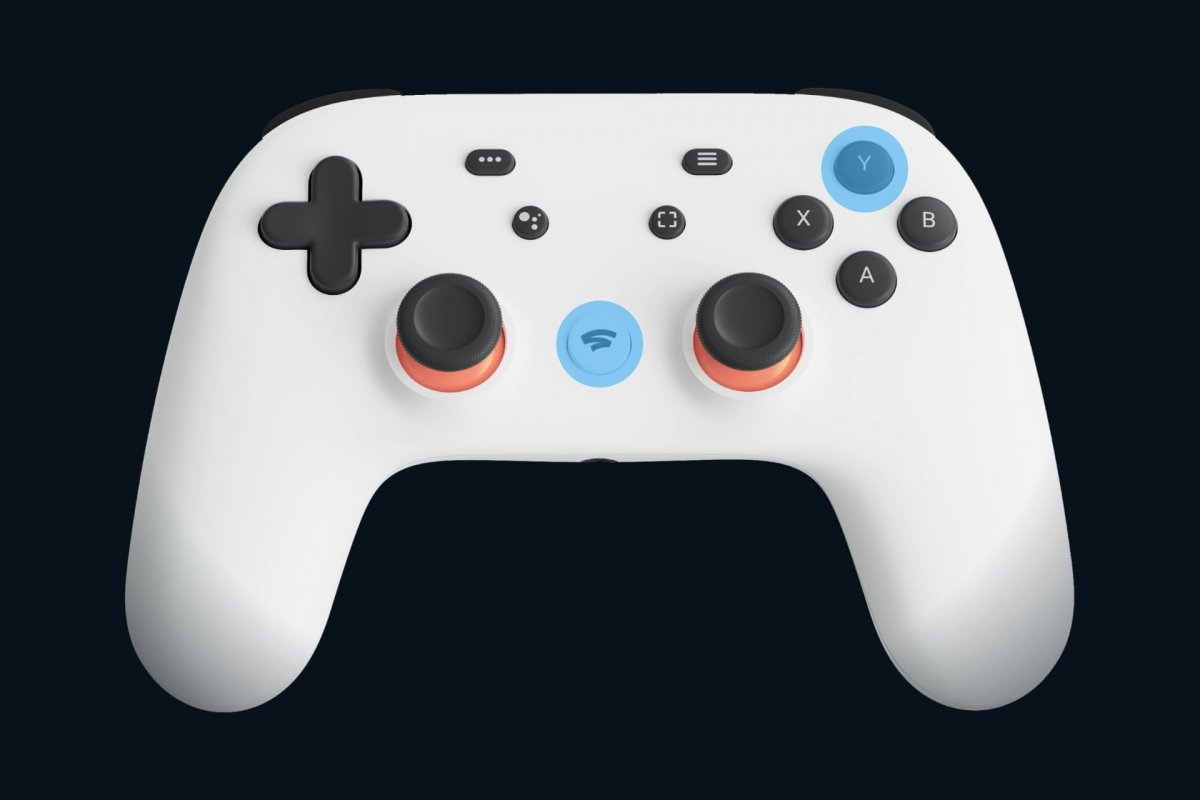 Pairing the Stadia controller via Bluetooth
To connect the controller to another device via Bluetooth:
Check that you have the Bluetooth connection enabled on that device.
Then, press the Y + Stadia buttons on the controller for 2 seconds.
The Stadia button light will flash orange. It means that you are in pairing mode.
Depending on the device, you may have to select the Stadia controller from the list.
If all goes well, the light on the remote will stop flashing, and the connection will be complete.