What once was a simple photo social network called Instagram has now become a powerful digital content distribution platform. Thanks to its vast audience, some profiles use this platform to generate profits. Because as long as there are people, there is room for advertising. If you want to boost your brand on this platform, you might be wondering how to increase your followers on Instagram. Read on to find out how to do it.
We have divided this guide into two sections to show you more clearly what you need to do to get more followers on Instagram. In the first section, we explain the tricks many people use to get more followers quickly and assess their effectiveness. In the second section, we go over some tips that really work to increase your audience.
How to quickly increase your followers on Instagram
As in most cases, haste is not a good thing. And when it comes to getting followers on Instagram, this rule holds true. If you want to have a profitable audience, trying to forcefully increase your followers is not the most advisable thing to do.
There are several "methods" to get followers on Instagram quickly. But none of them will help you create the most valuable asset in this social network: an active community willing to consume your content. Here are some examples of practices you should avoid:
Downloading apps to get followers. Apps that promise to get you more followers are constantly appearing in the Play Store and other repositories. They may ask you for money in return or they may not work at all. And, something that happens frequently, is that they end up disappearing.
Buying followers. This method is similar to the one above. Does it work to get followers quickly? Often, it does work. However, it is not worth it, as the profiles that join your community do not interact with you or see your posts.
Follow me and I will follow you. An old trick is to post using hashtags like #followforfollowback. This method is not very effective and it does not follow an organic behavior.
Advertising on Instagram. This is indeed a procedure that works, but it must be accompanied by something else. When you promote a profile, it usually receives more visits. However, if it is not attractive, there is little chance that people will follow it. Let's say that advertising on Instagram works, but it must be accompanied by the tricks you will see in the next section.
6 tips and tricks to get more followers on Instagram
Now that you know the tricks that some people use to increase their followers and why they are not recommended, we will show you the really effective tricks. These are the ones that will help you build a powerful profile with a solid community and audience.
Create content that generates interactions
The number of interactions a publication has is often referred to as engagement. What kind of content attracts people the most?
Personal content. Bringing out your most human side is very effective in all social media. Likewise, most people like profiles that feel natural.
High-quality photos and videos. This tip applies to everyone, it doesn't matter what industry you work in. If your photos are high quality and well thought out, your profile will get more attention. Your photos must have an adequate resolution, and you have to make sure to avoid shaky videos.
Follow a defined theme. Determine what your profile is about and adhere to that. You may have a gallery to showcase old photos or car images, or maybe you want to build your brand. In the latter case, make sure to include professional and personal content naturally.
Take a look at the competition. It is not about copying other profiles, but you can follow their patterns to replicate them with your own content. What are others doing well? What do you like the most about their content?
Use the right hashtags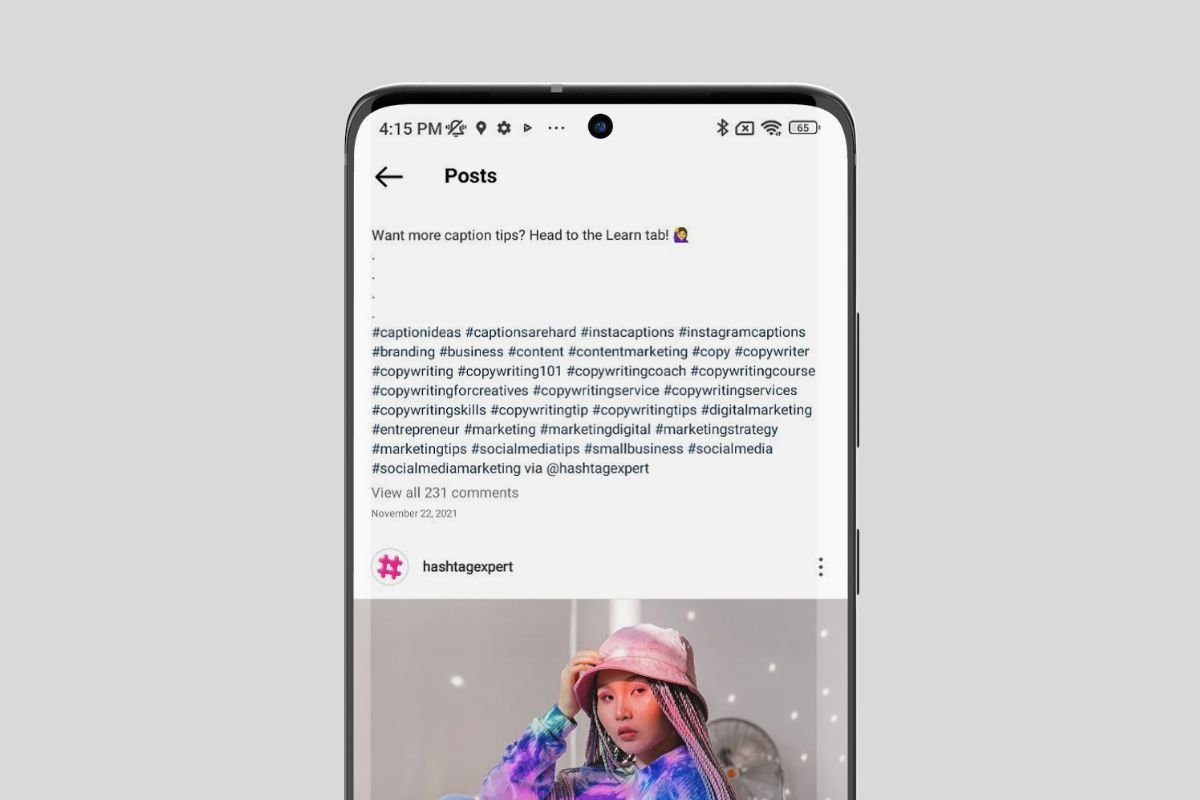 Using too many hashtags may not be very positive
Hashtags are present throughout Instagram: in videos, photos, stories, and Reels. Wondering how to use them correctly?
You do not have to go to the limit. It is not necessary to fill a publication with the 30 tags allowed per post. Adding 8 to 11 well-thought-out ones will be enough.
Look for tags that are not so popular. Positioning content on a hashtag that receives a high number of posts every day is very difficult. It is best to try to get into the featured sections of tags with less traffic.
Do not always use the same hashtags. Try to vary the hashtags you use to associate your content with more categories.
Take advantage of all formats
Instagram has several formats for creating content:
The profile feed, where you upload videos and photos.
Stories.
Instagram TV.
Reels.
Live.
Settling for one of them reduces the chances of someone getting to know your account and eventually following you. Additionally, Instagram promotes profiles that take advantage of all the platform's capabilities. That is why you should read our guide on Instagram Reels to find out what they are and how they are made.
Wait for the best time to post
Even though chronological order disappeared from the Instagram feed some time ago, the time you post your content is still influential. It is best to post during those hours when your audience is checking WhatsApp. How can you know this?
The platform offers a series of statistics to determine the best time to publish for professional and business accounts. If you are interested, we tell you how to have a business or professional account on Instagram.
Do not post too much
Do not think that posting four or five photos per day will increase your chances of success. Focus more on offering quality content and not so much on quantity. However, do keep in mind that you must have an editorial calendar, as this tool will help you plan what you will post and when.
Seek partnerships
Our last tip to you is to try to collaborate with other Instagram users. Start by establishing connections with profiles of a similar theme and number of followers. As you grow, reach out to more popular accounts and aim for more ambitious collaborations.
For example, if you have an Instagram profile where you recommend places to visit, it is not a bad idea to reach out to a restaurant and offer them a mention in your account. In return, their managers can mention your profile in their stories or a post. Both parties get the same thing: free promotion.