If we think of a list of must-have applications for our smartphone, possibly one of the first ones that come to mind is WhatsApp. The messaging app owned by Meta is, to date, the undisputed queen of its sector. However, we can say that it offers fewer features than it could, either because of development issues or because those responsible for it do not want to add them. For this reason, we can find some interesting WhatsApp mods on the Internet with a much larger number of functions, and one of the best mods around is WhatsApp Aero. Among its many additional features, when compared to the original version of the app, we will find the ability to hide our online status. We will tell you more about this function and explain how to activate it.
How to avoid being seen online in WhatsApp Aero
If we look at the privacy options offered by the original application, we will also find the option to prevent our contacts from seeing our online status, but this option is limited in comparison, as it will depend on the option we chose for our last connection time. In addition, it may happen that your device does not support the most up-to-date version of WhatsApp, so you may not even be able to access this function.
If that's your case, you will be happy to know that by using WhatsApp Aero, you will not have any problem hiding your online status. To do so, follow the steps below:
Open WhatsApp Aero on your Android device.
Tap on the three vertical dots at the top right and select the FMMods option.
In the new menu, choose the Privacy and Security option. It will be the first on the list.
You will have to activate the Freeze Last Seen option. Restart the application to complete the process (exit and reopen the app for this option to take effect).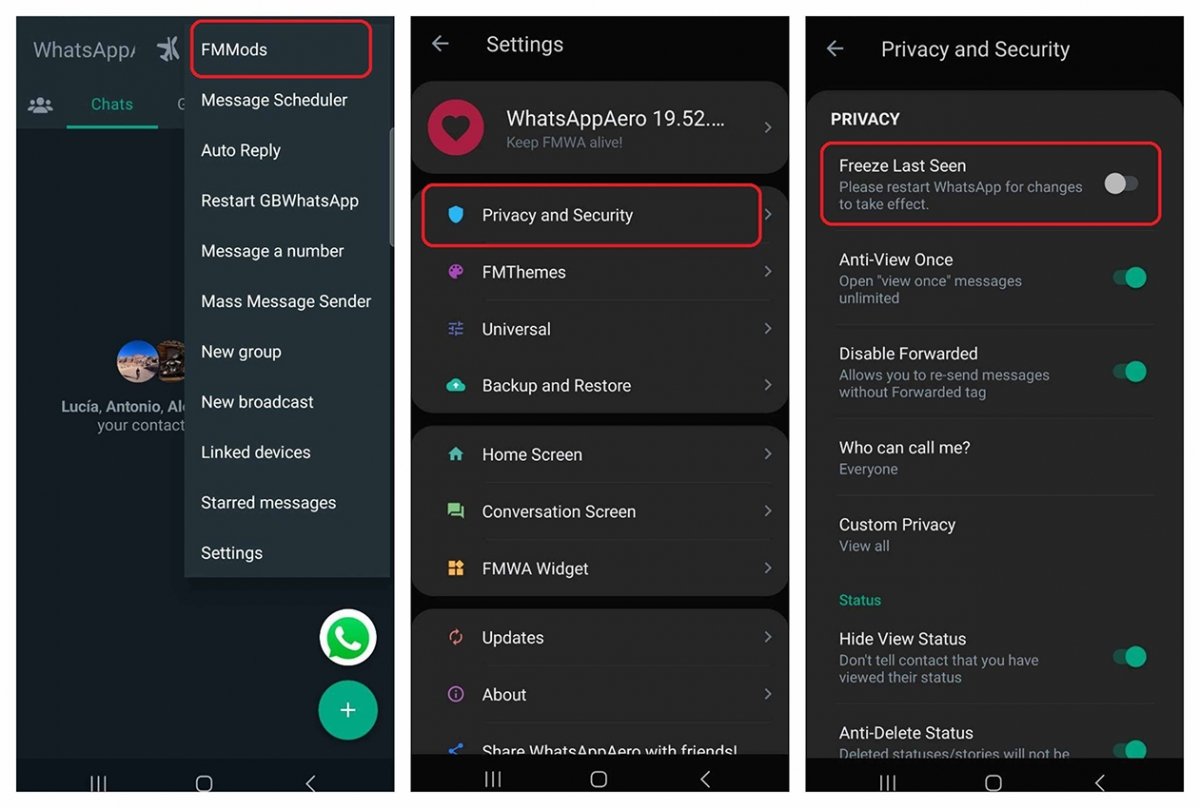 These are the steps to hide your online status in WhatsApp Aero
Once we have completed this process, our contacts will not be able to see when we are online, which is ideal if you want to enter the application without anyone knowing. Even if your contacts use the official version of WhatsApp or a mod, this function will prevent them from seeing your online status. And, of course, this is a fully reversible process, so if you want to show your online status again, you will only have to follow the same steps again.