ACMarket is a huge application market. Many of those apps have been modified to get certain paid features or benefits for free. Also, we find other types of content, such as books. On the other hand, the application itself integrates some useful functions. For example, we have a virus scanner or a storage optimizer.
To start using ACMarket, you must download its Apk. You can do this directly from this page, where you will find the most recent version. Once installed and open, ACMarket will welcome us by asking us for some permissions. To continue, tap on OK.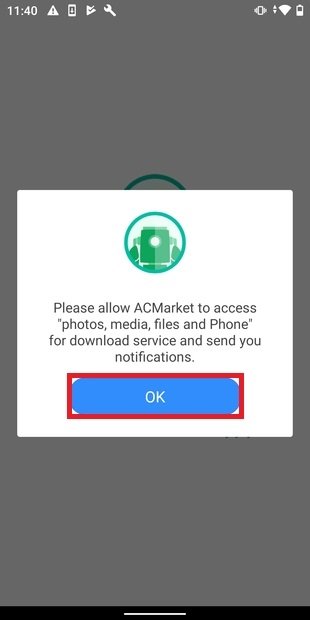 Welcome screen
Now, the application will ask us for permission to make calls. This permission is not essential and we advise you not to grant it. In any case, select Allow to allow and Deny to reject.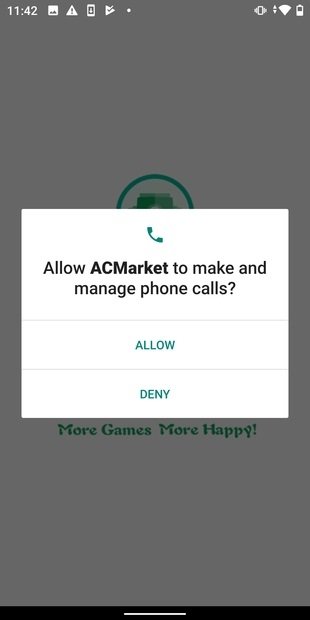 Permission to manage calls
The next permission to be granted is access to storage. This one is a must. Otherwise, ACMarket will not download applications to our device. Choose Allow to grant it.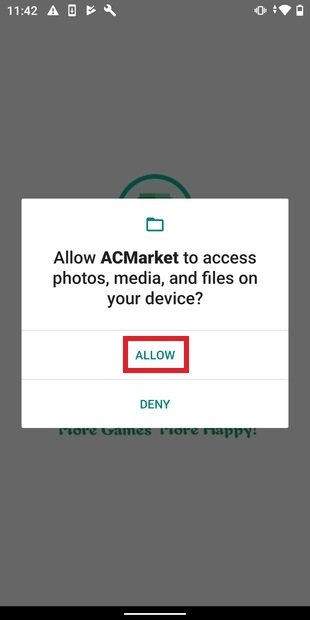 Permission to access our storage
You are now on the ACMarket home screen.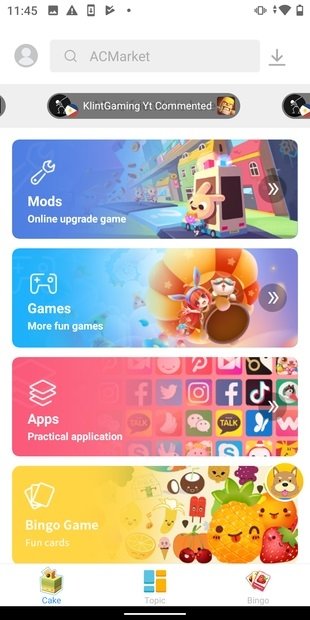 Home screen
Although it is not essential, to access some extra functions, you need a user. Let us show to create one.
How to create an account at ACMarket
First, open the side menu by tapping on the user icon.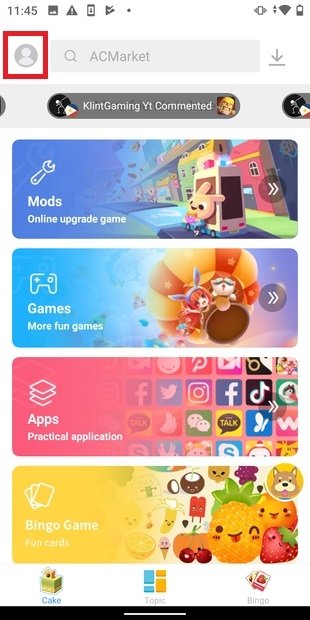 Open user menu
Now, tap on Login.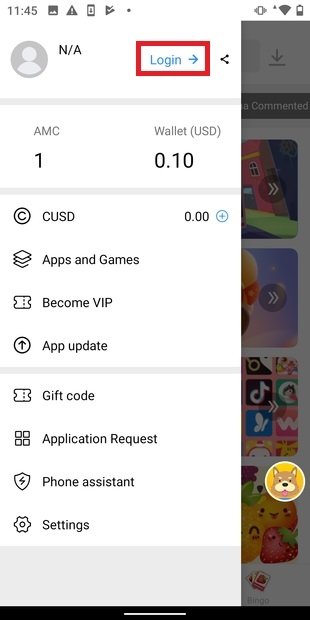 Menu to log in
Enter your email address and tap on Continue.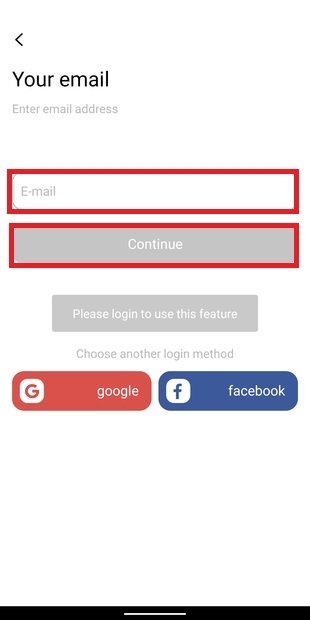 Starting to sign up for ACMarket
Choose a pseudonym. Use the Continue button to continue the process.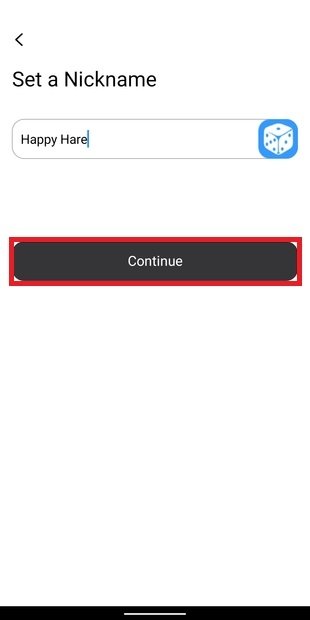 Choose a nickname
Select your country. Tap on Continue.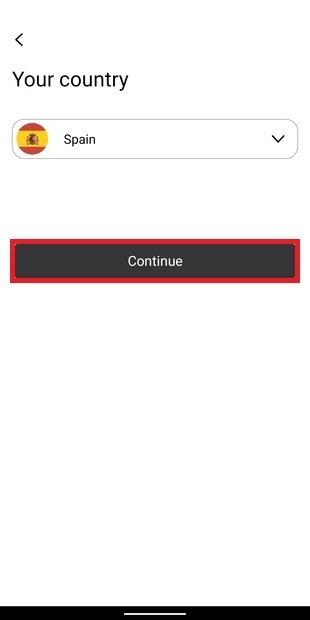 Choose your country
Enter your age and tap on Continue.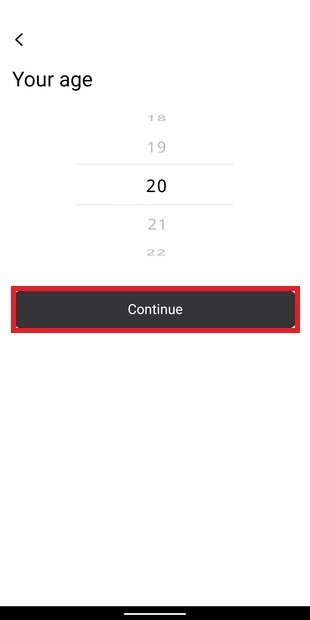 Choose your age
Choose your gender. Tap on Continue.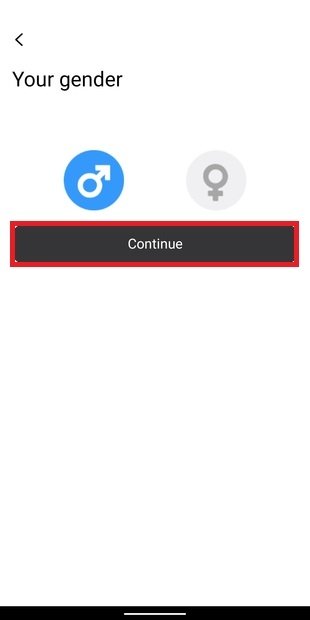 Choose your gender
ACMarket now lets you create a customized avatar. Use the different options at the bottom of the screen to customize it to your liking. Once you are done, tap on Finish.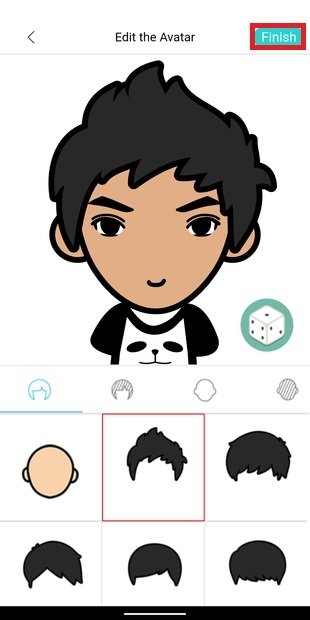 Create an avatar
Set a password. It must be a minimum of 6 characters and a maximum of 32. Tap on Continue for the last time.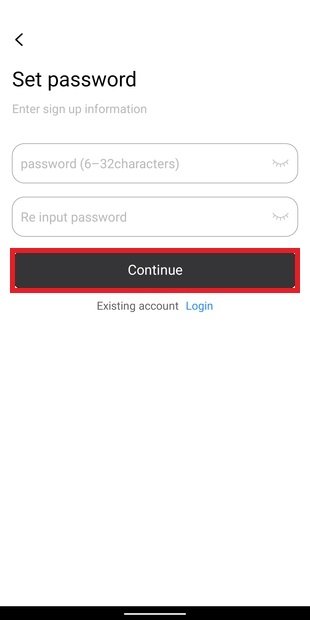 Create a password
Once this is done, you will have a user account at ACMarket that unlocks some exclusive features.
How to download and install applications with ACMarket
The main mission of ACMarket is to provide software downloads to the user. It is easy to start downloading content. To start, locate the application you want to install. We will take as an example WhatsApp, a popular application that has not been modified. On the main screen, locate the search bar.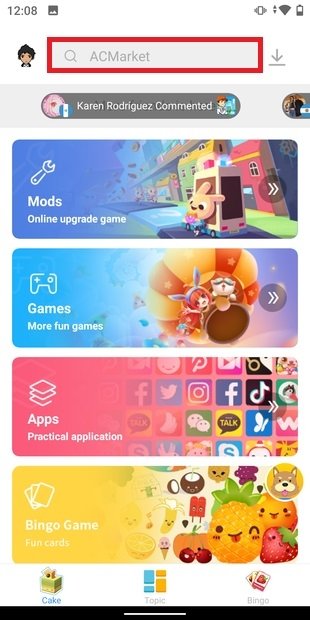 ACMarket' search box
Type Whatsapp and tap on enter.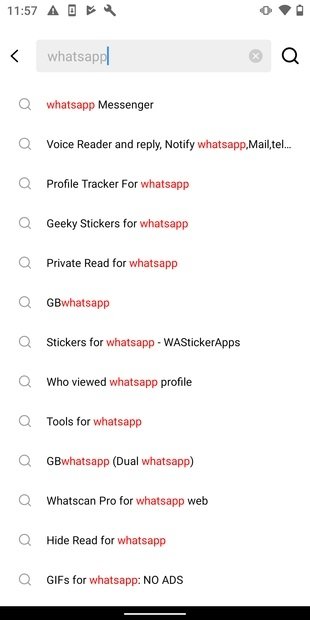 Search for WhatsApp
Among a large list of utilities and accessory applications, you can find the official version of WhatsApp. To start the download, tap on the arrow icon on the right.
Start the download
Tap on Free Download.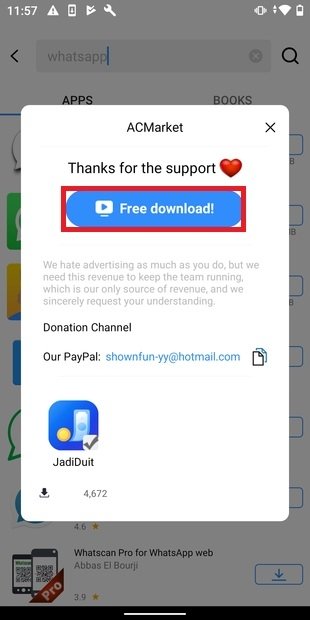 Free download of WhatsApp from ACMarket
After watching an announcement, the download will start. You can check its status on the notification bar.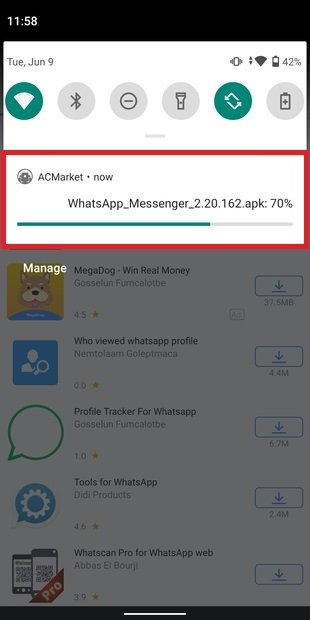 Progress of the download of an application
Once the Apk is available, the installation starts automatically. Tap on Install to continue.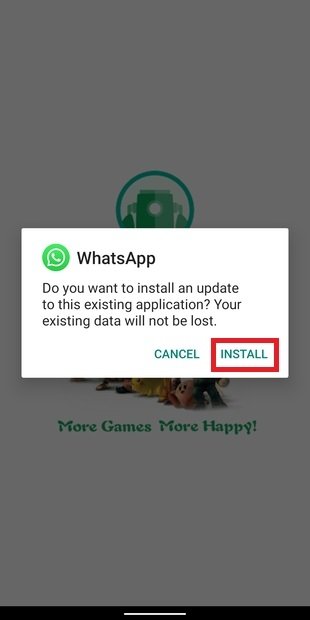 Installing WhatsApp
If we see the message App Installed the process has been successfully completed. Select the Open option to open the application.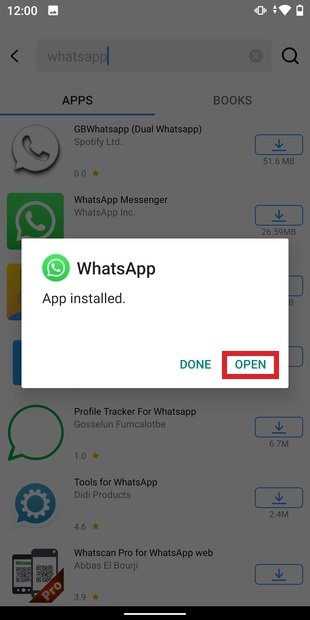 Open the application you've just installed
How the rest of the functions of ACMarket work
ACMarket has some other features that are worth mentioning. Next, we make a brief review of the application so that you can learn how it works.
On the initial screen, you will have access to the most important categories.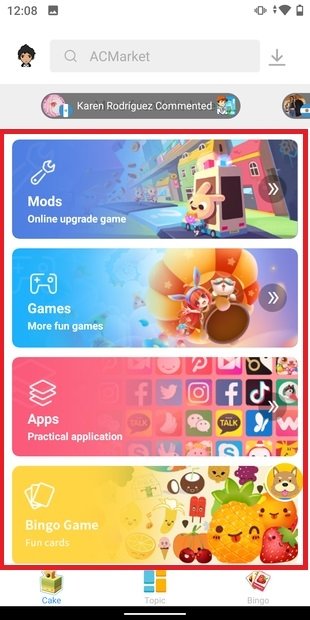 Featured categories
We can also access the download manager by tapping on the top right corner.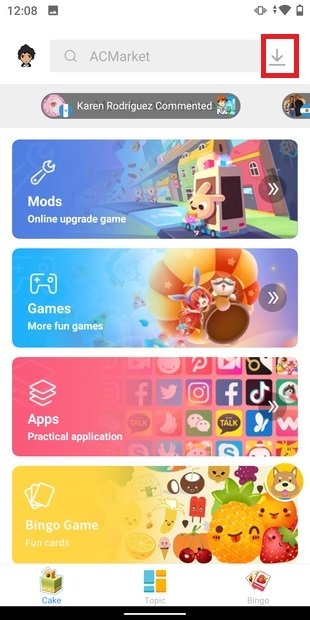 Access the download manager
In that section, it is possible to check which applications we have installed and if there are updates available. We also have a summary of the storage status.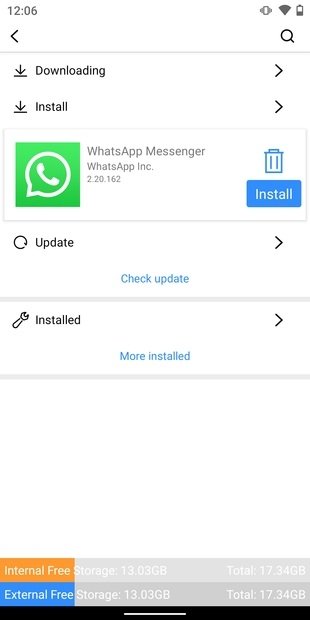 Download manager
Back on the main screen, we focus on the bottom bar. We have quick access to the home page called Cake, to a forum where users participate, Topic, and a mini-game called Bingo.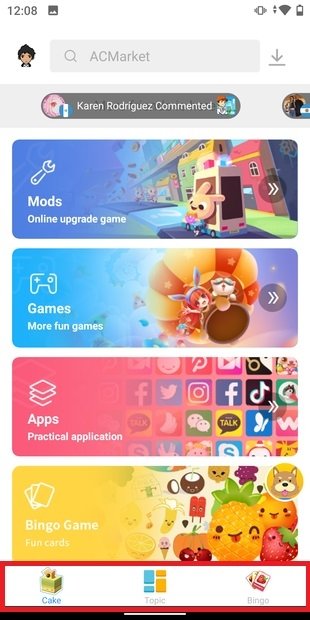 Lower menu
However, it is in the user menu where we find most of the functions of ACMarket. To open it, we must tap on our avatar.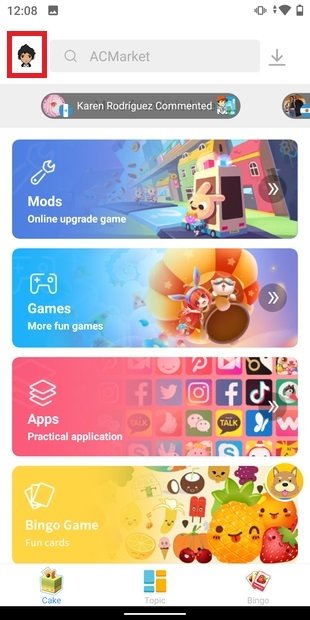 User menu
In the menu, we find different options that are not currently available. This is the Become a VIP option or the virtual wallet that launches messages like This function is not available now.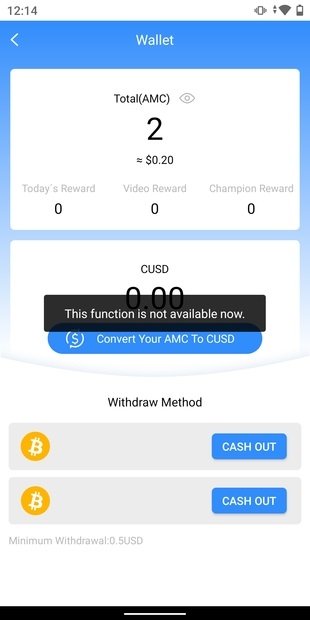 Functions not available
The sections Apps and Games and App update bring us to the same place: the download manager we have accessed from the home screen.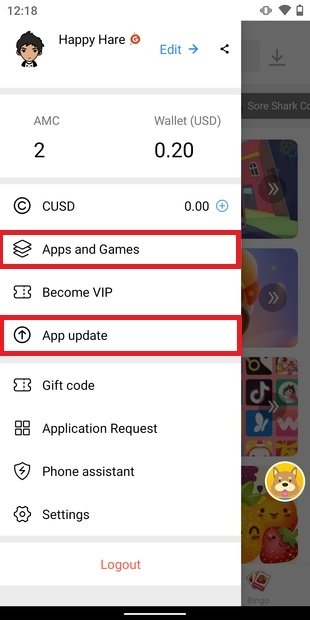 Access to the download manager in the user menu
The Gift code option lets you redeem codes, App request shows a form where you can request missing applications, and Settings lets you modify some additional features.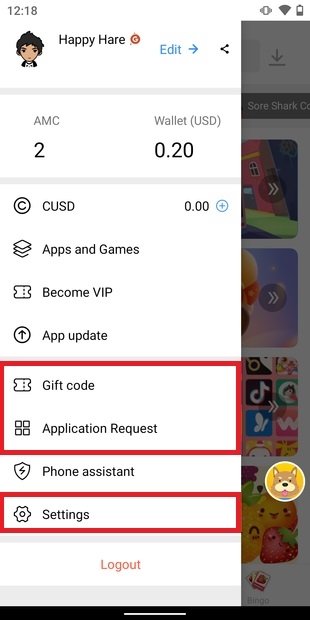 Other ACMarket sections
Finally, Phone Assistant deserves our attention. This section is like a small Swiss army knife where we can clean the storage of our phone, check the installed applications for viruses, or consult those we have marked as favorites.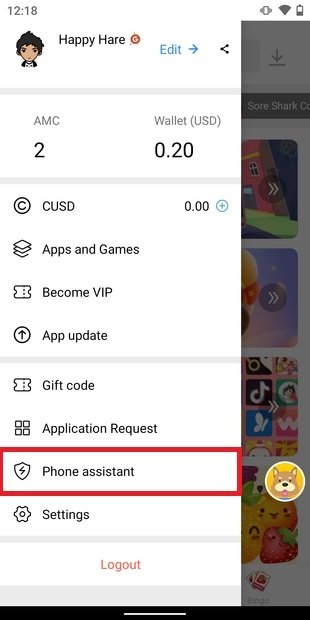 Telephone assistant function
To start a scan of the apps we have installed with ACMarket, tap on Virus Scan.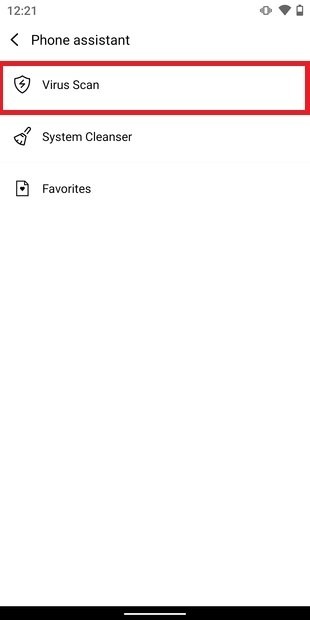 Virus scanner
Then, select the application you want to scan.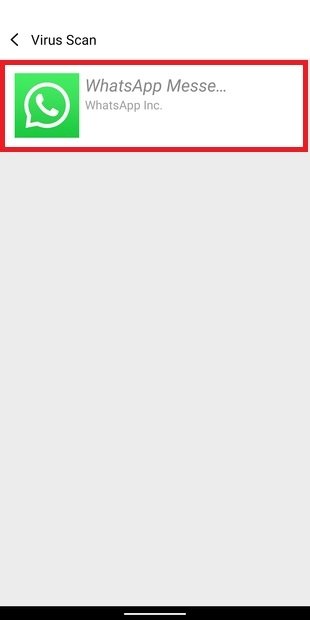 Choose an app to be scanned
On-screen, you will get a complete report with information from different websites dedicated to virus detection.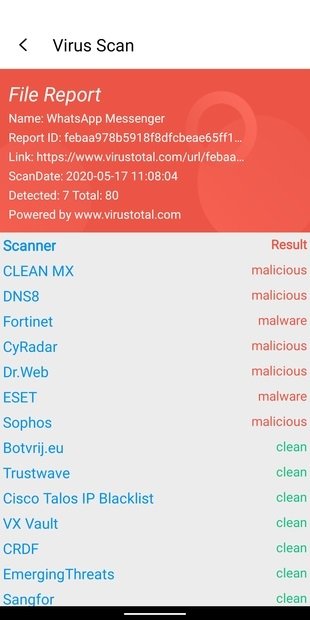 Complete WhatsApp report
As for the storage optimizer, tap on System Cleaner to start it.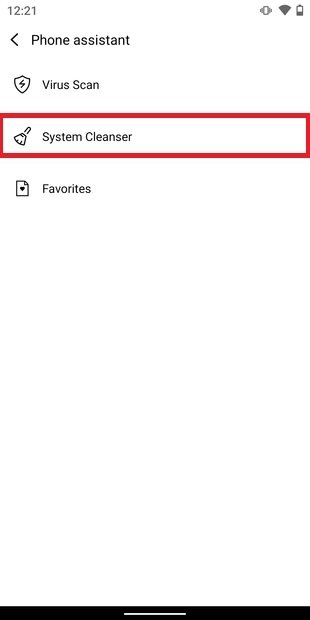 Storage cleaner
Tap on Clean all and ACMarket will clean up any unnecessary data.
Clear unnecessary files from ACMarket
With this guide, you will learn how to get the most out of ACMarket.