BeReal is a very special social network. It lets you upload one post per day at a specific time, and encourages its users to be as "real" as possible. As in any successful social media, BeReal is much better the more friends we have added to it, so it is worth having as many of them as possible. Let us tell you in this article how you can search for friends to add to your BeReal profile.
How to search for friends to add to BeReal
As mentioned above, BeReal is a rather special social media. Once a day, we will get a notification with the message "Time to be real", which means we have two minutes to post a double photo of ourselves, one with the device's rear camera and one with the front camera. We can repeat this photo as many times as we want, but this platform invites us to be spontaneous to keep the platform's essence. Once we have our publication "in the air", it is time to see our friends' publications, but we must first add them.
To add all our friends, we have two options to choose from, but both are equally simple. To add friends, follow the steps below from your Android device:
Open the BeReal application.
Once we have logged in (or created an account), we have to tap on the button that we will find at the top left of the screen.
We will have to give permission to the app to access our contacts.
All of our contacts will be displayed in the list. By selecting "Invite", we will send them a friend request they will see if they have this application installed.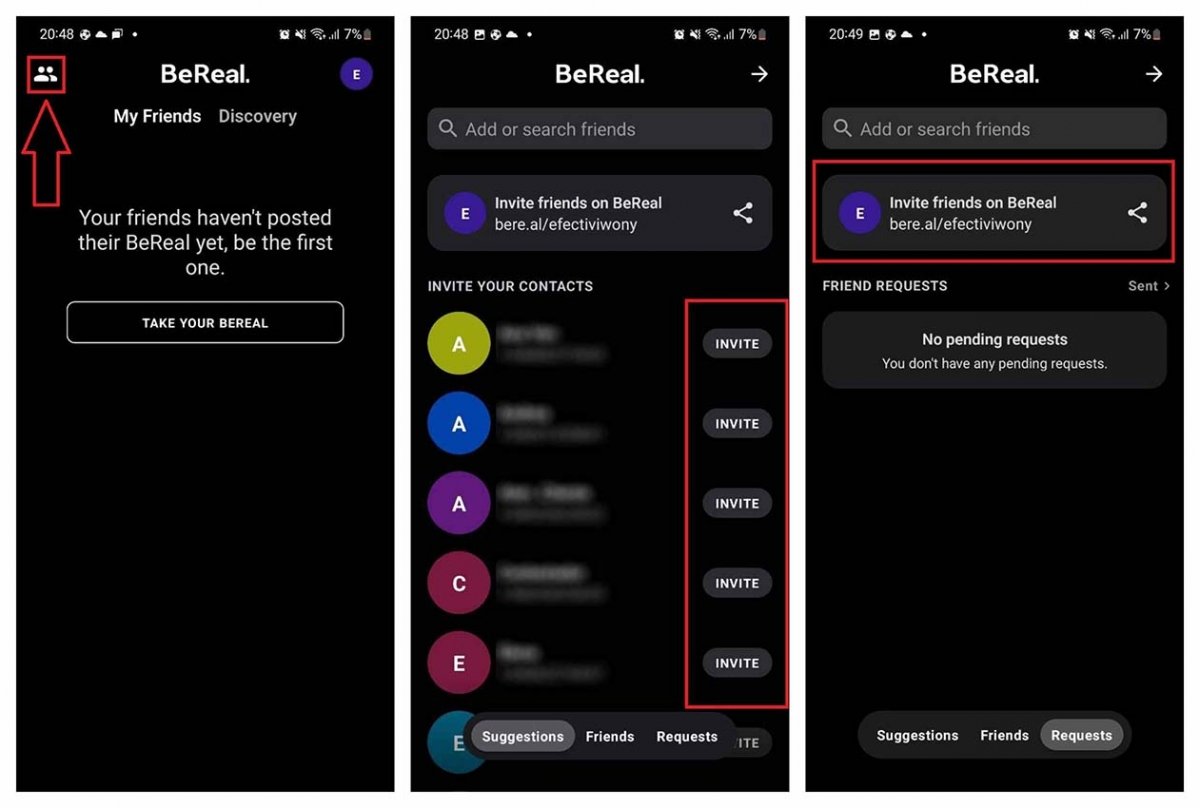 This is how you can add friends in BeReal
If you do not want to add each contact individually to your list of friends in BeReal, you always have the option to invite contacts through a link that you will find at the top of the screen. If we tap it, it will let us share this link through other applications such as WhatsApp or Telegram.