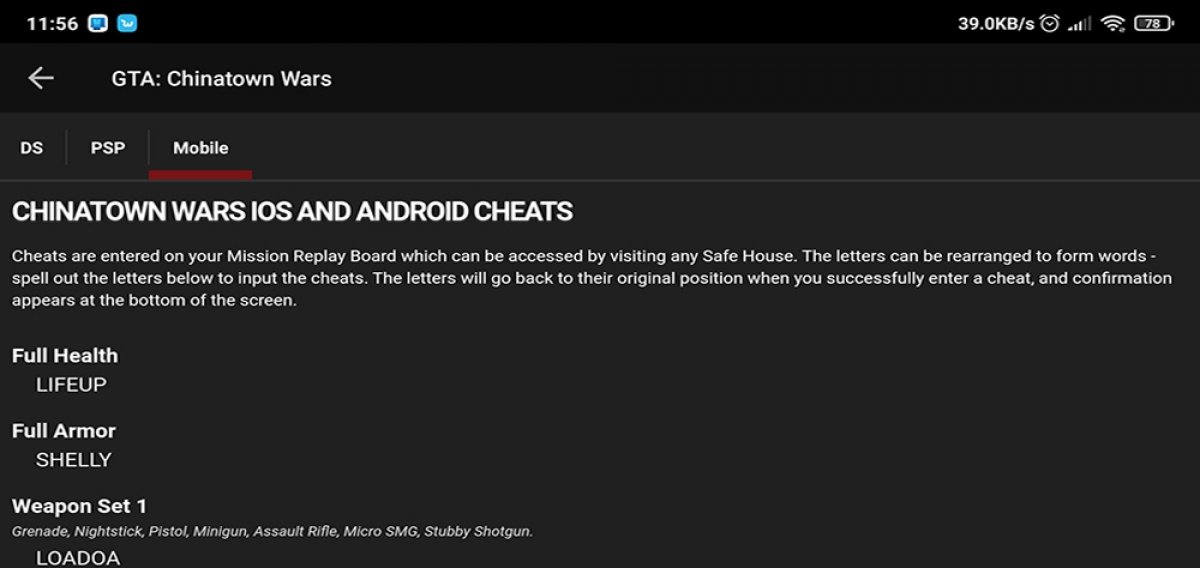 To get the cheats for GTA working on Android, you first need to know something: if you're trying to find out how to play any Grand Theft Auto with cheats on your smartphone or tablet, we've got some bad news for you as only GTA Chinatown Wars supports cheats. The rest of mobile versions of GTA games don't support this kind of external help… and neither will you be able to find cheats for the iOS versions.
In the case of Chinatown Wars, to get those cheats working, you only have to input the codes shown on the board to repeat missions in order to cause the desired effects: weapons, health, armor, decrease in the search level…
With regard to the rest of Grand Theft Auto games and other platforms (video consoles and PC), you'll be able to find the corresponding instructions in each one of the games' sections. Once you access each one of them, you'll see a bunch of tabs on the upper part of the screen which you can click or swipe to switch platforms.
Each system works differently and whilst these cheats are applied on PlayStation, Xbox or Game Boy Advance by pressing a sequence of buttons on our gamepads, on a PC we have to input different codes.
This application offers us the advantage of being able to look up any cheat without needing to search on the Internet and browse through dozens of forums full of averts where we don't usually manage to find what we're looking for. Here, they are updated on a regular basis and presented on a clean interface without ads to make it easier to use them whilst we play.