Facebook Dating is the alternative to Tinder, created by Mark Zuckerberg's company. It is not a separate application, instead, it is incorporated within the social network app. This is not a new function of the social network, but a completely independent new service.
It differs from Tinder in two fundamental aspects:
The goal of Facebook Dating is to create stable relationships. This means that in the first stages of getting to know our better half, we can only chat, without sharing audio-visual material.
The candidates you will find will be people who mostly share your personal interests.
What is Facebook Dating for?
This feature has the same objective as many other similar applications: to find our better half. To do this, the application will create a profile independent from ours, without the need to create an account from scratch (hence its independence from the mainline of Facebook). This profile is only accessible to people who have activated Facebook Dating, and will not be visible to anyone on our friend list at any time.
Precisely, one of the strengths of this service is the total privacy of its users. Another point to keep in mind is the constant monitoring by a team that will not hesitate to expel those who use the application improperly.
However, its strongest point is undoubtedly its compatibility algorithm, since it looks for people who share hobbies, interests, or who are in the same groups or events. According to its developers, it is way more accurate than any other similar application.
How to use Facebook Dating?
First, we open the app and tap on the menu button: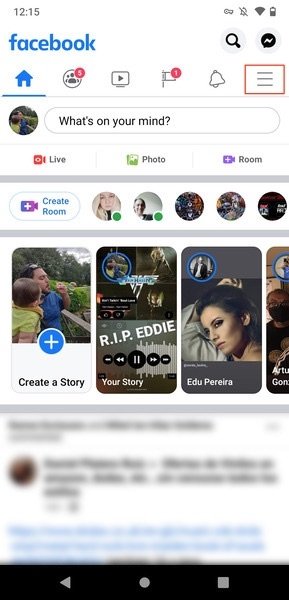 Facebook's home screen
Then, we tap on Dating: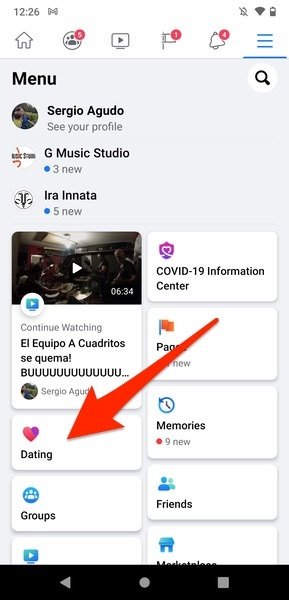 Facebook's menu
Now, tap on Get started: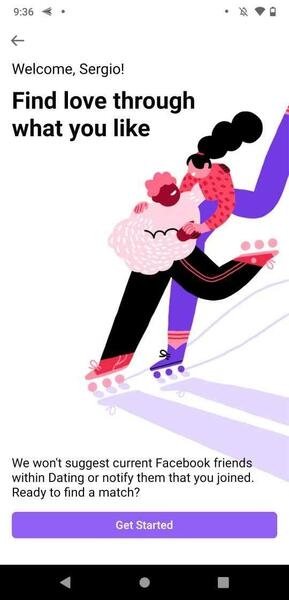 Start creating your profile
On the next screen, you will see a presentation of Facebook Dating. Tap on Next to continue.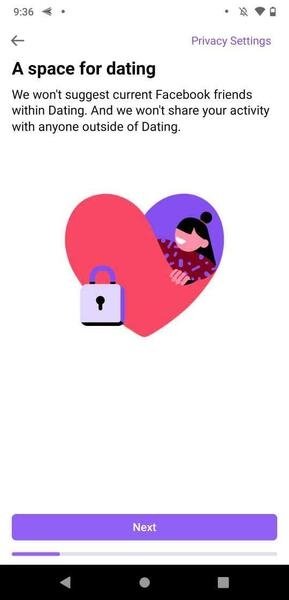 Introducing Facebook Dating
Here, you will find some rules about the use of the function that you should read and keep in mind. Once you have finished, tap on Next.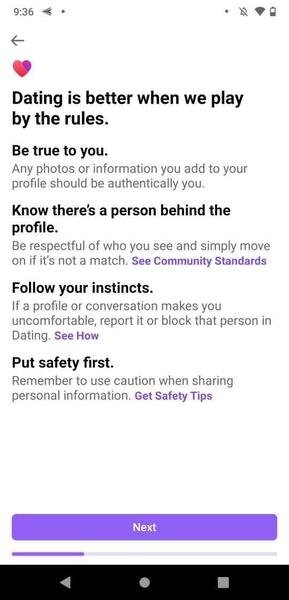 Facebook Dating's rules
You will reach a screen to edit your personal data. When you have finished, tap on Next: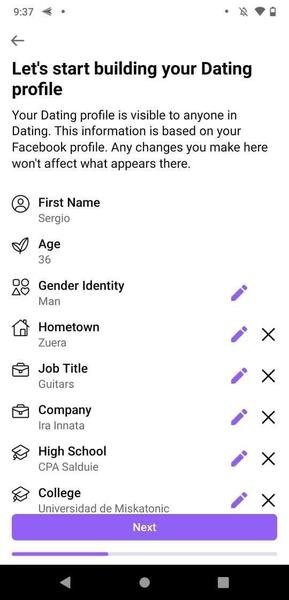 Facebook Dating's user data
Now, you will have to choose whether you want to date men, women, or both. Select your preference and tap on Next again: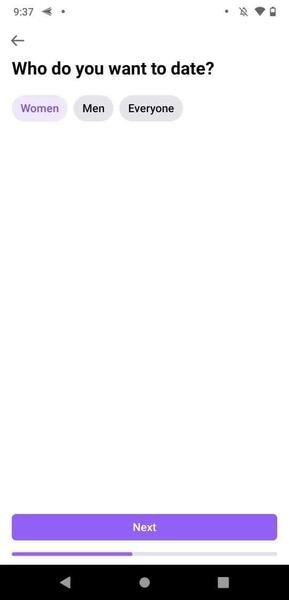 Specify what you're looking for
You will then have to accept the way Facebook Dating will use your data. Read it well and tap on I Accept: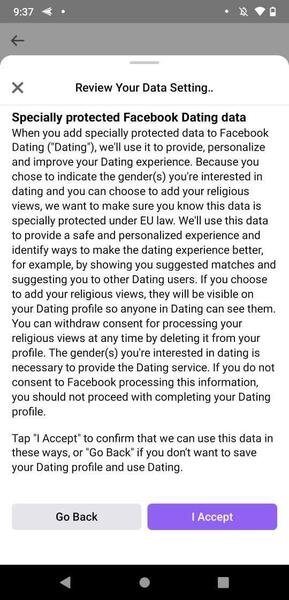 Data treatment info
At some point, the tool will try to determine your location to find your possible partners. Tap Next when you are done: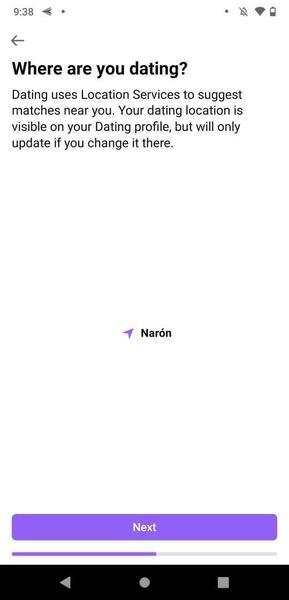 User location data info
From here, it is time to answer the questions about you. Specify your height and tap on Next: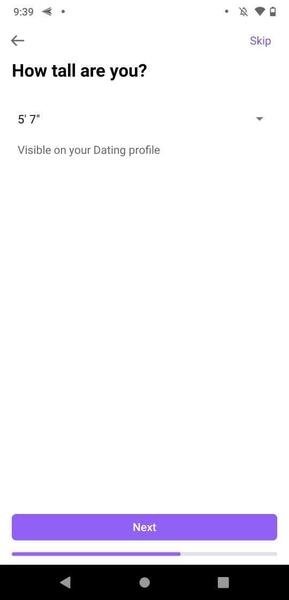 User's height
In the next question, you will have to answer whether you have children or not. Now, tap on Next to continue: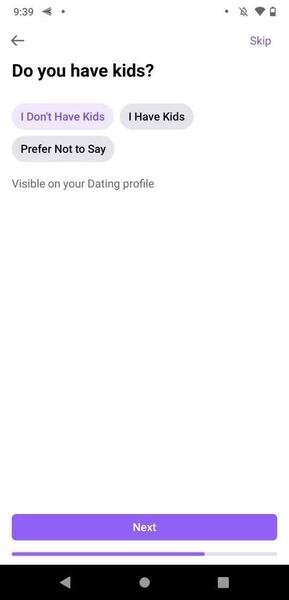 User's parental status
Next, you will have to indicate the level of your studies. Tap on Next when you are done: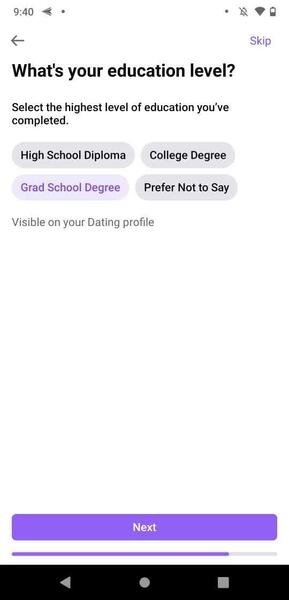 User's educational level
Now, select a profile photo that you think shows you favorably (or leave the one on your Facebook profile if you think it is okay). Tap Next to confirm changes: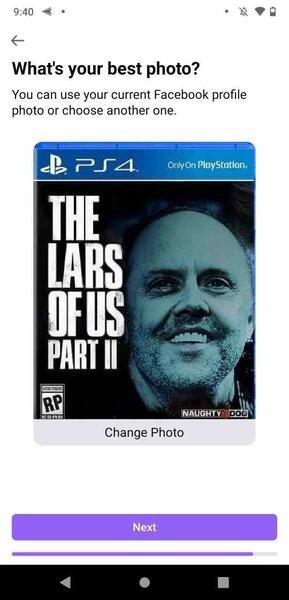 User's profile picture
Now, you are on the last step. Tap on Confirm to start using Facebook Dating: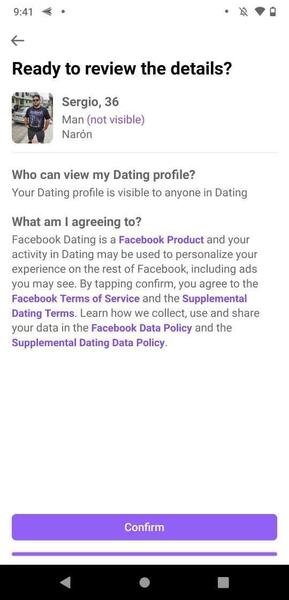 Confirm the creation of the profile
When you are done, your Facebook Dating profile should already be active. You can let the function complete it for you, or you can complete it manually: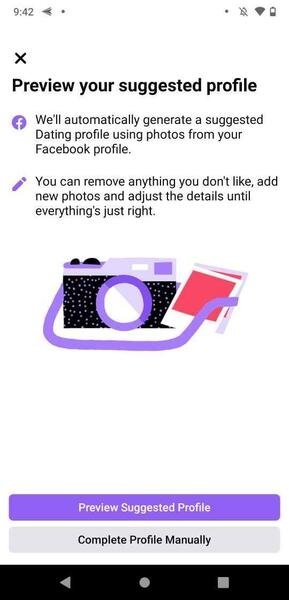 Assistant to complete the profile
In your profile, you will see that you can answer several questions. You should answer as many as possible. This way, the algorithm can show you people who might match your interests more accurately.
Now let's get to the heart of the matter: how do you meet people here? Well, when you have your profile completed, a screen like this one will be displayed: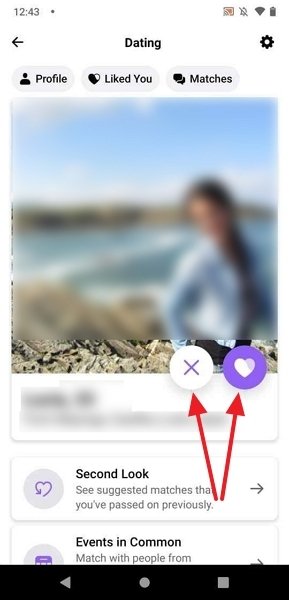 Date suggestion
If you tap on the cross button, you will discard that person. If you tap the heart button, you will show your interest. You can also tap on the photo to access that person's full profile: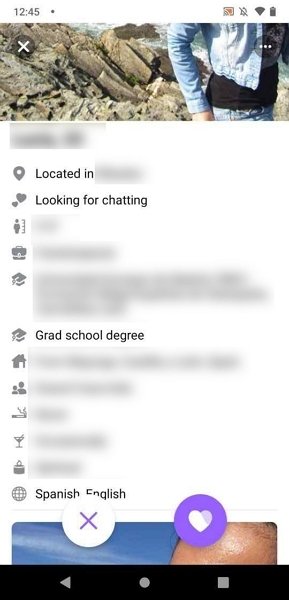 Complete profile of a possible date
If the person you like also taps the little heart button when seeing you, then, there will be a match (just like in Tinder), and you can start talking. Until then, the Matches tab is empty.
Another very interesting aspect to keep in mind are the functions that appear at the bottom of the main screen:
Facebook Dating's extra options
Let's detail them below:
Second Look: lets us review the possible matches that we have discarded.
Events in Common: search all Facebook Dating users who have responded to the same events as us and show them to us. We can show interest in them or reject them directly from this section.
Groups in Common: Same as above, only looking at all the Facebook groups we have joined. We can also show interest in them or reject them from this section.
The Secret Crush function deserves a separate explanation, as it is very interesting (especially for shy people). Do you have people among your Facebook friends and Instagram followers who have always liked you but you have never said anything to them? Well, tap on the name of this section and you will arrive at this screen: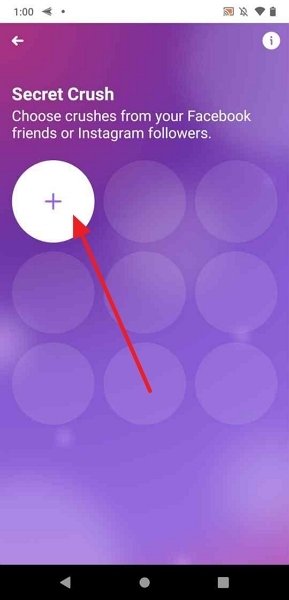 Starting Secret Crush
Tap on the cross to start adding friends to this section (you can add up to nine). When you are done, you should have something like this: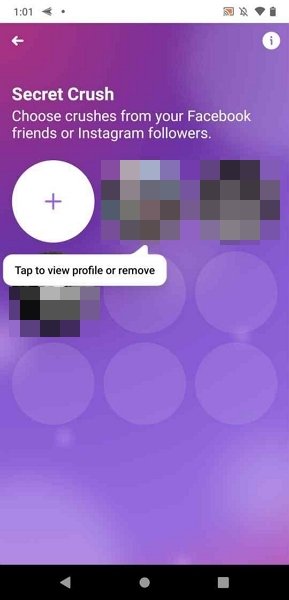 Secret Crush added
Okay, you have them added, now what? So, if they use or join Facebook Dating, they will be notified that they are someone's crush. They will not be notified if they are removed from the list. Your name will not be revealed to these people unless they add you to their Secret Crush list. By the way, the activity in this section will not be displayed anywhere on Facebook.