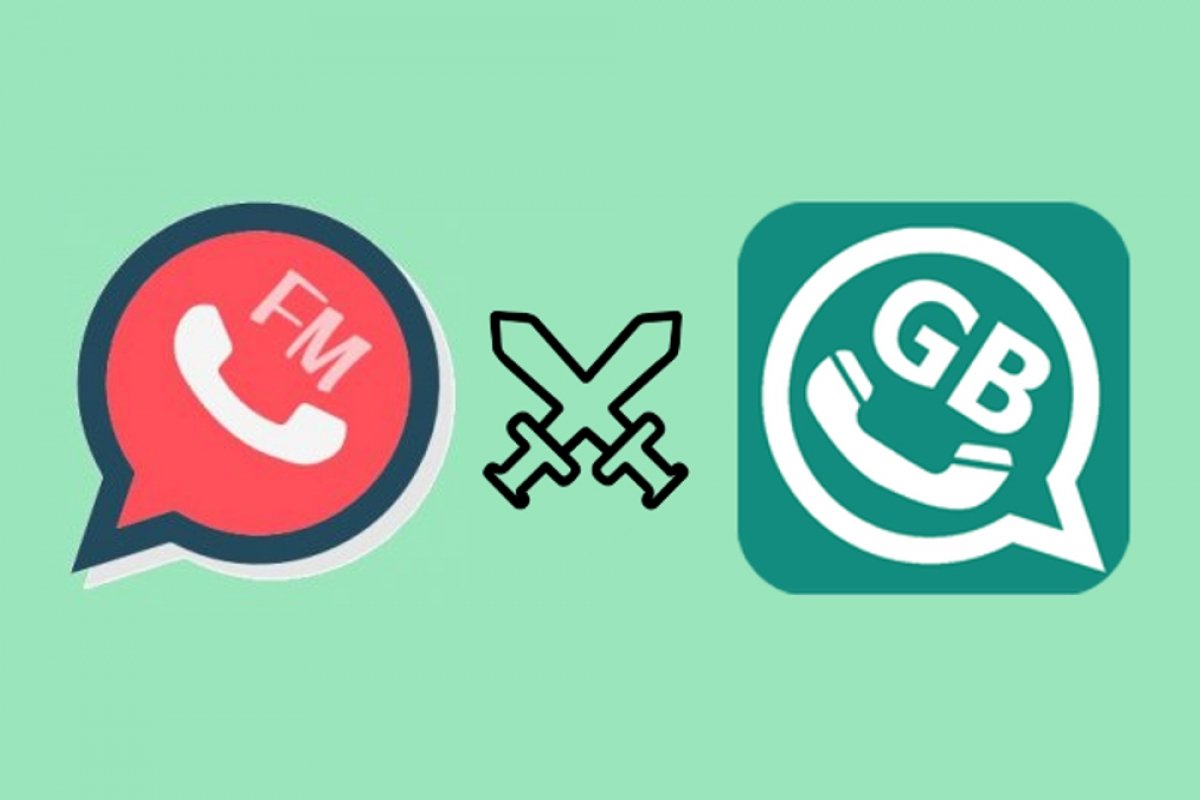 The differences between the two MODs for WhatsApp, GBWhatsApp, and FMWhatsApp, are negligible, if not almost non-existent, although there are always small details and nuances that could be more or less important depending on your likes. Let's review different aspects of both apps to try to compare them.
Interface
Both MODs use the original WhatsApp Messenger for Android interface by default. On the other hand, if you want to install a different skin, both also go to the same options repository, where there are just over 4000 designs.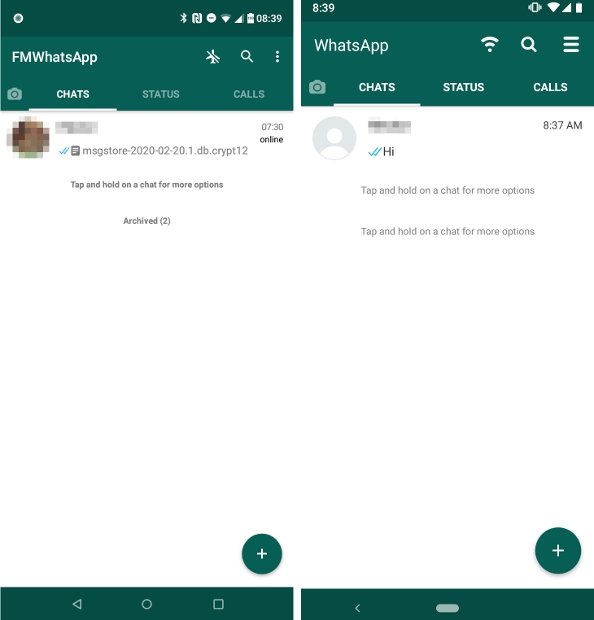 FMWhatsApp and GBWhatsApp's interfaces, face to face
The only noticeable change in this regard is in the design of the options menu of the MOD, which does change from one to another. In addition, there are minor differences in the design of the icons.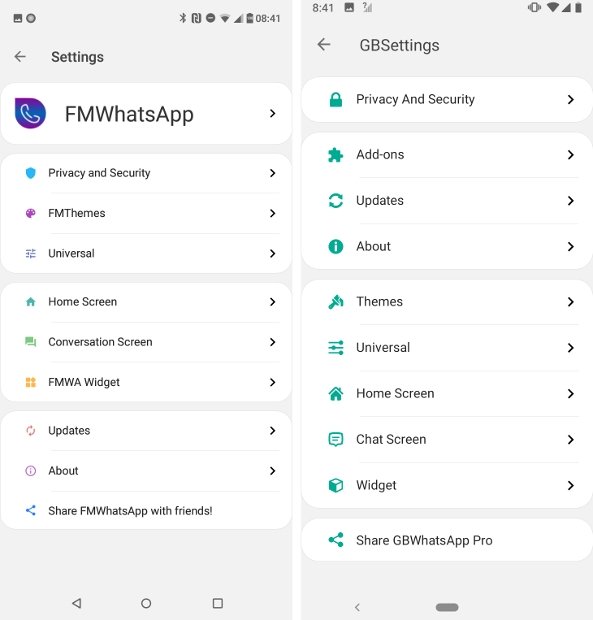 Design of the options menus of both MODs
In everything else, they are practically identical. You might find some option that has been moved from one to another, but it is still there. In the customization options, there are some different icons, and the skins available for the chat window might vary slightly, but you will have a hard time finding differences.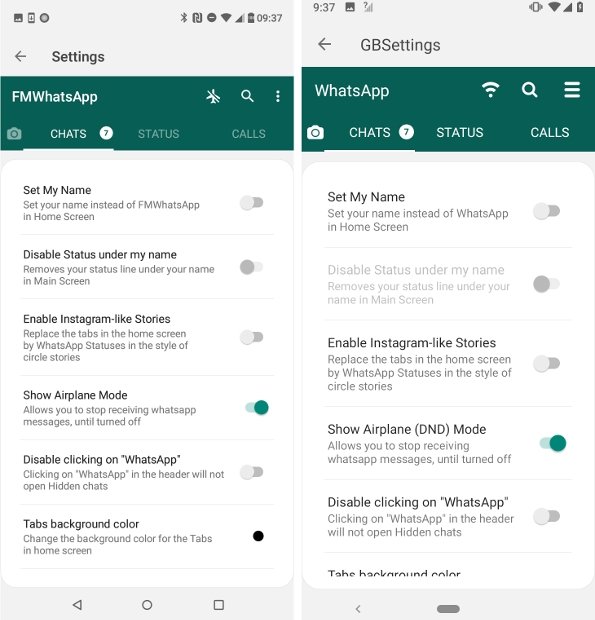 Some of the customization options in both MODs
Features
Both MODs let you write text messages, make calls, video calls or send audio messages. Both also offer the Status section. The basic customer functions are the same in both.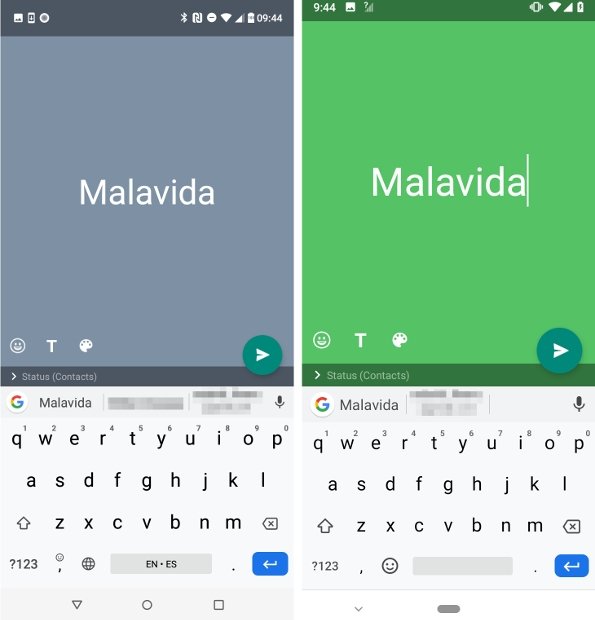 Status sections in FMWhatsApp and GBWhatsApp
The ability to use two WhatsApp accounts on the same phone is also enabled in both cases, either by combining the app with the official version or with other compatible MODs. The differences in functions are minimal, or perhaps none at all.
Author
Both apps are not created by the same person. FMWhatsApp is created by Fouad Mokdad, hence the name of the app using his initials. GBWhatsApp is created by AlexMods, another popular user whos creates WhatsApp MODs. Both have contact details in their respective apps through social networks and websites.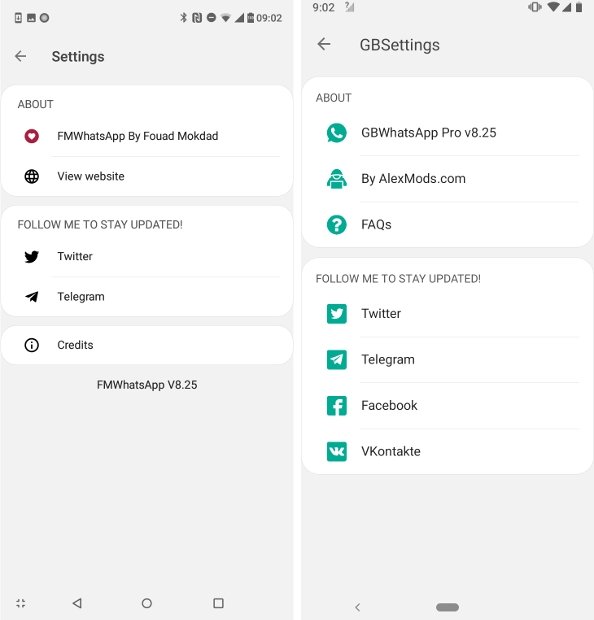 These MODs aren't developed by the same person
Privacy and security
The privacy options are also identical. There is everything that can be asked from them in this regard, whether it is freezing the last connection time, hiding the double blue check, or invisibility when viewing the status of your contacts. This section is the great strength of MODs and the reason why many use them, so everyone tries to offer as many options as possible.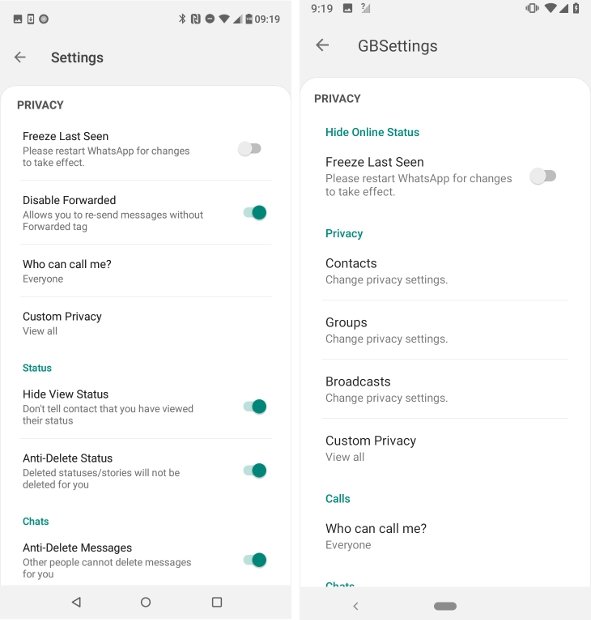 Comparing the privacy options of FMWhatsApp and GBWhatsApp
In terms of security, they are almost the same. When it comes to settings, you will find options to block access to the different chats by different blocking methods, thus preventing anyone from spying on your conversations. Regarding technical aspects, you will have to make a leap of faith, because as we have explained many times, this type of MOD does not offer any guarantee regarding the final destination of your messages. They claim to use WhatsApp Messenger's own infrastructure and servers (which is also not a 100% guarantee of anything), but it is impossible to state that these messages are not also reaching other servers for unclear purposes. This is the risk to be taken by using MODs.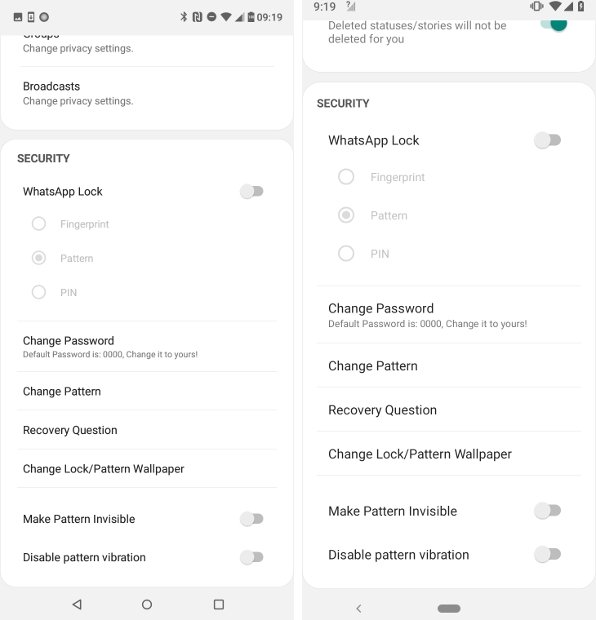 Security options available in both MODs
Choosing between them will depend a lot on your personal taste, however, there are no advantages that put one over the other. All WhatsApp MODs are cloned from each other.