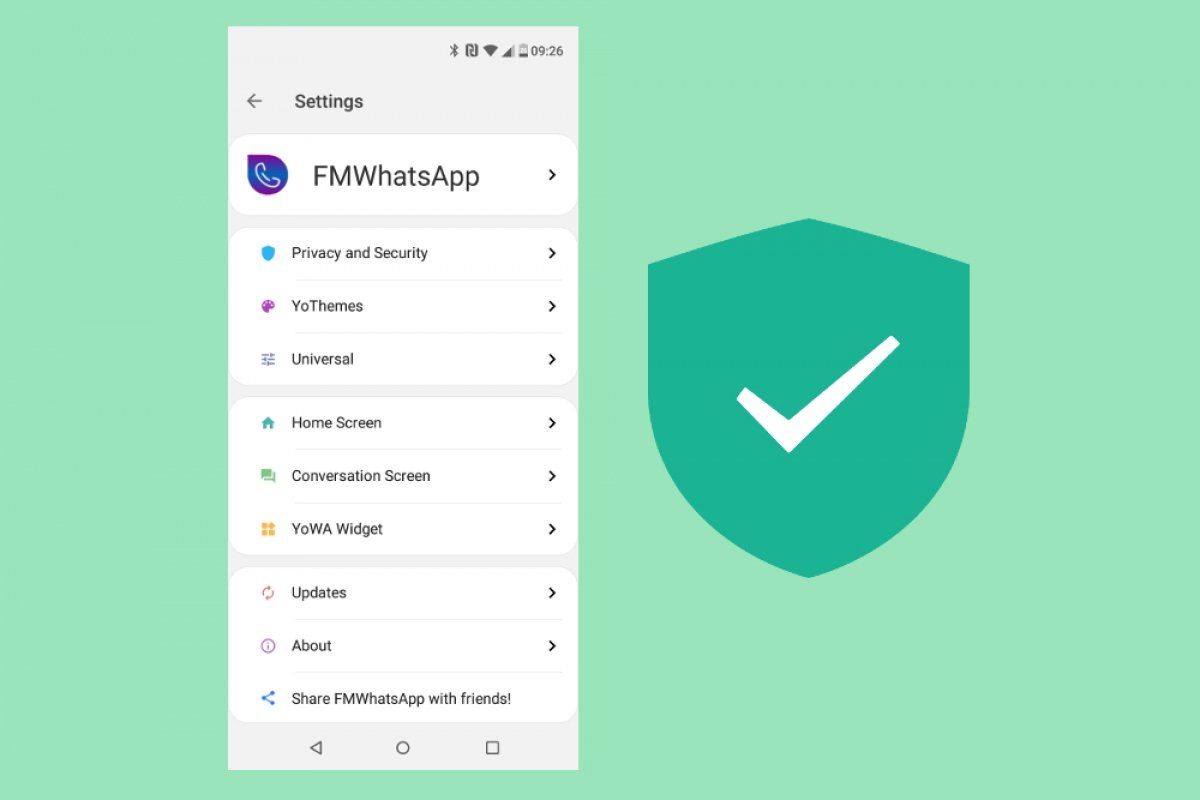 FMWhatsApp can be considered as a safe app. To the date, there are no news about the app having malware problems. The APK we offer you is totally safe as proven by the analyses carried out by dozens of different antiviruses. However, we can't forget that we're talking about a WhatsApp MOD and that involves facing up to a series of risks when using it, due both to being a modification and for working with WhatsApp Messenger's infrastructure.
Data and Privacy
FMWhatsApp is supposed to be developed upon the same source code as WhatsApp. However, its developer has nothing to do with the official app, therefore, nobody can guarantee that the MOD is 100% safe. Neither can we guarantee that our conversations are being kept in a safe place. According to its creators, it uses the same servers as WhatsApp Messenger but that isn't a reason to feel safe due to two reasons: they could be copying information to their own servers and, in any case, our conversations would be on WhatsApp's official servers, the safety of which we can't guarantee despite the fact that they maintain that not even WhatsApp Inc. can access them. And especially not if we bear in mind that we're talking about a North American company subject to the US Federal laws in a country which is always suspicious of infringing user privacy rights in alleged attempt to protect national security. In the past, WhatsApp and Facebook have been accused of cooperating with the US government, offering backdoors to the information they keep.
WhatsApp bans
WhatsApp doesn't like users using MODs instead of the official messaging client. To avoid this practice, they ban all those users they detect using them, forcing them to download and use the official client. In the past, these bans happened occasionally and these MODs became quite popular because WhatsApp wasn't too strict about them. However, over the last few years, the impact and frequency of these bans have been increased, and nowadays they are a risk despite still working. Nobody can guarantee that FMWhatsApp will be working forever and using it boosts your chances of getting banned at any moment.