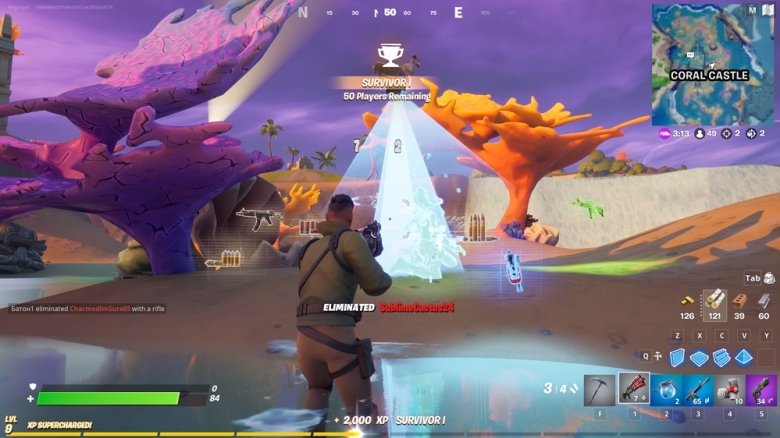 At this stage it's undeniable that Fortnite, mainly thanks to its Battle Royale mode, has become a mass phenomenon. Up to September 2017, it looked like PlayerUnknown's Battlegrounds was going to be the leading video game in this genre, but that's when Epic Games officially released Fortnite Battle Royale for PC and started to conquer millions of gamers from all over the world. Over time, it has become the battle royale game par excellence on every single platform out there, as not only is it available for Windows but also for macOS, PlayStation 4, Xbox One, Nintendo Switch, iPhone and now Android, the latest market on which it has landed.
But what's behind such a hit? It's hard to identify a single reason: maybe its cartoonish graphics, maybe the excitement of having to survive battling it out against dozens of enemies or even its price, as it's totally free of charge in opposition to its greatest competition in the form of PUBG. Apart from that, it's very similar to any other alternative from the same category that we can download to our PC. In other words, we'll land on an island without any weapons and we'll have to explore the map to find different tools and utensils to build, defend ourselves and attack our 99 enemies who have exactly the same goal as us: to remain within the safe zone and survive to try to be the last player standing.
And how can we survive? That's where the difficulty of this game lies. We can try to reach our targets single-handedly or create alliances with other users to team up in pairs or groups of four to play collaboratively. Regardless of the method chosen, you could definitely do with taking a look at this guide of tricks, cheats, and tips for Fortnite. Not only will you find the help you need to become a better player but you'll also be able to keep up with all the latest news about the game, its updates for each new season, and everything you need to know to be able to download, install, and play the trendiest video game at present on your PC.
We'll make sure we offer you all the latest hacks and cheats that we come across and inform you about new weapons, objects, and skins that you may be interested in to customize the game. Furthermore, we'll try to solve any problem or doubt that may arise during your gaming sessions. And if these lines don't hold the answers to your questions about Fortnite, don't hesitate to send us your queries so that we can settle all your concerns as soon as possible.