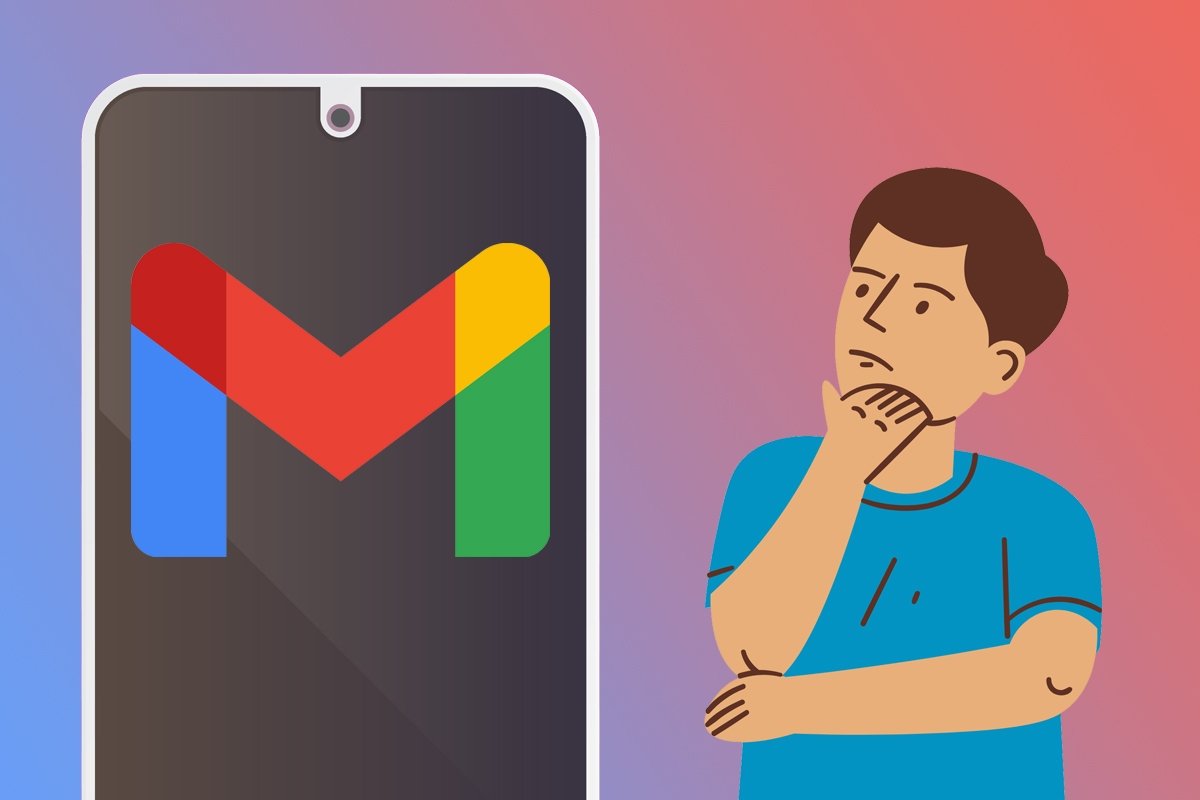 Most applications have adopted what is popularly known as dark mode. This is a setting that is responsible for activating dark shades in all interface elements. It is advisable to use it in low-light environments or at night. Gmail has its own dark mode, and here, you will find two ways to activate it.
Enabling the dark mode in Gmail individually
Gmail has a dark mode activator that changes only the interface of the application. This means that the modification of this parameter will not affect other applications. Go to Settings.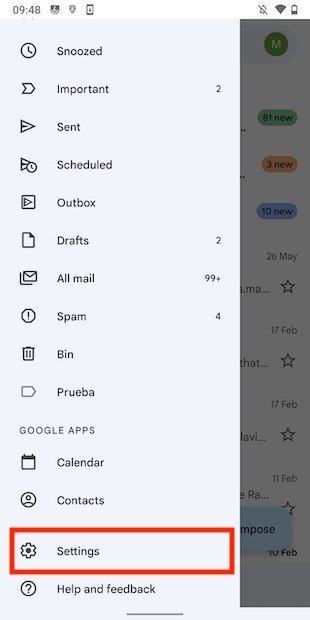 Open Gmail's settings on Android
Then, tap on General settings.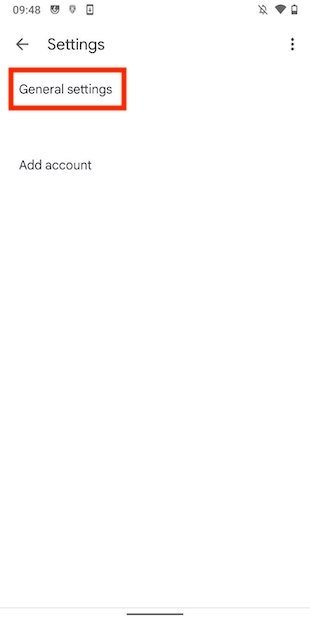 App's general settings
Open the Theme section.
Theme settings
In the pop-up dialog, tap on Dark.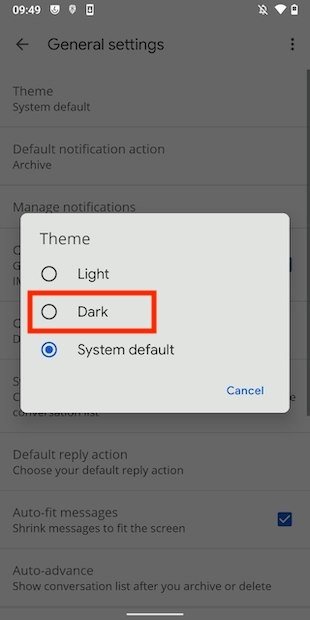 Enable the dark mode
The appearance of Gmail will change and will look much like the one you see in the following screenshot.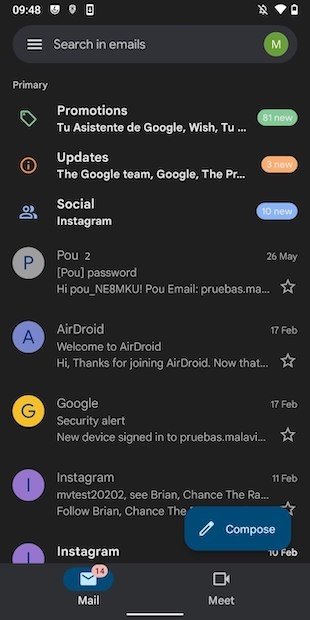 Gmail's aspect with the dark mode enabled
How to enable Gmail dark mode with system options
Another way to enable dark mode in Gmail is by using the system options. Obviously, this will affect all applications. First, repeat the steps mentioned above, but in this case, make sure to enable System default.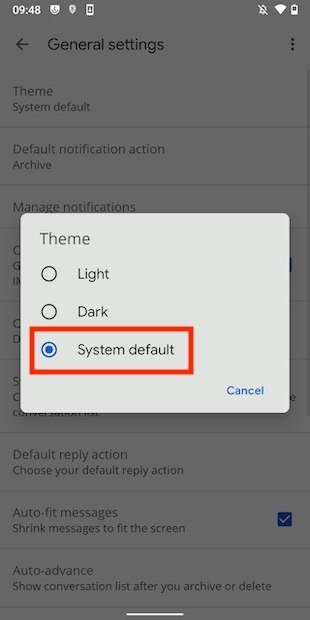 Adaptive theme
Now, go to the Android settings and open the Display section.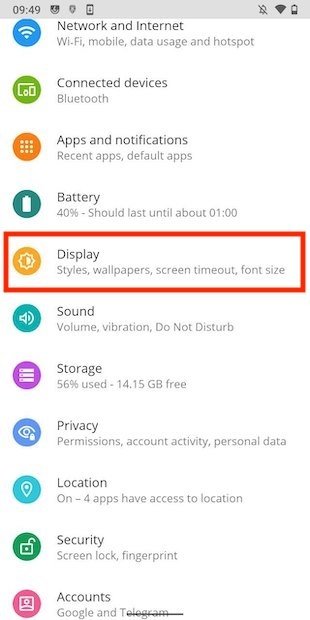 Screen settings
Activate the dark mode with the slider next to Dark mode. If you want to see some additional options, tap on the button.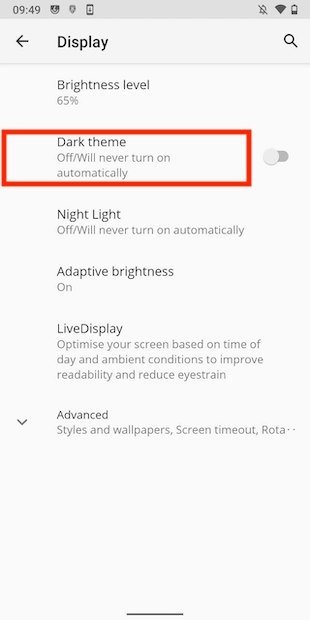 Dark theme settings on Android
If you tap on Schedule, you will have the possibility to program the activation of the dark mode.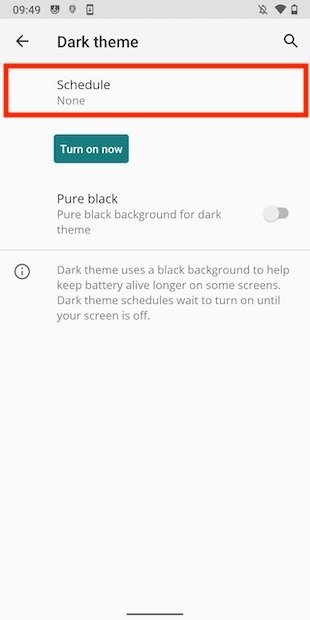 Schedule the dark mode
It is possible to ask Android to activate it after sunset and disable it during sunrise.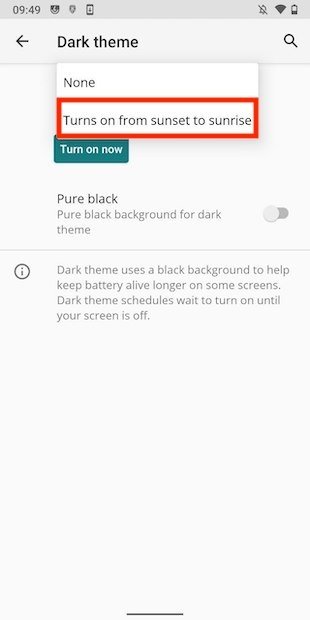 Scheduling the dark mode on Android
By doing so, you will have conditioned the activation of the Gmail dark mode to the system settings. From now on, Gmail will use this interface mode only when enabled on Android.