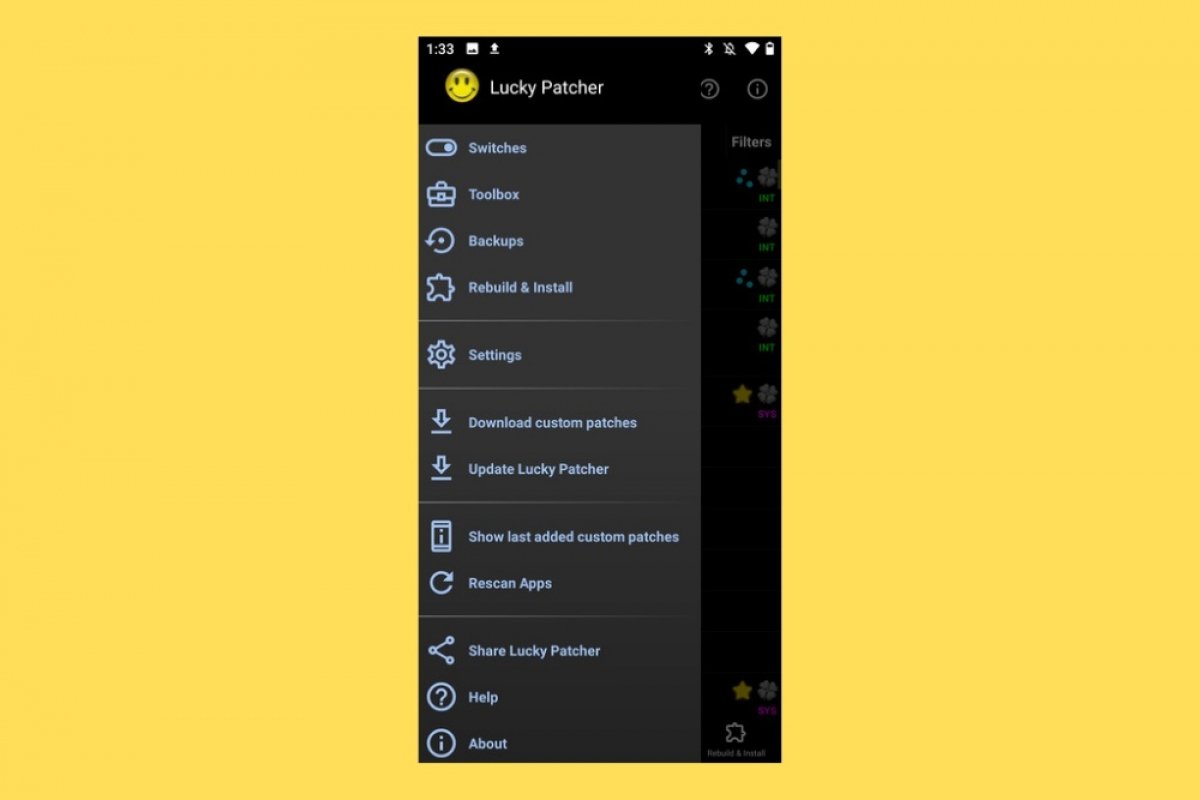 How Lucky Patcher works is very simple. Depending on whether your device has root access or not, the list of available features may vary. Before we start, we must clarify that to write this article, we have used a device with superuser permissions available. From the home screen, you have direct access to the main menu. Tap on the three horizontal lines to open it.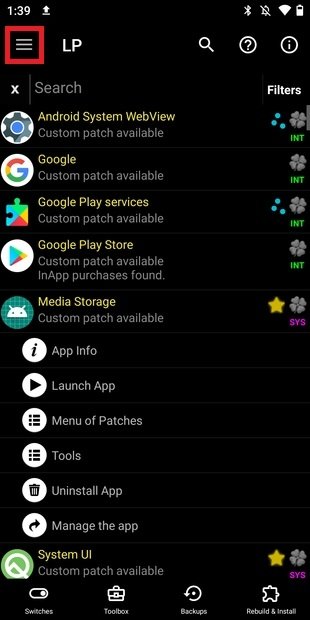 Open Lucky Patcher's side menu
From there, you can access the Lucky Patcher settings. To do this, tap on Settings. In the next screen, you will find a series of options mainly related to the design, directories, and language used in the application.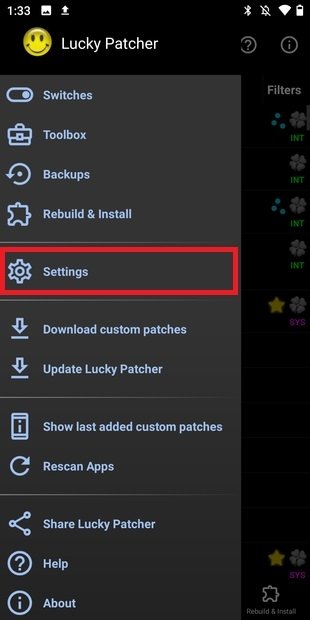 General options
Below the settings access, you will find two buttons that will help you keep both the patch list and the application updated. For the first task, use Download custom patches, and for the second one, Update Lucky Patcher.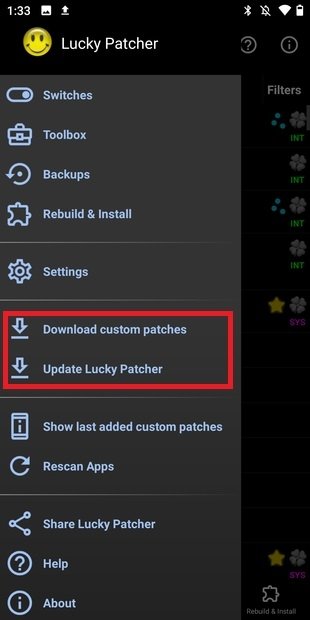 Update the database and application
Finally, if you have just installed a new app in your device, use Rescan Apps to make it appear.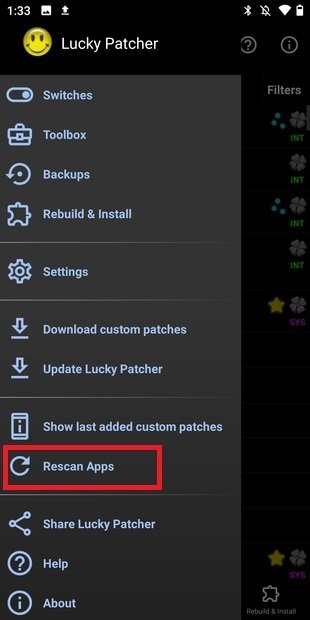 Scan the applications
Back to the main screen, you have a complete list of all your applications. If you tap on any of them, you will access a menu that lets you, among other things, check information related to the application, run it, uninstall it, or open its file in the Android settings menu. However, two functions need to be highlighted. The first one is Menu of patches, mainly used for apps internal modification.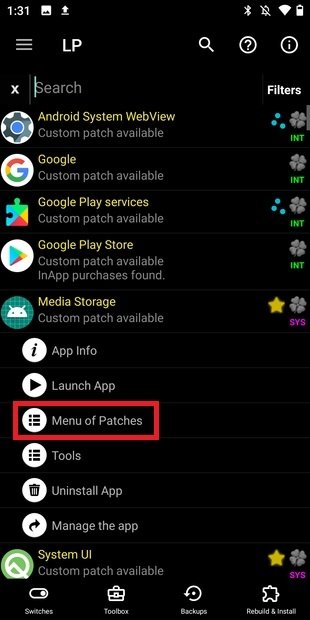 Menu of patches
On the other hand, in the Tools section, you have at your disposal several tools, such as APK extraction or integration into the system partition.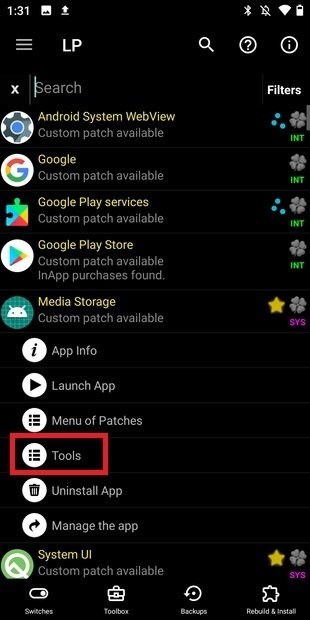 Menu of tools
Finally, the bottom bar of Lucky Patcher has four main sections. You can access them from the side menu or the bottom navigation bar. The first one is Switches.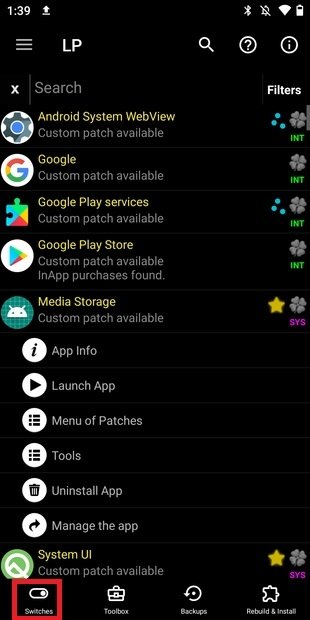 Advanced options section
From there, you can change the performance by enabling features such as automatic backups when installing applications from Google Play. In any case, make sure you know what each option is for before you activate it to avoid errors or other problems. You can use the Set switches to default button to return each option to its original state.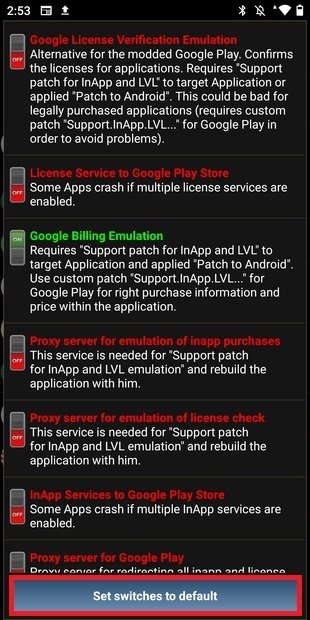 Go back to the default options
In Toolbox, there are many general options, such as deleting Dalvik cache or rebooting the device in Recovery mode.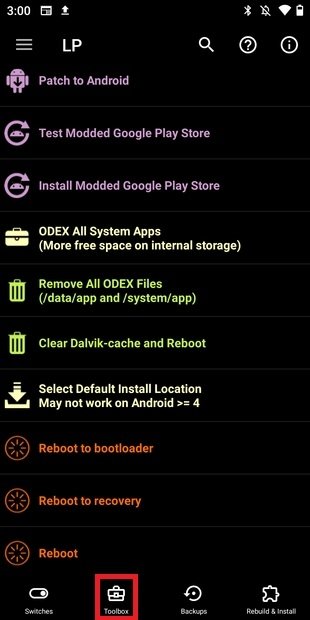 Toolbox
Finally, both BackUp and Rebuild & Install, let you access the modified or extracted applications in APK format and install them. In the first case, by using a simple list, and in the second case, using a file explorer.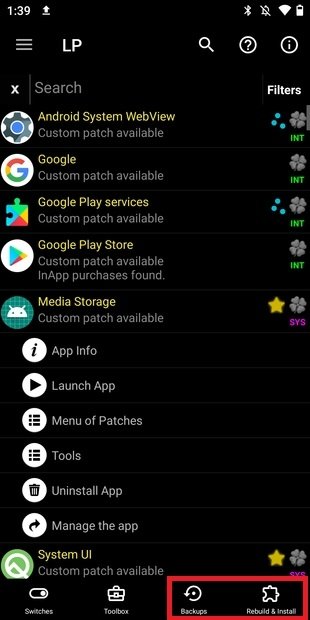 Explorer for modified apps
As you have seen, Lucky Patcher is easy to use. However, each process has its own difficulty. We recommend you get informed before using some of its features. This way, you will avoid getting an unpleasant surprise and leaving your device unusable.