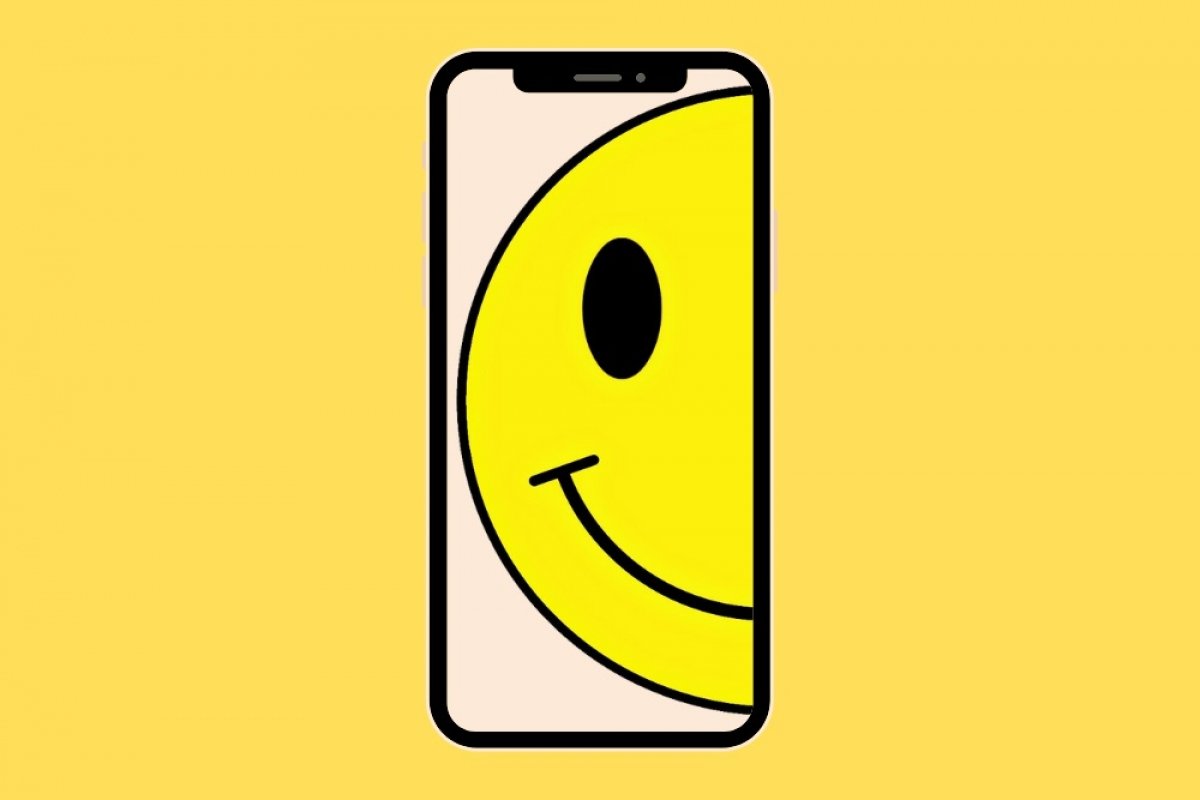 Android users can make use of an application called Lucky Patcher that allows them to carry out loads of actions such as making in-app purchases in applications and games without paying a cent, removing adverts, carrying out backups, extracting APKs or creating duplicates of paid apps to install them on several devices at once. How it works is quite simple, showing us a list of all the apps installed on our phone and informing us by means of a color code which actions can be carried out in each case. The problem is that it's not available for iPhone. But are there any other alternatives that offer us the same features? Yes, there are, although the process varies slightly in each case.
Lucky Patcher for Android includes a database that compares to the installed apps to tell you what actions you can carry out on them. On iPhone, we can find several different apps that recreate its main functions. Here's a list of possibilities to end up achieving the same result that you would get with Lucky Patcher, although the process isn't exactly the same.
Preliminary considerations
One of the advantages of Lucky Patcher on Android is that it can be used without rooting our phone. On iOS, almost all apps available in this field require a jailbreak, except for those that you'll find at the end of this list. If that's not your case, you'll have to decide whether to dare to do so or simply forget about this issue. On the other hand, not all apps work on all versions of the operating system or with the different kinds of jailbreak available and neither do they work on every single game or app that you can think of. In fact, online games are almost impossible to modify. That's why it's so important that you follow the development of each tool to avoid compatibility problems.
Apps to bypass in-app purchases
These apps allow us to make the most of in-app purchases right away without having to spend any many and have to be running at the same time as the apps we want to hack. In this case, our iOS version and our jailbreak version will be very important. Bear in mind that some may work better than others for certain games and, as we mentioned above, versions and compatibilities vary quite often.
GameGem
GameGem is one of the most popular tools within the iOS ecosystem to modify games, although it's also available for Android. Yes, you're going to need to jailbreak your phone and no, it doesn't work with online games. More than being an alternative to Lucky Patcher it's rater an alternative to SB Game Hacker, yet another popular development of the same nature: you'll have to keep an eye on your game stats, take notice of the logs and then search for them in the app to be able to modify them.
LocaliAPStore
Another way to bypass in-app purchases so that you can make the most of them and their contents without spending a cent. It can only be installed through Cydia and you'll only have to open any app or game with in-app purchases after installing it. When trying to make a purchase, disallow the process when you reach the final step and those purchases will automatically appear in your account (if they don't, that means the app you're trying to hack isn't compatible). It's meant to work on iOS 9, iOS 10 and iOS 11.
iAPCrazy
Another classic in the jailbreak universe on iOS to make in-app purchases for free. It has always been an alternative to be taken into account due to its capacity to hack certain games that otherwise couldn't be modified with any other tool on this list. You can find it within the Chinese HackymyiPhone repository just like many other developments on this list. It has been proven to work fine on iOS 8, iOS 9, iOS 10 and iOS 11. It's compatible with a long list of apps and games, including popular titles of the likes of Plants vs Zombies.
iAP26
This app is one of the newest on the market, as proven by the fact that it only runs on the most recent iOS versions. It follows the same concept, allowing us to bypass in-app purchases but with a further limitation: our jailbreak must be Electra, one of the most popular systems amongst the iPhone user community.
iAP Cracker
Another alternative could well be this iAP Cracker which we must admit is hardly different from the rest of options on this list: the same purpose and the same functioning. And also the same preliminary considerations: we have to jailbreak our phone and also install AppSync to get it working correctly. If you can't modify the game or app you're trying to hack, this is yet another option to be taken into account.
Hacked app stores
An app store is probably not the most similar thing to Lucky Patcher, but its contents are. For instance, with Lucky Patcher you can manage to bypass in-app purchases. And these stores listed below allow you to download straight away modified versions of games and apps with those purchases already included. The same goes for the adverts because thanks to these alternative markets you can find cracked versions of your favorite apps without any banners or that add new functions, whether created by the user community or official features that you'd usually have to pay for.
AppValley
A marketplace full of apps that completely leapfrog the limitations of the original versions. One of the main advantages of AppValley is that, unlike the previous apps, it doesn't require us to necessarily jailbreak our iPhone to be able to install it, which makes it much more accessible for anyone who wants to make the most of free in-app purchases or apps without adverts without having to give up on their phone's warranty.
Interface of AppValley running on an iPhone
Appcake
This development is introduced as the oldest cracked app store for iPhone with the largest repository, and the truth is that its developers could be right. Apart from offering us modified apps it also comes along with a few additional advantages such as the possibility to install DEB files or download torrents. What about its catalog? You can find almost anything totally free of charge, allowing you to wave goodbye to in-app purchases and function limitations. However, the main problem is that you'll need to jailbreak your iPhone, otherwise you'll be redirected to iPastore, a store that doesn't require that process but will request a payment.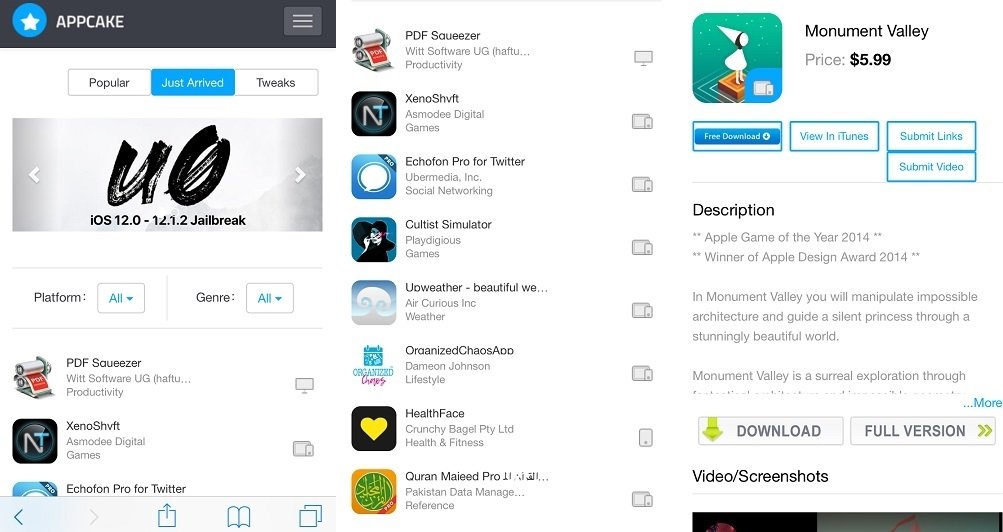 Interface of Appcake running on an iPhone
TutuApp
This popular alternative app market is famous for offering us certain modded versions that offer us exactly the same functions that we could achieve with Lucky Patcher. An unlimited version ad-free version of Spotify? A version of Snapchat that allows us to save photos? All the latter and much more is available in the TutuApp catalog. You can also find modified games that already include in-app purchases. Its greatest advantage is that it also works on devices without jailbreak.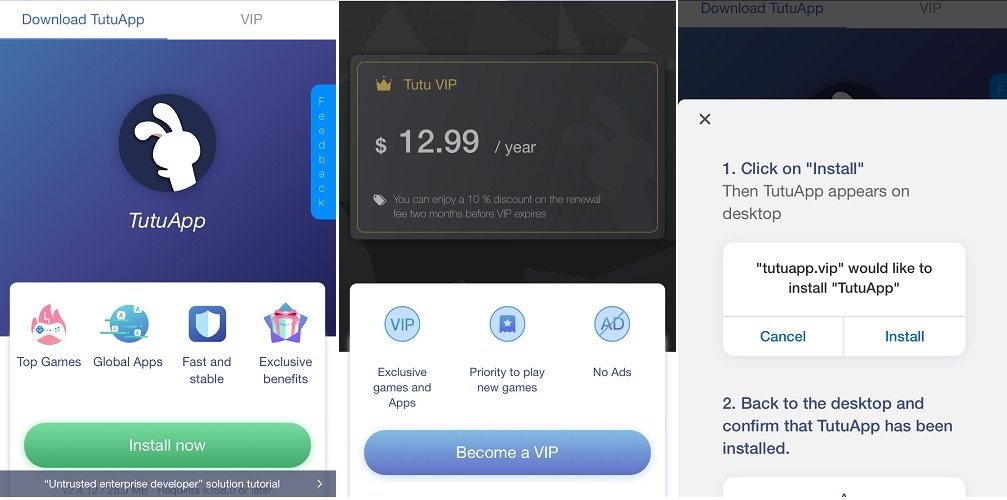 Interface of TutuApp's web viewed on an iPhone