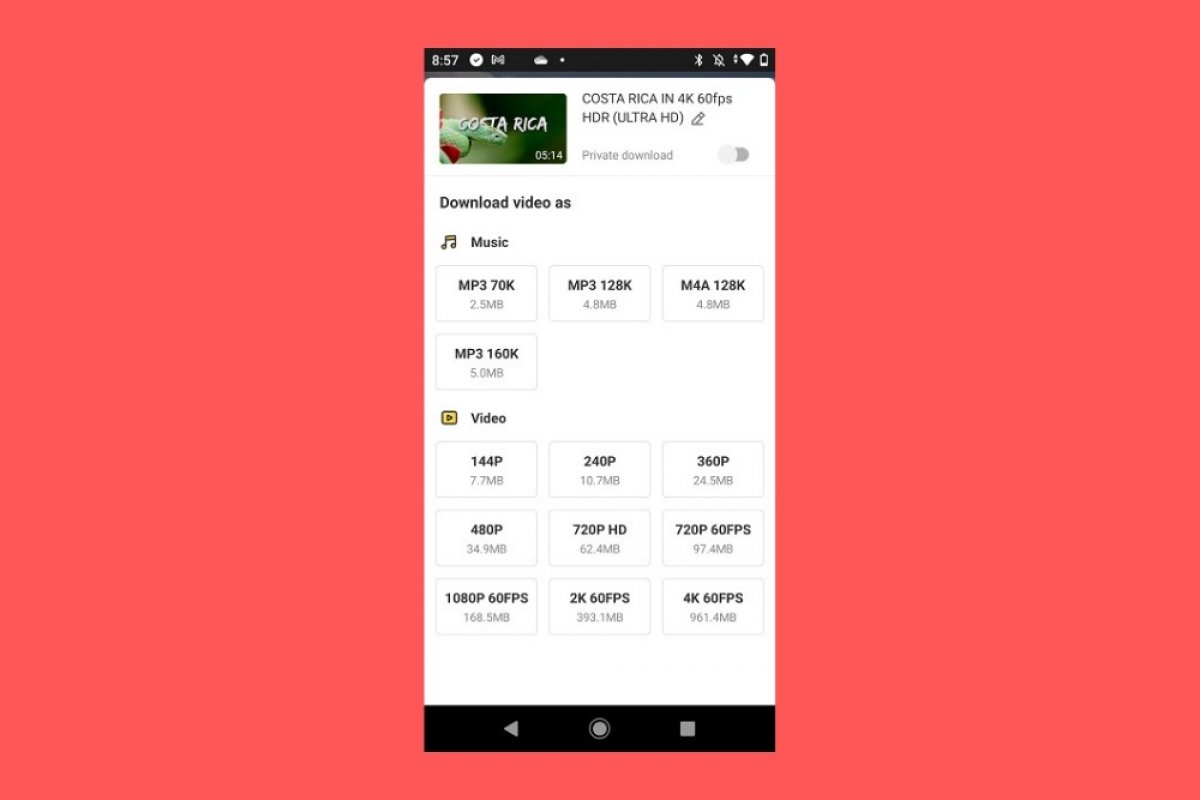 SnapTube lets you, when downloading, choose the resolution of the video, and in the case of audio, the format and quality. The maximum values offered by this tool depend mainly on the original file. This way, if a video is available for playback in 4K, SnapTube will allow you to download it in that resolution.
The full list of options available in the case of video downloading is usually as follows:
144p.
240p.
360p.
480p.
720p HD.
720p HD and 60 fps.
1080p HD.
1080p HD and 60 fps.
2K.
2K and 60 fps.
4K.
4K and 60 fps.
In the case of audio quality and format, you can choose between:
MP3 70 Kbps
MP3 128 Kbps
MP3 160 Kbps
M4A 128 Kbps
By default, SnapTube offers video downloads with a maximum resolution of 1080p. However, if the original video offers the option, you can download with a 4K resolution by tapping on All options.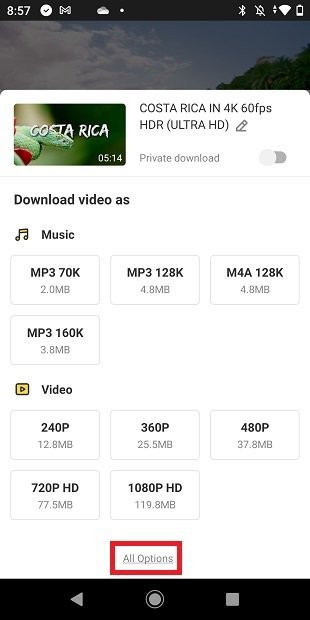 Show all the options
From that moment on, the 4K resolution will be visible and available for download.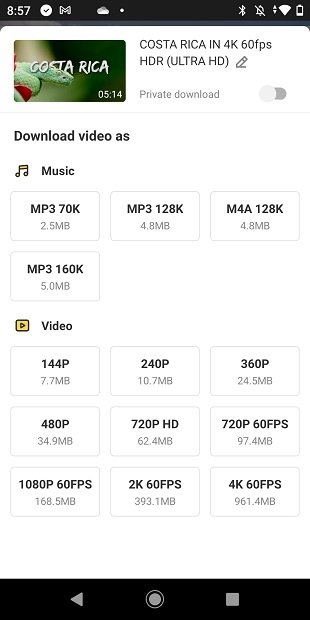 All download options
These options apply to most sites that SnapTube supports. Among the most popular, you will find YouTube, Facebook, Instagram, Twitter, TikTok, Vimeo, Vevo, Dailymotion, AnimeFLV, or MetaCafe. Also, SnapTube works on all those pages that have a player developed in HTML5. Do not forget that you can access your favorite websites directly from the application, thanks to its integrated browser.
Before downloading a file from any of the supported platforms, check that their terms and conditions permit it. In many cases, some services limit the distribution of content hosted on their servers. On the other hand, you should keep in mind the intellectual property laws of your country. This will prevent you from inappropriately downloading, storing, or distributing copyrighted content.