Spotify says it has over 389 million listeners in 187 markets around the world. These are good numbers if you want your podcast to reach as many listeners as possible from a single platform. And while there are many services for publishing podcasts, not all of them have the same potential audience.
So if you already know how to record your podcast and have one ready to post on Spotify, here are the steps to follow. To get started, you should go to the Spotify for Podcasters page. On this website, you can learn a little more about what Spotify offers for those of you who have a podcast in the works.
To upload a podcast to Spotify, you will need an intermediary platform. Or, as Spotify calls them, a partner site. The list is endless, so you will have a hard time choosing one. There are both paid and free ones. With storage space limit and/or bandwidth limit. Depending on how many episodes you publish and the size of your audience, one or the other will suit you.
How to publish a podcast on Spotify
Spotify has podcasts to listen to in its catalog, and you can even upload your own podcast. But you can not upload it directly to Spotify's servers. Instead, Spotify limits itself to give visibility to your podcast and allow listeners to play it. All you have to do is provide the RSS feed of your podcast. The episodes will have to be uploaded to one of the partner platforms or partner sites suggested by Spotify.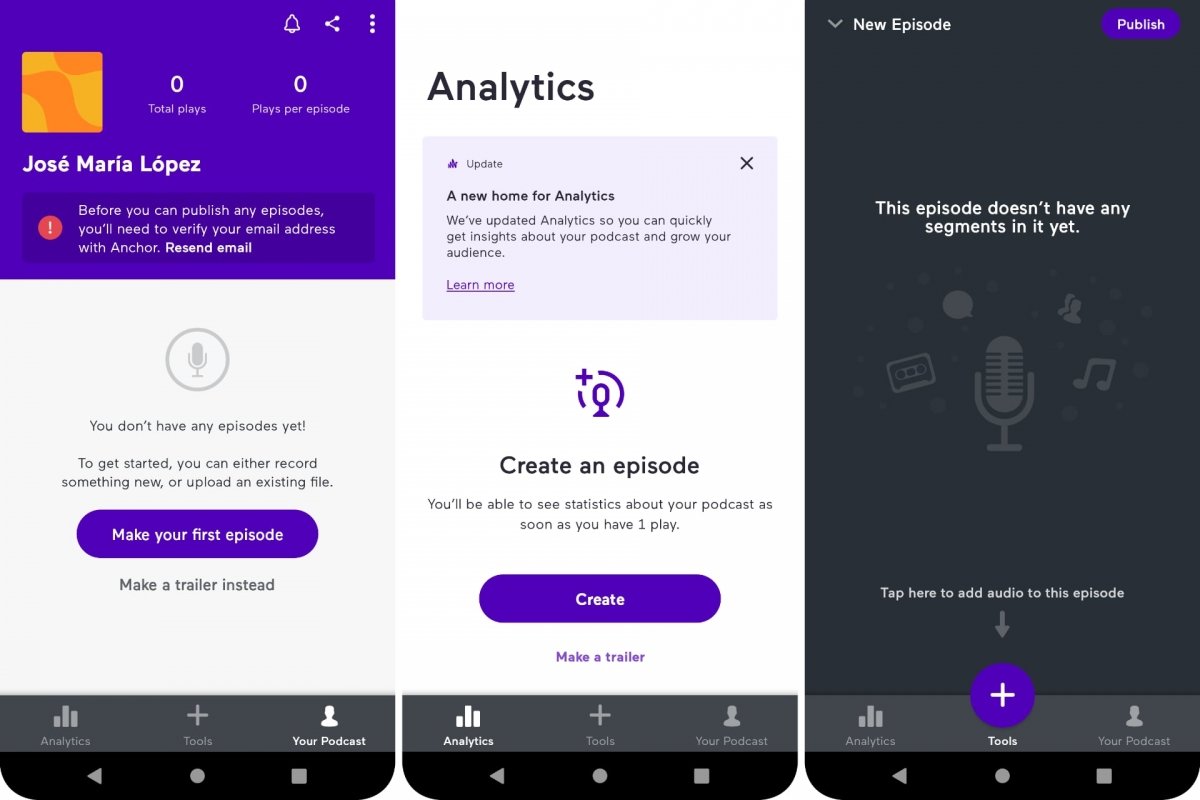 Anchor by Spotify's control panel
In this link, you will find Spotify's complete partner list. The most recommended one for starters is Anchor. It belongs to Spotify and is free. In addition, it offers the usual services for recording, editing, and uploading episodes. It also shows official statistics and lets you monetize your podcast. Although, for now, this last feature is limited to the United States. Another benefit is that there is no limit to the number of episodes you can upload or the bandwidth.
Podomatic is another good option to host your podcast. It lets you post the episodes on Spotify, but it does not stop there, as you can also upload them to Google Podcasts, Apple Podcasts, Amazon Music, Deezer, and many others. The free account offers 500 MB of space for files. Which roughly translates into 6 hours of recordings. It also limits bandwidth to 15 GB per month or 180 hours of playback. But it provides daily statistics. When you get more serious, you can purchase a paid account for $2.99 per month.
Another good alternative is Spreaker. Its free version does not let you upload your podcast to Spotify, so you must choose one of its paid subscriptions. Depending on the one you pick, you can end up paying 8, 20, 50, or 120 $ per month. In addition to uploading your podcast to Spotify, Apple Podcasts, and iHeartRadio, it will let you earn revenue from advertising, statistics, and more.
How to publish your podcast on Spotify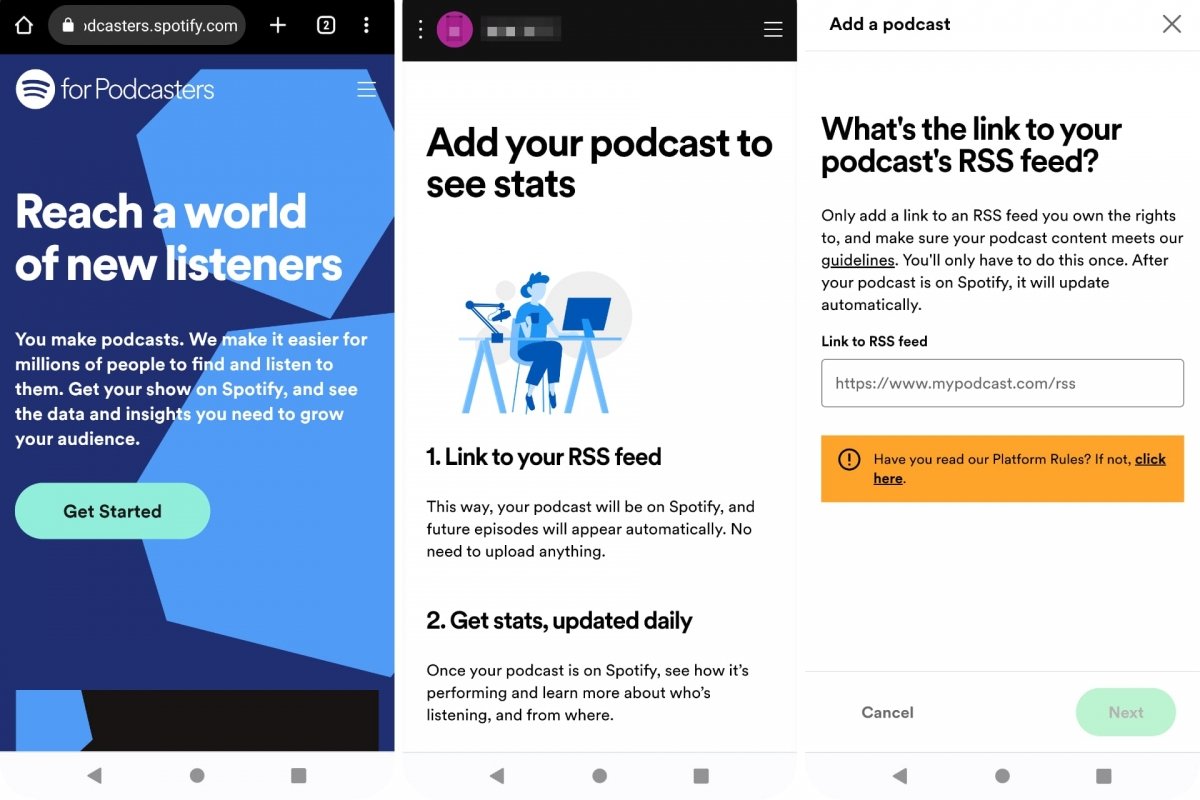 Spotify's wizard to publish podcasts
Once you have the RSS feed available to add your podcast to Spotify, the process is the following:
First, log in to Spotify for Podcasters with your Spotify account.
If you do not have an account, you can sign up by tapping on Subscribe.
Once you are inside the platform, tap on Start.
Paste the RSS feed link of the podcast where appropriate.
Spotify will send a verification email to the contact address associated with the RSS feed.
Copy the 8-digit code you will receive in your email inbox.
Paste the code in the Spotify submission form.
Fill in the information fields of your podcast: category, language, country, and other data.
When everything is completed, review it, and tap on Submit.
If all goes well, you will receive a new link, which is the Spotify URL to access your podcast. It may take several hours to become available. When it is ready, that link will be used to advertise your podcast on Spotify.
Episodes will appear as you upload them to the podcast hosting platform of your choice. On Spotify, you will not have to do anything else. Just check that the episodes are being published. The content of your podcast is updated every day. If you upload something today, you will watch it tomorrow.
In terms of statistics, Spotify measures the people that start listening to an episode. No time limit. And streams are counted when the podcast is streaming for at least 60 seconds. Another important data is the average listening time. That is, how long, on average, the podcast was listened to. To obtain an exact number, data from at least 50% of listeners are averaged.
Requirements to upload a podcast to Spotify
Although Spotify does not directly host your podcasts (or does if you opt to use Anchor), it does have some requirements to admit your podcast in its catalog.
Regarding the age limit, it is the same as for using Spotify: 13 years old or consent of parents or guardians. This last point is even more important when the podcast starts receiving advertising monetization.
The requirements to upload a podcast for the first time are as follows:
MP3 files compatible with ISO/IEC 11172-3 MPEG-1 Part 3.
The bitrate of the MP3 file must be between 96 and 320 kbps.
MP3 files cannot exceed 200 MB.
The podcast cover should be between 1400 x 1400 pixels and 3000 x 3000 pixels and 72 dpi.
The format of the cover page must be JPEG or PNG with RGB color space.
The RSS feed must have a title, image, and at least one published episode.
Additionally, it is recommended not to publish prohibited content. For Spotify, that content includes:
Intellectual property infringing content.
Illegal content according to the authorities of each country.
Hate content based on "race, religion, gender, gender identity, sex, ethnicity, nationality, sexual orientation, military status, or disability."
How much does it cost to upload a podcast to Spotify?
Currently, Spotify does not charge for giving you access to its Spotify for Podcasters program. Registration is free. And if you decide to host your podcast through their Anchor platform, you will not have to pay either. But if you want to monetize your podcast and have access to certain features and additional bandwidth or storage space for your content, you will need to subscribe to some of the Spotify-compatible paid platforms.
So you will have to pay a fee to upload your podcast to other platforms like the ones we have seen before. Most of them offer a rather limited free version. If you want to publish on Spotify, you usually have to opt for a monthly or yearly paid subscription which you should be able to afford if you manage to monetize your podcast through advertising or paid subscriptions.
Here are some examples of the prices of Spotify-compatible platforms:
Acast: between $14.99 and $40 per month depending on whether you pay monthly or annually.
Audioboom: $9.99 to $19.99 per month.
Buzzsprout: $12 to $24 per month.
PodBean: $9 to $79 per month if you pay annually.
SoundCloud: 2.5 to $8.25 per month.