Tinder has become one of the most popular dating apps worldwide in recent years. Yet there is something that is not mentioned as often as it should be. And it is whether it is really reliable. If our profile is safe and if it really is a good place to try to find love or just a person to hang out with. And the reality is that depending on who you ask the experiences may be very different.
Thus, you can find from couples who have met through Tinder and have been married with children for several years, to people that have had a really terrible experience on the dating app. In dating apps, as in life, not everyone has the same luck.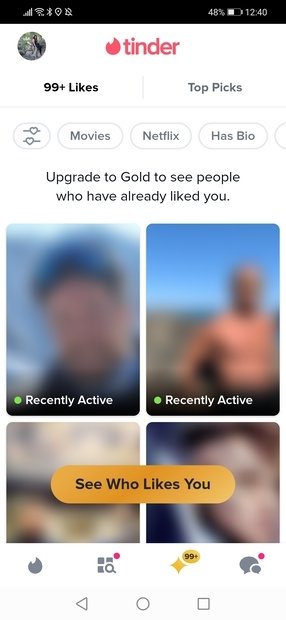 Access to profiles you have accessed on Tinder
And although there are all kinds of experiences, most opinions agree that meeting people on Tinder is relatively easy, but finding your soulmate is just as difficult as finding them outside of the app.
Is it easy to flirt on Tinder?
Tinder is an app with lots of people who want to meet other people. Therefore, meeting new people through this app is relatively easy. Flirting is a different matter. It is easy to look nice through a profile on a social network. But many times, when you get beyond the barrier of the screen and get to know the other person face to face, the magic fades.
Let's just say that in general, the less "filter" you have, the easier it is to flirt. If you are looking for someone to hang out with occasionally and you are not too picky, there is a good chance that on Tinder you can find what you are looking for. If on the other hand, you are looking for someone who clicks with you and is special in many ways, you have to kiss a lot of frogs before you find your prince. Because on Tinder there is everything, from wonderful people to people to throw away.
What if I want to find love?
If what you want to find is a stable relationship, you may find it a little more complicated. There is a significant percentage of users of the social network who are only looking to meet people for fun, making it difficult for you to find someone who is looking for something more serious.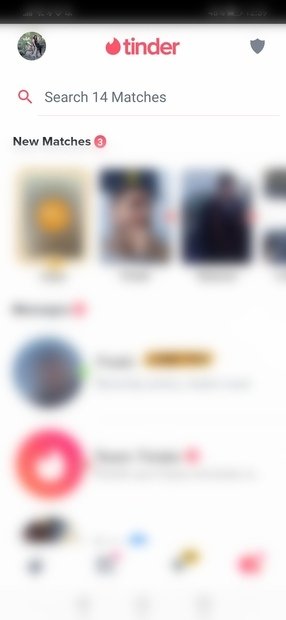 Chat window with users that you have a match with
However, falling in love on Tinder is not impossible at all. In fact, more and more couples are meeting through this type of dating app. Couples are even getting married and having children. To avoid disappointment, it is best to make your intentions clear to both of you when you are first getting to know a person. By doing so, you will know if you are looking for the same, and you will be able to know if this person suits you in your attempts to find love or if this person will be just entertainment for a while.
Can I trust someone I met on Tinder?
Like everywhere else, on Tinder, there are people you can trust and others who will try to trick you if they get a chance.
To avoid problems, it is highly recommended that you do not provide too much personal information, such as your address or telephone number, until you are confident with the other person. It is also strongly recommended to exchange photos or make video calls before meeting in person, to make sure the other person is who they say they really are. In fact, there are even ways to sign up for Tinder without a phone number if you want to protect your privacy to the extreme.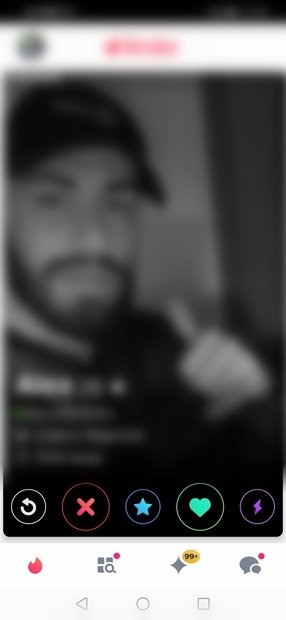 Tinder profile that you may come across when trying to meet people
At the time of the first date, we recommend that you always meet in a public place rather than directly at the home of one of you. And if it is someone you do not trust too much, always let someone you trust know where you are going to be and with whom. Most people on Tinder are people like you, just looking to meet people and have a good time. But it never hurts to be a little cautious.
Tinder 2022 user reviews and testimonials
We wanted to ask several people about their personal experience and this is their response and the situations they have experienced in this social network:
As weird as it may sound, it was my ex who encouraged me to get profiled. He had met his current loved one on the app and I thought: why not? At first, I was not too comfortable with the idea of choosing a match like someone picking through a clothing catalog, but I saw a guy who was drawing pictures from one of my favorite shows. I liked him, we made a match, and two years later here we are. I do not know if he will be the love of my life, but whatever happens, I am happy to have met him. That is, one in a million. Finding someone really interesting on Tinder can be a real odyssey.
I do not doubt that there are people who are really delighted with Tinder. I even know couples who have married and had children. But it is not for me. Most users go for what they go for and while I do not consider myself to be particularly prudish, I am not into such a straightforward story. I did not get to meet most of the prospects, and when I have gone on dates, I found it a little uncomfortable to sit there with a person I have never met before. I do not know if I will use it again in the future, but what I have tried so far has not been too satisfactory.
Just before the pandemic, I decided to experiment with using Tinder for a year. During that time I dated several girls, with some of them things happened, with others not. Mostly I met nice people, but I kept having the feeling that I was buying people. I think this app is more about finding as many matches, dates, and hookups as possible, rather than getting closer to actually connecting with people. The experience was good, but I do not think I will find the right person for me there.
I opened my profile on Tinder just after I ended my relationship. I thought that meeting people could help me finish moving on. And my experience is that these types of applications should be used when you have high self-esteem and not the other way around. Because you will find people who treat you like a piece of meat, people who do ghosting, and outright cruel people. If you get caught at a good time, you may even laugh at these stories and end up meeting someone worthwhile. But if you are down in the dumps, the people you meet on these types of apps could end up sinking you.
For me, Tinder is a must-have when you are single. Meeting people, even for friendship, is complicated when you are at a certain age. You can find great people and not-so-great people in the application, but if you need to meet someone to hang out with in those moments when almost all your friends are dating, you will surely find someone to hang out with. And then who knows, it is true that most people are just looking for a bit of fun, but I met my current couple there and we have been living together for two years now.