It is no secret that Twitter is one of the most popular social media in the world. This platform lets you publish whatever you want in 280 characters or less, so you have a great degree of freedom to write about anything you want. In this network, you have two different names: a username and a nickname. In this article, we will show you what to do if you want to change either of these two names.
How to change your Twitter nickname
As we have been saying, we have two names available on Twitter. The nickname is the one that appears when we visit any user profile. This name is not used for identification purposes, it simply is the name that the user wants to show when we enter their profile. To change this nickname, follow the steps below:
Open Twitter and tap on the profile icon at the top left.
In the drop-down menu, tap on the Profile button on the left side of the screen.
Once this is done, our profile will appear as if it were opened by another person. We will have to tap on Edit profile.
At the top, we can write the name we want.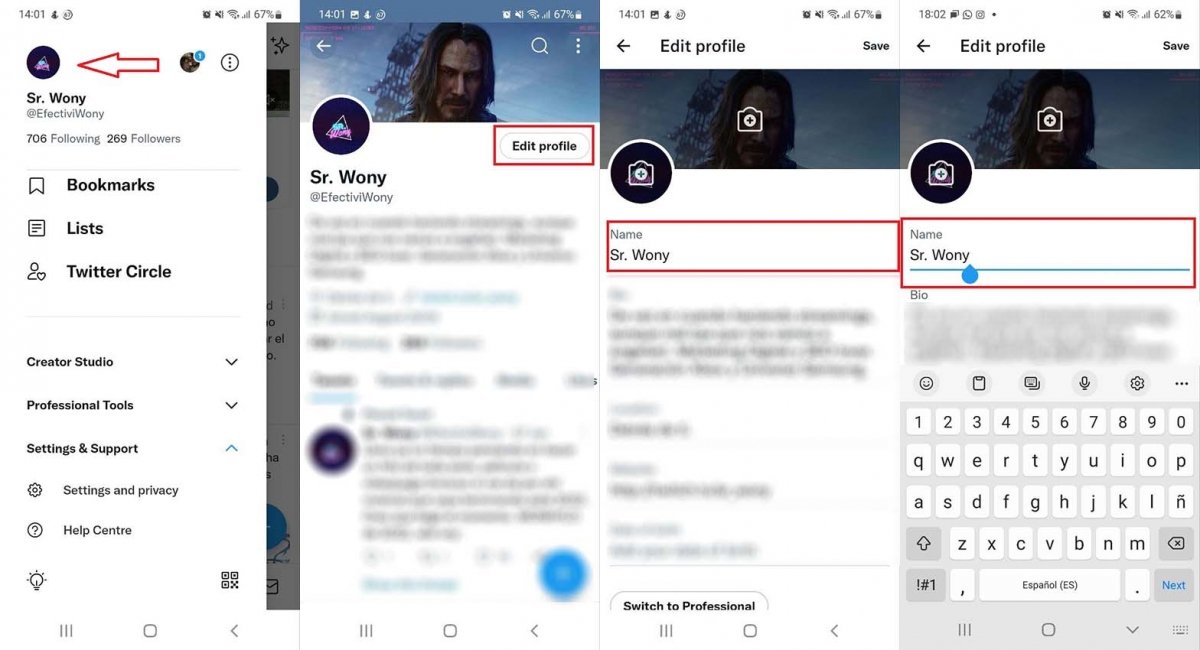 Steps to change your Twitter nick
How to change your handle or @ on Twitter
Now that you know how to change your Twitter nickname, it is time to talk about changing your Twitter handle, or what is the same, how to change the Twitter @. This name is extremely important, as this will be the name that other users will use to find us on this social media. The process for changing your handle is a bit different from the previous one, but it is not too complicated either. To do this, follow the steps below:
As in the previous steps, tap on the profile icon at the top left.
Inside, choose the Settings option at the bottom of the drop-down.
Once the following screen appears, choose the Your Account
Inside, tap on Account Information.
Here, you will see your username at the top. Tap on it to change it.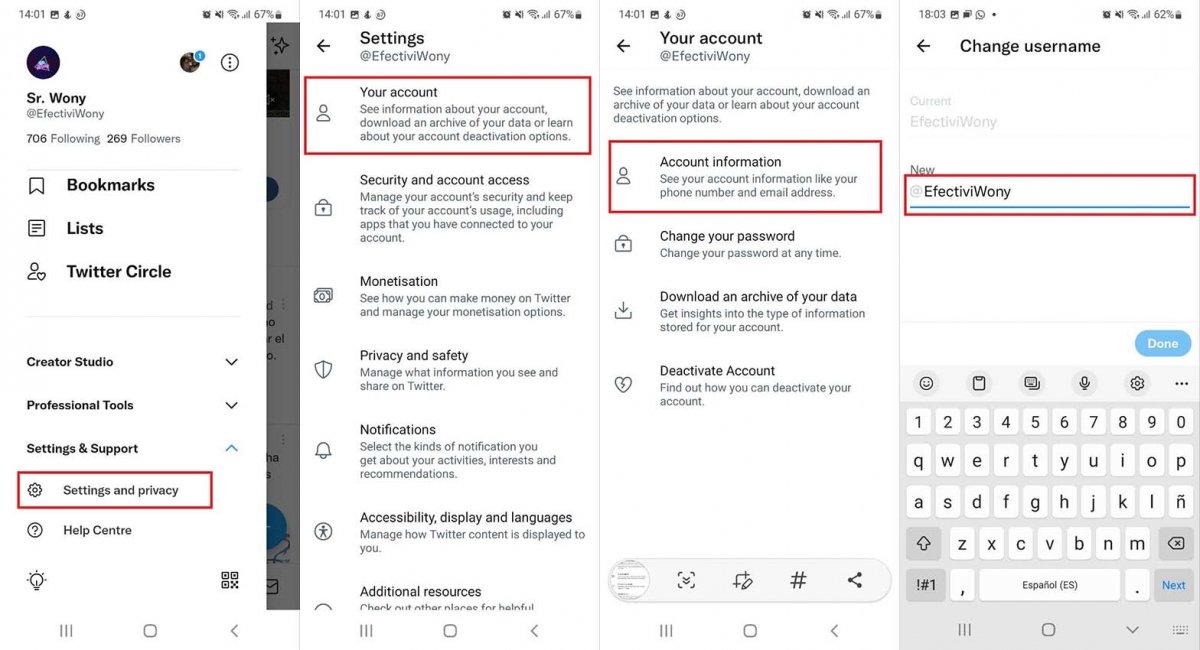 This is how you can change your Twitter handle
How many times can you change your Twitter name
Twitter is a fairly flexible social media when it comes to the limitations they place on changing usernames. It is possible that, after changing our username by following the steps mentioned above, we regret the change or notice a spelling mistake. Thus, it is logical to wonder if there is some kind of limitation on how many times we can change our name on Twitter.
Luckily, on Twitter, we do not have any kind of limit on how often a user can change handle names, something that does not happen on other social media. For example, Instagram only lets us change our username twice every two weeks, while Facebook is much stricter: if we change our username we must wait two months before we can change it again.
Twitter username requirements
Although there is no limitation on the number of times we can change our Twitter handle, there are some restrictions that we must take into account when choosing the name we want. There are not too many restrictions, but they must be respected. Such restrictions are as follows:
It is not possible to register usernames containing the words Twitter or Admin. No name can contain these two words unless they are official accounts of the platform.
Your username cannot exceed 15 characters.
To create a username you can only use alphanumeric characters, that is, letters from A to Z and numbers from 0 to 9.
The only exception to the above restriction is the underscore.