Twitter started as a minimalist social network for posting short text messages. Over the years, it evolved, extending the character limit per message and incorporating new functions such as the possibility of attaching images, GIF animations, or videos. Or Twitter threads.
One of the most recent functions incorporated by this social media is called Twitter Spaces. It is a different way to stay in touch with other Twitter users, exchange opinions, and have real-time conversations. A good complement to the traditional messages and their usual replies.
What is a Twitter Space
Twitter Spaces let you "have live audio conversations", according to its developers. Someone creates a space, other Twitter users join in, and they start talking. Like a live podcast. Audio only. Anyone can join in, do their bit and, as a whole, talk to each other.
The only requirement to create, join, and participate in Twitter spaces is to have the official app of Twitter for Android. At the moment, from the web version of Twitter, you can only listen to the conversation but not participate.
How to activate and deactivate Twitter Spaces
To enjoy Twitter Spaces, you only need to access this social media from its smartphone application. If you have the updated app, you will see the Twitter Spaces icon, either at the bottom center of Twitter or if you tap and hold the + button used to make a post. The Twitter Spaces icon is a microphone with three vertical lines inside it.
Twitter Spaces are enabled by default. So by tapping on this icon, you will be able to see the active spaces at that moment or create your own for you and your followers. Or for anyone who wants to join the conversation.
How to create and use a Twitter Space
To create your own Twitter Space, simply tap and hold the icon for Post, with the + symbol. The different options for posting will appear, which are Twitter Spaces, a picture, a GIF, or a traditional text message. Tap on the Spaces icon to start one.
You will also see the icon to create your Space by tapping on the Spaces button in the Twitter home menu. Once inside, you will see the conversations in progress and the button in blue.
When you tap it, a new window will open for you to configure your Twitter Space. What are you going to talk about? Describe it briefly. Add the topics of the conversation if you want to expand the information. For example, sports, movies, food, travel, or whatever you want.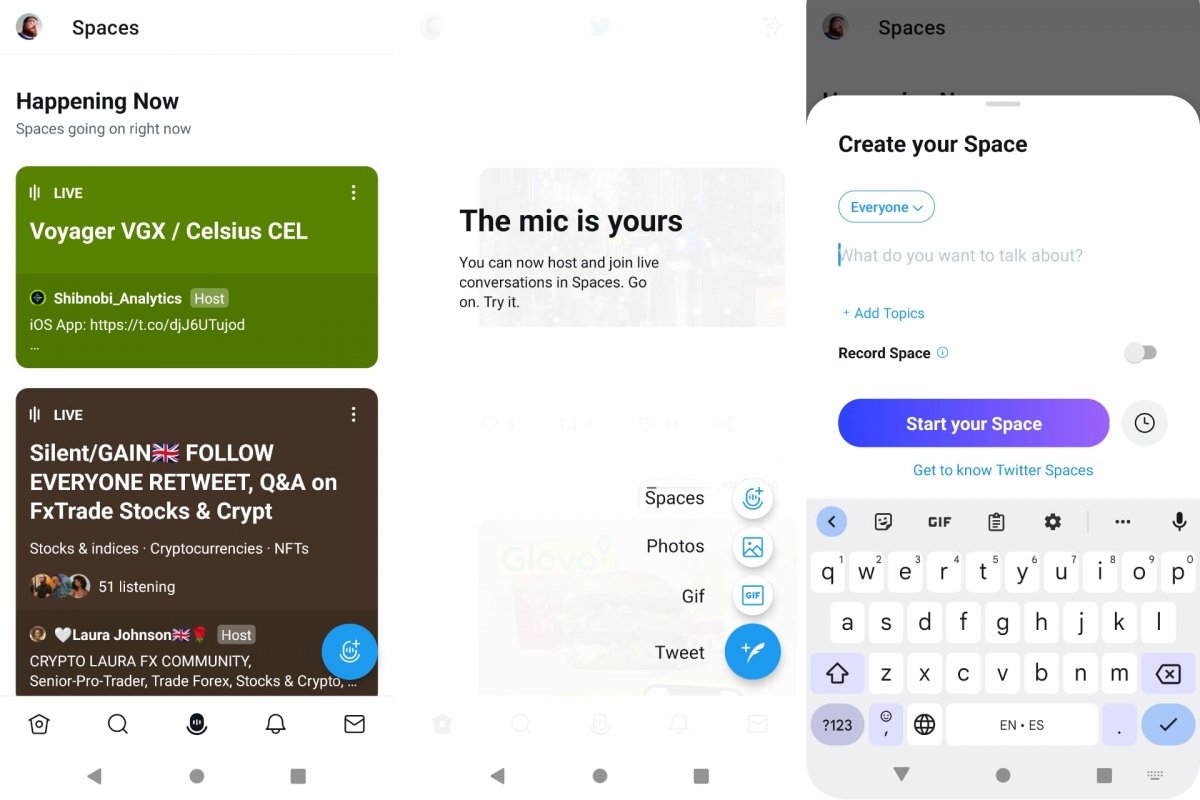 How to create your own Space on Twitter
For now, the Spaces are public for everyone. Therefore, the drop-down list indicates All by default. In the future, you will probably be able to choose specific contacts from your list of followers. What you can do is invite your friends and acquaintances to join the conversation through a private message with the Space link attached.
A very practical feature of Twitter Spaces is that you can schedule the Space. In other words, you do not need to initiate the conversation at that precise moment. Announce it in advance and, when the selected day and time arrive, the talk will begin. To schedule your Twitter Space, during its configuration, tap on the button with a clock icon, to the right of Start your Space. There you will have to assign a day and time for the Space.
Finally, when you start a Twitter Space, you will see that you can check the Record Space option. This way you will have the possibility to share the Space once it has been recorded. Normally, the audio file will be available after 24 hours for you to download and share on your timeline.
Who can start a Twitter Space
Essentially, anyone with a Twitter account can start a Space. As mentioned above, you will have to do it from the Twitter app for iOS and/or Android. Whoever creates the Space is the administrator of the Space. And you can assign a maximum of two co-managers.
As an administrator, you can decide who speaks and who does not. This will prevent too much noise and the participants from running over each other, as each one will have his or her turn to speak.
A total of 13 people can participate at the same time. The others can only listen and follow the conversation. Not bad considering that more than five people talking at once is usually hard to follow.
How to view and log into a Twitter Space
There are different ways to view Twitter Spaces. If you follow the Space administrator, a visual indicator will appear at the top of the Twitter app, in the home window. You will also receive a notification if you have notifications enabled.
If you do not follow the administrator and/or participants of a Space, you can see it if you go to the Twitter Spaces section. On Android, it is accessed by tapping on the microphone icon at the bottom center of the app. There you will see the active Spaces.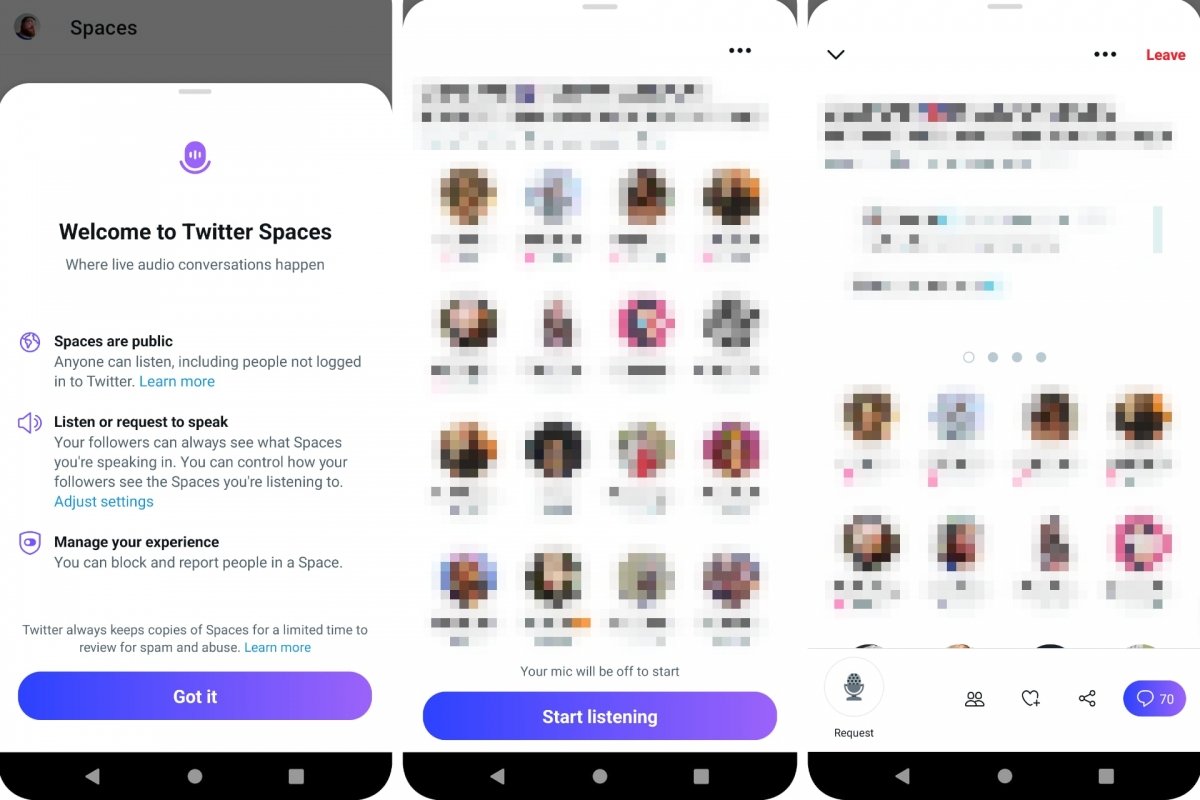 How to join a Space on Twitter
You can also view a Space if you receive a link to it. You can receive it by direct message from the administrator and/or if someone posts it on Twitter. Entering the Space is as simple as tapping on this link. The same applies to the above situations.
Once inside, you can just listen to the conversation or participate by speaking as well. To speak, you will need to request permission by tapping on Request. The first time you use this feature, you may have to give Twitter permission to use the microphone on your smartphone.