How WhatsApp Transparent works and how to use it is almost identical to WhatsApp Messenger. If you've ever used the official client, you'll find it easy to get the hang of this MOD.
The first thing you have to do is download and install the APK. You don't need to uninstall the official WhatsApp or any other MOD you may be using, although you'll only be able to use one number at a time on each client. To use several WhatsApps you need to have more operative phone numbers.
Once installed and having complete the number verification process, you'll be able to access the app's interface. Despite being totally transparent and being able to see your phone's wallpaper, it includes all the usual options. To start off, the interface is split into 3 tabs:
Chats: it's a list with all the conversations held with your contacts. Access one of them, press the text box at the bottom, write your text, and send it by pressing the paper plane icon. The first time you use it, it will be empty but as you receive and send more messages, the list will fill up with conversations so you access them easily by simply tapping them. On the upper part of the screen, you'll see an icon to enable the DND mode (a flight mode for WhatsApp), a search tool to quickly find conversations and messages, a button to start a conversation and the button to access the settings identified by means of 3 vertical dots. Furthermore, in the right bottom corner, there's a floating button with a + symbol that allows us to start a chat by selecting a contact. If you keep a conversation pressed for a few seconds, new specific options will appear for that chat, such as pinning it to the top of the lest, muting it, archiving, marking it as not read, adding a shortcut to it, viewing its information or leaving it in the case of groups.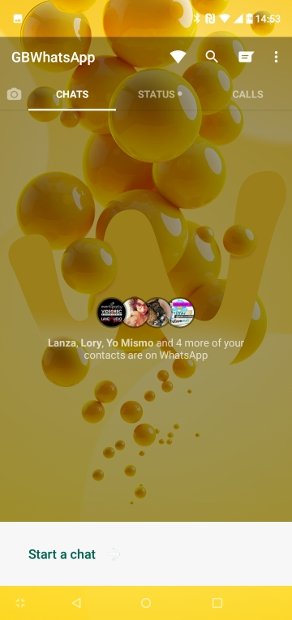 WhatsApp Transparent's Chats section
Status: the second tab of the interface is the Status function, which allows us to upload an image or video, and share it with our contacts for 24 hours. After that amount of time, it will be deleted automatically. It's similar to Instagram's stories. To publish a status, we simply have to press My Status on the list to open the camera so that we can take a picture or record a video. You can also publish content by pressing pencil-shaped icon in the top right corner (it allows us to write a message on a colorful background) or pressing the camera icon in the same corner, which will open our camera app. From the upper bar, we can enable the DND mode, search, access our privacy options to choose who can view our status, configure our default status or go to WhatsApp's general settings (the general ones, not the MOD's).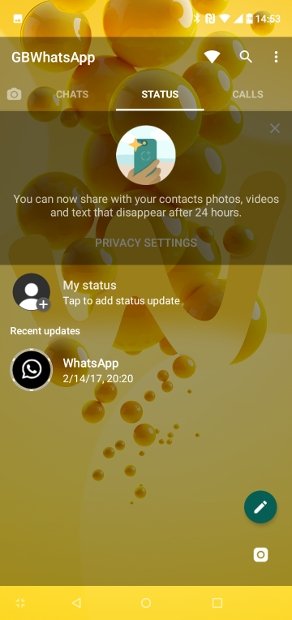 WhatsApp Transparent's Status section
Video calls: this is the section dedicated to video calls from where we can make calls to our contacts. To start a call, press the phone-shaped icon at the bottom of the window and choose a contact from your list. From the upper part, just like in the previous cases, you can enable the flight mode, use the search tool or access your status settings or WhatsApp's general configuration.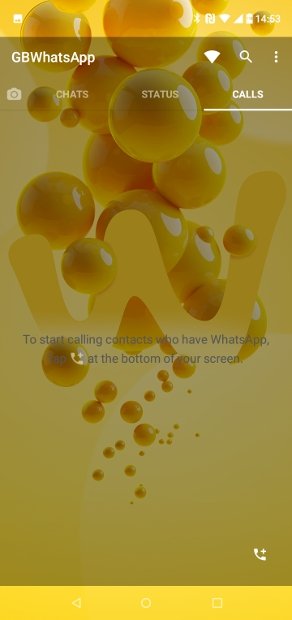 Video call section
Apart from these 3 tabs, there's a fourth hidden one if you swipe to the left: it's a shortcut to the camera to send a photo or video right away. You can also send any file from your multimedia gallery.
From here on, everything you need to know is in the setting section. If you go to the Chats window and press the button with three vertical dots in the top right corner, an options menu will drop down: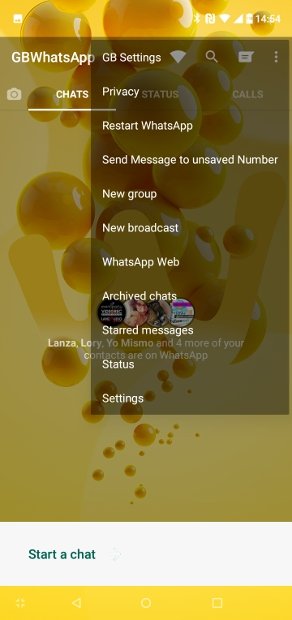 WhatsApp Transparent's options menu
Norah Mods/GB Settings: here we'll find the most important options. Once you access, and after inviting you to subscribe to the developer's profile on YouTube, you can view a list packed with options. The upper half isn't too useful, basically disguised adverts, but if you scroll down you'll find the first interesting options. You can check if there are new updates, download other visual themes, and carry out all the typical adjustments in this kind of MOD in terms of the customization of texts, colors, multimedia files…
Privacy MODs: the privacy options have their very own section where we can disable the blue checks, our last connection time, prevent statuses and messages from being deleted…
Restart WhatsApp: simply restart the app.
Send Message to unsaved Number: as you can imagine, it allows us to send messages to numbers not saved on our phone.
New group: to create a new group with the contacts of your choice.
New broadcast: to send messages to a large number of contacts.
WhatsApp Web: to configure the web version of the messaging client by means of a QR code.
Archived Chats: the list of all the chats and conversations you have archived.
Starred messages: if you've starred messages, you'll be able to see them in this section.
Status: to modify the general status of your WhatsApp profile.
Settings: access WhatsApp's basic settings, the very same ones available in the official client.