It is possible to have two different WhatsApp accounts on one phone in several different ways.
Using Android user profiles to have two WhatsApp
This option requires us to create at least two different profiles to install a WhatsApp client on each one of them. This option is only available from Android 5.0 onwards.
Display the top menu of notifications in your Home. Repeat the operation to see all the menu options in full and press the small user icon, a representation of a human bust.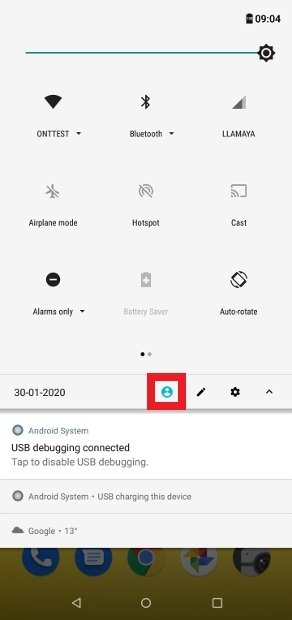 Search for the human silhouette icon
Select Add user and confirm the operation in the warning pop-up window.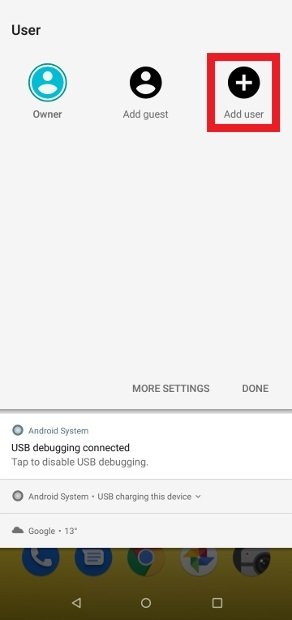 Press Add user
From this moment on, the configuration process of the second account will start, it will ask you for your email (not essential), a name for the second account, and various permissions. Once you have finished entering your data and granting permission, you will find yourself in the interface of your second user account. Download and install WhatsApp and configure the app with your second phone number.
From now on, you will have two WhatsApp accounts running on the same device. The only problem is that you will have to switch between the two Android users in order to send and receive messages, it is not possible to use them simultaneously.
Cloning apps to have two WhatsApp accounts
The second alternative is to use applications that let us clone apps. It does not matter the brand or manufacturer as all models are compatible. It is also not necessary to have a dual SIM phone or advanced knowledge. All that is required is to verify the phone number of the new account, either by changing the SIM card momentarily, switching cards in a Dual SIM phone or using another available phone at hand.
There are several apps of this type. Perhaps the most popular and the one we recommend here is Parallel Space. To accomplish this, download and install the APK file. You can do it by clicking the green Download button and following the usual steps for installing an app on Android.
We assume you already have the first WhatsApp installed. Open Parallel Space, it will detect all compatible apps by itself and will point them out with a blue tick. Make sure the WhatsApp icon has that symbol and click Add to Parallel Space at the bottom.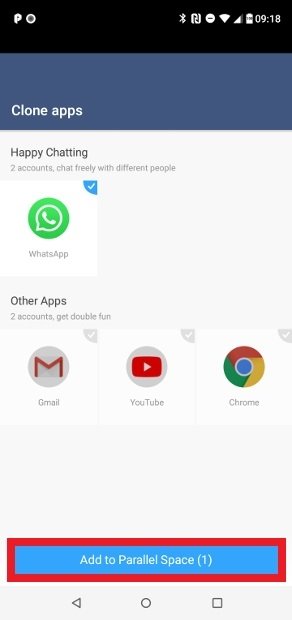 WhatsApp detected by Parallel Space
In the next window, you can see the icon to access your second WhatsApp, a second app that runs inside Parallel Space, so it is independent. Click on its icon.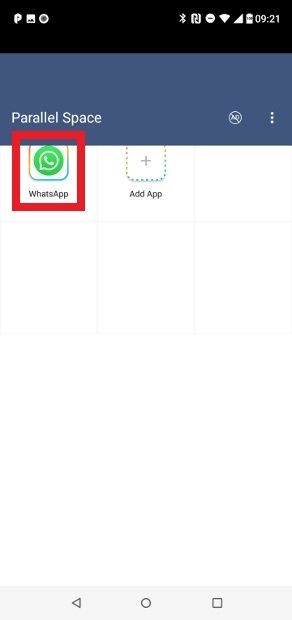 Second WhatsApp within Parallel Space
Accept any permission required for the app to function properly.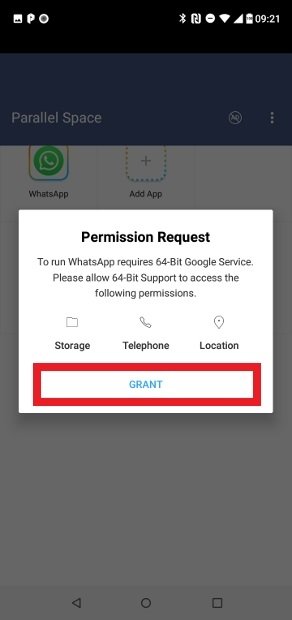 Grant any permission necessary
In just a few seconds, you will be facing a new installation of WhatsApp, just complete the registration process for your second number and start chatting.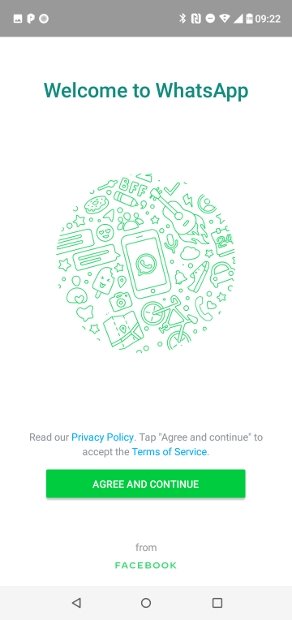 Second WhatsApp running in Parallel Space
To make it easy to open the app, you can create a specific icon for this second client on your homescreen. You can drag and drop the icon to the position you want, or let the app place it for you wherever it suits you. Relax because it is quickly distinguished from the icon that has always been there.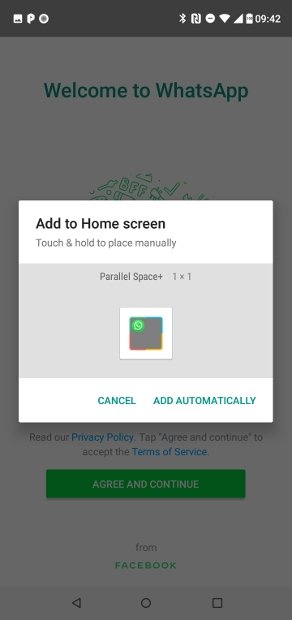 Option to add a specific icon to your Home Screen
About this method, it is worth noting that some smartphone manufacturers such as Samsung, Huawei, Xiaomi, OnePlus or Oppo include their own app cloning tool as standard, so you do not even need to download Parallel Space. If you are a user of a mobile phone of these brands, look through its settings in case you already have a similar tool. The process will change from one manufacturer to another, but it will be very similar to what we have just explained here.
Using WhatsApp Business
WhatsApp Business is the business version of WhatsApp. It is not originally designed for home users, but for practical purposes, it can be used as a client for a second phone number.
Download and install the WhatsApp Business APK, you can do so by pressing the green Download button provided here and following the usual steps.
Once installed, perform the configuration and verify your second account with your second phone number.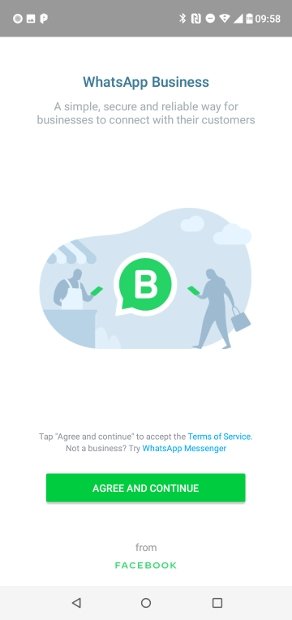 Initial WhatsApp Business configuration
Please note that using WhatsApp Business will turn your second number account into a business account and it is visible to your contacts. In addition, all your contacts from the personal account will be imported into the Business account.
Using WhatsApp Web
The penultimate option is to use WhatsApp Web with your second number in your browser. You need to have the second account running on some device beforehand.
Visit the official WhatsApp website with Chrome and click on the 3 vertical dots icon in the top right corner.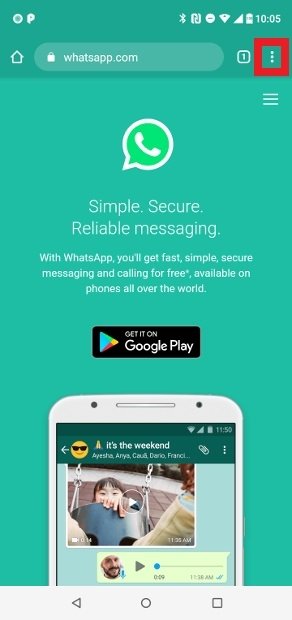 Access to Chrome's settings
Select Desktop site to see the desktop version of the website.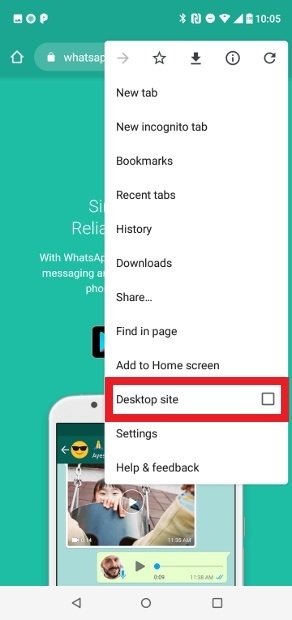 Choose the Desktop site option
Select WhatsApp Web in the upper left corner.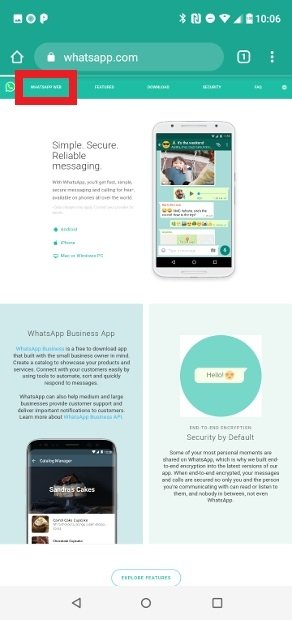 Search for WhatsApp Web in the upper left corner
Capture the QR code on the screen with your second WhatsApp customer by going to the settings as usual and selecting WhatsApp Web.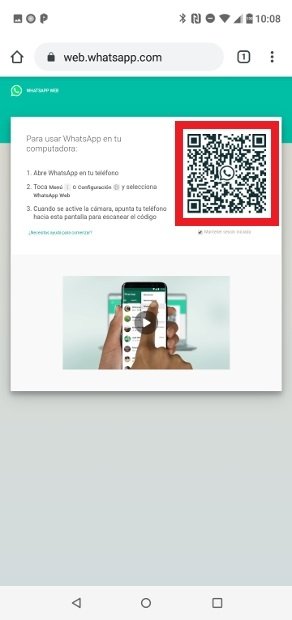 Scan the QR code with your second number
From this point on, you will have your first account running on the WhatsApp app and the second account running through the web browser.
Using WhatsApp MODs
There are several WhatsApp MODs such as GBWhatsApp that combined with the official app, let you set up two or more WhatsApp accounts on the same mobile.
The procedure is as simple as downloading and installing the MOD and configuring it with your second phone number.
However, there are two things to keep in mind: WhatsApp periodically bans its users by forcing them to use the official client. And not all the existing MODs can coexist with the official version, so we recommend GBWhatsApp, as it is one of the MODs compatible with the official version.
Considering all the existing alternatives to having two accounts and the risk of using this method, it is advisable to use one of the alternative methods we offer you. It is only worth it if the extra functions of the MODs are essential to you.