Nowadays, it is not possible to easily spy on WhatsApp conversations. The app uses end-to-end encryption, ensuring that only you and the recipient can read the messages. Not even WhatsApp can do that. All messages are encrypted and only you and the receiver have the keys to view the content. In addition, each message has unique encryption with a unique key. Everything happens automatically and it is a function that cannot be deactivated. It is not uncommon to find programs, applications or websites that promise to access the account of another person and read all their messages, but they are 99.9% false.
This is not to say that in the past, and even today, there are ways to spy on conversations on WhatsApp. Your conversations are inviolable, with possibilities.
Spying on WhatsApp conversations with WhatsApp Web
WhatsApp web is currently the simplest way to spy on conversations in some cases. The most common way occurs when we directly leave the session started on an unlocked computer, anyone nearby could see our conversations and send messages.
Another possibility deals with having the device of another person close to you and be able to access it. Beyond the obvious possibility of looking directly at the conversations in the app, there is a way to spy on the conversations with relative secrecy.
Open Google Chrome and visit the official WhatsApp Messenger website. Once there, tap the icon of the three vertical points in the upper right corner, which gives access to the browser options menu.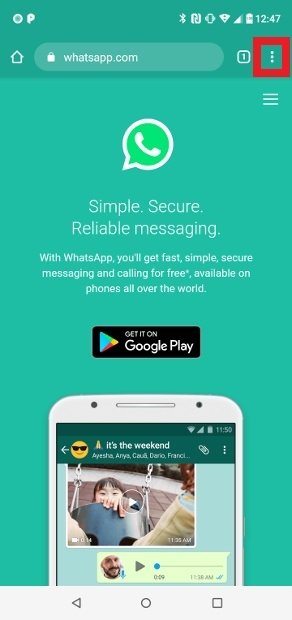 Visit WhatsApp's web with Chrome for Android
Select Desktop Site to see the desktop version.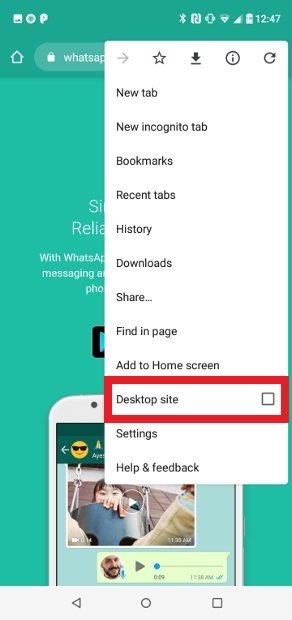 Open Chrome's options and choose to view the desktop version
In the upper left corner, tap on WhatsApp Web.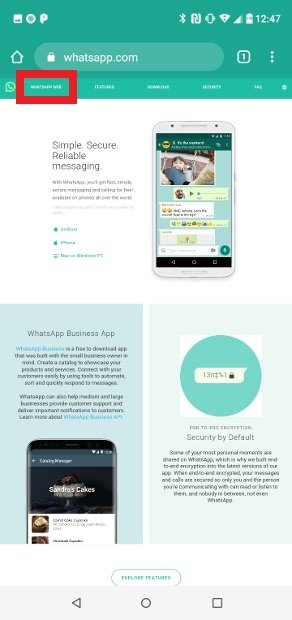 Select the option WhatsApp Web
Take the phone from the victim, go to Settings and select WhatsApp Web.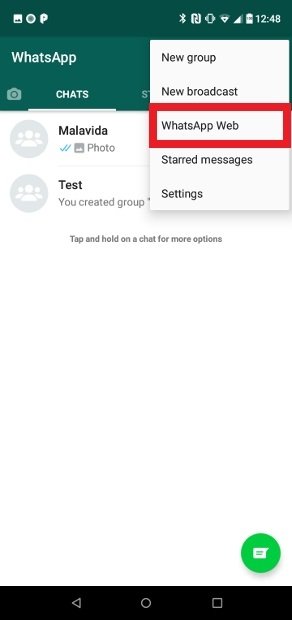 Search for WhatsApp Web in your victim's WhatsApp
Scan with your mobile the QR code visible on your screen.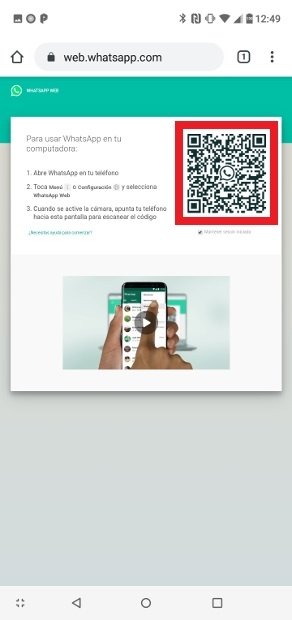 Scan the web's QR code with your victim's phone
After a few seconds, WhatsApp Web will be activated on your mobile with the WhatsApp account of the person you want to spy on and you will be able to move through all the conversations. Problems with this method? It is only for spying, the moment you write something you will be discovered, and if the victim is using the web version or the Windows client, the victim might receive the message that the app has been opened on another device and raise suspicions. It is also not surprising that WhatsApp acts soon to change this behavior.
Spying on WhatsApp conversations with backups
One method historically used to access WhatsApp conversations is through backups. Someone with access to the backup might be able to restore it with the help of some tools.
The integrity of the backups has improved over time, but it is still possible for someone to spy on our conversations if they have access to the device (WhatsApp keeps a daily backup of messages locally accessible through a file browser), to the Google Drive account used to store backups in the cloud, or to an SD card where we may have made a manual copy It is a remote option that requires high computer technical knowledge or advanced forensic software, but it exists and cannot be discarded.
In the computer security world, there are companies dedicated to the development and sale of espionage software or forensic software. They are companies that provide all kinds of solutions as long as their services can be paid for, something that is normally only within the reach of governments and their corresponding security agencies: there is a dark market for the espionage of communications that are logically not advertised on the supermarket bulletin board. These companies are able to extract information from any site or create and insert Trojans on the device of the victim that can take full control, including access to WhatsApp messages.
Other WhatsApp Spy Software
That said, sometimes it is not all that sophisticated. There are also companies that offer communication monitoring services for the nearest domestic environment. mSpy, for example, is a software designed to monitor what children or employees in a company are doing, but it is still possible to use it to spy on WhatsApp if they have access to their device.
Before WhatsApp became popular and Facebook acquired the company, there were very simple methods of spying. In its beginnings, back in 2009, it was an application designed to communicate to your contacts what you were doing at that time through the states. That way, you could tell if you were available to answer a call or an SMS, but not send messages from the application itself as is possible today. Safety was not a priority issue or concern in such an application.
As soon as instant messaging was introduced, the interest in spying on conversations was born. One of the first methods to appear was to install the WhatsApp Sniffer app. It required having root permissions on our phone and being connected to the same wifi network as the person we wanted to spy on (some network with fragile security), for example in a public area such as a library. Once in operation, it was possible to see all the messages sent by the phones connected to the same wifi network, although they all appeared mixed: it was not as simple as entering a conversation and reading it, its real usefulness was quite limited since in just a few minutes you ended up seeing a large number of messages from all the people who were connected in the library without knowing who was talking to whom.
How to check the privacy of your WhatsApp messages?
If you are unsure about end-to-end encryption with WhatsApp, you can always check it out. Place yourself in a chat window with a contact and tap the name of that contact at the top.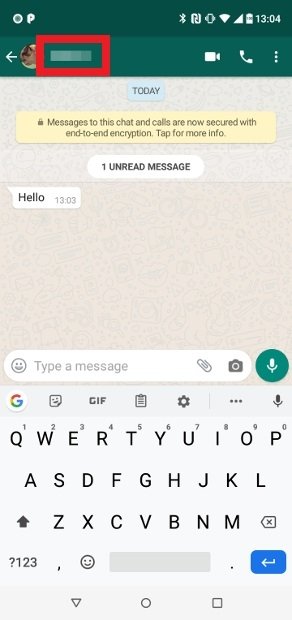 Tap the contact's name in a chat window
You will be able to access different sections, including Encryption.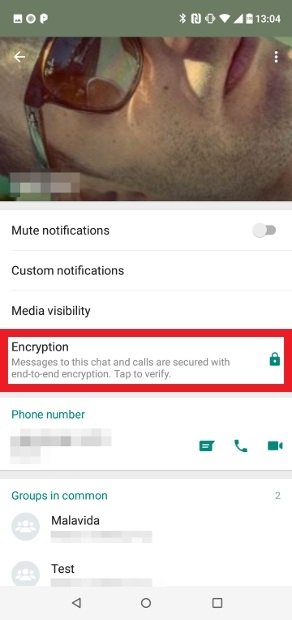 Access the Encryption section
There, you can get a QR code that you can scan with the phone of your contact or vice versa, to verify that the encryption works properly. You can also compare the 60-character code just below with the one on the phone of your contact.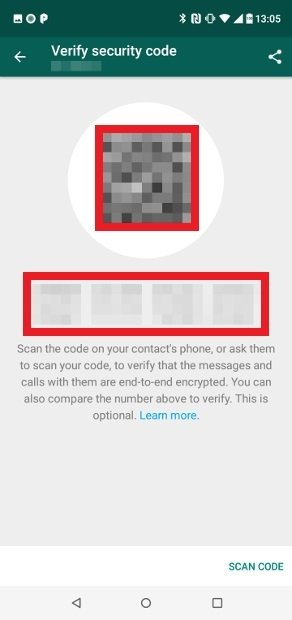 QR code and encryption number
Spying on WhatsApp conversations is a central issue in the growing problem of Internet communication privacy. Countries such as the United States and Great Britain have been demanding for years that the developers of messaging apps use backdoors or master passwords that allow them to bypass encryption and read the messages of people involved in serious law violations, and it cannot be omitted that they will be forced to give in to such claims in the future. So far as you can see, spying on WhatsApp conversations is virtually impossible unless you are an advanced computer engineer specializing in security and cryptography or a very naughty person, to say the least.
And two more details:
Just because it is not possible to spy on conversations does not mean that there are no other public data that say things about you. Anyone can find out when you are online and the times you are online by adding your number to their address book and monitoring their chat window with you.
Spying on private conversations is a crime: performing any of these actions to spy on any private conversation of another person is illegal. It constitutes a crime of discovery and disclosure of secrets under article 197 of the Criminal Code, punishable by up to a maximum of imprisonment of four years. So, think very carefully about what you are going to do before you act.