Wish lets you use different payment methods to complete the purchase process. Broadly speaking, we can divide the options offered by this e-commerce platform into two. First, it is possible to use debit or credit cards.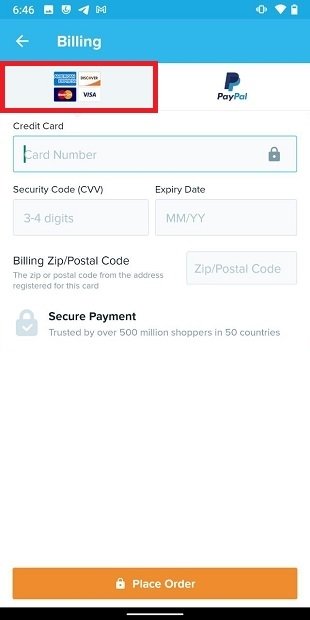 Credit or debit card
Cards supported by Wish are:
Debit cards that incorporate the Visa or Mastercard logo.
Credit cards that incorporate the Visa, Mastercard, American Express, Discover, Maestro, or Cirrus logo.
To pay by credit card, you need the following data:
Card number. This is the main number of the card and identifies it.
Security code. It is located on the back of the card. It is also possible to locate it in your bank's application.
Expiration date. This data is available on the physical card or in your bank's application.
Additionally, Wish will ask for your zip code when you pay by card.
Secondly, you can pay in this application with PayPal. This is a highly recommended option if you are not in favor of providing your data to Wish. In this case, you will need to create a PayPal account and associate your card or bank account. Then, press on the PayPal option, available in the last step of the Wish purchase.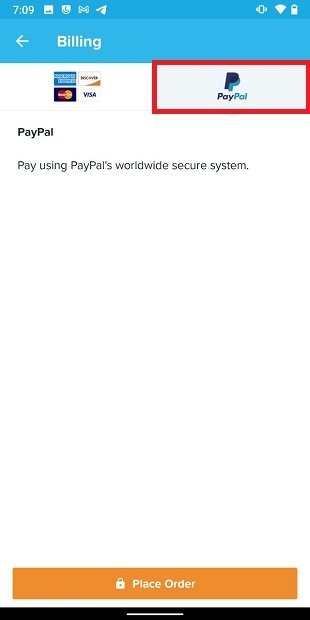 Pay with Paypal
When you press on the purchase button, you will be redirected to the official PayPal page, where you will have to enter your credentials.
In addition to these two main payment methods, Wish also supports Google and Apple payment gateways. The first one is only available on Android. Apple Pay, on the other hand, can only be used from an iPhone or iPad.
All payment methods mentioned in this article are secure, as Wish acts as an intermediary. If there is a problem with your purchase, it is up to the US company to respond and offer a solution.