All existing applications (regardless of the kind of app they are) must continuously evolve. WhatsApp, Meta's messaging app, is no exception, and in recent years, we have seen how, little by little, some exciting new features have arrived. However, one aspect is still very lackluster despite all the updates and years of development. We refer to customization, which is still quite limited as it does not offer many options. Fortunately, WhatsApp mods like GBWhatsApp Pro allow you to have many more options in this area to make our app more colorful and vibrant. We tell you in this article how you can change themes and wallpapers in this mod.
How to change the wallpaper in GBWhatsApp Pro
We spend many hours a week in front of WhatsApp, so why not have a better experience for our eyes? The GBWhatsApp Pro mod lets us change virtually every visual aspect of the app, which is fantastic. If you want to change the wallpaper in this modified version of the app, you only need to do the following:
Install and open GBWhatsApp Pro on your device.
Once on the main screen, tap on the three dots at the top right.
A drop-down menu will appear. Tap on the Mods button.
In the new screen that will appear, select the Theme option.
To change the wallpaper to one you already downloaded, tap on the Load theme button. By default, it will be saved in the Downloads folder.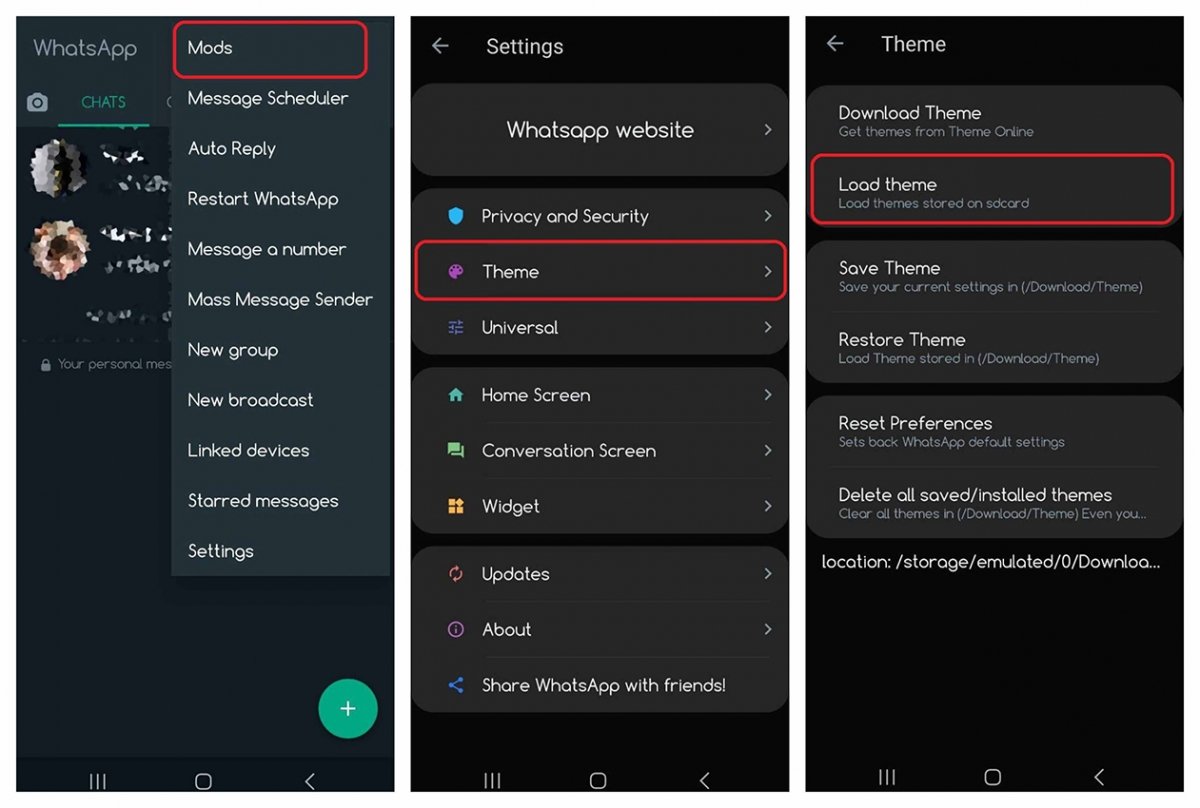 This is how we can load the wallpaper or them of our choice
However, we must keep in mind that we must download the wallpaper in ZIP or XML format since these are the only two supported by GBWhatsApp Pro.
How to download and apply custom themes in GBWhatsApp Pro
If you want to give your WhatsApp a new look but can't think of anything specific, GBWhatsApp Pro also has a solution. The application has an archive of over 4,000 themes to download, all very polished. The best thing about this is that this installation process is tremendously simple since we will only have to tap a button to do so. The procedure for downloading and applying these themes is similar to the previous one, so it will be easy to do:
As you have done before, access the GBWhatsApp Pro main screen.
Tap again on the three dots at the top right of the screen and select the Mods option.
Again, tap on the Theme option.
In the menu that will appear on the screen, select Download Theme.
Search for the theme you want and tap on the Install button.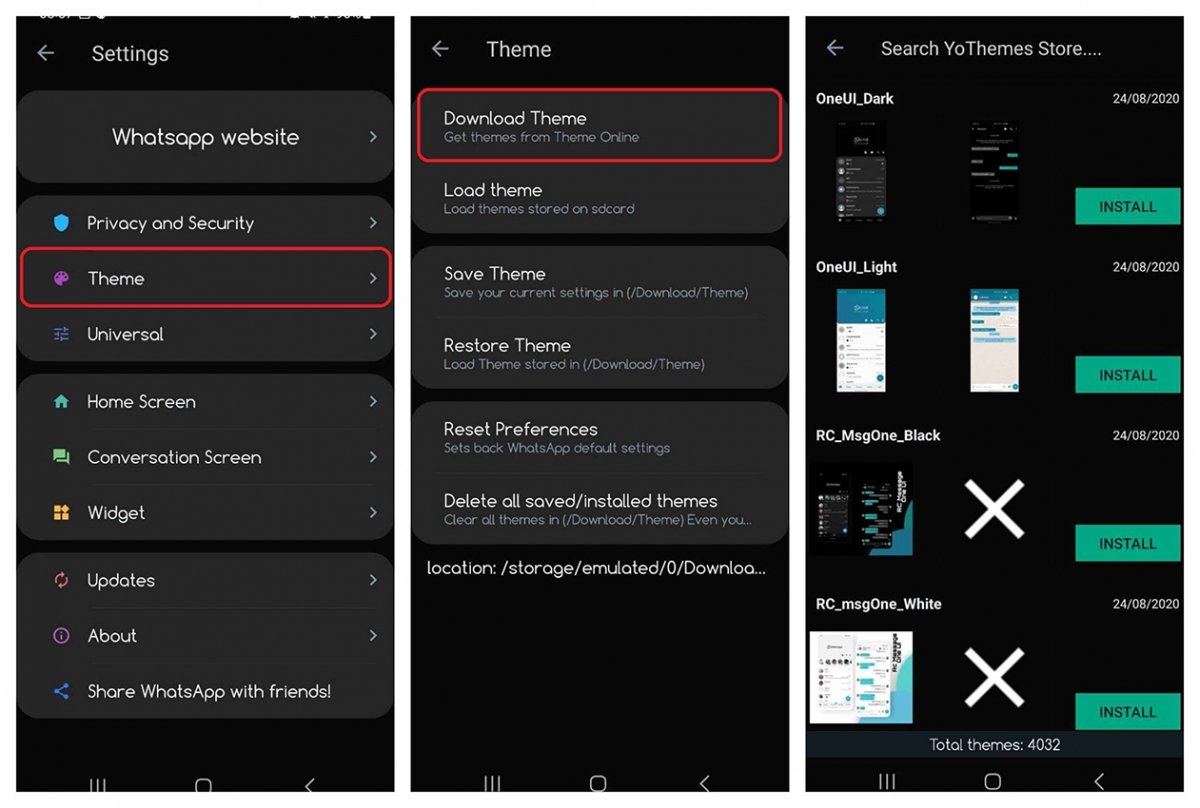 GBWhatsApp Pro has over 4,000 themes available for free
What are the best themes for GBWhatsApp Pro
As we mentioned above, you have a broad selection of different themes that you can access for free in GBWhatsApp Pro. Of course, you can pick any one you like, and you will surely find one that suits your style, given how spectacular most of the themes available are. Here is a selection of the best themes we found among the thousands available.
Give a different style with sober colors
The WhatsApp application has always been known for the characteristic green it uses as its main color. This theme, called YoMidnight_OneUI, changes that green for an elegant, sober dark blue and also has the bonus of placing a beautiful balloon stamp in the conversations.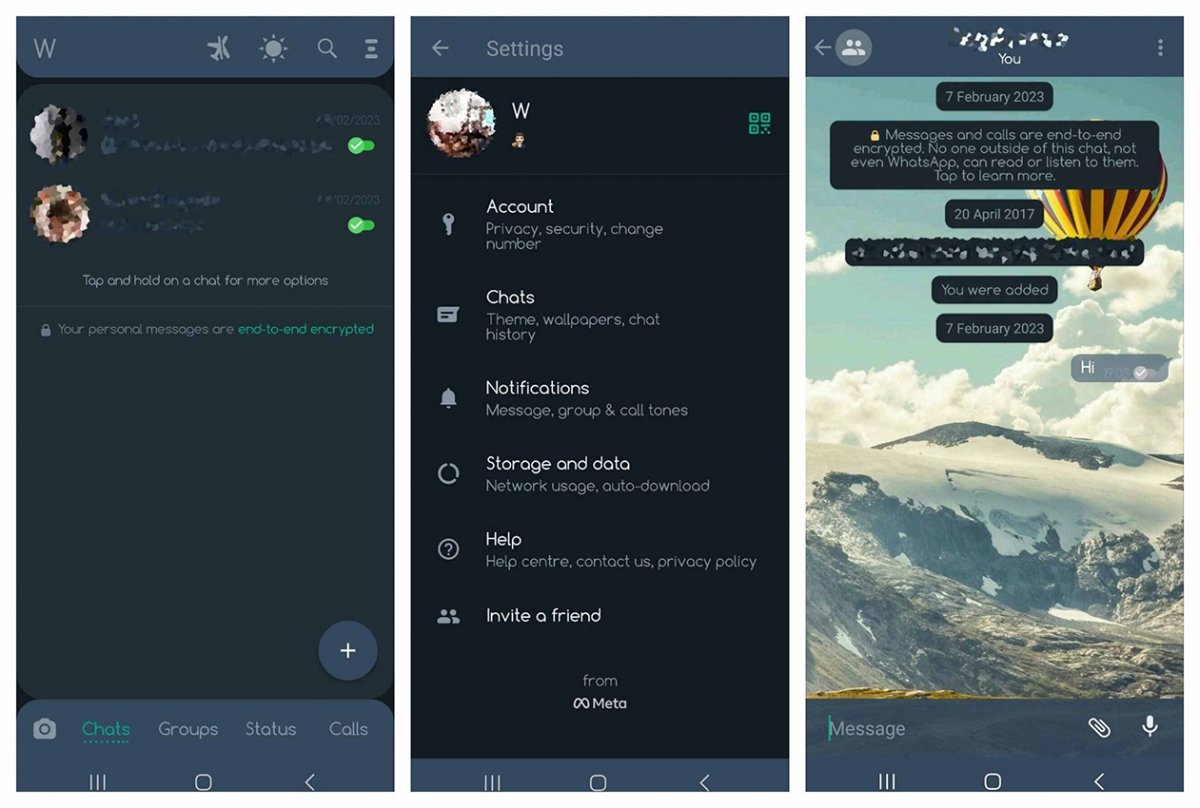 Plain colors and a beautiful landscape feature in this theme
A very eye-catching theme with eye-catching colors
If you prefer a more eye-catching theme, GBWhatsApp Pro also has options for you. Several themes have the letters M.A.S.B in their name and display striking color combinations. The best of them is, without a doubt, YoCandy.M.A.S.B.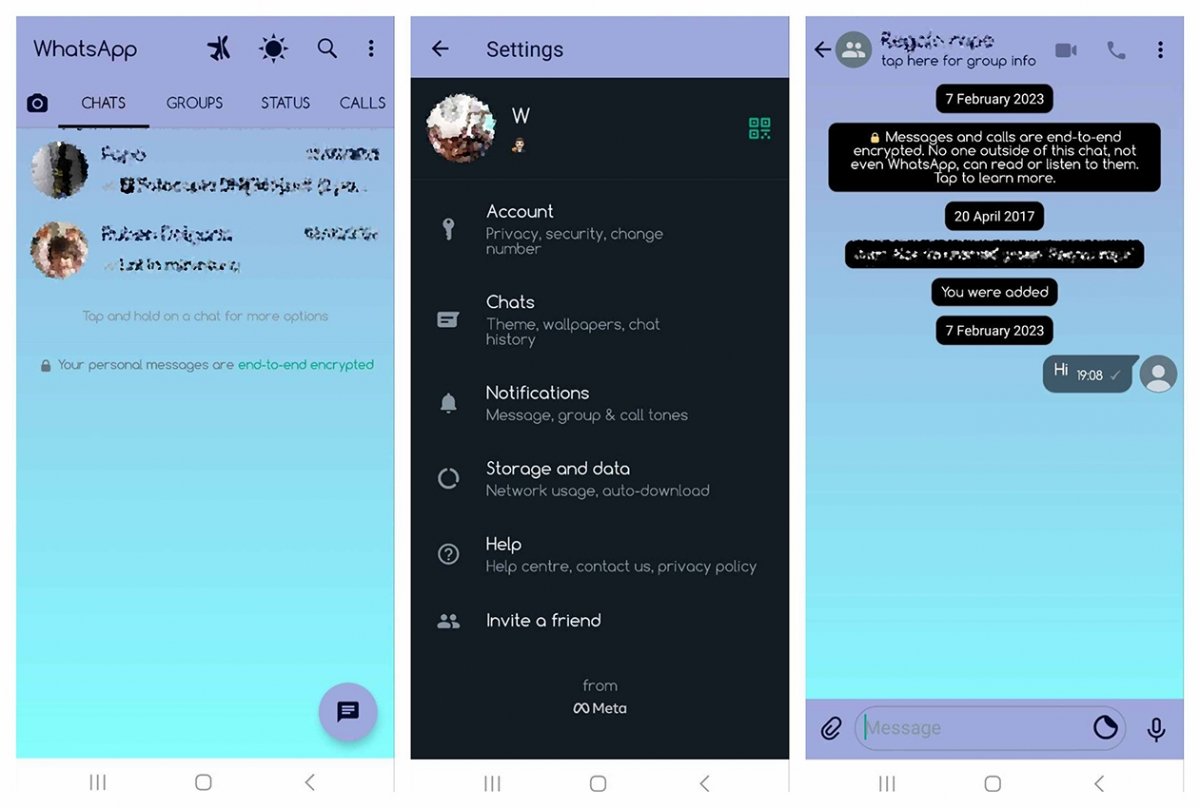 This theme offers us a simplete yet eyecatching alternative
Bring the military camouflage to your WhatsApp
Military camouflage print is one of those things that never go out of style, not in clothing or anywhere else. The Camuflagem_By_Nieliton theme will bring military camouflage to our WhatsApp, and thanks to its dark tones, it will delight those users who usually opt for night mode.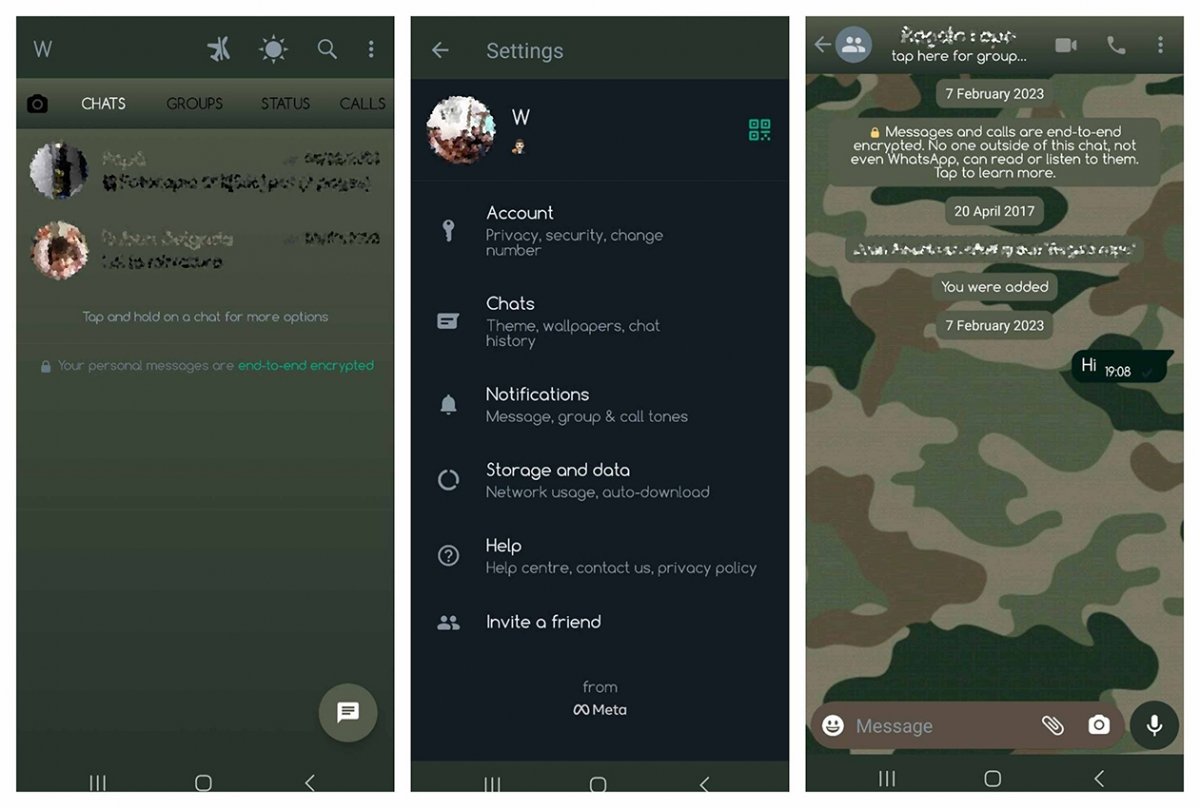 A good old camouflage pattern never goes out of fashion
Choose a theme inspired by one of the best animes
If you are looking for something more spectacular and you are an anime lover, there is no way you will not enjoy the DBS_GK_NIELITON theme. This theme has orange as the main color on all its screens, but without a doubt, its most striking feature will be available when writing in a chat: we will have Goku on our screen.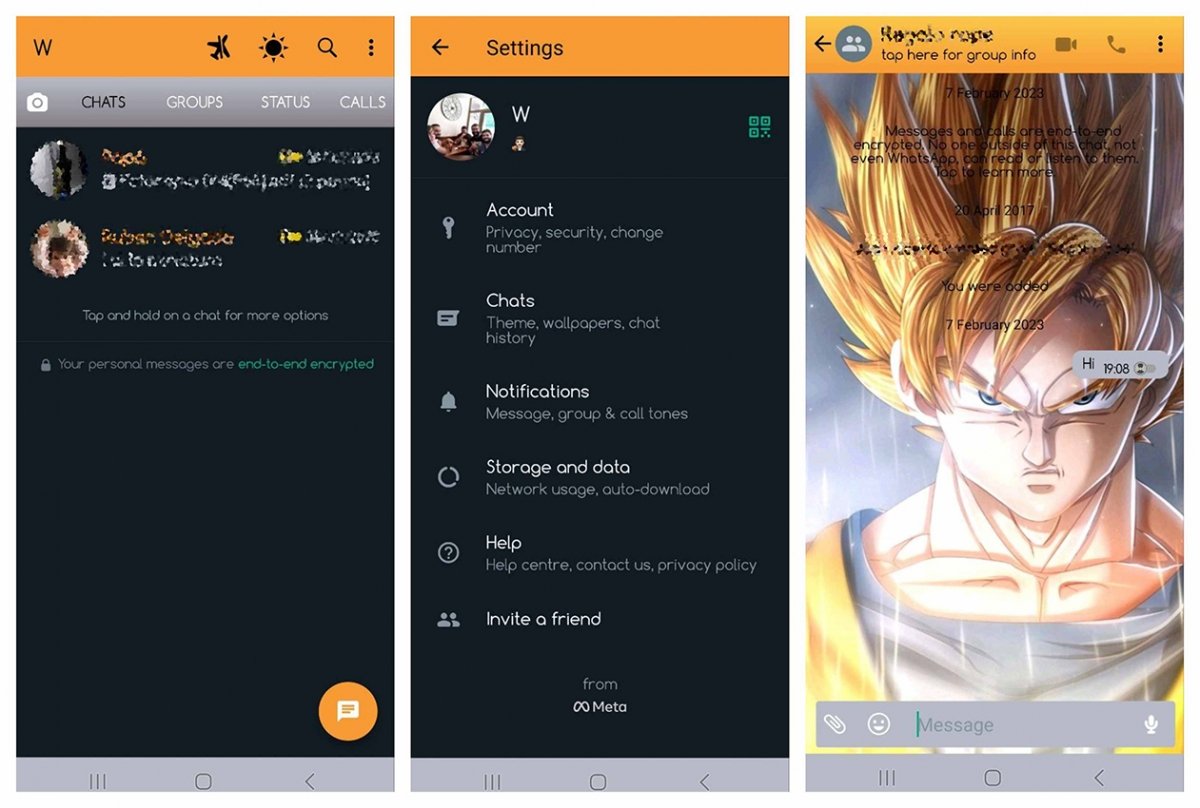 One of the best animes of all time, featuring on your WhatsApp
Fire as the main protagonist of this theme
We will close this list of themes with one that is also very striking. The theme in question is named FLAME and has fire as its main protagonist, as you might have guessed. Yellow and orange go hand in hand in one of the most beautiful themes we will find.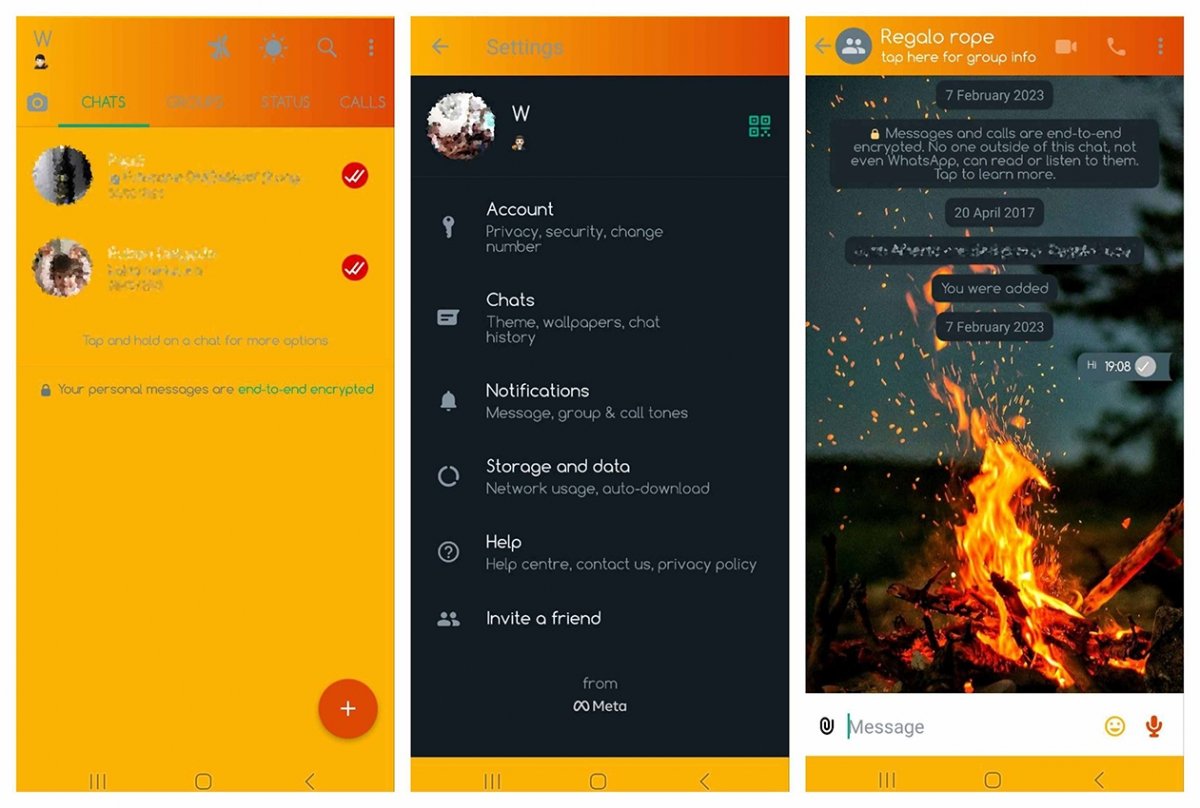 The perfect theme if you really want something outstanding
The best thing about this theming system is that we can change ours as many times as we want. The only thing we have to do is repeat the process explained a few paragraphs above.