One of the biggest advantages we can find when using Android is the possibility of installing modified applications through APKs. These applications have many additional features not present in the official versions, which is always an incentive to use them. If we talk about modified applications, one of the best ones we can find is GBWhatsApp Pro, an app loaded with functions that cannot be found in the Meta messaging app. We will show you in this article how to enjoy one of them: the possibility of scheduling messages.
How to send scheduled messages in GBWhatsApp Pro
At some point in your life, you may need to send a message at a specific time or moment. Indeed, you can send this message manually, although it can be a more time-consuming and tedious process. Thanks to a function of GBWhatsApp Pro, you can schedule it in a matter of seconds so that the application sends it automatically without you having to do anything else.
To do so, we only need to do the following:
Install and open GBWhatsApp Pro on your Android device.
On the main screen, tap on the dots you will see at the top right of the screen.
A drop-down menu will appear. Tap on Message Scheduler.
On the new screen, tap the green "+" button at the bottom.
In the new window, we must select the contact (or contacts) to whom we want to send the scheduled message, the date and time, and the message.
Once everything is filled in, tap on the check button at the bottom.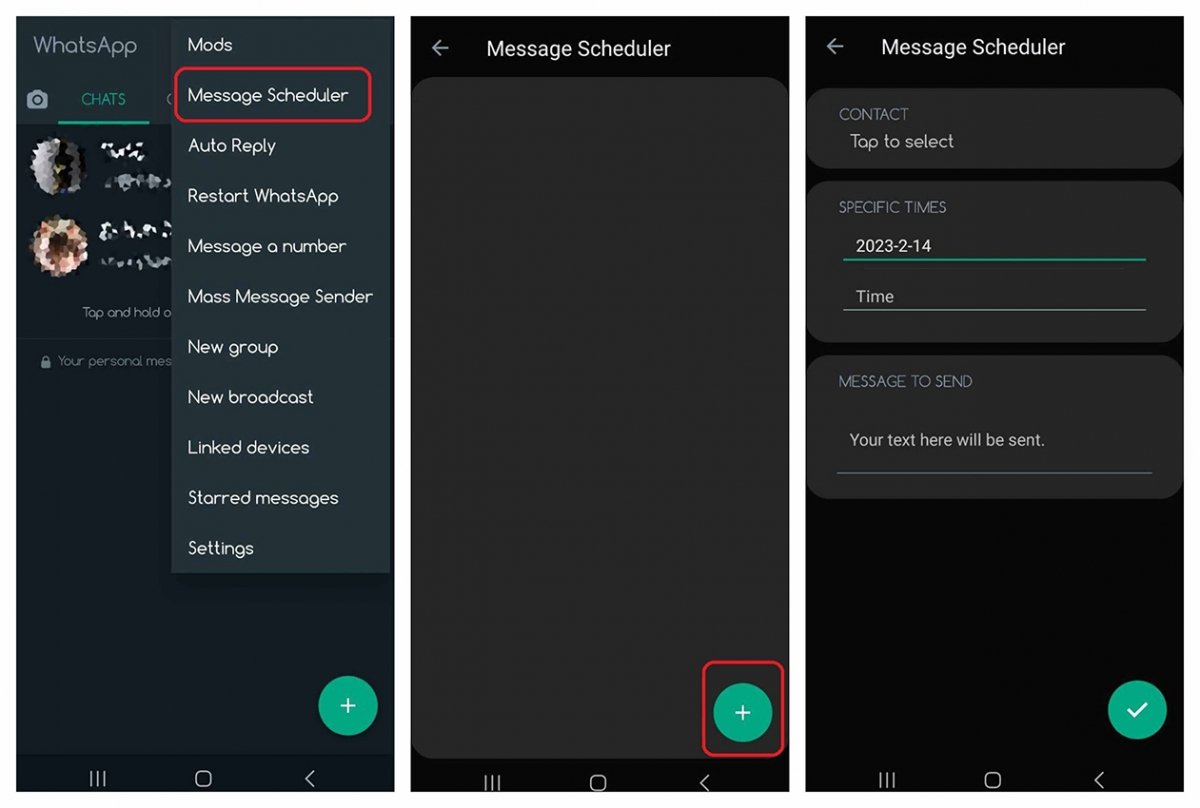 Scheduling a message in GBWhatsApp Pro won't take us more than a few seconds
How to configure GBWhatsApp Pro to send scheduled auto replies
Another situation that may arise is that we need to send an automatically scheduled message as a reply, in other words, when we receive a message from another user. This is especially useful if, for example, we want to inform our contacts that we are in a meeting or traveling. The process to set up this kind of automatic message is very similar to the previous one, as you can see, although at this point, we will have more options to configure:
With GBWhatsApp Pro open, tap the three dots at the top right again.
Choose the Auto Reply option.
You will arrive at an empty screen, as in the previous explanation. Tap on the "+" button.
In this screen, we will have to configure the messages. The first and most important thing will be to establish what will trigger these automatic messages: a text containing one or several words, an exact text, or any message we receive.
Next, we will have to configure the text we want to send, the period where this automatic reply will be active, and if we want it to be active only for specific contacts and/or groups.
When everything is set up, tap on the verify button.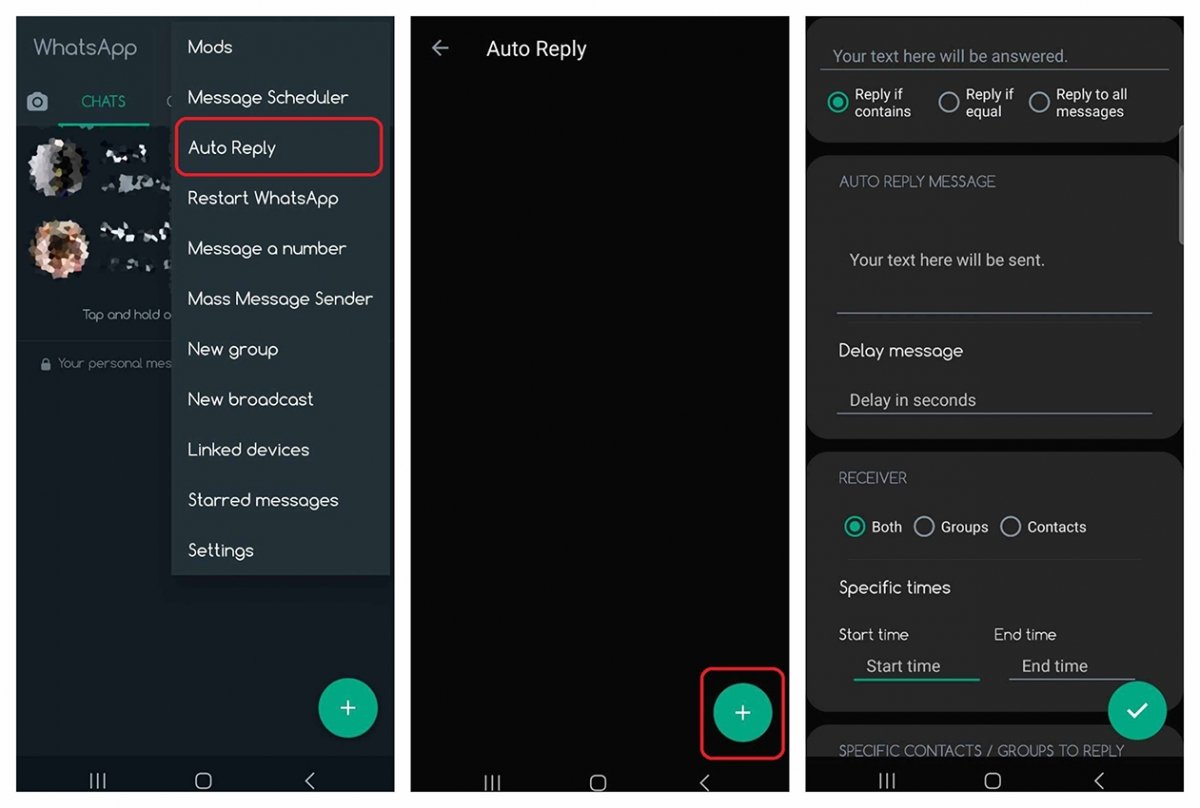 Auto replies offer more options that scheduled messages
For automatic replies and scheduled messages, we will have the option of having several configured simultaneously, which is undoubtedly very useful.