Fortnite has several graphics settings to make the game run smoother and sharper. To access them from the home platform, click on the menu button.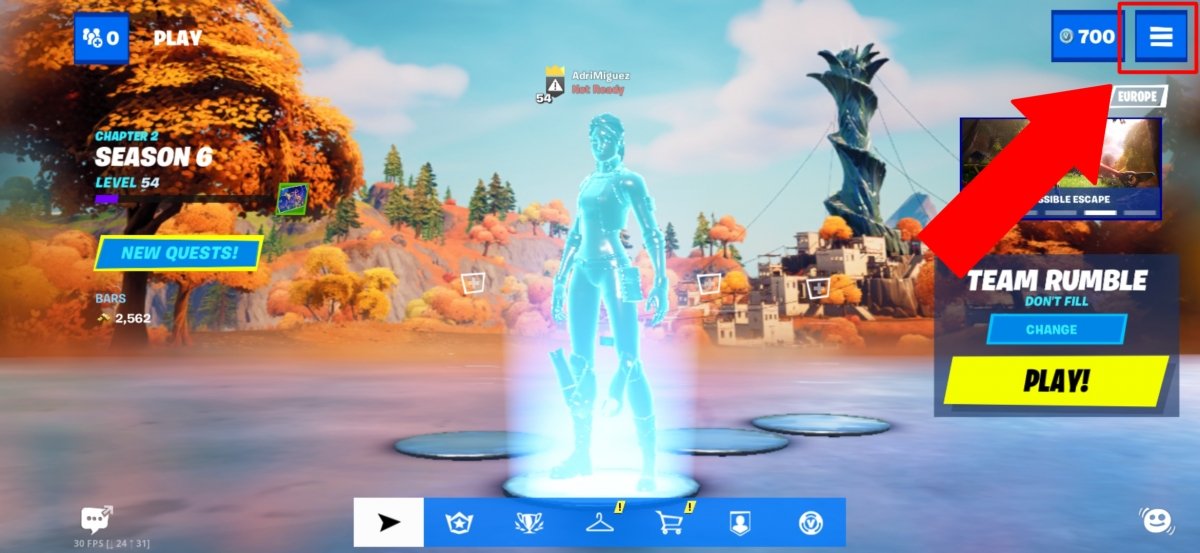 Tap to open the menu
Then, we must tap on Settings.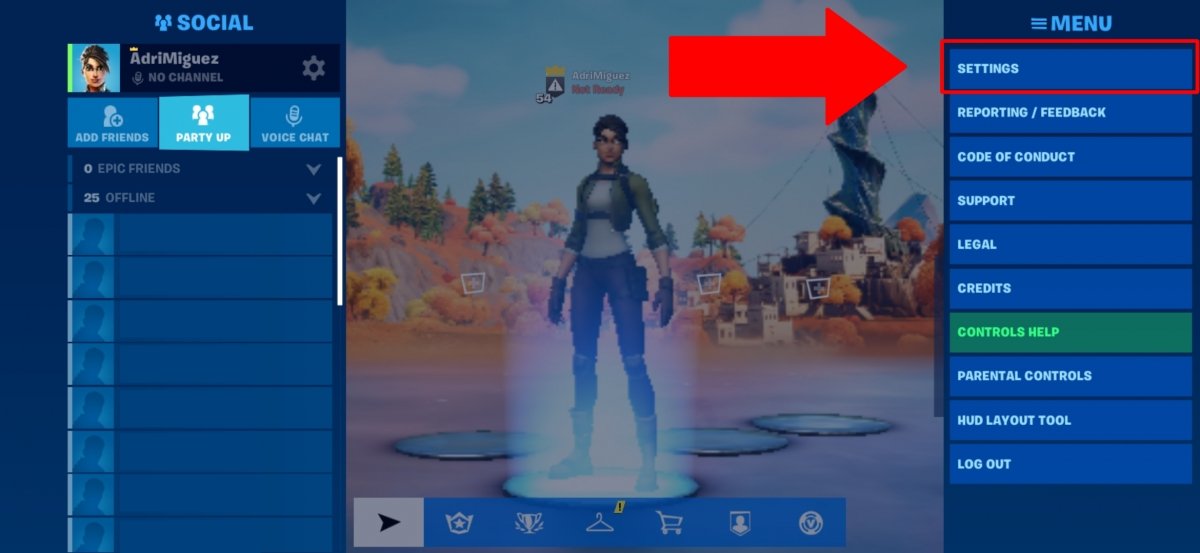 Tap on Settings
On the first screen, the graphic settings are already displayed. Of these, 3 are very important:
Mobile framerate: Choose between 20, 30, and 60 frames per second (FPS). The higher it is, the smoother the game will look, although frame drops are also more likely to occur.
Quality Presets: If we want Fortnite to run smoothly, we must choose the lowest, Low. This will make characters and scenery look with defined textures, so if our device has enough power, it would be good to set Medium or High. This is, by far, the configuration that has the greatest impact on game performance.
3D Resolution: By default, it will be set to 75%, which is not bad. If you set a very low percentage, we will see all the scenery and characters very pixelated, so we do not recommend you to lower it even if you can obtain some performance improvement, as it is not worth it.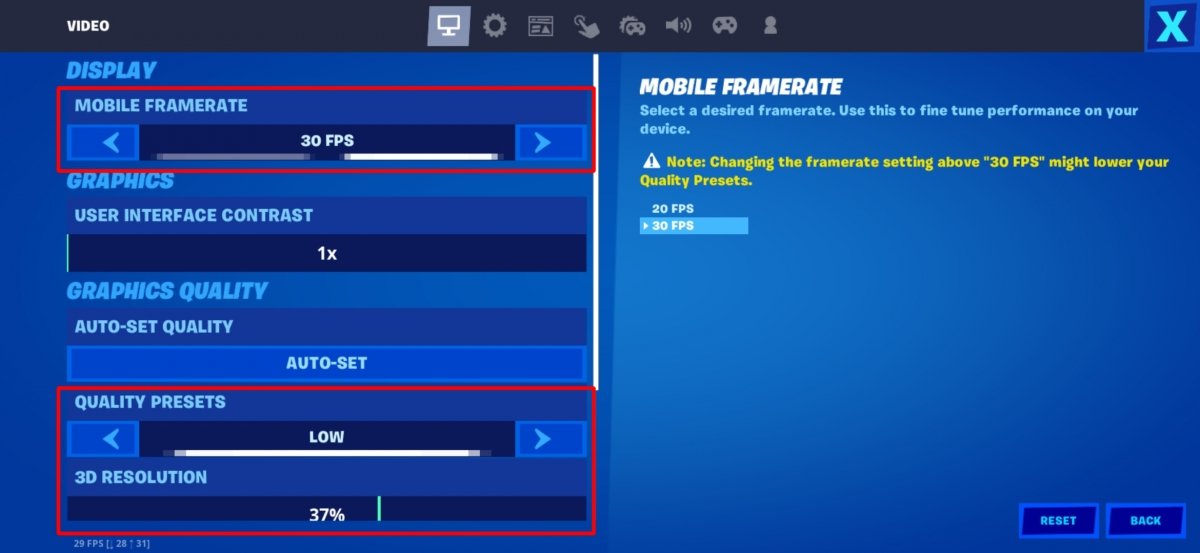 Adjust the settings of your choice
In summary, to make Fortnite run faster on our device, we must set the maximum FPS value and the minimum Quality Presets, keeping 3D Resolution around 75%. If our mobile is very powerful, we can choose to put a medium or high quality in the second section and 100% resolution in the third, of course with 60FPS. After changing the settings, click on Apply for the changes to take effect.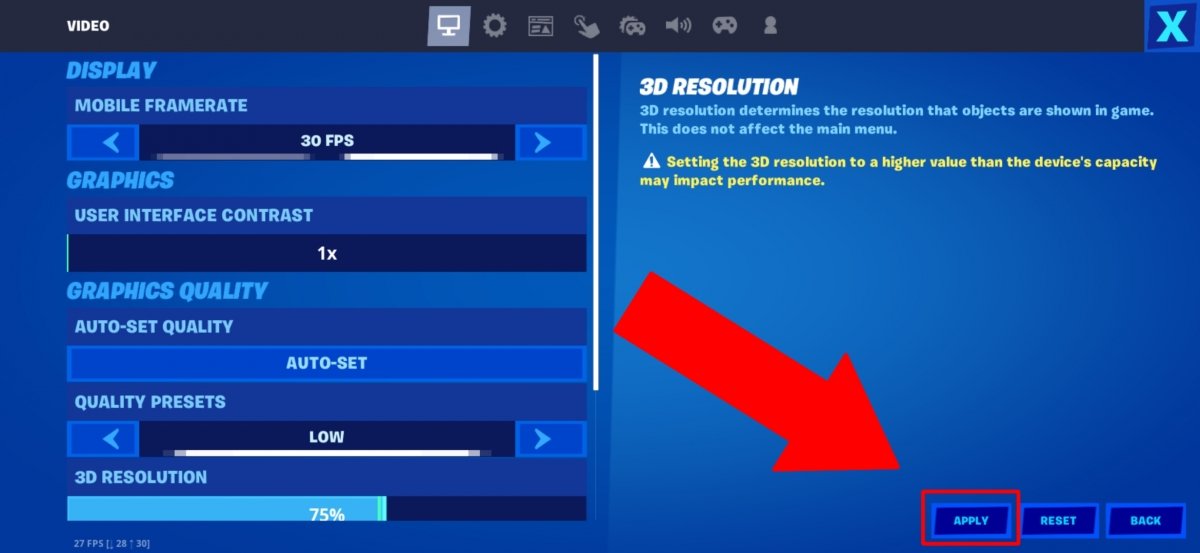 Tap on Apply to apply the changes
Additional settings
On our smartphone, we can edit several settings to improve as much as possible the Fortnite performance.
First of all, we must find out if our device has a performance mode or a Game Booster-style application for Samsung Galaxy phones. In case we find something like this, we should select the highest performance option for Fortnite. This will significantly improve performance although it will also cause a drastic reduction in the charge duration of our Android device.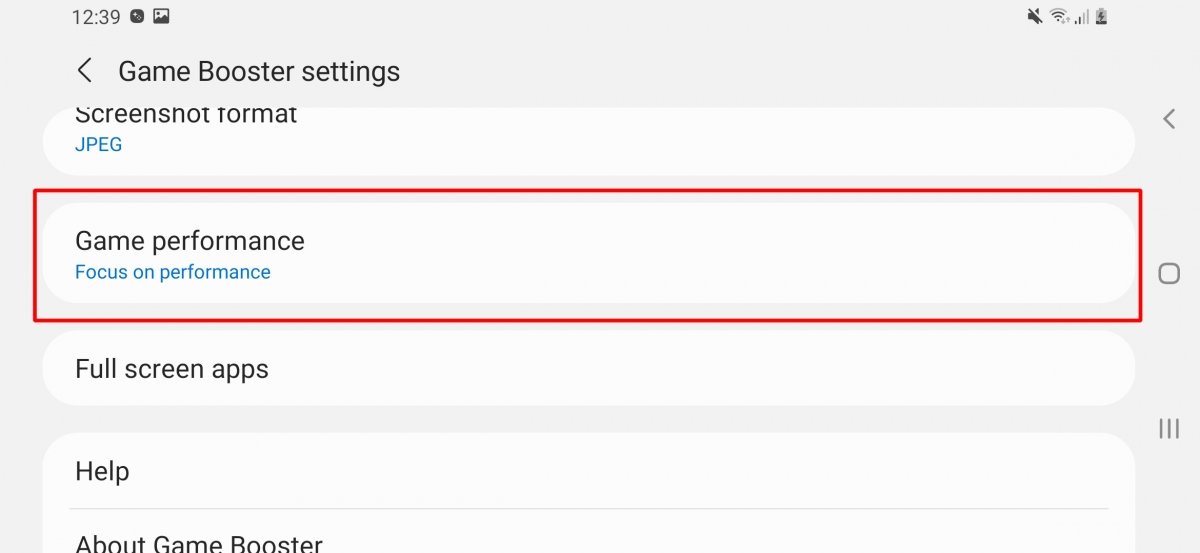 Our smartphone may have specific performance options for video games
Finally, we recommend closing all other open applications, as well as activating the airplane mode with Wi-Fi turned on (we will no longer have calls). Despite doing the latter, the improvement will not be very noticeable, but it could prevent some FPS drops.