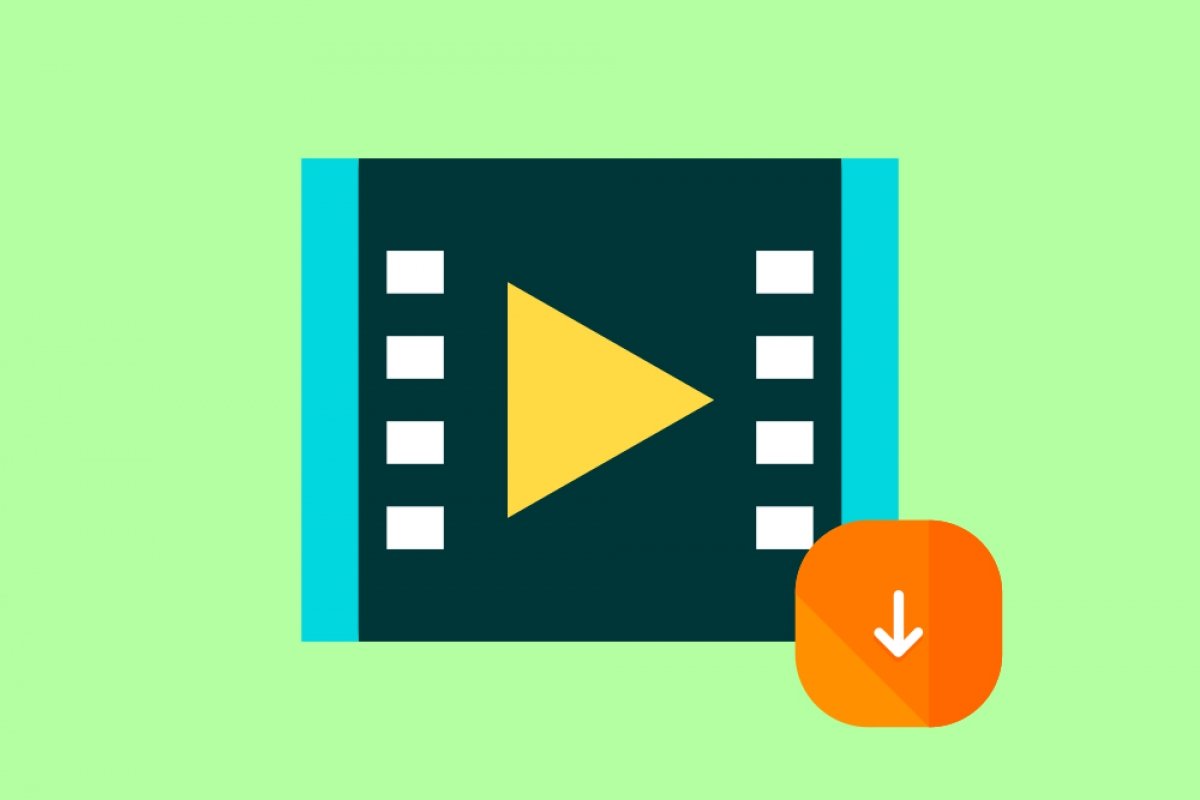 xVideoServiceThief will not be updated anymore. All those who downloaded their latest version, unless they have uninstalled it, have a relic on their computers that will never again see a new iteration in their development. Fortunately, there are multiple software options with similar functionality.
Youtube-DLG
This software is just an update with a graphic interface of youtube-dl, a text-based command-line application that lets you download videos from YouTube and many other services, such as AdultSwim, BleacherReport, BusinessInsider, BuzzFeed, or Dailymotion, just to name a few. The list includes thousands of platforms, which support also extends to this Youtube-DLG.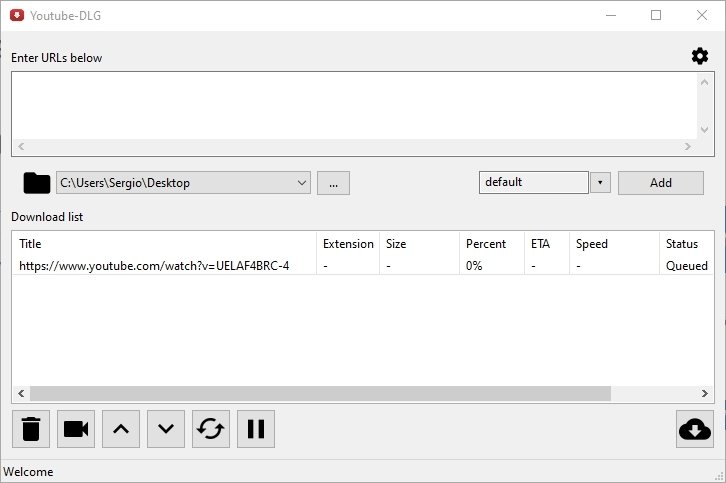 Downloading a video with YouTube DLG
It lets you save the downloaded files in WEBM and MP4 format for videos, and MP3, M4A, and OGG Vorbis for audio.
aTube Catcher
We cannot ignore one of the most popular alternatives. aTube Catcher is one of those programs that almost everyone knows, and it works exceptionally well and has an intuitive, easy-to-use interface. It lets you download videos from YouTube, Dailymotion, Comedy Central, and many more. When it comes to the types of format that can be converted into a video, aTube Catcher offers the most options. From the popular MP4 and MP3, to OGG Vorbis, WAV, AVI, MKV, and many, many more.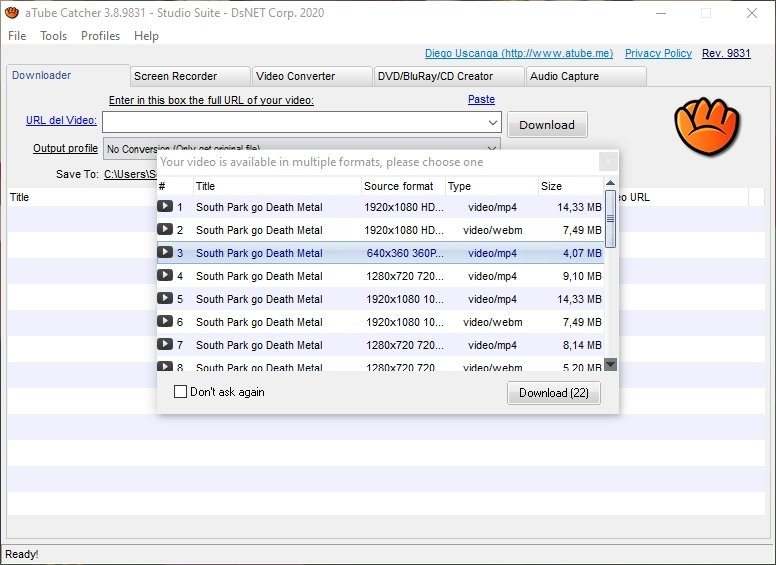 aTube Catcher's download options
The software offers support for hundreds of websites, and adding that to its ease-of-use, it is mandatory to recommend it. As a last note, be careful when installing it: as a rule, there is other unsolicited software packaged with the installation executable, so you have to specify that you do not want it.
4K Video Downloader
4K Video Downloader may not have the most popular list of compatible services, but it does offer us the ability to interact with popular services such as YouTube, SoundCloud, Facebook, and even Twitch. What makes this software interesting is the possibility of downloading videos marked as private you have access to, the possibility of downloading 3D videos, and even the skipping geographical restrictions with the proxy built into the software (unfortunately, these functions are not included in the free version, although we will talk about this a little later). Regarding the format conversion, this software covers the most popular ones including MP4 and MP3.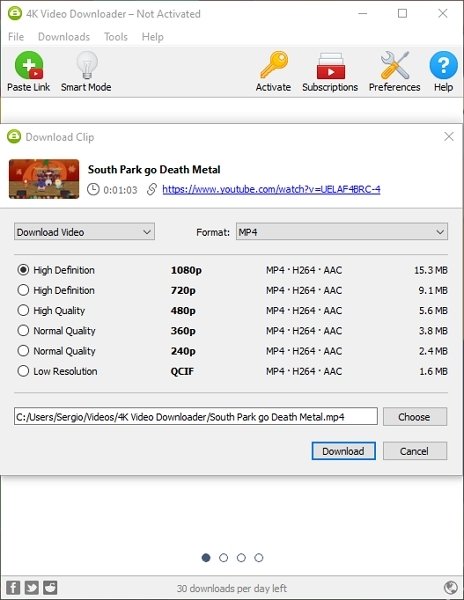 4K Video Downloader's format options
4K Video Downloader follows a freemium model, this means that we can have a free version of the program installed, although with certain limitations: we can only download one video at a time, we are only allowed to download playlists of up to 10 videos, and we can only download 30 videos a day at most. For those who want to use this program to its full potential, there will be no choice but to use the paid version.
ClipGrab
Again we find an installer that offers unsolicited software packaged inside, and we will have to indicate that we do not want it during the installation of ClipGrab. This software has a reduced list of officially supported services, but let's keep in mind that they are popular platforms: YouTube, Vimeo, Dailymotion, and Facebook. Regarding other services, the developers encourage us to test if it works.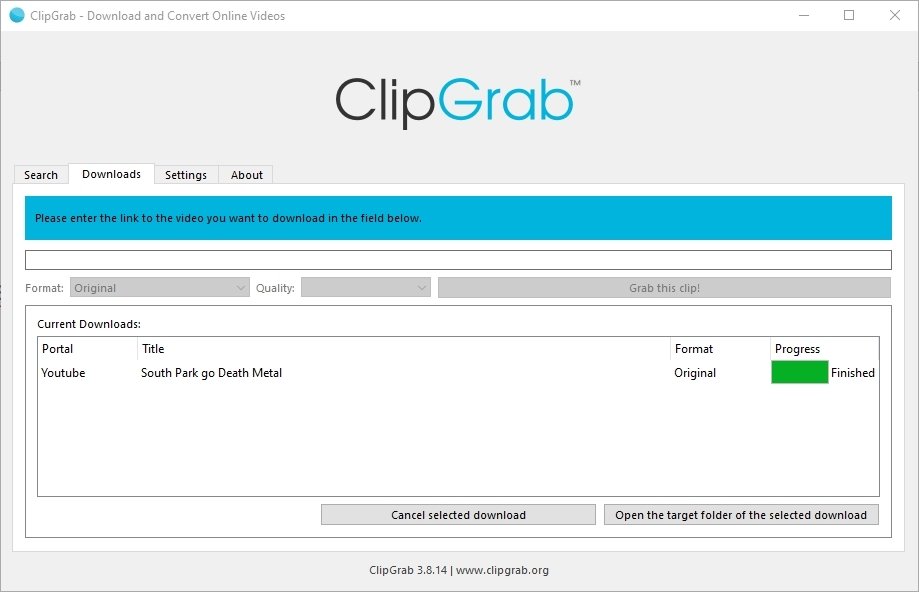 Clipgrab's interface
In addition to the function of copying and pasting a link from the supported platforms to download the video, ClipGrab has a search engine that will let us find the video we want to download. As for the formats it supports, for videos, we have WEBM, WMV, MP4, and Theora. In the audio section, we have MP3 and OGG Vorbis.
Freemake Video Downloader
Freemake Video Downloader supports over 10,000 web video platforms (including YouTube, Facebook, Dailymotion, and many more) and lets you convert those downloads to many different video and audio file types. On the downside, this program has a free version that limits the download speed and does not let you download videos at maximum quality.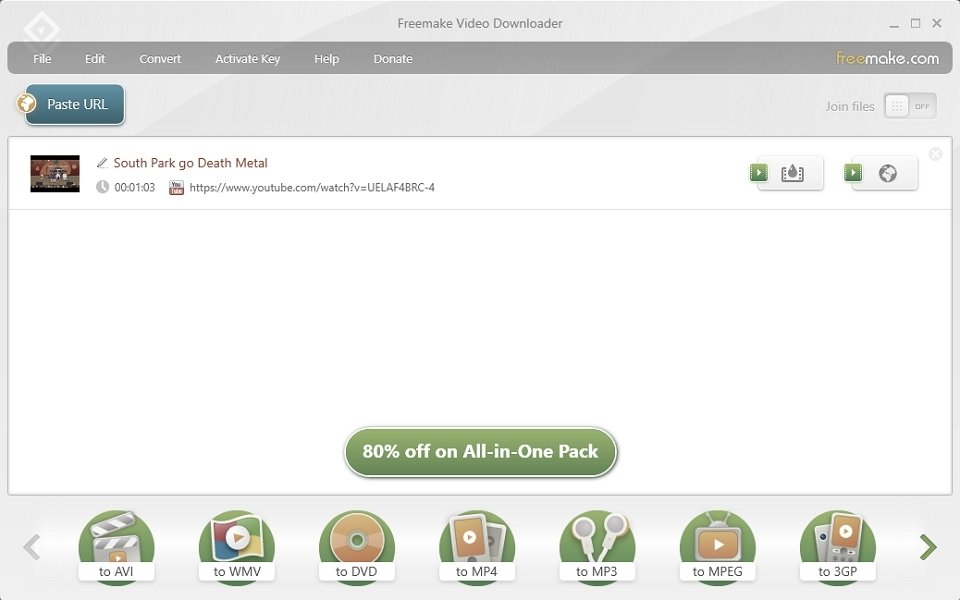 Freemake Video Downloader's main window
On the other hand, something very positive that this software incorporates is the possibility of marking the videos you download as hidden (something to keep in mind if you are going to look for adult material). Of all the options we offer you, this is one of the most oriented to make the user's life easier.
Videoder
Videoder Video Downloader has a rather small list of compatible sites compared to other services we have seen here, but it is still interesting. With this software, we can download from YouTube, Instagram, Twitter, Facebook, Soundcloud, Dailymotion, or Vimeo, although it is also compatible with websites such as VK or LiveLeak.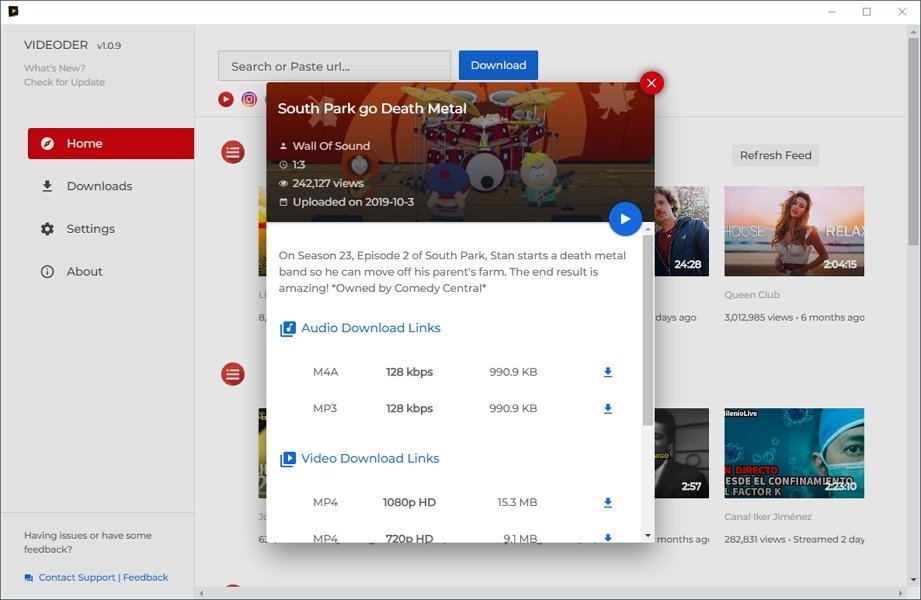 Videoder's download options
It should be noted that, among the programs listed here, this one has a much more attractive interface. Similar to ClipGrab, it lets us use an internal search engine to find videos to download. It offers a wide variety of audio and video formats to save each file.
Viddly
Viddly is another program that is based on youtube-dl, but what makes it special compared to other programs is that you can use it for free, or pay a subscription that varies between one and four dollars a month (depending on the functions of the application you want to use and the time you are going to commit to that subscription).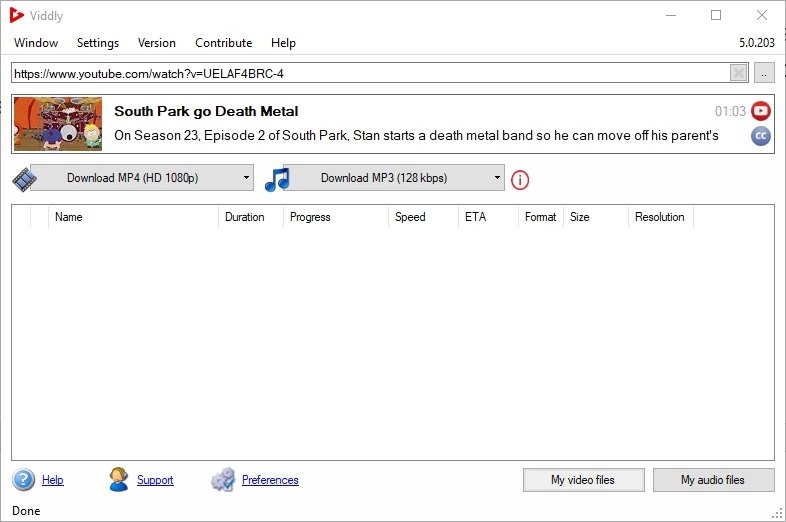 Link pasted on Viddly
The program includes advertising, but it does not interrupt the use of the software and is not invasive. Of course, when you get the premium version, there are no ads. It lets you download files in MP4, WEBM, AVI, MP3, OGG Vorbis, and ACC from a wide variety of web services (it is compatible with youtube-dl).