In this guide, we will talk about FMWhatsApp, an Android MOD that allows you to enjoy additional features on top of the official WhatsApp Messenger ones. In the following sections, you will find all the information you need to know if this app is worth installing and all the associated procedures to use it, such as installing, updating, and uninstalling FMWhatsApp.
FMWhatsApp: what is this WhatsApp MOD, and what is it for
FMWhatsApp is an unofficial modification of WhatsApp that offers several additional features and customization options to the original messaging application. This MOD is developed by third parties, meaning it is not backed by WhatsApp.
Some of its outstanding features include hiding your online status, customizing themes and colors, scheduling messages, and using multiple WhatsApp accounts on a single device. As you can see, none of these options are available in the official WhatsApp application.
Although we will discuss this issue later, you should be aware that using this kind of application violates WhatsApp's terms of service and, in some cases, may raise security and privacy concerns. FMWhatsApp is just one of many WhatsApp MODs available to download. Each brings its own additional functionalities.
How does FMWhatsApp work, and how to use it
Using FMWhatsApp is no different from using the official WhatsApp application. This means you can access the same functions using the usual methods you are familiar with.
For example, to get started, all you have to do is enter your phone number. Except for the button to restore a backup, the interface is identical to WhatsApp's.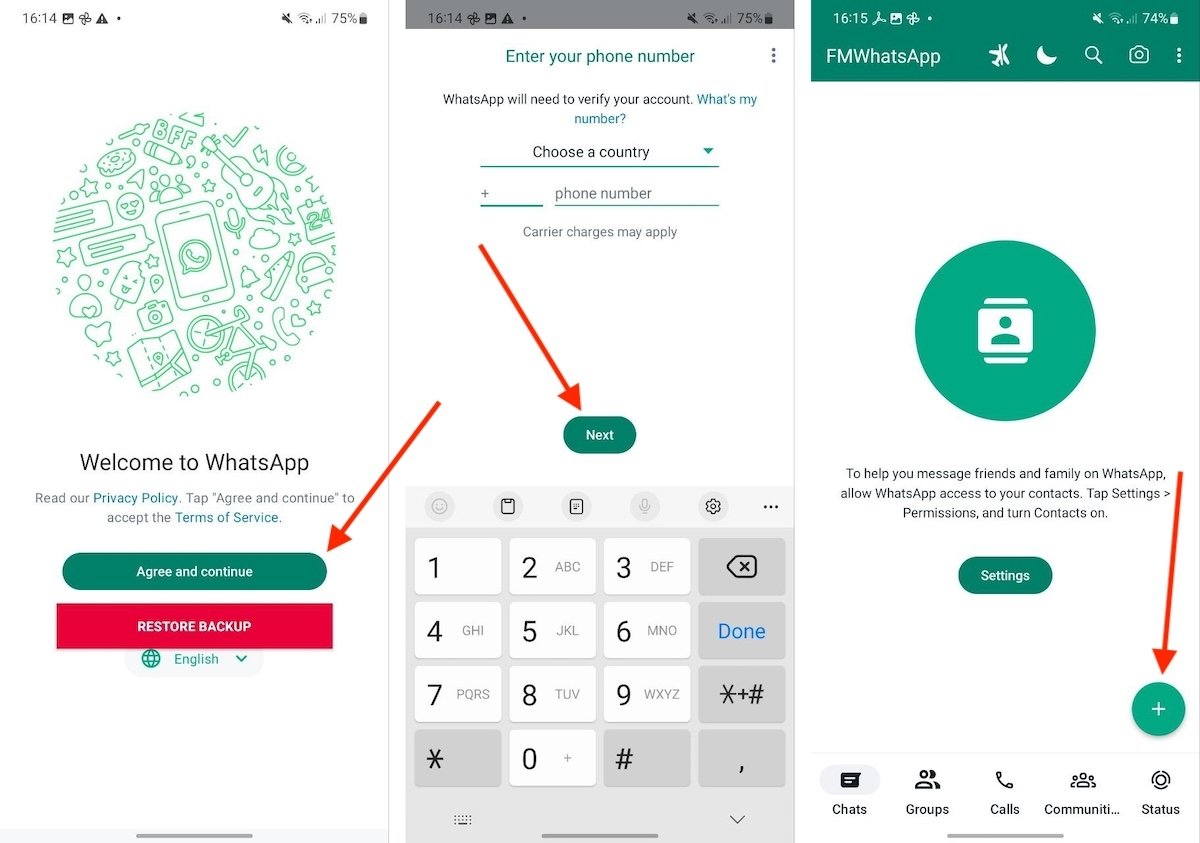 Your first steps in FMWhatsApp to configure your account
Do not forget that FMWhatsApp is a modification of the official application. So, all the app elements are where you would expect them to be.
Once you have configured the application, you can start sending messages as usual. But, in addition to the official WhatsApp functions, you will have additional ones that improve the user experience.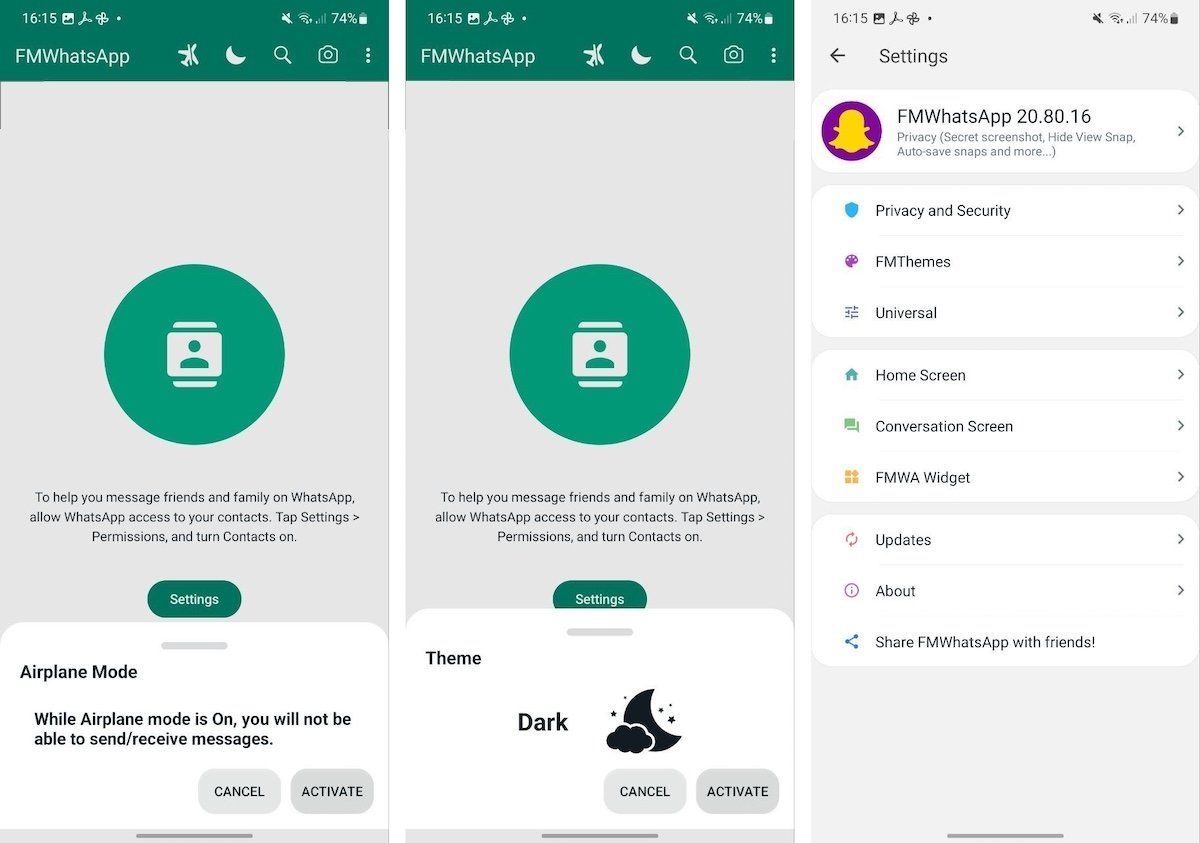 Diffente FMWhatsApp functions and menus
Some examples can be seen in the image above. On the main screen, you will find a function called Airplane Mode, which is used to interrupt your internet connection and view messages without sending the read notification. A dark mode that works independently from the system theme is also included.
However, you will find more tools in the FMWhatsApp settings panel. You will find it in the main menu under Mods. From this menu, you can access all the options that FMWhatsApp adds over the original experience.
In short, this is a MOD that adds functions but maintains the essence of the official application. So, using it is no different from using the original application developed by WhatsApp.
How to download and install FMWhatsApp
Are you considering installing FMWhatsApp? Before doing so, I recommend that you read the entire article. In the final section, we make some comments related to privacy and security that you should consider before configuring this MOD.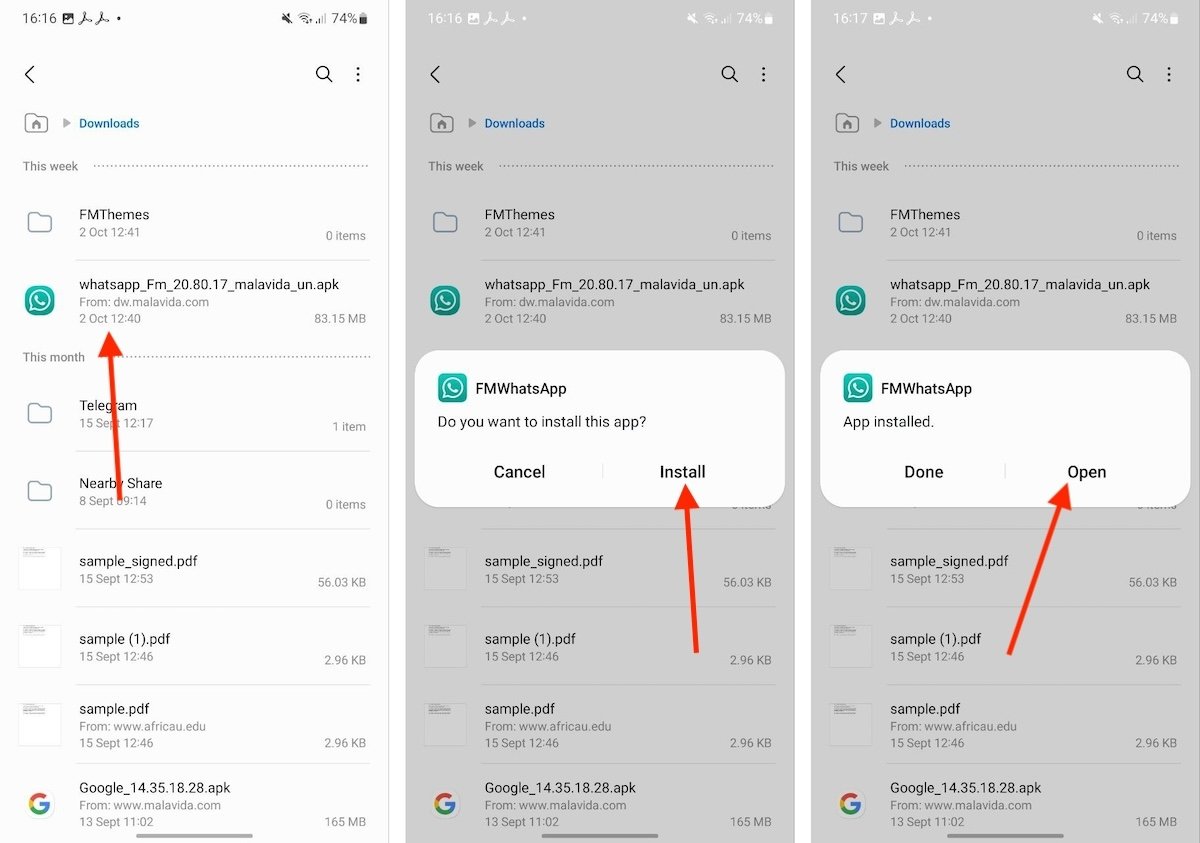 You have to use an APK to install FMWhatsApp
If you still want to use it, then the steps to follow are these:
Download the FMWhatsApp APK from Malavida. Our servers always provide you with a copy free of viruses and malicious code.
In the file explorer, tap on the APK.
If necessary, enable installation from unknown sources.
In the pop-up dialog, tap Install.
When the process is finished, open the application.
Then, follow the usual steps to set up your account. Remember that you will be logged out of the official application.
How to update FMWhatsApp
This app can be updated in two ways. The first is by downloading its APK from Malavida. You can do this from time to time to make sure you have the latest version available. However, there is another option that you should not ignore.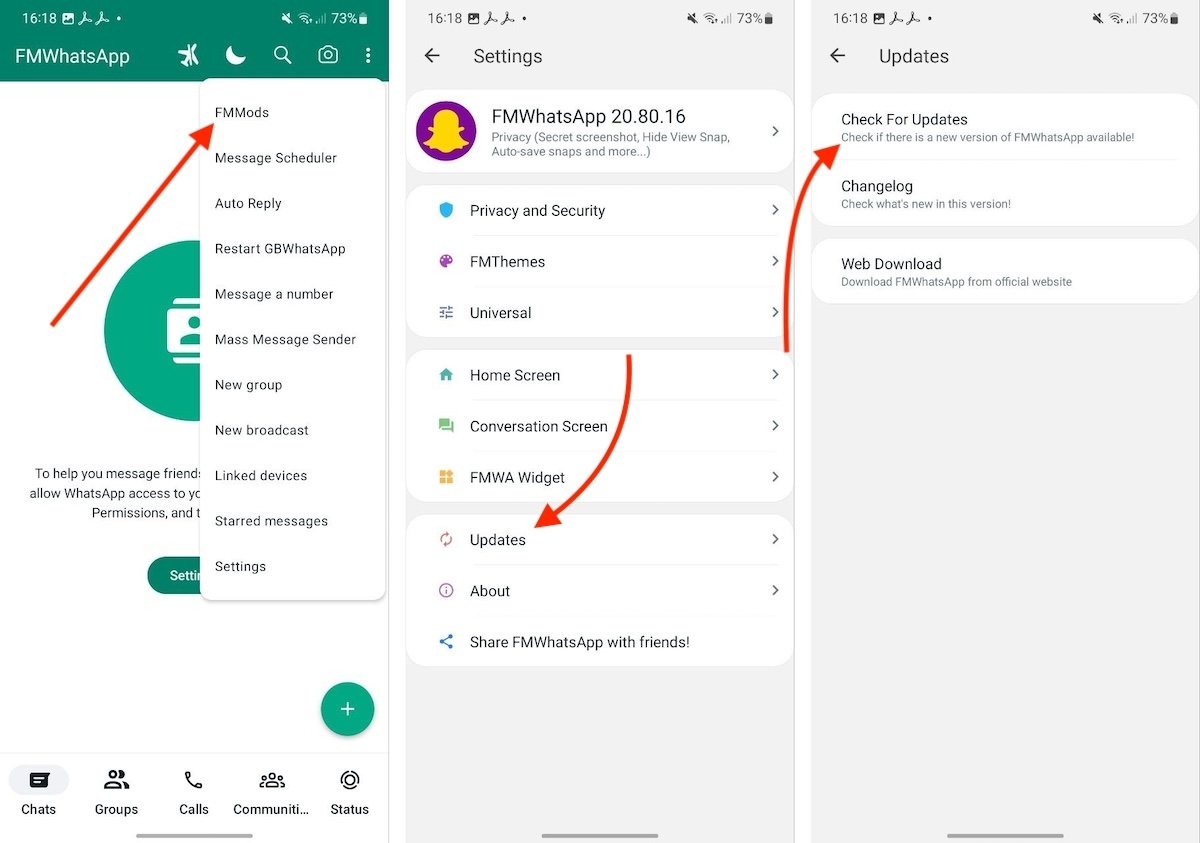 FMWhatsApp has its own update system
FMWhatsApp includes a proprietary update system that works like this:
Open the main menu.
Tap on Mods.
Open the Updates section.
Tap on Check for updates.
Then, follow the steps to install the latest update available.
How to uninstall FMWhatsApp
If you decide to get rid of FMWhatsApp, the process does not involve doing anything you would not do with any other application. Just follow the usual procedure to uninstall an application on your device.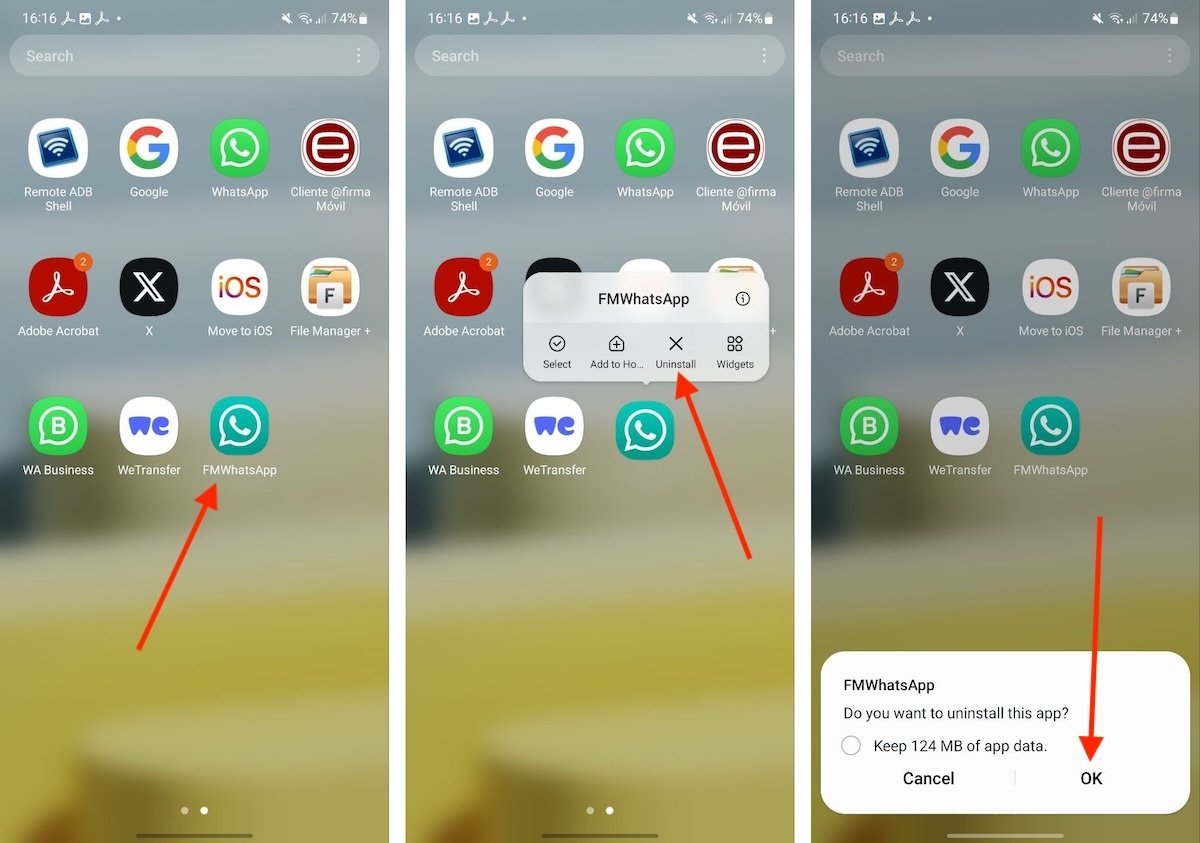 Waving goodbye to FMWhatsApp is as easy as installing the MOD
For example, on a Samsung Galaxy, it is done like this:
Locate the FMWhatsApp icon in the app drawer.
Tap on it until the context menu appears.
Tap the Uninstall button.
Confirm that you want to delete the application.
After this, log in to the official application to permanently unlink FMWhatsApp from your account.
How safe it is to use FMWhatsApp
FMWhatsApp is an illegitimate modification of the official WhatsApp application. Does that mean it is not safe? Let us analyze three relevant points concerning this issue:
Viruses and malware. We have not found any malicious code in this application. That is why we continue to offer its download from our servers.
Data privacy. Even if the application does not contain viruses, we cannot analyze its code. That means neither we nor anyone else can assure you that its creator is stealing information from your account or conversations. This is a serious topic to consider because a huge amount of personal data is shared via WhatsApp. Our advice is to evaluate if you really need the modifications offered by this app to use your WhatsApp account.
Account loss. Another problem related to using MODs like FMWhatsApp is that the platform can kick you out. Thus, you would lose your account temporarily or even permanently.
Differences between FMWhatsApp and the regular app
As you can see, there are dangers associated with using WhatsApp modifications, and FMWhatsApp is no exception. Despite this, many users install mods like this one to get additional functions that the company does not implement in the official app. What are the differences? Below are some of them:
Own menu. FMWhatsApp offers its own menu that coexists with the usual menu of the WhatsApp application. There, you will find many MOD functions, such as removing the Forwarded label, choosing who can call you, or disabling the blue checkmark.
Themes. FMWhatsApp gives you the option to install themes. You can download them or upload them from an SD card. As for the official repository, it is estimated that it offers over 4,000 themes.
Interface customization. In addition to the themes, the MOD lets you modify the interface appearance. It also lets you use emoji packs other than the official ones or change the notifications icon.
Backup. In addition to the Google Drive copy, you can make an advanced backup that can be restored during the initial setup.
Modification of the home page. Unlike WhatsApp, the MOD lets you make changes to the elements of the app's main screen.
Customized widget. FMWhatsApp includes a custom widget for your device's home screen.
Advertising. Unlike WhatsApp, the MOD displays ads. They show up inside a marquee at the top of the main screen.
Send large files. WhatsApp allows you to send up to 2 GB in a single file. FMWhatsApp, on the other hand, allows sending larger files and over 30 images at the same time.
The differences between FMWhatsApp and the official application are mainly functional. All in all, the MOD is also an ideal option if you want to customize the look and feel of WhatsApp.