Digital content applications are extremely popular. They have managed to carry out a passive activity, to consume television, in something dynamic where the user is the one who chooses between a huge spectrum. However, the data consumption of one of these applications, and You TV Player, in particular, is not a minor issue. Although data rates currently offer a good amount of gigs at a reasonable price, the indiscriminate use of You TV Player can end up with a deficit of megabytes of our rate.
Taking as a reference the average data consumption of any streaming application, SD quality has a consumption of 700 megs per hour, HD quality has a consumption of about 3 GB every 60 minutes, and 4K quality has a consumption of about 7 GB per hour.
You TV Player does not let from its settings menu to vary the quality of the broadcasts. It is only possible to adjust the Color Palette, which enables you to change the quality of the video in a certain way. Therefore, if your rate is not too high and you cannot wait to connect to a Wi-Fi network, set this parameter to YV212, which is the lowest quality.
However, you can download an interesting application that will let you monitor the use of data on your Android device. My Data Manager lets you know how much data has been consumed by each application, whether it is You TV Player or others such as Netflix, HBO, or Spotify.
This application gives us the possibility to configure an alarm to avoid overuse of data, warning us when we have covered a limit that we have defined. This way, you can have an exhaustive control of You TV Player. So we decided to download it and check the consumption of You TV Player. This is an app that you can simply find from our web, and after the installation and configuration, we have made a test.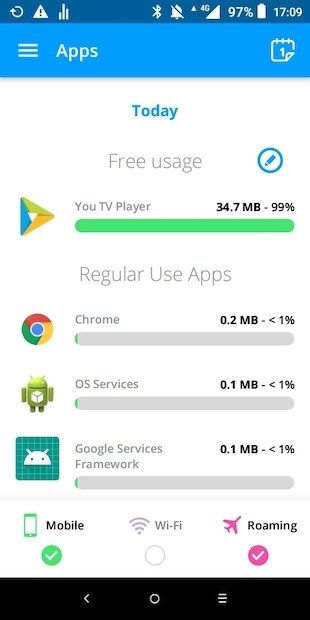 My Data Manager showing the consumption
My Data Manager has monitored for 5 minutes You TV Player connected to the mobile data and displaying content in standard quality, which appears by default. For 5 minutes of viewing, My Data Manager showed a consumption of 34.7 MB. So, if we extrapolate that consumption to the 1-hour duration and multiply it by 12, it gives us a result of 416 MB per hour. This is the information that you must evaluate when using You TV Player connected to your mobile data.
On the other hand, and to avoid unnecessary problems, it is always advisable to use You TV Player connected to a wireless network so that our data rate is not reduced in a few hours.