Windows 11 is the latest operating system to date. It is the natural successor to Windows 10, a version that has accompanied users for more than 6 years. Will it really be up to the task? Does it come with features that will make your life easier? If these are the questions on your mind, do not worry. In the following sections, we review all the new features of Windows 11 so that you know if it is worth downloading it or not.
The first new feature, the minimum requirements
The first change you should know about Windows 11 is its minimum requirements. They are the following:
Processor. Clock frequency of 1 GHz or higher. CPUs with two or more with 64-bit architecture.
RAM. 4 GB or more.
Storage. At least 64 GB are required. It may require additional space for downloading updates and enabling specific features.
Graphic card. It must support DirectX 12 or later and have a WDDM 2.0 driver.
System firmware. UEFI with secure boot.
TPM. Secure platform module in version 2.0.
Screen. 720p resolution or higher. Monitor 9 inches or larger with 8 bits per color channel.
Internet connection. Required for Windows 11 Home edition
As you can see, the hardware and component demands that Microsoft makes with the new version of its system are stricter than those it made with Windows 10. This results in most computers of a certain age not being officially supported for running Windows 11.
Major changes in the graphical interface
The main changes that Windows 11 has adopted are in the interface. In the following sections, we will tell you in more detail which are the most relevant ones.
The start menu and taskbar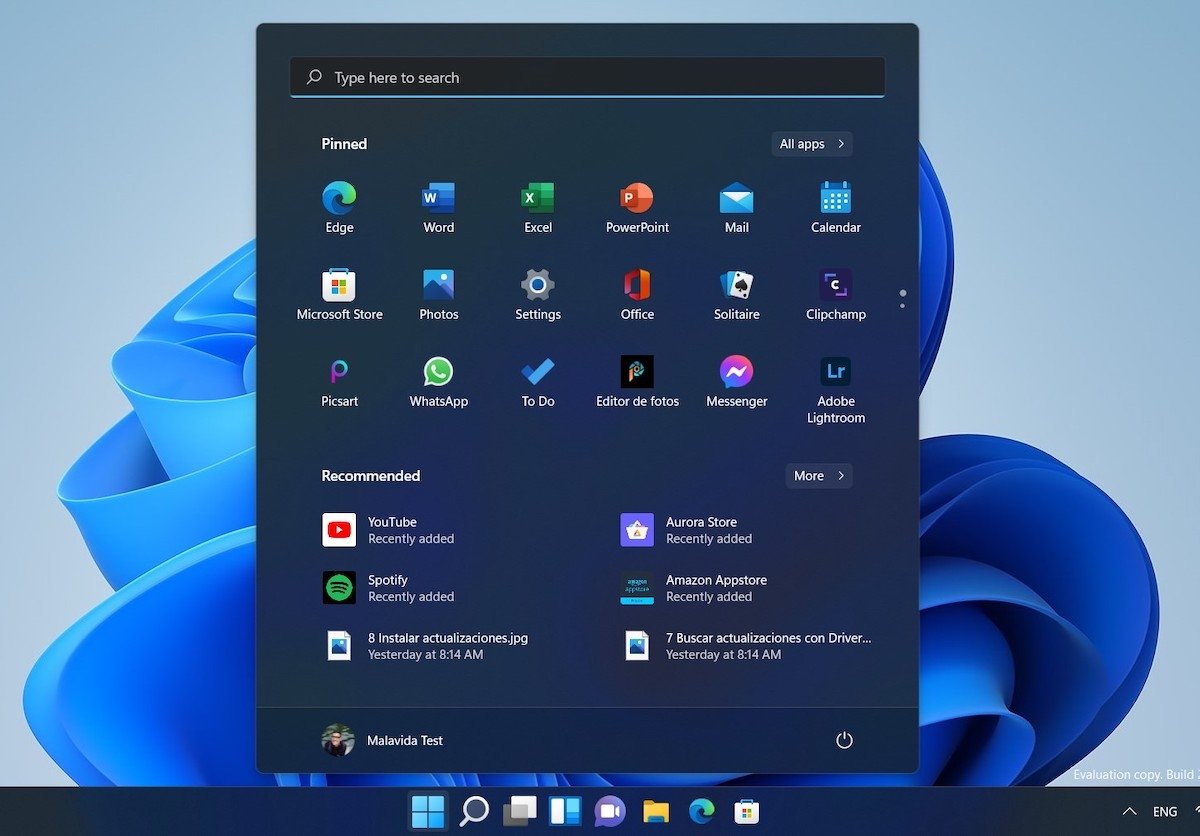 New Start menu
The start menu is completely new. This time, the developers have been more careful and have not thought of removing it. All in all, you will quickly realize that it is now in a central position. If you cannot get used to it, Microsoft also allows you to dock it to the left. On the other hand, the animated tiles, or live tiles, say goodbye with Windows 11. The start menu now contains only pinned applications and recent files.
As for the taskbar, it comes with a more modern design. It is fully adapted to the touch environment, although it has lost some functions. For example, it is not possible to drag elements to it. It is prettier but also more limited.
Icons
Most of the Windows icons have been replaced. At least those corresponding to the applications most used by the user. The Control Panel is still very much alive,e and inside it, there is a museum with classic icons corresponding to other versions. However, most users of the new system will have the feeling that Windows 11 has all its icons renewed.
File Browser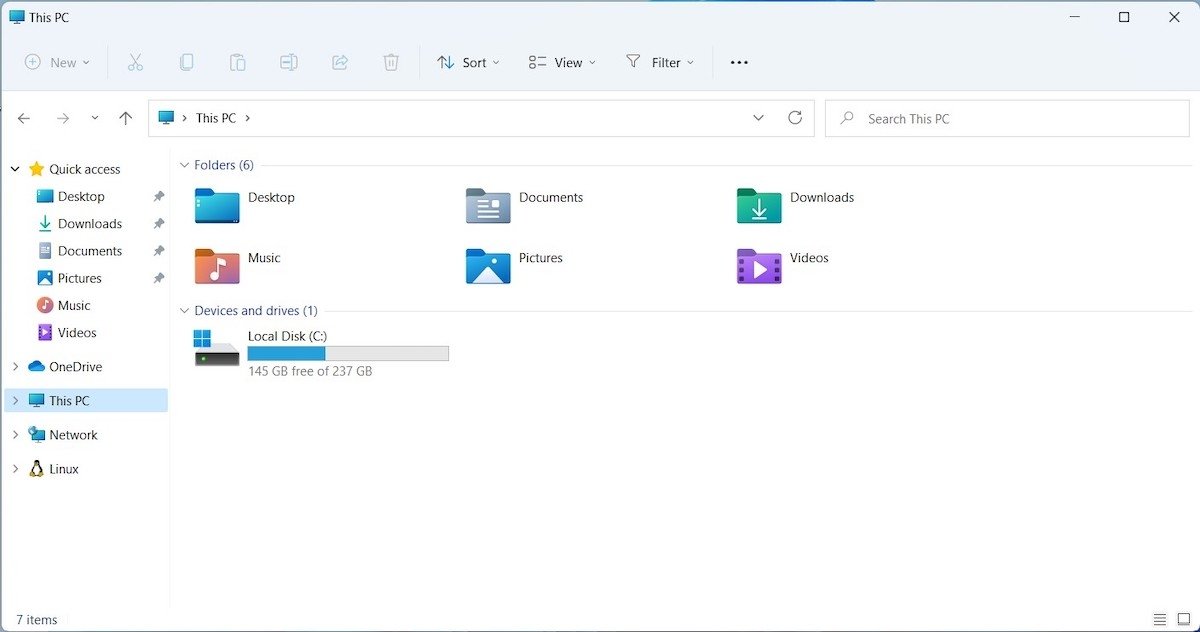 File explorer
The file explorer changes due to the removal of the top ribbon. It now has a more minimalist look and clearer options. There are also changes in the context menus, partially leaving the old ones behind.
Transparencies and animations
Another new feature is the animations and transparencies now included in the system. The idea is to make it feel smoother and Microsoft seems to have succeeded. With both functions, most applications take on the colors of the wallpaper and scroll more smoothly.
Renewal of classic applications
Microsoft is releasing new versions of applications such as Photos, Paint, Alarms and Clock, and many more. Others, such as Mail and Calendar, have not been renewed and are going to be replaced by a new development based on Outlook Web.
Widgets and more new features
Let's leave aside the physical aspect and let's talk about some of the functions that the North American company has added to Windows 11.
Widgets for quick information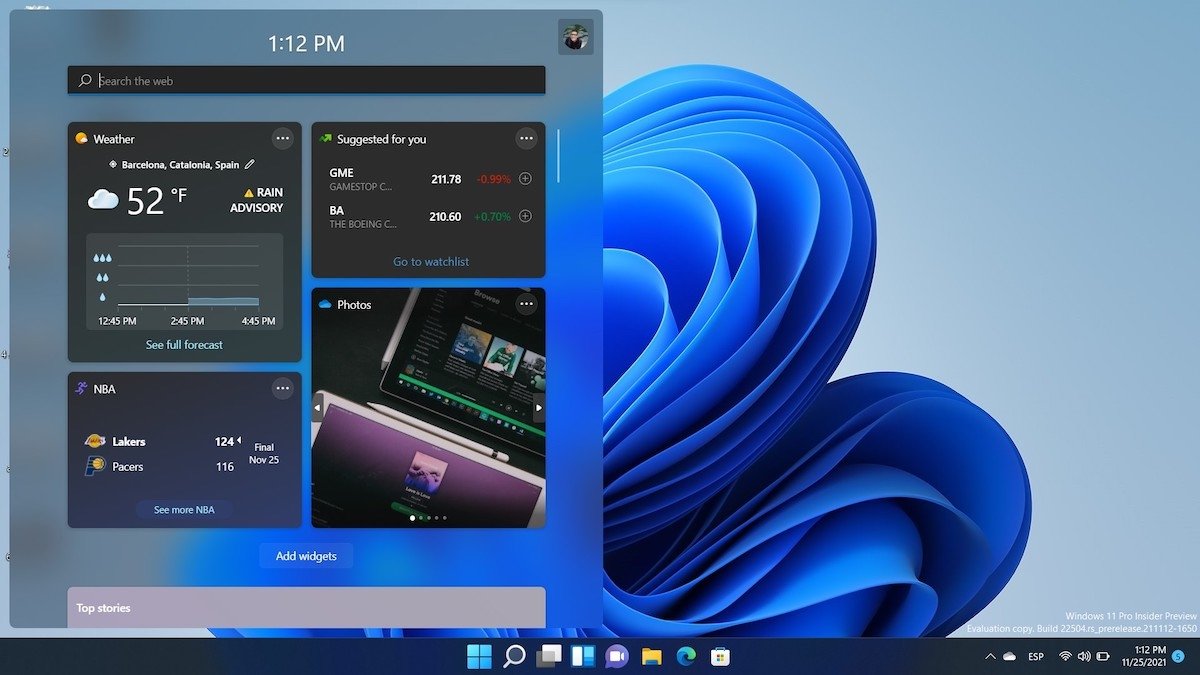 Widgets in Windows 11
Widgets are accessible with the shortcut Windows + W. They are also available in the taskbar. Its main function is to provide useful information to the user at all times.
Integration with Microsoft Teams
Microsoft Teams is the platform that serves as the foundation for the new chat feature. From the taskbar, it is now possible to initiate video calls and chat with other users.
Optimization in touch environments
Windows 11 is now more optimized for touch environments. Buttons are larger and new gestures are supported. In addition, the on-screen keyboard gets new functions to accommodate use with touch screens.
Fast pinning of windows
Pinning windows
Windows can now be quickly pinned from the maximize button. Just hold the cursor over it to access the different combinations. These vary depending on the resolution and screen size.
A renewed application store
Another of the most outstanding new features of Windows 11 is its applications store. In the previous version, this was an element somewhat despised by users. Will that perception change with the new version? We do not know. At the moment, all we can tell you are the changes it has received.
Aesthetic changes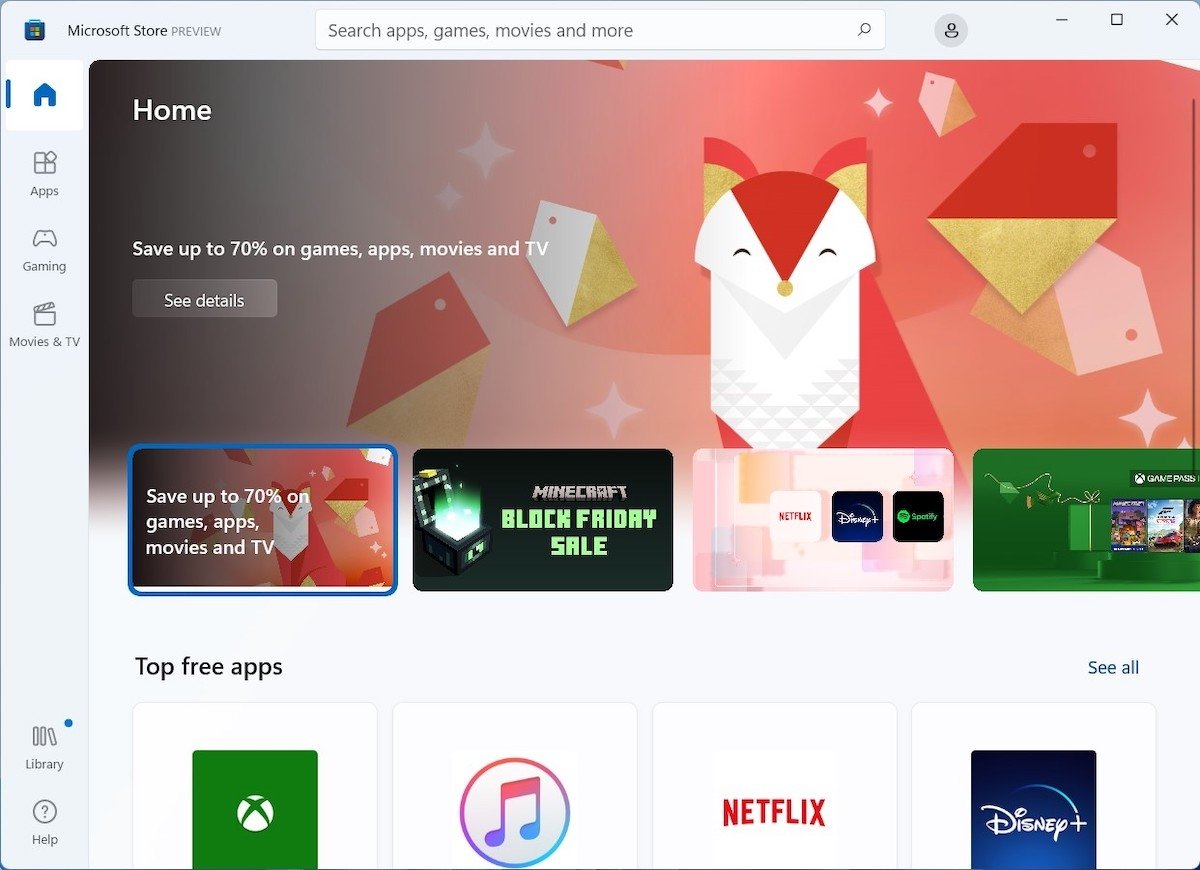 New application store
The store also has a new look. There, you will not only enjoy the famous rounded corners. You will also find new animations, a more useful highlighted applications area, and a clean updates section.
Android application support
This is one of the most striking new features of this new version. Windows 11 is now able to run Android applications thanks to an integrated subsystem. Microsoft has taken similar steps before with Linux. Now, your operating system also has a place for mobile applications. At the moment, this is a test feature that, as planned, should be rolled out to all users sooner rather than later.
Non-packaged applications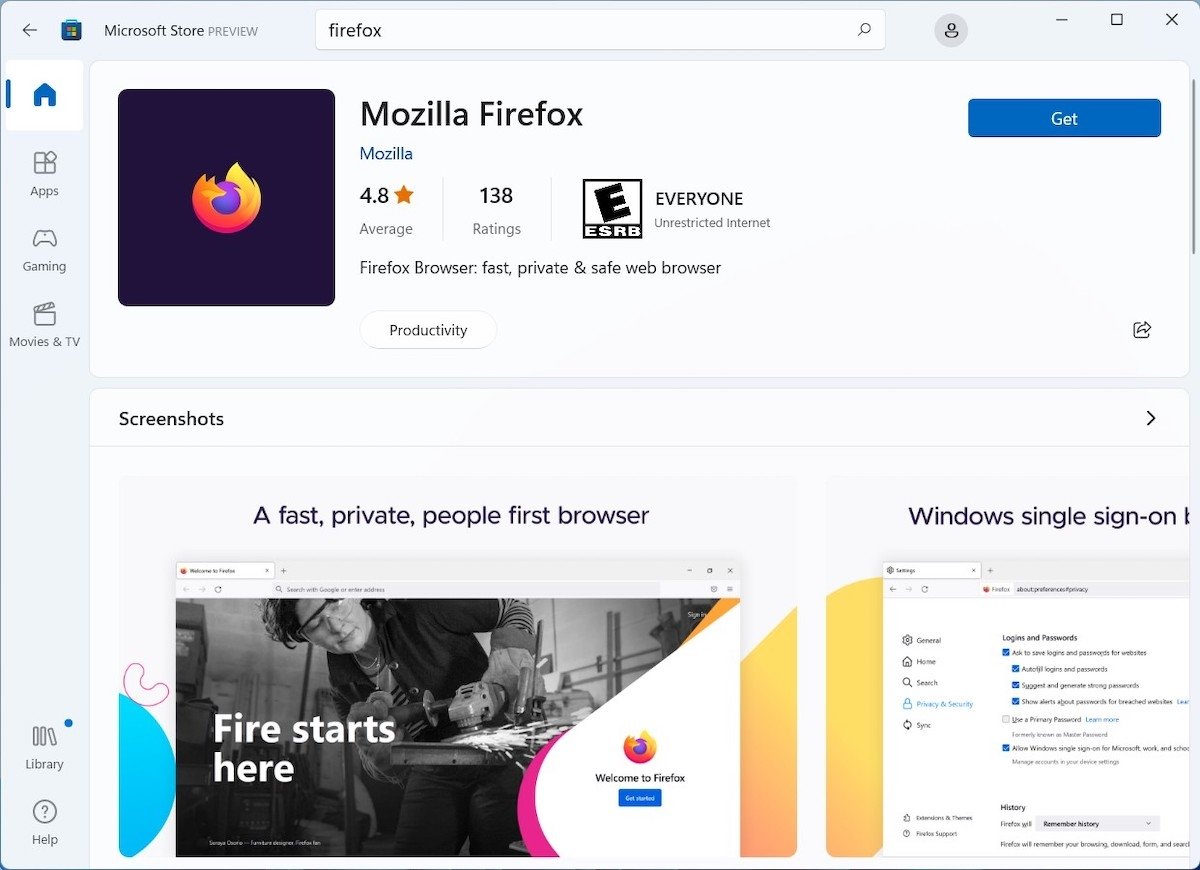 Firefox in the Microsoft store
The store now lets you download Win32 applications that have not been packaged. This has allowed classic applications such as Firefox, VLC, and others to be hosted in the Microsoft Store.
Other improvements that aim to make the user fall in love
There are other new features that Windows 11 incorporates that we did not want to overlook in this article.
Video game enhancements
New developments are coming in the field of video games. For example, Windows 11 now has an automatic HDR feature to make games look better than ever. It also comes with DirectStorage, which takes care of improving game loading on computers with NVMe SSDs, provided they have the right drivers. Finally, a new Xbox app is included with the xCloud cloud gaming service included.
Improved performance
Microsoft wants Windows 11 to be faster than its predecessor. To date, it has partially succeeded in doing so. During its launch, there have been users who have seen improved performance, but others have been forced to return to Windows 10. As with any development, we expect the performance of this new version to improve with updates.
How to download Windows 11
Windows 11 is official as of October 5, 2021. If after analyzing its most notable new features you have the desire to try it out, all you have to do is obtain its ISO installation image from the Malavida servers. You will then be able to create a bootable USB drive that will let you install the new version of the Microsoft operating system on your computer. Remember that the download is completely safe and free of charge. However, you will need to activate Windows with a valid license. In case your computer already has the previous version installed, the activation process will be automatic.