Have you heard about Telegram's secret chats? Do you want to know how to use them? Then stay with us until the end. In this guide, we show you all the details about this function designed for all users looking for maximum privacy on this platform. Find out what they are, what they are for, and how to take advantage of secret chats in Telegram.
What are Telegram secret chats?
You may be surprised to discover that Telegram is one step behind WhatsApp regarding privacy. Why do we say that, and what does it have to do with secret chats? Let us explain.
While it is true that WhatsApp collects a lot of data about you to send to Meta, all communications, including messages, calls, and statuses, are end-to-end encrypted. This means that neither Meta nor anyone else will be able to know what things you send because the decryption key is at both ends, that is, in the devices involved in the communication.
Despite having a better reputation in terms of privacy (mainly because it does not collect as much data), Telegram does not offer end-to-end encryption by default. Its encryption is applied on the server, which means the key is in the company's possession. From a technical point of view, Telegram can read your messages whenever it wants.
All this information will help you better understand secret chats and why they are so important. In a nutshell, they are conversations that are protected by end-to-end encryption. When using them, no one can read the messages sent or received except those with access to the devices involved.
Therefore, secret chats give you more privacy than regular ones because their encryption is not in transit or on the server but end-to-end. This is the same kind of encryption that WhatsApp offers by default in all its communications, with the difference that in Telegram, it must be activated by the user.
Advantages and differences between secret chats and regular chats
Comparing regular and secret chats will help you understand the advantages and disadvantages of each one. Below is a table showing the main differences between the two:
Encryption
Secret chats: End-to-End Encryption.
Regular chats: No, only encryption in transit.
Message self-destruction
Secret chats: Yes, each message or file can be set to self-destruct after a specified time.
Regular chats: Yes, but only for multimedia files. Additionally, it is possible to configure the self-destruction of a chat.
Forwarding
Secret chats: It is not possible to forward messages from a secret chat to a regular one or external contacts.
Regular chats: Messages can be forwarded to other chats.
Cloud storage
Secret chats: Messages are only stored on users' devices, not in Telegram's cloud.
Regular chats: Messages are stored on Telegram's servers and synchronized across multiple devices.
Backup
Secret chats: Cannot back up messages to the cloud.
Regular chats: Messages can be backed up to Telegram's cloud.
Bots
Secret chats: Bots are not allowed in secret chats.
Regular chats: Bots are allowed in regular chats.
Validation
Secret chats: An identical image for both users means the connection is encrypted.
Regular chats: No.
Screenshots
Secret chats: No.
Regular chats: Yes.
Supported content
Secret chats: Supports messages, videos, photos, and other documents.
Regular chats: Supports messages, videos, photos, and other documents.
How to start a secret chat on Telegram
To start a secret chat in Telegram, all you have to do is follow a few simple steps.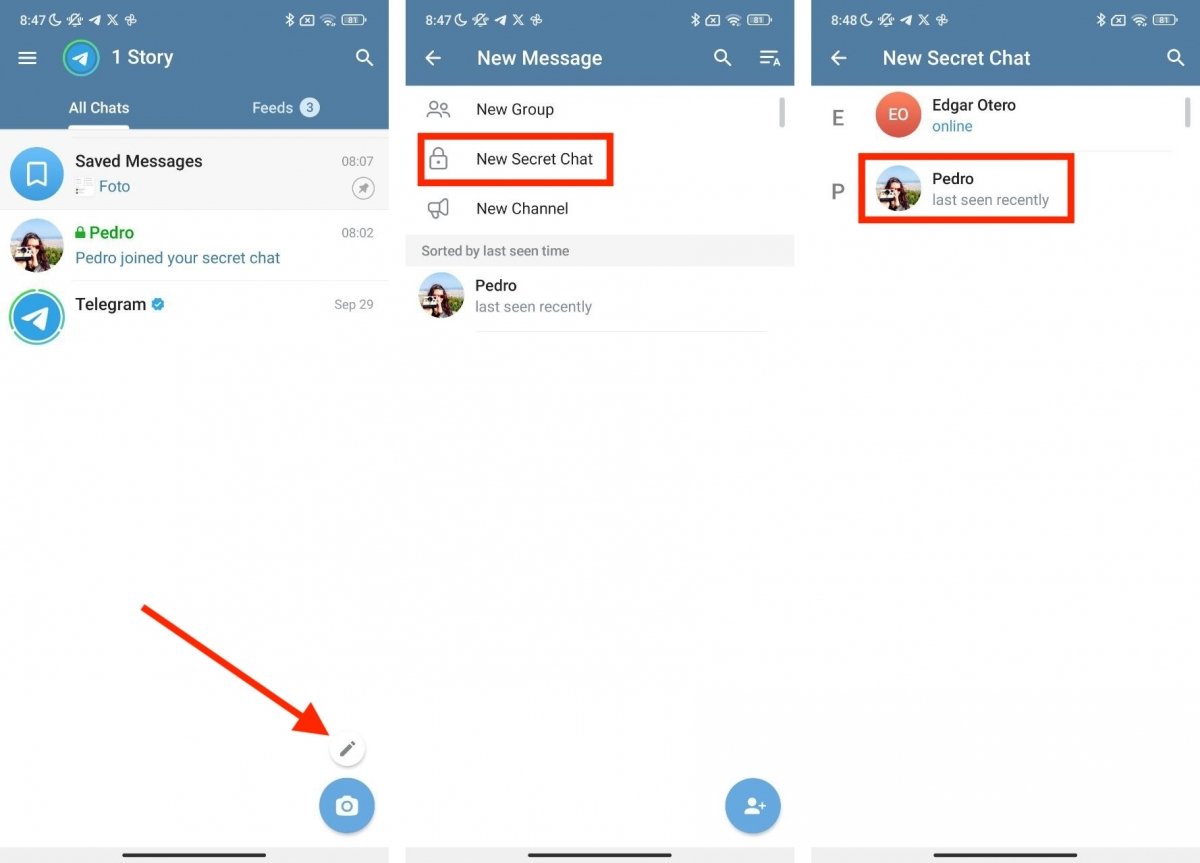 Steps to start a new secret chat in Telegram
Here is the procedure in its official Android application:
Tap on the pencil icon that you will see on the main screen.
Tap on New secret chat.
Select the contact with whom you want to start the chat.
Additionally, you can switch from a regular chat to a secret one by tapping on the contact's name. Once in the user information tab, open the main menu and tap Start secret chat.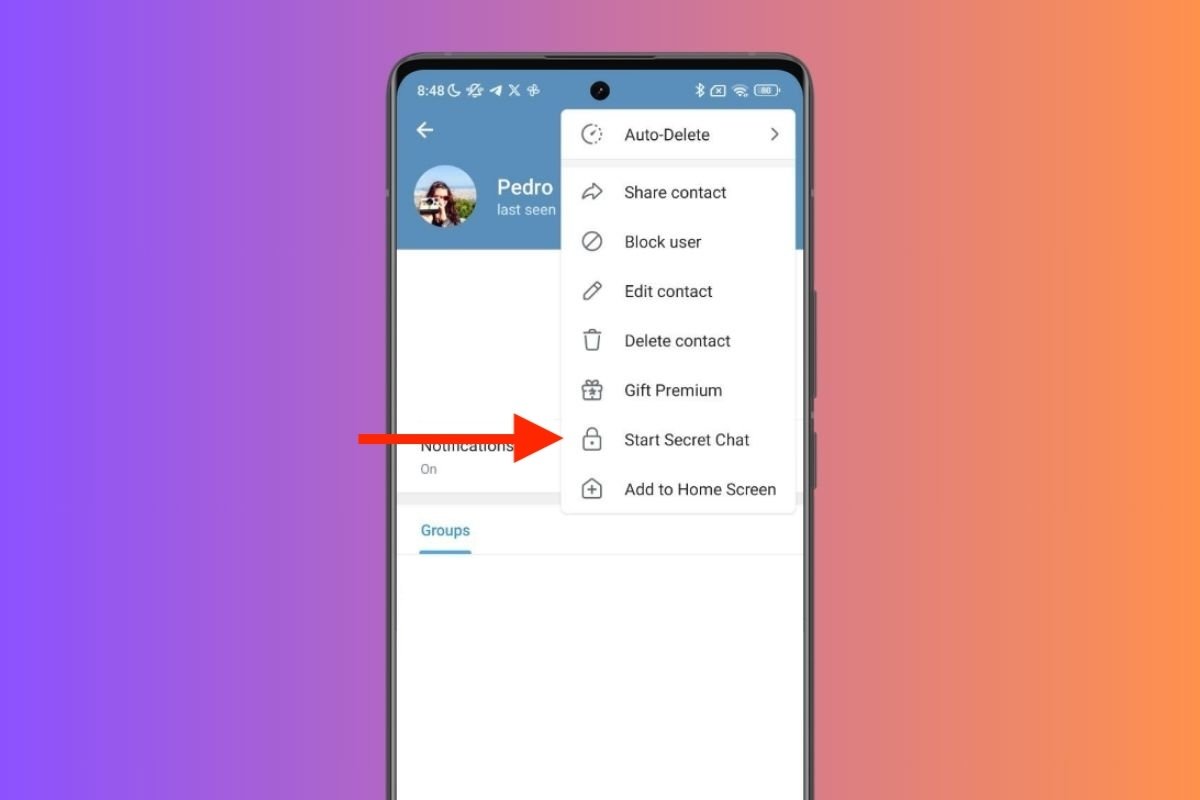 How to convert a normal chat into a secret chat
The regular conversation will still be available, but now you will have a new end-to-end encrypted secret chat.
How to set up the self-destruction of a secret chat
Finally, we tell you about self-destructing messages in a secret chat. You can configure it by following these steps:
Inside the secret chat, tap the button with the three vertical dots.
Select the Self-destruction option.
Choose the visibility time of the messages and the rest of the elements you send.
You can choose between an interval of one second and one week.