WhatsApp is an application that lets you send and receive images. Image files usually have a series of metadata that reveal details about it, such as the device used, the exact date and time, or the location. But can you know all those details if you received the image via WhatsApp?
In the following sections, we will answer this question. First, we explain the theoretical procedures for knowing the time and place at which a photo was taken. Then, we present several applications that will help you with this task and that you can install on your Android smartphone. Finally, we will explain why, in most cases, WhatsApp images do not let you know the date or location when a photo was taken and what alternatives there are to retrieve that information.
How to view all metadata of a WhatsApp photo
We will start by looking at the steps you need to follow to view the metadata of an image received through WhatsApp. In this case, we will use an application that, most likely, is already installed on your smartphone. We are talking about Google Photos, an app that can make copies of your images in the cloud and explore the image files on your device.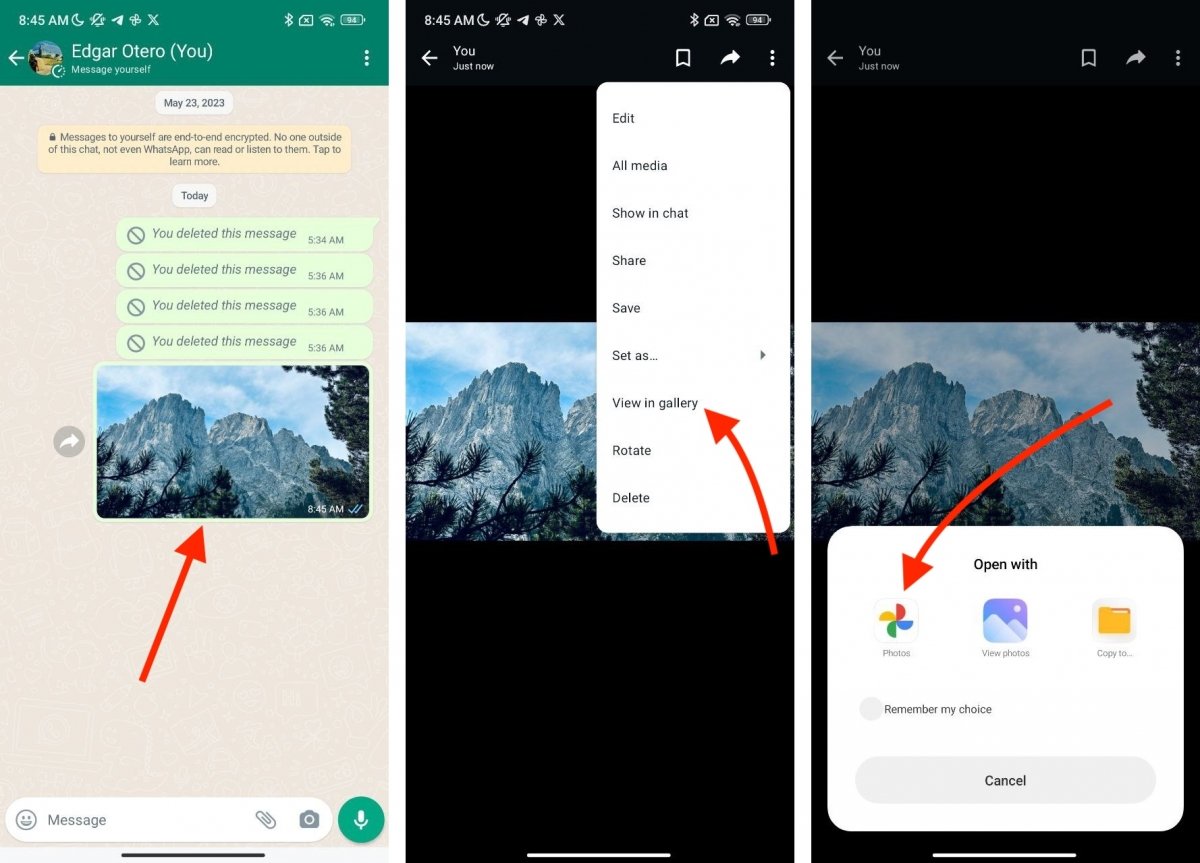 First things first: download or open the photo in the gallery
Start by opening the image with Google Photos from WhatsApp:
Open the conversation with the image.
Tap on it to see it in full screen.
Tap on View in the gallery.
In the application selector, select Photos.
By doing this, the image will open directly in Google Photos, allowing you to see all its details.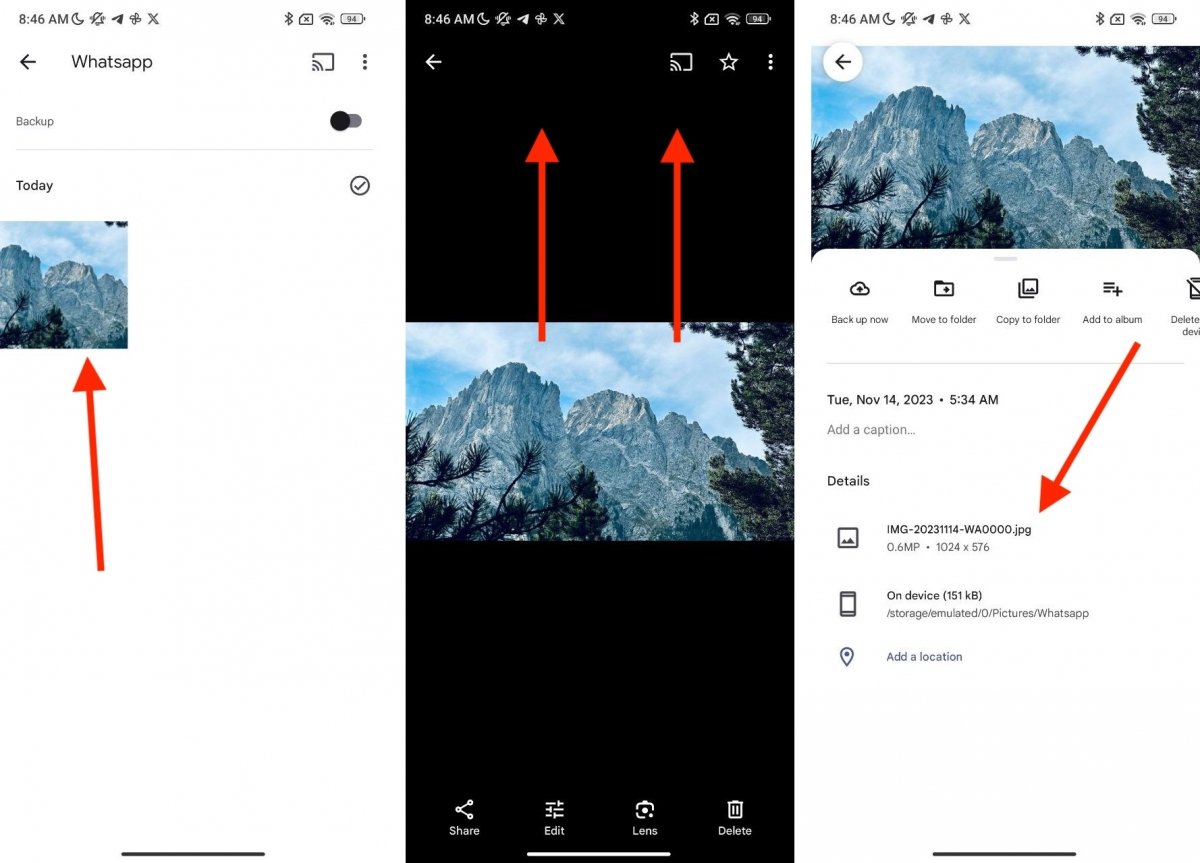 Google Photos is a great option to view the details of a photo
Additionally, you can save the photo to your device's storage and open it from Google Photos. This is how you can do this to see the file metadata:
Locate the image in the gallery.
Tap on it to see it in full screen.
Once the photo is in full screen, swipe up to show the bottom menu.
In the Details section, see the image information.
As you can see in the previous screenshot, the image we received through WhatsApp does not have the data we are looking for. This is not an error; all image files you receive through this application do not show details about the date or location they were taken.
How to view the metadata of a WhatsApp photo without installing an app
What if you do not have Google Photos on your smartphone? There is another option to see the metadata of an image without installing anything on your smartphone. Wondering how?
Without installing anything, the Gallery app on your phone gives you info about the photo
On most devices, the native gallery application lets you view the details of a photo. Just follow these steps:
Find the gallery application on your smartphone.
Tap on the image you want to see.
Open the main menu and tap on Details.
See the data available for the image.
As you would expect, these steps vary depending on the gallery application you have installed on your smartphone. Remember that, on some devices, the default gallery app is Google Photos. If that is your case, follow the steps above to explore your photo's metadata.
How to view the metadata of a WhatsApp photo with an app
You will find several photo editors for Android and other tools that can help you know the metadata of any photo, no matter if it was sent to you via WhatsApp or not. Here are two that we highly recommend to carry out this task.
Photo Metadata Viewer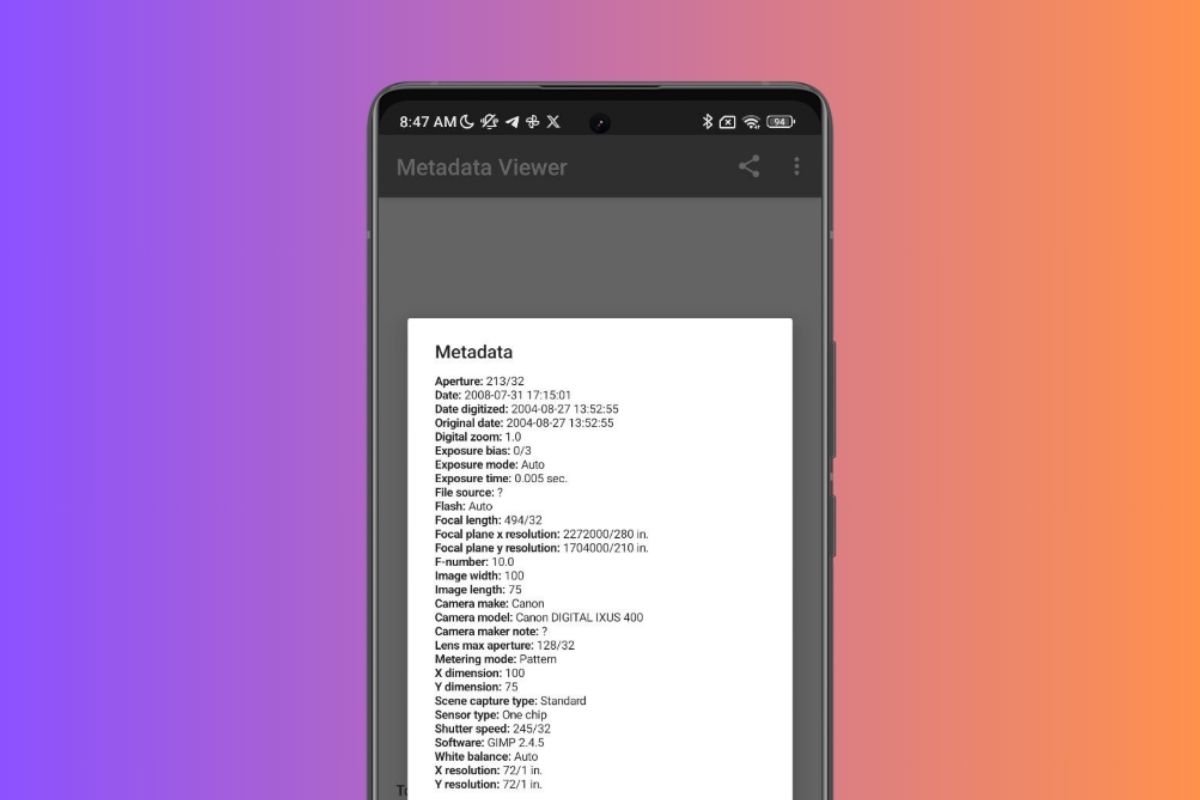 Aspect of the interface of Photo Metadata Viewer
Photo Metadata Viewer is a must-have application to reveal the information hidden in your photos. When you install it, you will receive a tool with a simple interface that displays the metadata of any image. Discover details such as aperture, brightness, date, zoom applied, exposure time, and more.
The application also provides information on the camera model, manufacturer, dimensions, sensor type, and resolution. Using this app is as easy as selecting the file and letting the application do the rest. Undoubtedly, this app simplifies the metadata consultation process.
Photo Exif Editor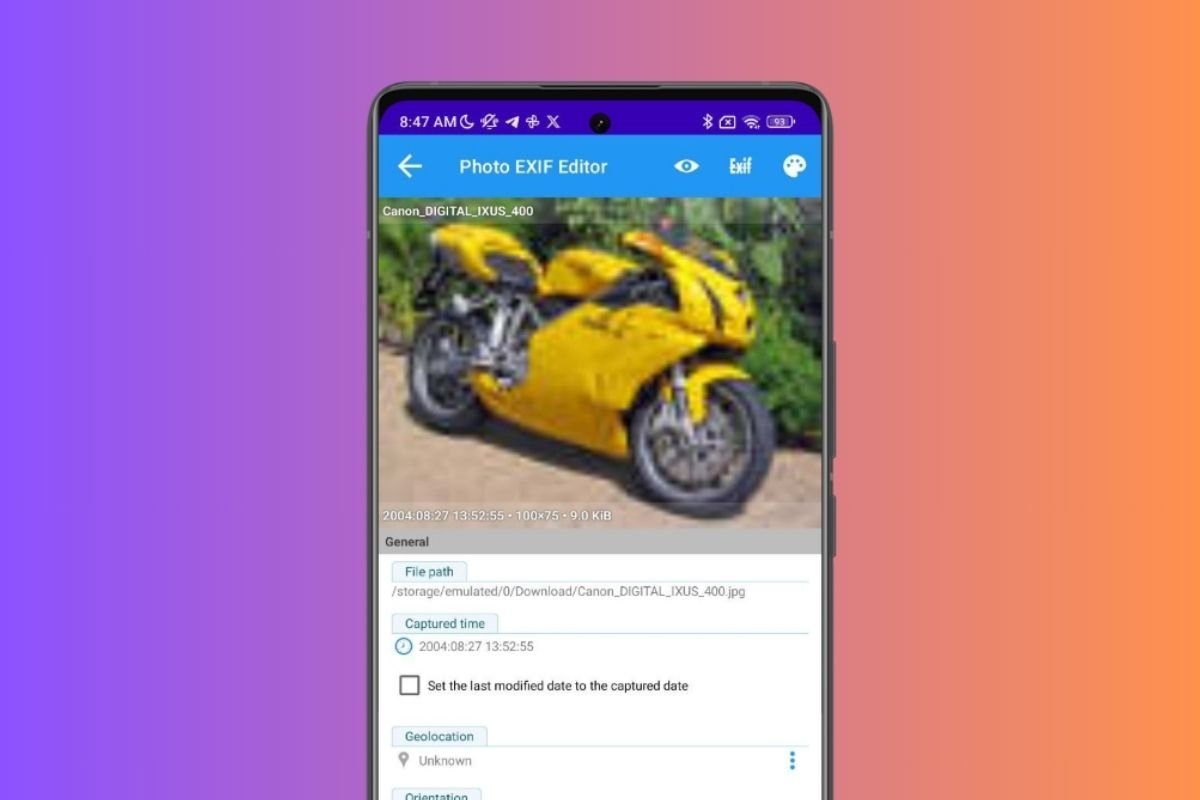 Aspect of the interface of Photo Exif Editor
Photo Exif Editor is another powerful tool for exploring and modifying EXIF data (this is another name for the metadata of your digital photos). This application provides direct access to technical information such as date, geolocation, capture device, ISO speed, focal length, and more through its intuitive interface. Its minimalist design facilitates the exploration of this data.
Additionally, it lets you view, edit, and delete metadata with a simple touch. When you select an image from your gallery, the application reveals detailed information and offers the option to change it according to your preferences.
Is it possible to know where and when a WhatsApp photo was taken?
We come to the most relevant question of the whole article. Now that you know what methods to apply to view a photo's metadata, you may wonder why we have not achieved these results with WhatsApp images. The answer is simple.
When you send an image via WhatsApp, the application reduces its file size. This process, known as compression, generates an equivalent graphic file with a lower weight and quality. In other words, the new file resulting from compression does not retain the original metadata.
There is only one exception to this rule: images sent as documents. When a photo is sent as if it were a document, WhatsApp does not apply compression and maintains its original characteristics. This also includes EXIF metadata.
Google Lens can help you to find the location of a photo
In other words, if a photo was sent as an image via WhatsApp, it has been compressed, and the information about when and where it was taken has vanished. To get this data, you can try these methods:
Google Lens (for location). If the image was taken at a known location, Google Lens may be able to easily reveal said location. You can activate this option directly from Google Photos and see the results, as shown in the image above. Of course, this solution does not always work, but it might help if you want to discover where a photo was taken.
Request the original file. Alternatively, you can ask your contact to send the original photo file. You can do this by email or sending it as a document in WhatsApp. Then, follow the steps mentioned in this guide to see all the image metadata information.
Paying attention to the details. Finally, even if you cannot see the technical information of the image, looking at the details in the photo can help you know a little more about the moment of capture and the exact point where it was taken. For example, the clothes worn by the people in the photo can reveal the time of year when it was taken.
Keep in mind none of these solutions is infallible. Sometimes, you will have to accept that it is impossible to know a photo's exact date and location.