Over the years, we have seen a boom in the AI sector. By doing a quick search on the Internet, it will not be too difficult to find several of them, and some even offer free access (albeit on a trial basis), allowing us to do many different things. If there is one that has managed to win everyone over, it is ChatGPT, a powerful conversational AI capable of creating texts of all kinds, and today it is used by thousands of users around the world. Until not too long ago, the only way we could use it was to go to their website, but that has changed. In this article, we will explain how to interact with it through one of the most popular apps available for Android: WhatsApp.
How to install and use ChatGPT in WhatsApp for Android
The first thing to know is that ChatGPT is not an application you can install on your device. It is an AI that works, as we have said, through its own website, so if we want to use it, we will have to access it. However, an implementation called "God in a Box" allows us to use it in the same way through WhatsApp, facilitating access to the AI if we want to use it through our Android device.
To do this, we will need to follow a series of steps (in addition to, obviously, having WhatsApp installed on our Android device). If you want to use ChatGPT via WhatsApp, follow the steps below:
Go to the God in a Box website and tap "Get started." You can do this from your device's browser or on your computer.
We must log in with a Gmail account and enter our phone number.
Now, create a contact on your phone with the name "ChatGPT" or the name of your choice. The phone number you need to add will be displayed on the screen (as shown in one of the screenshots below).
Go to WhatsApp and open a new conversation with the contact you just created. Type "!verify" followed by the e-mail address you used to register.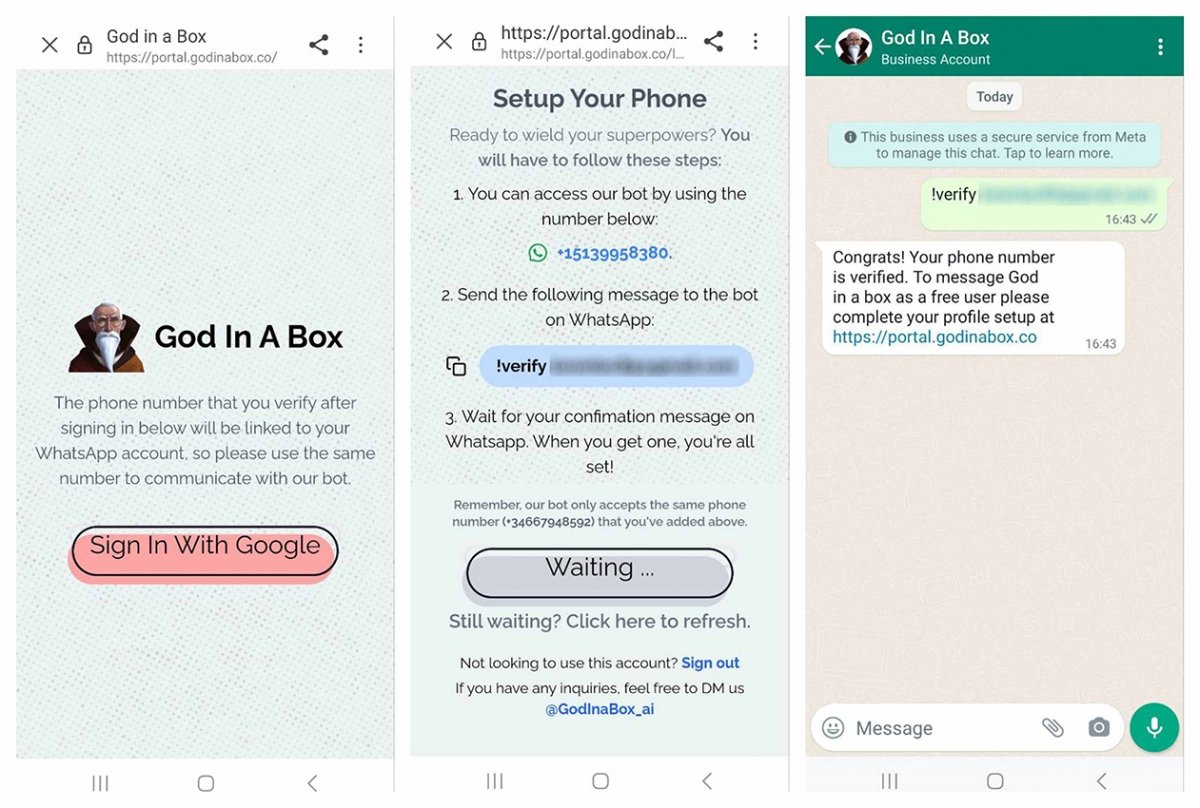 We'll just take a few minutes to be able to use God in a Box on our device
Once we have followed these steps, we are ready to use ChatGPT from WhatsApp. However, it is recommended that before using it, we go back to their website (the link will appear in WhatsApp) to finish entering a series of data about us, such as our date of birth.
How to interact with ChatGPT in WhatsApp as a contact
Following these simple steps, we can use this AI within WhatsApp, so we can say that interacting with it will be practically the same as doing it with any of our contacts. God in a Box was launched in closed beta, so the only thing we could do to use it was to register. However, a free version of this ChatGPT implementation was released, so now anyone can take advantage of it.
This free version does not have any restrictions when it comes to accessing it, although there are restrictions when it comes to using it. The most important limitation is that we will only be able to send 40 messages per month to this AI, so we will have to think very carefully before using it. In addition, this free version only allows you to send one message every 10 seconds, and the message length limit is limited to 256 characters.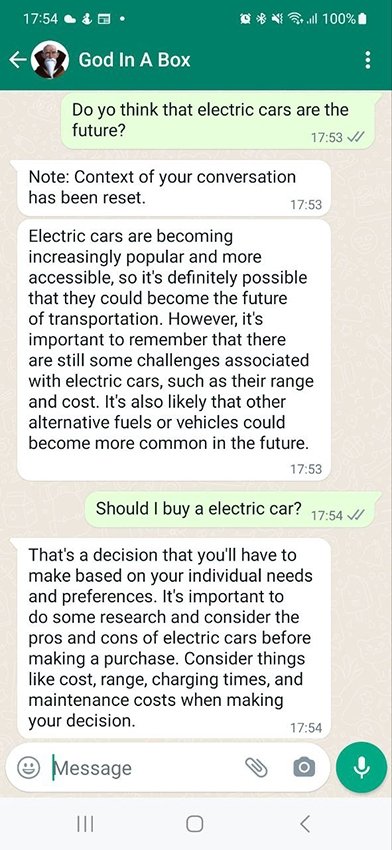 Chat example using this version of ChatGPT
Regarding its use, there is not much difference from the web version of ChatGPT. We can have a conversation on various topics with this AI, although the conversation will restart if there are over 10 minutes of inactivity. We can also reset the conversation ourselves whenever we want: to do so, all we have to do is type the command "!reset" in the chat.