Although WhatsApp was born as a "simple" messaging application, the truth is that today, it is much more. Not only can we use it to share files and make video calls, but it also includes other interesting features. One of them is statuses, which are publications similar to the stories offered by Instagram. These allow users to share both photos and videos with their contacts. In the following paragraphs, we will give you more details about them, including information regarding their most important limitations and a little trick you can use to bypass them.
How long can a video be in a WhatsApp status?
WhatsApp's statuses are flexible regarding the requirements and the kind of content we can upload. All we have to do is choose the video, photo, or GIF we want to upload and publish so that our contacts can see it. However, as we have said a few lines above, the statuses have limitations we must consider before uploading anything.
The first of these limitations (and the one most people are familiar with) is that statuses are only displayed for 24 hours. After that, the content we have uploaded will disappear for everyone, regardless of what we have published. However, there is another limitation, and that is that the application prevents us from uploading videos longer than 30 seconds. If we try to post a video that lasts longer than this, only the first 30 seconds will be visible, and this can be a nuisance, especially if we want to upload a relatively long video.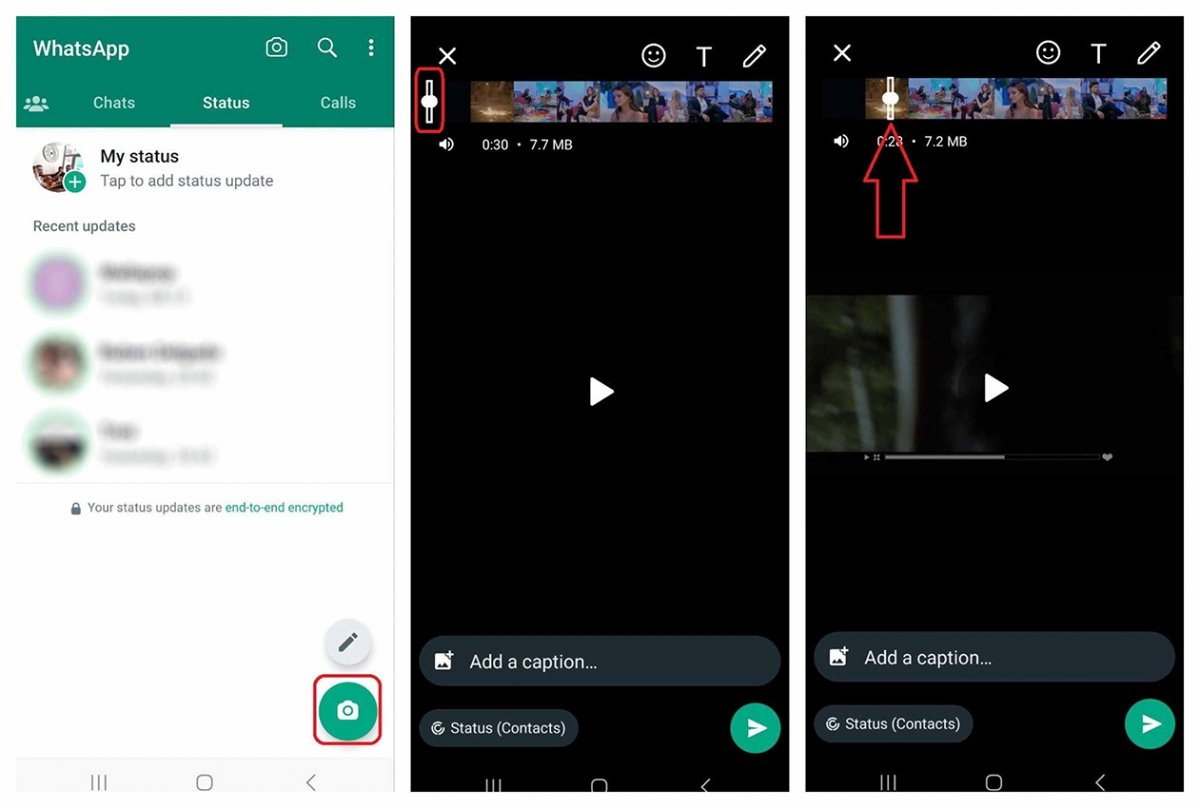 In long videos we can only select smaller fragments of 30 seconds
How to increase the duration of your WhatsApp status
So, is there anything we can do to make our statuses last longer within the application? The answer is very straightforward: no, we can not. Regarding the 24-hour limit and the 30-second limitation on videos, WhatsApp is quite strict, and we cannot do anything to increase these limits.
However, there are two tricks we can use to bypass the 30-second limit. The first one is to convert the video into a GIF since the limit is only for videos, and by doing this, we would bypass this rule. The problem with this method is that we would lose the sound, so it is still a somewhat poor solution.
The second of these tricks is quite effective since we will not lose anything. This trick consists of dividing the videos into 30-second fragments so that if we upload them all together one after the other, it will seem as if we have uploaded the whole video.
How to upload a video longer than 30 seconds to your WhatsApp status
As we said before, the only practical way to upload long videos to WhatsApp statuses is to divide them into 30-second fragments. The WhatsApp application lets us do this, although in a somewhat rudimentary way that can become very tedious, especially with long videos. The most effective and convenient solution is a specific third-party application that we will show up next.
How to split videos of several minutes to put them in your WhatsApp status
If we want to upload long videos to WhatsApp statuses, the best thing to do is to install the Video Splitter application. This application is designed precisely for this purpose, and in addition to being free, it is easy to use. Once you have it installed on your Android device, the only thing you will have to do is the following:
Once the application is open, tap on Split Video.
Select the video you want to split to upload as a WhatsApp status.
When the video loads, tap on the WhatsApp Split button at the bottom left of the screen.
Confirm the process by tapping on the button at the top right.
Type a name for the video and wait for the process to finish.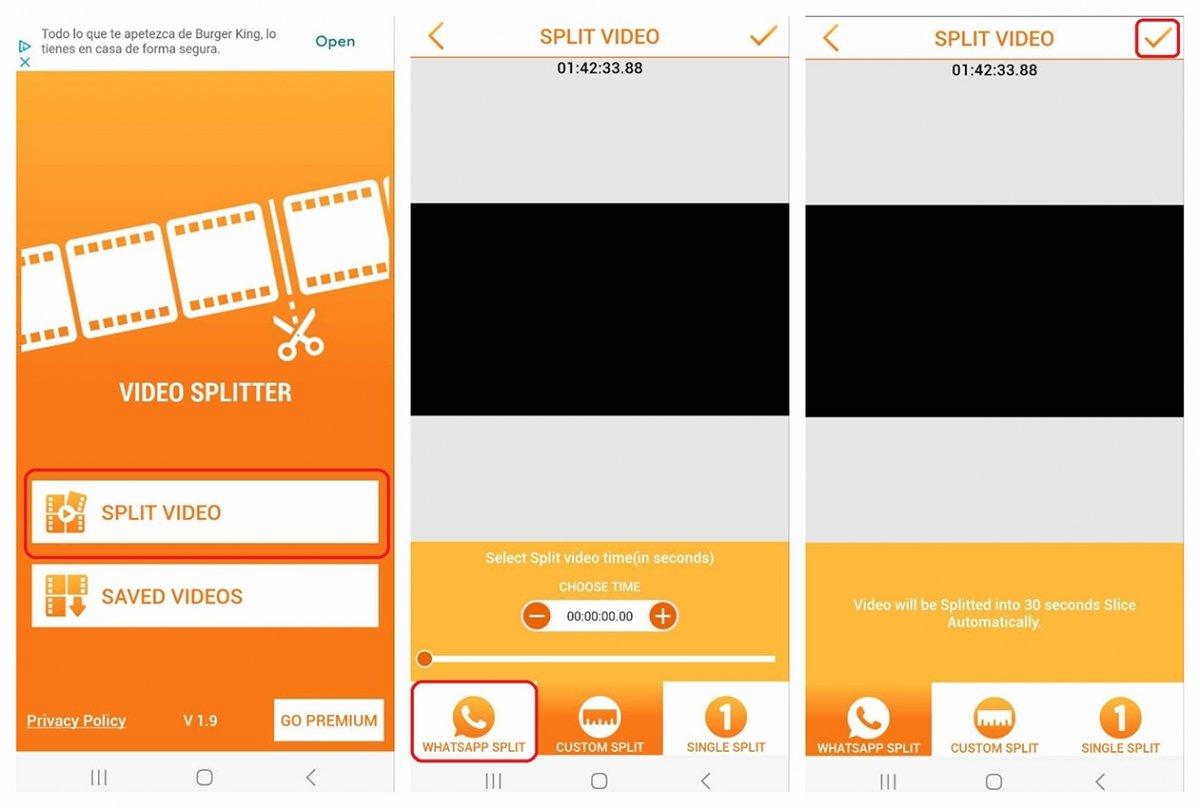 Video Splitter allows us to slice a video to upload it to our WhatsApp status
Once the process is finished, we will have the video divided into 30 seconds parts saved in our device storage. To upload it, we can do it from the Video Splitter application itself, although it is best to do it manually from WhatsApp.