One of the hallmarks that made Amazon an online shopping giant is that it has a package delivery system that makes it possible to receive anything quickly. There are always exceptions, but if you live in a big city, when you buy something, you will usually receive it the next day or within a few days.
And not only that. Amazon has such an optimized logistic system that you can decide when to receive your package as long as the necessary conditions are met. Some of these conditions include if the delivery is made through its network of carriers and/or if the product is located in one of its many facilities around the world.
From your Amazon account, you can choose which days of the week you will be available to receive package deliveries. Moreover. If you have several addresses in the platform, you can set up different delivery options for each.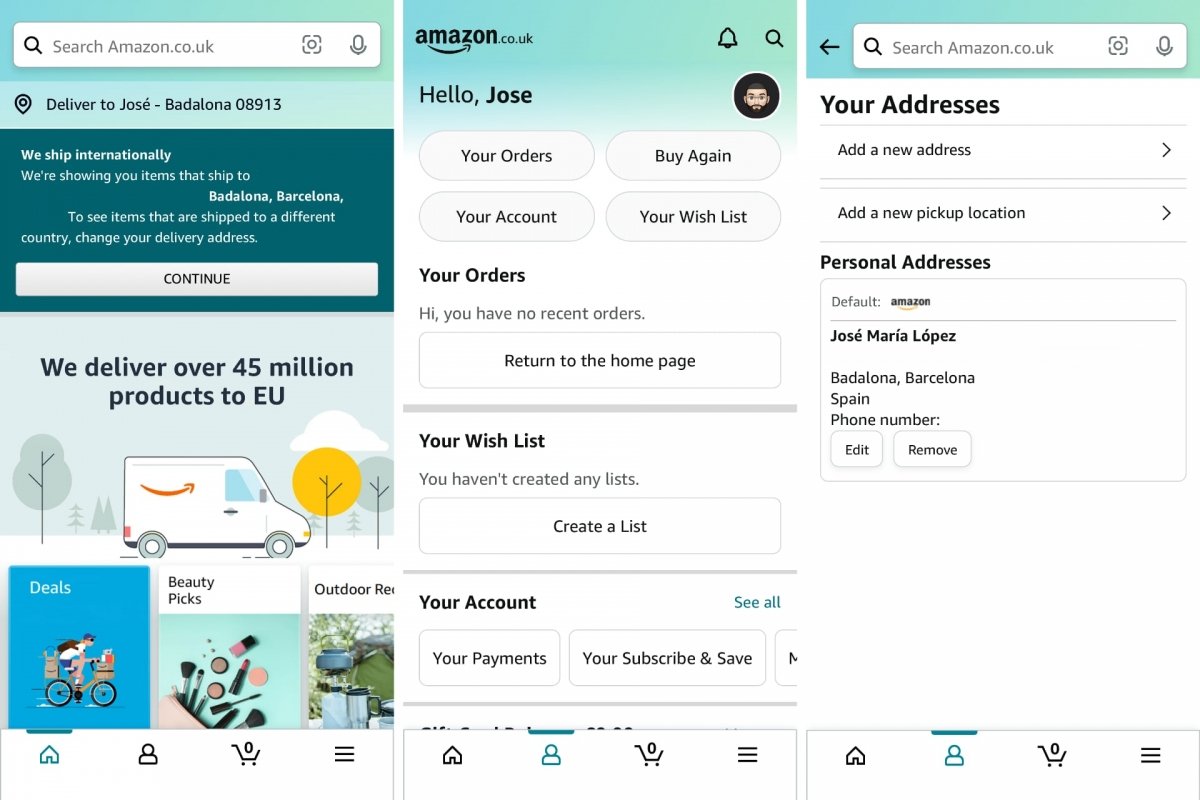 Configuring addresses and preferences in Amazon for Android
To customize the delivery option for your address on Saturdays and Sundays:
Log in to the Amazon app.
Select the icon in the shape of a person to enter your profile.
Tap on My Account and go to Addresses.
In the addresses listed, you will see the option Add delivery instructions.
Once inside, tap on Add more instructions.
Indicate if you want or can receive deliveries on Saturdays and/or Sundays.
Tap on Save delivery instructions to save the changes.
Now, we will see how to choose the approximate date and time of delivery of your purchase through Amazon. You can configure this option during the purchase process, so you will be able to change it for each delivery.
How to choose Amazon's delivery schedule
To customize the delivery schedule of an Amazon purchase, we will have to wait until we reach the end of the shopping process in the Checkout section. This is where you can verify that the data is correct. Specifically, Shipping Address, Payment Method, and Review Products and Shipping Options. The part that interests us is the latter.
Generally speaking, you will see the free Standard option and the paid Premium option. Both give a range of days but do not specify the day and time of delivery. If you have contracted Amazon Premium, by default, you can choose between free 1-day delivery and free or paid same-day delivery, depending on the circumstances of the purchase.
But in the best case, as Amazon says on its official website, "if your order and delivery address are eligible for Scheduled Delivery, the possibility to select this delivery option will be available when you proceed to checkout." In other words, not all products allow you to change the delivery schedule.
How Amazon's scheduled delivery works and how much it costs
On Amazon, in addition to 1-day and same-day delivery, we can find Scheduled Delivery. This option is available once you have an Amazon Premium subscription and lets you choose the date and time of the delivery for a small fee.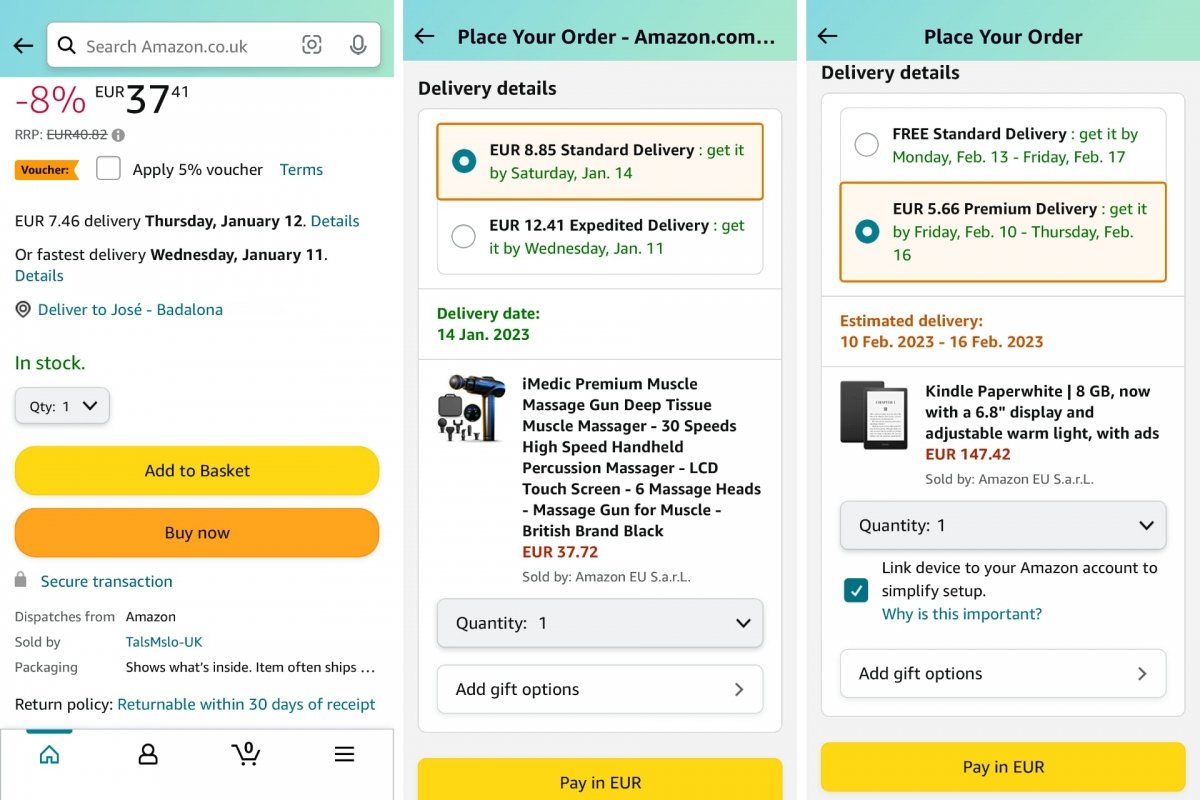 Choose the Amazon delivery date
When you purchase a product compatible with this shipping option from the Amazon app, you will see it available in the Choose a Prime shipping option section:
Select the Scheduled Delivery option to choose the day and time of delivery
Tap on Change delivery date and time to arrange the delivery
Buttons will appear with the delivery days and, underneath, the available time slots
Select a delivery day from those available
Then tap on one of the time slots. Below, you will find the price for that schedule
To finish, tap on the Continue button
Now, confirm your purchase as you normally do
When you choose Scheduled Delivery, you decide which day you will receive your purchase and at what time. Usually, the time is indicated in time slots: from 11 am to 13, from 13 to 15, from 15 to 17, from 18 to 20, from 20 to 22, and so on. This ensures that you will be at home when Amazon delivers your purchase.
The cost of scheduled delivery is $ 2.16 per delivery. This cost will be added to the purchase price. In addition, as we saw before, you will need to have an Amazon Prime subscription to access the scheduled delivery option. Its price is around $5.42 per month or $54.20 per year, but it may vary depending on the region. And it includes free express and same-day shipping and other services such as Prime Video, Amazon Music, and Prime Reading, among others.