If we talk about online stores to buy clothes and accessories of all kinds at the best price, it is impossible not to talk about Shein. The Chinese store has won over the general public thanks to its ever-changing catalog of clothes and hard-to-beat prices. If we are attentive, it is possible to get all kinds of discount coupons to lower the cost of our shopping carts, but it is also possible to get free shipping. In this article, we will talk about this option, emphasizing how you can place orders and pay nothing for the shipping.
How much does shipping cost on Shein
Before talking about how to get free shipping at Shein, we should speak of the regular shipping costs of this store. We must take into account that this platform has more than one kind of shipment option, so we cannot speak of a global price for the shipment. Just below, you will be able to see a little bit about the different types of shipping options Shein has available, as well as their prices:
Standard shipping: This kind of shipping is the most "balanced" since it has an average cost and a not-too-long delivery time. It is usually priced at 4.22 dollars, and delivery takes between 9 and 11 working days.
Express shipping: If we want our package to arrive home a little earlier, we have the option to choose this kind of shipping which, although it is a little more expensive, is faster. It is usually priced at 6.38$, and the delivery time ranges from 6 to 9 working days.
Economic shipping: This is the best option if we are not hurrying to receive our order since it is the cheapest option. It is priced at 2.15 dollars, although we will have to wait 16 to 22 working days to receive it.
Shipping to a drop-off point: Shein has partner stores in some large cities where we can send our order to pick it up in them. It is priced at 2.69 dollars (although it could be free), and the delivery time is 11 to 13 working days.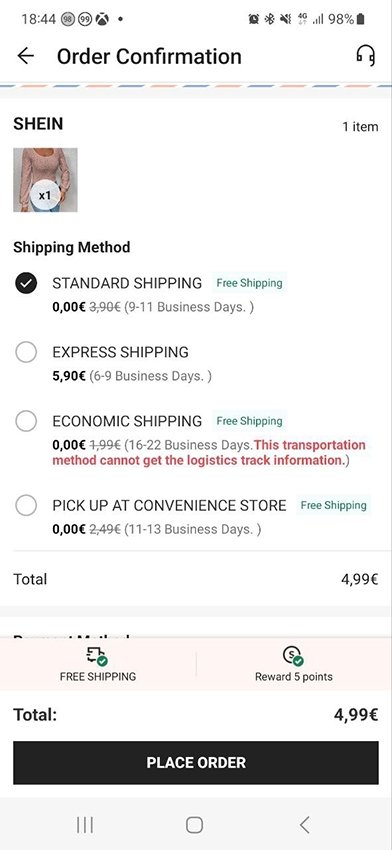 We can choose the shipping type just before completing the order
When is shipping free at Shein
Having cleared up the price of all kinds of shipping offered by Shein, it is time to talk about the most important thing: when are they free of charge? As before, at this point, we cannot speak of a time or situation where these are free, as Shein offers this option in several scenarios. Here are all the ways you can get free shipping at Shein:
Discount coupons: It is possible to obtain discount coupons that give you free shipping costs both on the website (or in its smartphone application) and off the website. In addition, subscribing to the store's Newsletter may also give us one of these codes.
Free shipping for new customers: Once we create an account at Shein, we will receive several discount coupons. These usually include a coupon for free shipping on the first purchase.
Free shipping on Sundays: During Sundays, the store also offers coupons to purchase with free shipping. We must take into account that this does not happen throughout the whole Sunday but only at some point during the day. This is not announced in advance, so we will have to keep an eye on the website or the app.
Free shipping on special occasions: Shein is an online store that is always up to date, and of course, that includes not skipping any holidays or special dates throughout the year. It is common to see Shein offering free shipping costs (or with lower prices) on particular dates, for example, during Black Friday.
Shein broadcasts: Wednesdays are the day the Chinese retailer chose to broadcast from its app. During these broadcasts, we can also obtain coupons to enjoy free shipping costs.
What is the minimum order price to get free shipping at Shein?
In the previous sections, you have been able to read several methods to get free shipping costs at Shein. All involve doing something specific or choosing a particular time to purchase, but without all these alternatives, we can also enjoy free shipping. This happens because Shein offers free shipping on all purchases as long as we reach a minimum order price. However, this minimum order price to not pay shipping costs is not always the same, as it also fluctuates many times throughout the year.
As a general rule, the minimum order we must place for free shipping at Shein is 31.36 dollars, although this price can change to 20.55 dollars on Sundays or even much less at certain times of the year. The easiest way to check this is to go to any product in the store and scroll down, as this will indicate the minimum order price in all cases.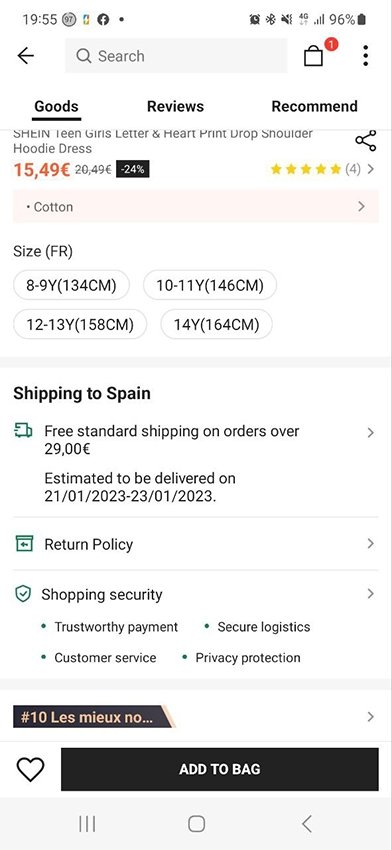 On each product we can see the current minimum order
If you have doubts about shipping costs, the best way to solve them is to place a mock order. This way, you will know how much you will have to pay (if you even have to pay something).