Thanks to the Internet, we have access to a nearly infinite number of online stores where we can buy clothes, accessories, and anything we need. We have many options to choose from, but the ones that stand out the most are undoubtedly the Chinese stores that offer a massive variety of products at very attractive prices. If there is one that managed to win over the majority of the public, it is undoubtedly Shein, thanks above all to its hard-to-beat prices. Despite these fantastic prices, there are ways to get discount codes to make our purchases even cheaper, and in this article, we will explain how to do it.
How to get 20, 30, or 50% discount codes for Shein
As we said above, Shein is attractive to consumers for several reasons, and the discount coupons they offer only attract more customers. There are two different ways to get these discount codes, which can be 10, 20, 30, or even 50%, depending on the case.
The first way to find these promotional codes or discount coupons is on the store's website or smartphone app, either for iOS or Android. Without having to go to any other website, we have the possibility of obtaining these discount codes, and there are several ways to get them:
Our first discount code will be sent to us right after we register for the first time in the store. This is a necessary step to place orders, and if we do it before placing our first order, we will have a code to apply to it.
The second way to get a discount code inside Shein is by registering for their newsletter, something commonly seen in other online stores and similar websites. The registration area usually appears as a banner when you open the application.
Finally, we must also keep in mind that Shein will "bombard" us from time to time with random discounts, so an easy way to get discount codes is to open the application daily, even if we are not going to buy anything.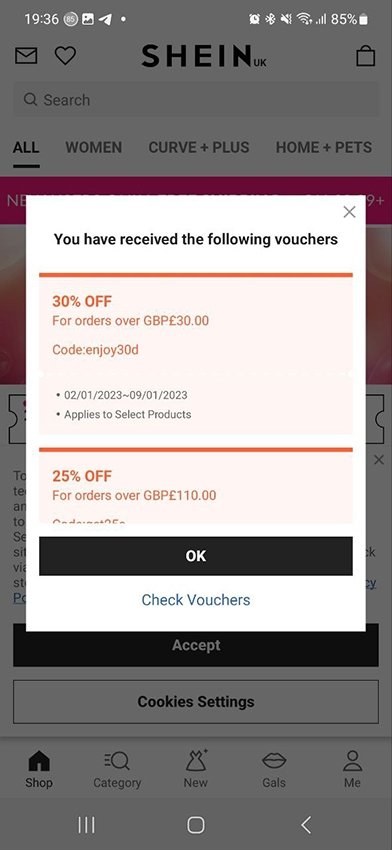 As soon as you open Shein app, you'll find all sorts of discounts
While this is the best way to get discount codes for Shein, it is not the only one available. Outside the platform, we also have the option to get some codes if we know where to look or what to do:
Some websites affiliate with Shein to offer discount codes all year round. This happens because these sites make money every time somebody uses their coupon codes, so it is a win-win situation.
We can use Google or our favorite search engine to look for "Shein coupons." By doing this, we will find several websites that collect codes that are active at that moment. During important dates, there is usually plenty to choose from (for example, Black Friday), but this method works all year round.
The last option is to exchange Shein coupons with friends and family. By doing this, everyone can benefit from these codes at some point in time.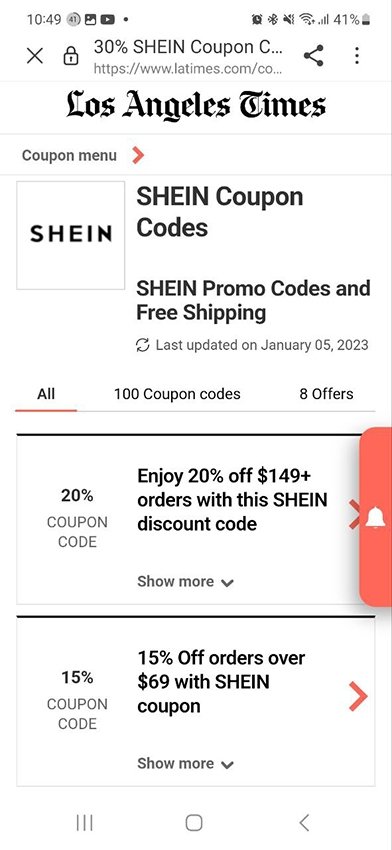 Searching in Google will provide us with all sorts of discount codes
Where to put discount codes on Shein
Once we have the discount codes to use, all that is left is to apply them to our shopping cart to receive their benefits. Applying a coupon is simple, just follow the steps below:
The first thing to do is to put as many items in our shopping cart as we want to take home.
Once we have finished, tap on the bag icon at the top right corner of the interface.
On the next screen, you will see a summary of your purchase. Tap on Buy.
On the payment page, go to the bottom of the payment methods page and enter your discount code.
Tap on Finish purchase.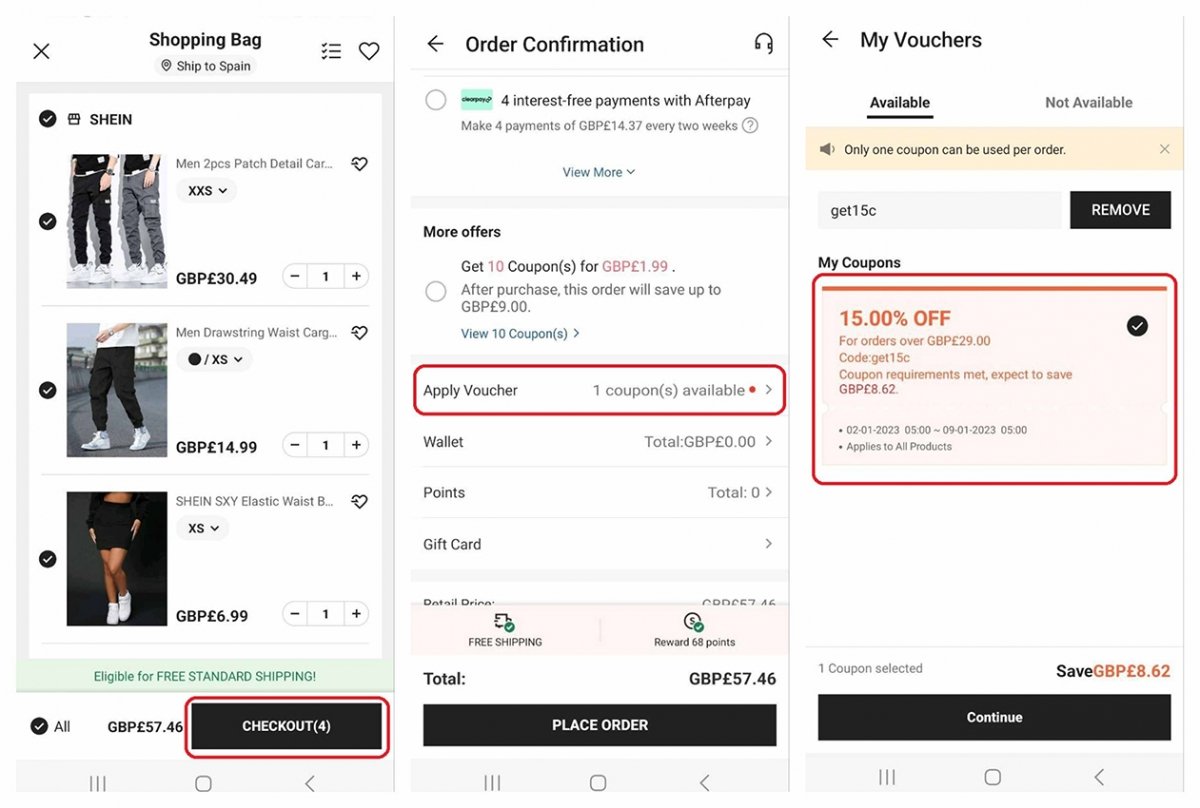 Shein will show us the discount codes applicable to our purchase
The only thing to remember is that no matter how many coupons we have, Shein will not let us stack more than one discount code, so it is always best to apply or choose the one that offers the highest discount.