WhatsApp has become one of the most widely used communication tools worldwide. But this does not mean that all its users like it. For years, many users have complained about the absence of features other applications offer. And despite the work done lately by its creators, WhatsApp still has room for improvement.
This is precisely where alternatives such as YOWhatsApp come in. When an app becomes so popular, app developers will inevitably release improved versions of the original, whether or not it is legal. Hence the existence of modifications or mods. This process involves altering the code of the official application by adding and removing features.
You may already know some WhatsApp mods. The most popular ones are WhatsApp Plus and GBWhatsApp. But the list is endless, and there is something for everyone. Another popular mod is the YOWhatsApp Android app. Let's see how it differs from the other mods and whether or not you should try it yourself.
What is YOWhatsApp
YOWhatsApp, also known as YoWa, is an Android application that is a modification of WhatsApp, which means it will work as WhatsApp, but you will have access to exclusive features.
As is often the case with WhatsApp mods, for legal reasons, they are usually not available in the official app stores. So to install it, you will need to download YOWhatsApp APK. Thankfully, you can download this app for free. But it has its downsides, as we will see below.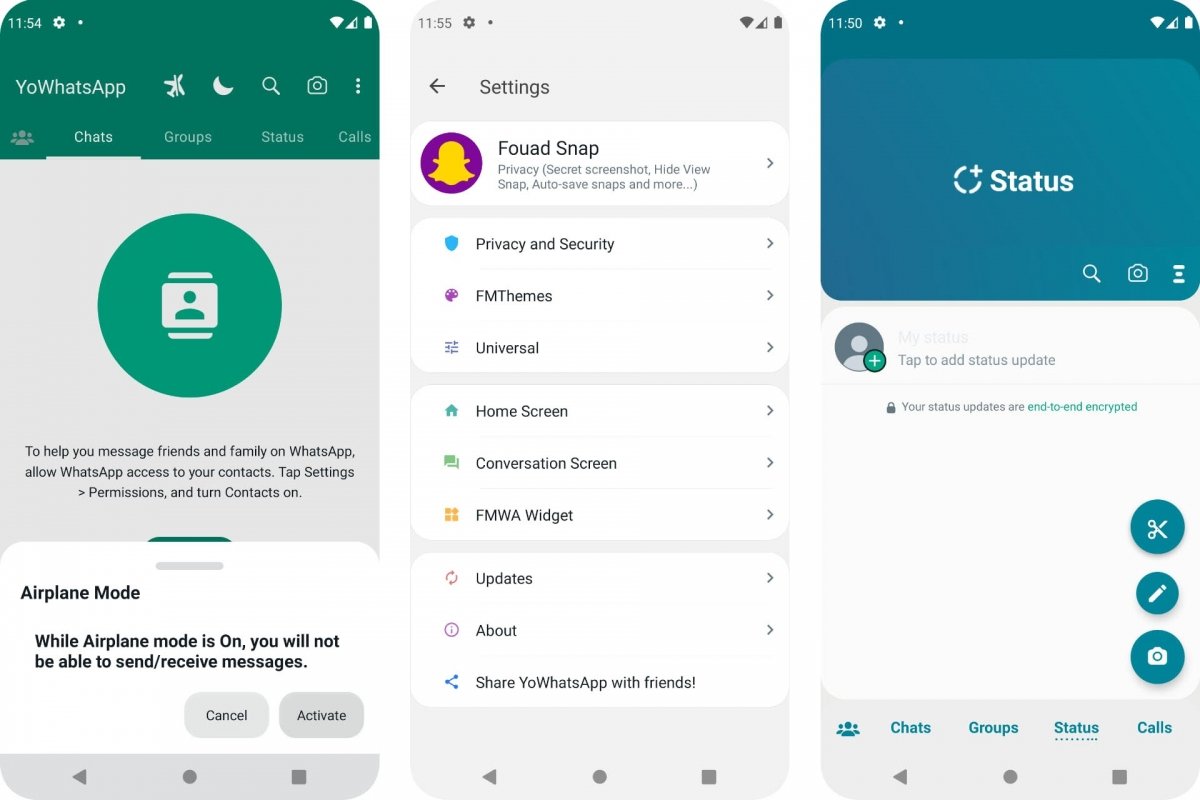 YOWhatsApp's settings menu
As a curiosity, YoWa or YOWhatsApp was created by Yousef, a famous programmer in the mods world. Although he abandoned the maintenance and updates of his app, it has so far been taken over by another well-known developer, Fouad Mokdad. We owe him another WhatsApp mod: FMWhatsApp.
What is YOWhatsApp used for
Now that we know what a WhatsApp mod is, it is time for the important part: What is it for? The main reason to install a WhatsApp mod is to get functions and features not included in the original app. They may be added to the app's feature roadmap down the line. But others will probably never be.
This is because mods like YOWhatsApp go beyond what is officially allowed on WhatsApp. This app includes additional features that will give you more control over the app and what you can and cannot do in chats and conversations. For example. You can send videos up to 700 MB. The official WhatsApp limit is 16 MB.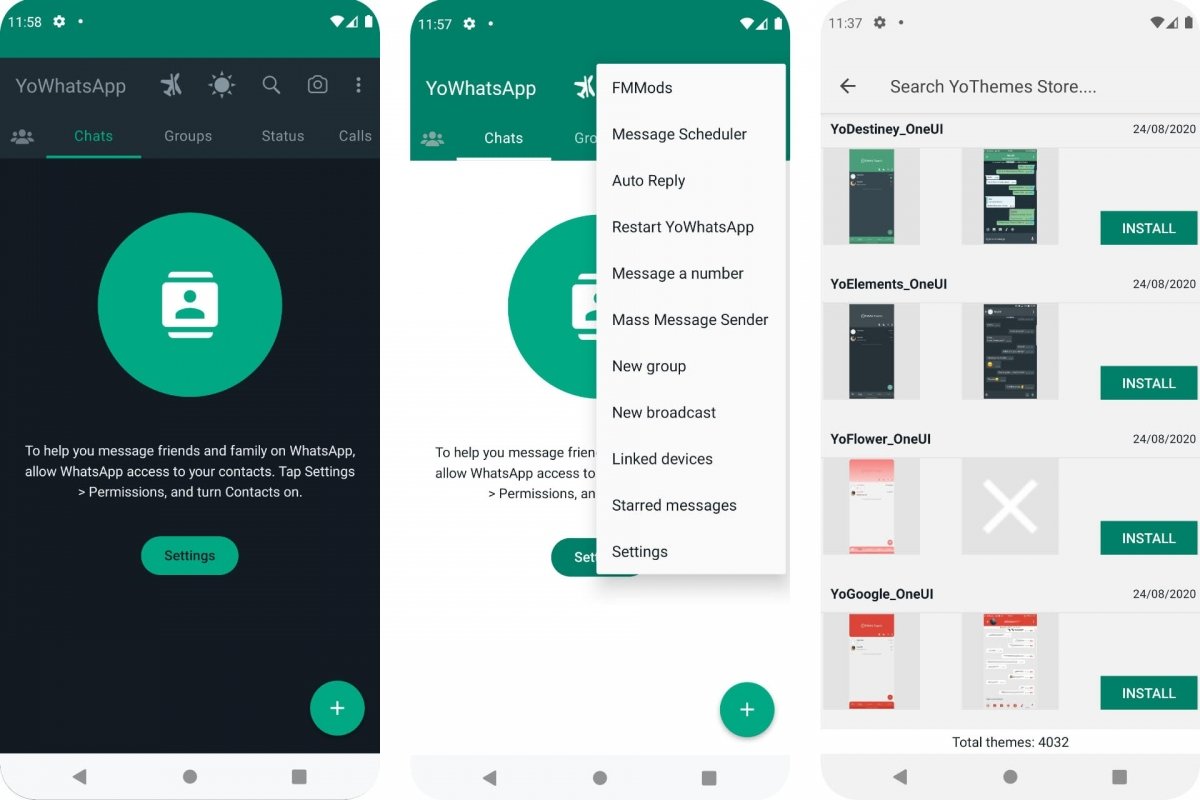 Different themes for YOWhatsApp
The main features of YOWhatsApp are:
View messages, files, and watch videos that have been deleted.
Share photos and videos in their original quality or full size.
Send over 700 images at once.
Send all kinds of files and documents regardless of format.
Use two WhatsApp accounts simultaneously.
Choose a different background for each contact.
Over 4,000 themes to customize the look and feel of WhatsApp.
Customize text size.
Exclusive emojis and emoticons.
Save profile images.
Hide your contact's records.
Disable privacy options such as blue check mark or last seen.
Download manager to see our download progress.
Call blocking by contact.
Why YOWhatsApp is so popular: advantages and disadvantages of this MOD
After seeing some of the additional features and functions YOWhatsApp brings, we can see why it has become one of the most popular WhatsApp mods. Simply put, it lets you do things unavailable in the original app. And it allows you to give WhatsApp the look and feel you want. Not to mention being able to send large files or become invisible to others.
Another advantage of YOWhatsApp is that it is as easy to install as WhatsApp. Just download the app and install it. And the same for updating it. Each new update adds new features. To update the app, download the latest APK and accept the update.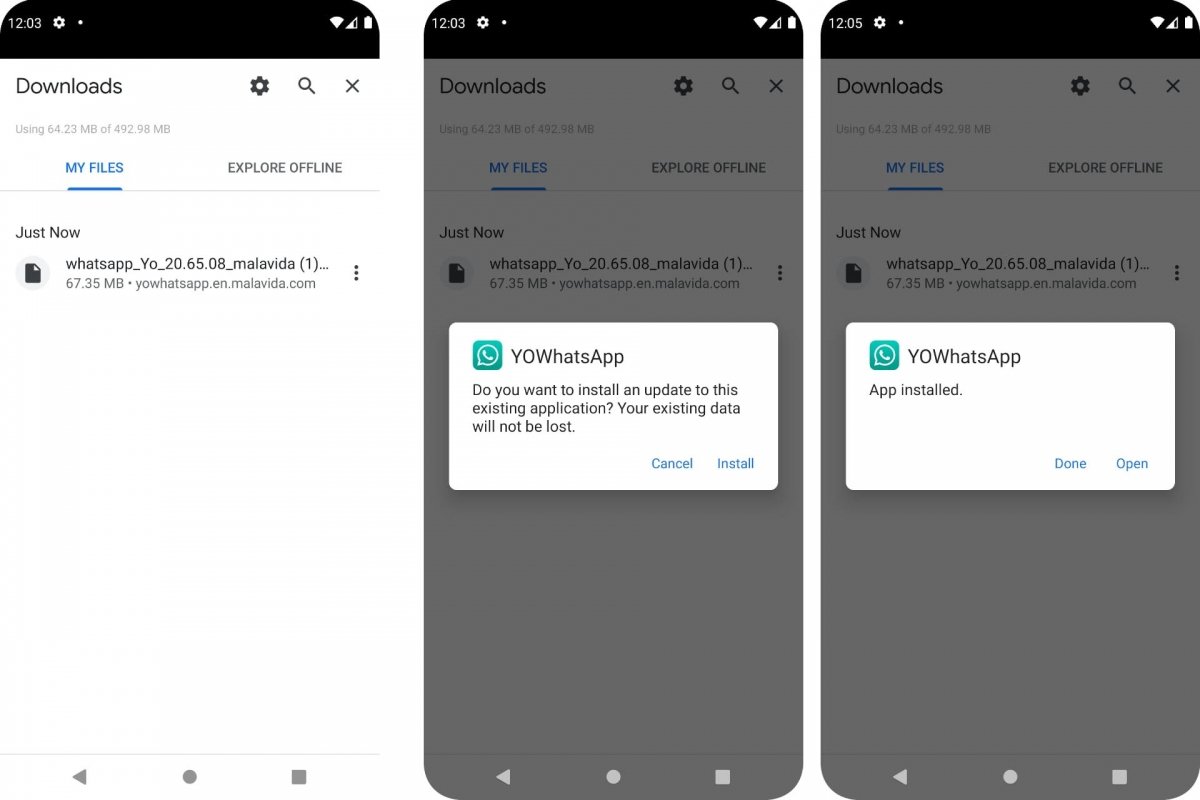 Downloading and installing YOWhatsApp
The most popular feature for most users involves sending files. This is a strong point of YOWhatsApp, as it brings WhatsApp closer to Telegram, an app that stands out precisely for the possibility of better managing large files, complete videos, or a large number of images.
Another advantage of this YOWhatsApp mod is that it runs as smoothly as the original app. Something that is appreciated in older smartphones or with limited resources.
But it also has its drawbacks. The main disadvantage of YOWhatsApp has to do with its nature. Using a WhatsApp mod can get your phone number or user blocked from this platform. This is popularly known as getting banned. In other words, if you use a mod, you risk losing access to this platform. It is not something that happens every day, but it can happen. In case of a ban, the common solution is to return to the original WhatsApp app.
Is YOWhatsApp legal?
YOWhatsApp is a WhatsApp mod. It is not an official app, which means it does not have the approval of Facebook, the owner of this messaging tool. The only app allowed to access this network is the official WhatsApp app. This means mod developers infringe the intellectual property rights since they are not working with free software. It is proprietary software. And they do not have the permission to do so.
Secondly, the network that supports WhatsApp has rules. Rules we accepted, probably without reading, when we signed up for the service. And some of YOWhatsApp's features violate them, as they bypass app limitations.
In short. Having YOWhatsApp installed is not a crime in itself. But it has its consequences depending on the use you make of its exclusive functions. WhatsApp managers could expel you from their network for violating their terms and conditions.
Is YOWhatsApp safe?
To use an Android application, we must trust its creator. This has advantages and disadvantages. For example: when you download and use WhatsApp, you assume that your data is managed by Facebook, the company behind this messaging app. This already caused a commotion in the past.
But behind the mods are individual developers we know nothing about. We can accept that they have created this mod unselfishly, but there is a risk that our data may be compromised. Although the official app encrypts messages and files, there is no guarantee that YOWhatsApp will do the same.
Another potential danger of using WhatsApp mods is that they may incorporate malware that infects your Android smartphone. YOWhatsApp does not have this problem. But it is advisable to download its APK from reliable sources to avoid falling into fraudulent mirror pages. You can download YOWhatsApp from Malavida to guarantee the file you download has passed through numerous antivirus scanners.