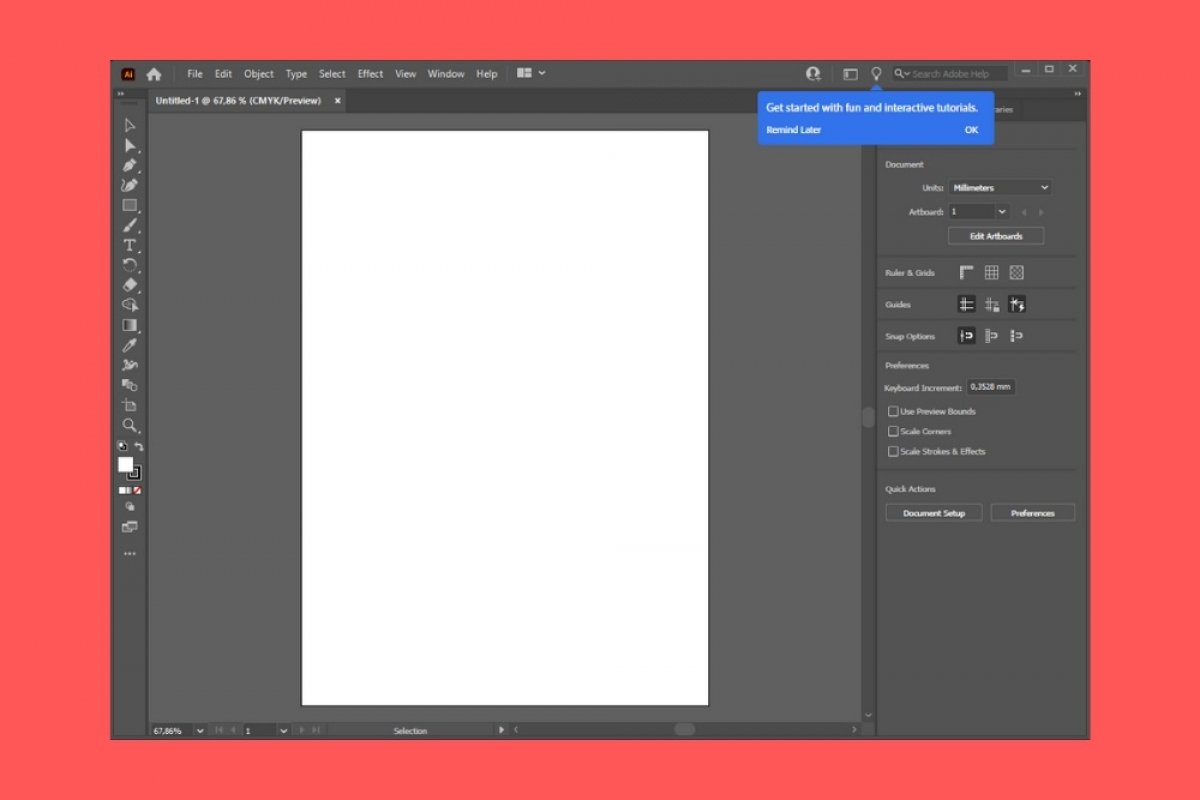 Adobe Illustrator is a great program. A really complete piece of software with so many options, tools, and functions that learning how to use it is almost an art that needs to be practiced for many years. However, far from what it may seem, it isn't so hard to take our first steps with this program and start using it in our daily work, discovering on the fly everything that it can offer us, with examples and manuals.
That's why you should read this short Illustrator guide for beginners. A brief tutorial conceived to help newbies to learn about this essential and basic Adobe program. And totally free! What else could you want?
Step 1: open the application and open a new document by clicking on the corresponding icon that you can find in the top left-hand corner of the interface.
Step 2: once you've opened a new document, you have to choose a workspace. Choose the type that suits you needs the best through the options offered. You can switch between several of them if you're not too sure.
Step 3: having designed your work desk, you can make use of the tools on the left-hand-side panel. With the latter, you'll be able to create modify, and select objects however you want. There are loads of options available so don't be overwhelmed.
Step 4: you can start off by drawing basic shapes to practice with the rectangle, selection or fill tools. Practice until you master them because it's hard to get things right from the very beginning.
Step 5: you can insert images from the File tab on the menu bar from where you can choose the picture you want to work with. As we said before, Adobe Illustrator offers you endless possibilities.
Step 6: finally, you can save the document once again from the menu, selecting the output format of your choice.
And one last tip! Also try to download from the Internet any file created with Illustrator or with an .ai extension that can be edited with this application. Why? Because with a project that has already been created it will be much easier for you to understand the possibilities of this software and modify all sorts of elements.