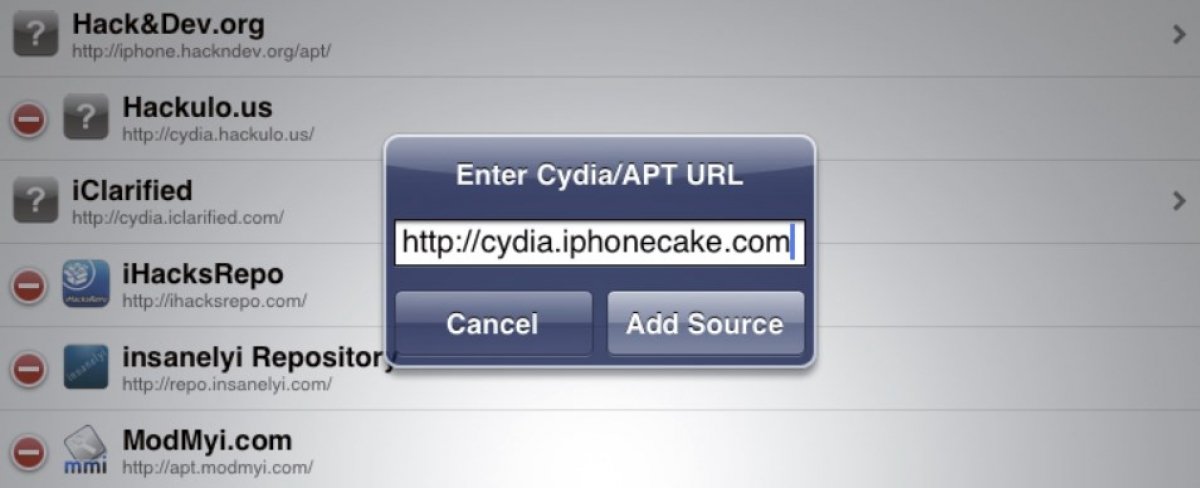 To be able to install AppCake, you have to follow these simple steps, bearing in mind that before you start, you'll need to have installed Cydia on your iPhone or iPad, since it's an essential requirement to get hold of this app:
Step 1: open the Cydia application and press on Sources at the bottom of the home screen. Press Edit on that menu.
Step 2: now press Add and then type http://cydia.iphonecake.com into the box that will open on the screen. That's the official repository recommended by its developers. After that, a warning will appear but ignore it and press Add Anyway. You'll have to wait for a few minutes whilst all the resources necessary to run AppCake are downloaded.
Step 3: press on the button to return to Cydia's source page once all AppCake's sources have updated.
Step 4: now press AppCake and then on the installation button, tapping on Confirm.
Step 5: once you've completed the installation process, you'll have to reboot your device. You can do so from the app through the Restart SpringBoard button. Furthermore, if you've never used Installous you might notice that an app called AppSync is being downloaded. Nothing to worry about, it's part of the usual installation process.
Step 6: once you've completed all these steps, you can go the home screen of your iPhone or iPad and see how the AppCake icon is ready to be used.
Once you've finished the installation, you'll have full access to the resources offered by this alternative market to the official iTunes App Store.