Have you subscribed to Glovo Prime but are not convinced of what it has to offer? Then, you should know that you can cancel your subscription whenever you want, even during the trial period. Read on to find out how to do it.
What is Glovo Prime, and how much does it cost
Glovo Prime is a premium service that, for a flat rate, allows you to place orders on the Glovo food delivery platform. It also includes a special membership with exclusive perks. However, the main benefit of Glovo Prime is free shipping at selected stores. Additionally, it removes surcharges for deliveries at night or during rainy weather.
Glovo Prime is currently available in the following countries:
Spain
Italy
Portugal
Romania
Serbia
Ivory Coast
Kenya
Kazakhstan
Morocco
Georgia
As for the price of Glovo Prime, it currently is 5.99 euros per month. However, the company offers a one-month free trial to help you find out if it suits your needs or not. During this first month, it is also possible to cancel Glovo Prime from your account.
How to unsubscribe from Glovo Prime from its Android app
Unsubscribing from Glovo Prime is very easy. All you have to do is follow the instructions below: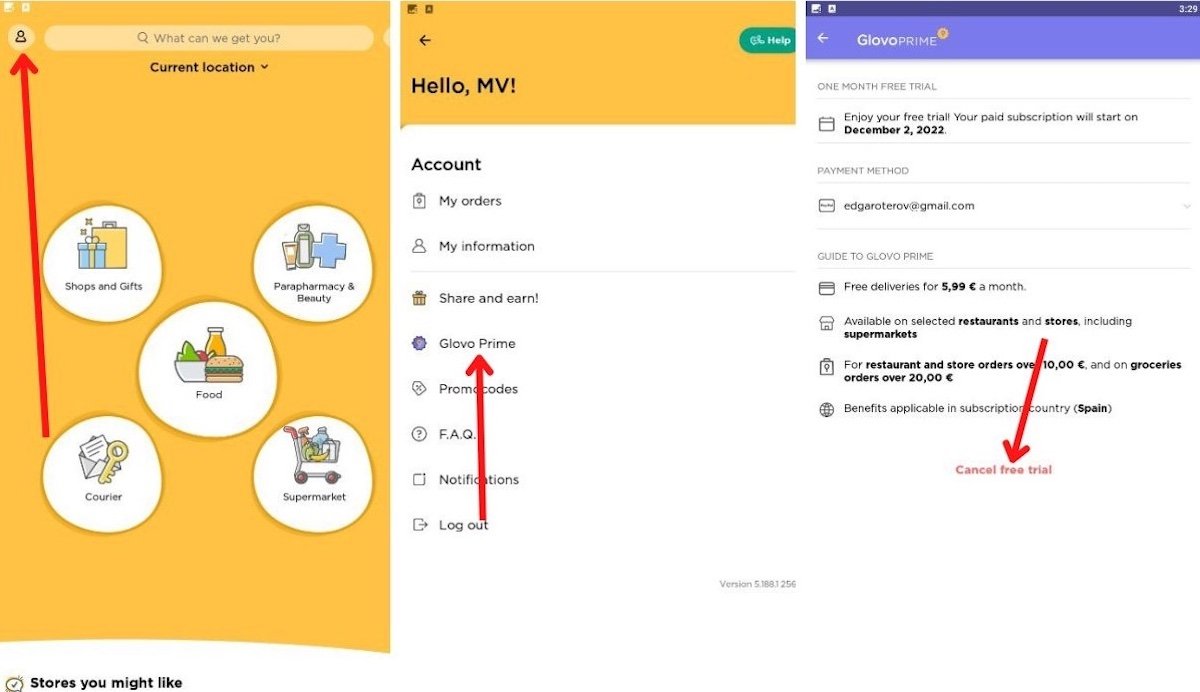 How to cancel Glovo Prime step by step
Open the Glovo app and tap on your account icon.
In the settings list, go to the Glovo Prime section.
During the trial period, you will see the Cancel free trial option. This is shown on our screen, as we have subscribed temporarily to this trial to prepare this guide with first-hand information. On the other hand, if you have already paid the first monthly fee, tap on Unsubscribe.
Confirm that you want to cancel Glovo Prime.
And that is it! You are no longer a member of Glovo Prime. The company will stop charging monthly fees on your PayPal account or card.