Wallapop has a fantastic tool to make buying and selling products, but above all, sending and receiving them safely. And we want to talk about it here so that you do not have any doubts when using the app. If you are not 100% confident, this option may be of interest to you.
Buying and selling on Wallapop is usually safe, but scams can always arise, especially when buying and selling second-hand items, where there is no regularization beyond the internal chat of the app. For this reason, and for greater convenience, there is Wallapop shipping.
What is Wallapop shipping
Wallapop shipping is a proprietary system within the application that allows you to send and receive products reliably and securely. It works within Wallapop and proves to be a great alternative to shipping on your own. There are a series of requirements that we will see below, and above all, it is not free, but the security it provides to the user is greater as it is backed by the platform.
How Wallapop shipping works
To start using Wallapop shipping, you must have an account created in the app, in addition to having a valid credit card linked (you will be asked for it if you make any purchase or you can enter it manually from the section Shipping > Bank details). Once you have done this, you must take into account that to start using this function, you will have to buy or sell a product with shipping.
After talking to the buyer or seller through the chat provided by the app, the option to Buy will appear or you will receive an offer from the interested user.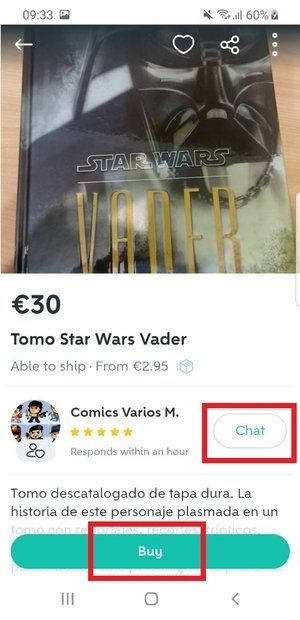 After talking to the seller through the Chat, you can now hit the Buy button to purchase the product
Everything is very well explained in the app, but just in case, here, we leave you a detailed explanation to make use of Wallapop Shipping when buying.
How to buy with Wallapop Shipping
When you select the Buy button directly, you will find a price that includes both the product you want to purchase and the amount of shipping and insurance Wallapop (of 2,49€). You will then be able to choose whether to receive the package at home or a nearby post office, with the slight difference in price that this entails:
To your address: with a price of 3,95€, you will receive the product directly at your address. It is handled by SEUR and usually works fast. Depending on your place of residence and other issues such as holidays, it may take more or less time to arrive, but this is something that will be indicated in your case when you purchase with Wallapop shipping.
Pick-up point: choose a public point, such as a nearby post office, so that you can pick up your package there. Priced at 2.95€, it takes 3 to 7 business days to reach you.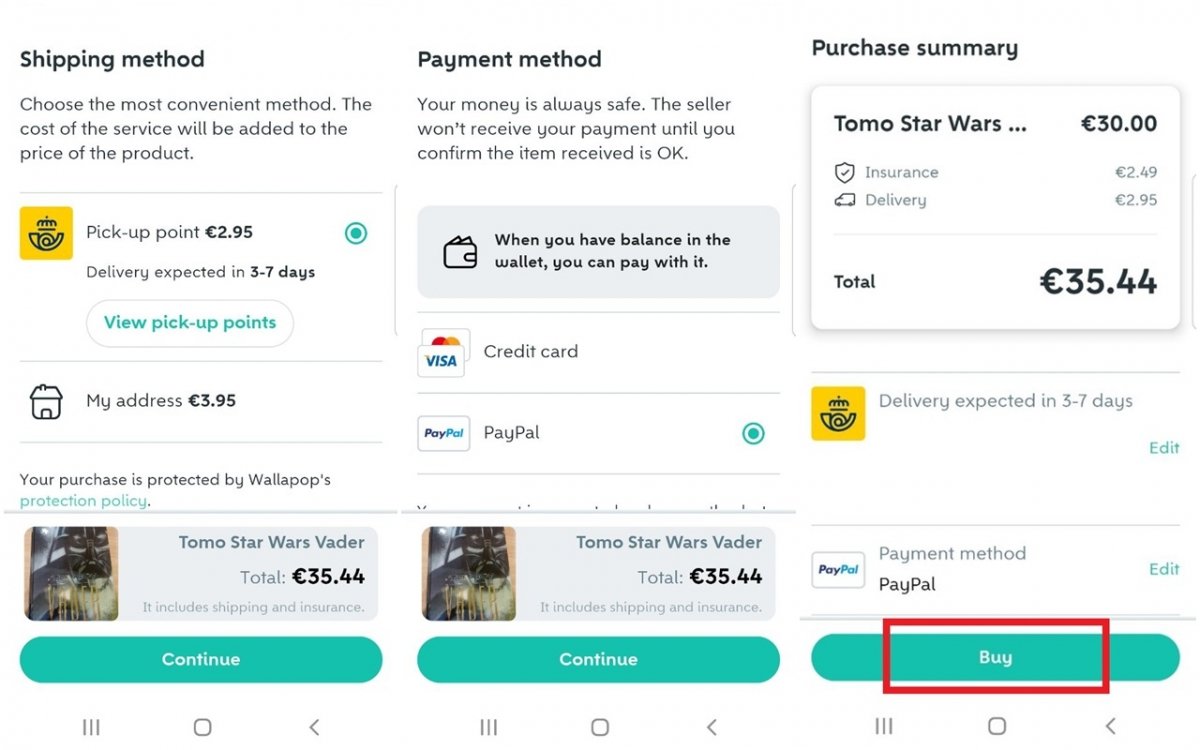 How to Wallapop Shipping purchases work step by step
It is worth mentioning that, if after selecting buy and entering all your data the seller rejects your offer, for whatever reason, you will be refunded all your money retained in full, so you can make the offer again or ask the seller through the Chat what could have happened to cause the cancellation.
How to sell with Wallapop Shipping
On the other hand, if you have a product for sale and you get an interested buyer, you have to click Accept as soon as you receive the offer (that you have previously established through the Chat and so on). After that, a barcode will appear, so you must take it to the post office of your choice so that they can register it and send your package with it. Of course, it is advisable to pack the product you want to sell beforehand, although you can do it at the post office, they will charge you the extra for the envelope or box they sell there. The Post Office may reject a product that is not properly packaged, so if you are not sure if you can do it well, it is better to leave it in the hands of professionals.
Wallapop home pick-up service
Another option available when you use Wallapop shipping to sell is to have Seur come to pick up the package at your home, although this entails an additional cost for you. Specifically, it is priced at €2.25, which is deducted from the total sale price. In addition, you must have the package properly packed and the barcode received printed and affixed to the envelope or box. This package must not exceed 30 kg in weight and its height, length, and width must not exceed 270 cm when added together. In this case, once it has been picked up by Seur, it will reach its recipient in 48 working hours and if you are the seller, you will receive the money in just 3 working days.
Wallapop shipments VS traditional shipments
If you want to save the Wallapop insurance or you have to send a package that exceeds the weight or dimensions allowed, you can opt for traditional shipping instead of using Wallapop shipping. This has several advantages such as those just mentioned, but also the least guarantees since you have no assurance that after making the payment or sending the product, the seller or buyer responds honestly and fairly.
Therefore, we only recommend using traditional shipping instead of Wallapop shipping in case of trusting the buyer/seller, because despite having contacted and talked through the app, by formalizing the purchase outside and independently, Wallapop will not be responsible for money or lost items.
Troubleshoot problems with shipping on Wallapop
It is likely that when you receive the product you have purchased, it will have imperfections or you may want to return it for some other reason. In this case, you have up to 48 hours to open a dispute from the moment the package appears as "Delivered" in the app. After choosing the reason for the complaint, you will be able to add photos to demonstrate the problem with the product. If everything goes well and the seller accepts your formal complaint, the seller will start the process of returning the product and the money following the instructions indicated in each case.
If you are in a situation of encountering problems related to shipping and they are not easily solved by talking to the seller or buyer, you can contact Wallapop customer service to solve your doubts.
Customer service website: this link is the easiest way to contact them effectively and get an answer as soon as possible.
E-mail: soporte.envio@wallapop.com
Social networks: MD of Twitter is most recommended
Wallapop App: there is no chat section with customer service directly, but there is a Help Center where you can find multiple answers to all kinds of questions and problems.
Even so, in general, there are usually no problems and when using Wallapop Shipping, despite its somewhat high price, you will have fast and safe shipments.