GBWhatsApp is a MOD that lets you take the WhatsApp Messenger user experience to another level. It offers many customization options, privacy settings, and much more. However, like the official application, its main function is to send messages and files. Precisely, this is the kind of information you want to have in a backup. So, how do you create a backup in GBWhatsApp?
In the following sections, we will explain the different methods to make a backup in GBWhatsApp. We will show you how to migrate your data from this MOD to the official application without losing your chats and how to create complete copies of the application and media files.
How to backup GBWhatsApp and restore it in WhatsApp
When using the official WhatsApp application, you can create a backup on Google Drive. However, that is not possible in GBWhatsApp. However, this does not mean there is no way of backing up all your information. In fact, this WhatsApp MOD retains one of the features no longer present in the official app: local backups.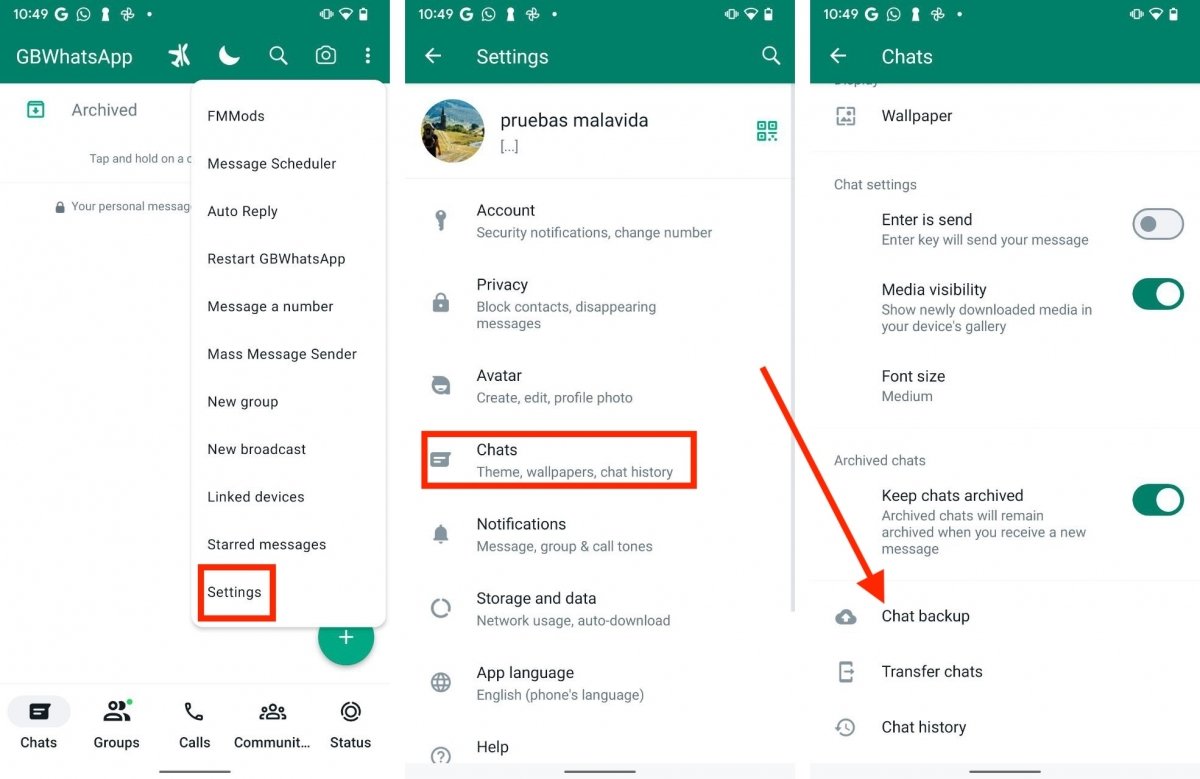 Creating a standard backup in GBWhatsApp
Let's see how to make one.
Open the GBWhatsApp main menu.
Tap on Settings.
Select Chats.
Tap on Backup.
Wait for the process to finish.
Making a backup by following these steps has a clear advantage: the backup is compatible with the official WhatsApp application. The data you just copied is located in the following path:
Internal storage > Android > media > online.whatsticker
Inside this directory, you will see a folder called GBWhatsApp. You can easily locate it with any Android file explorer, such as Files by Google. Now, how can you upload this backup to WhatsApp?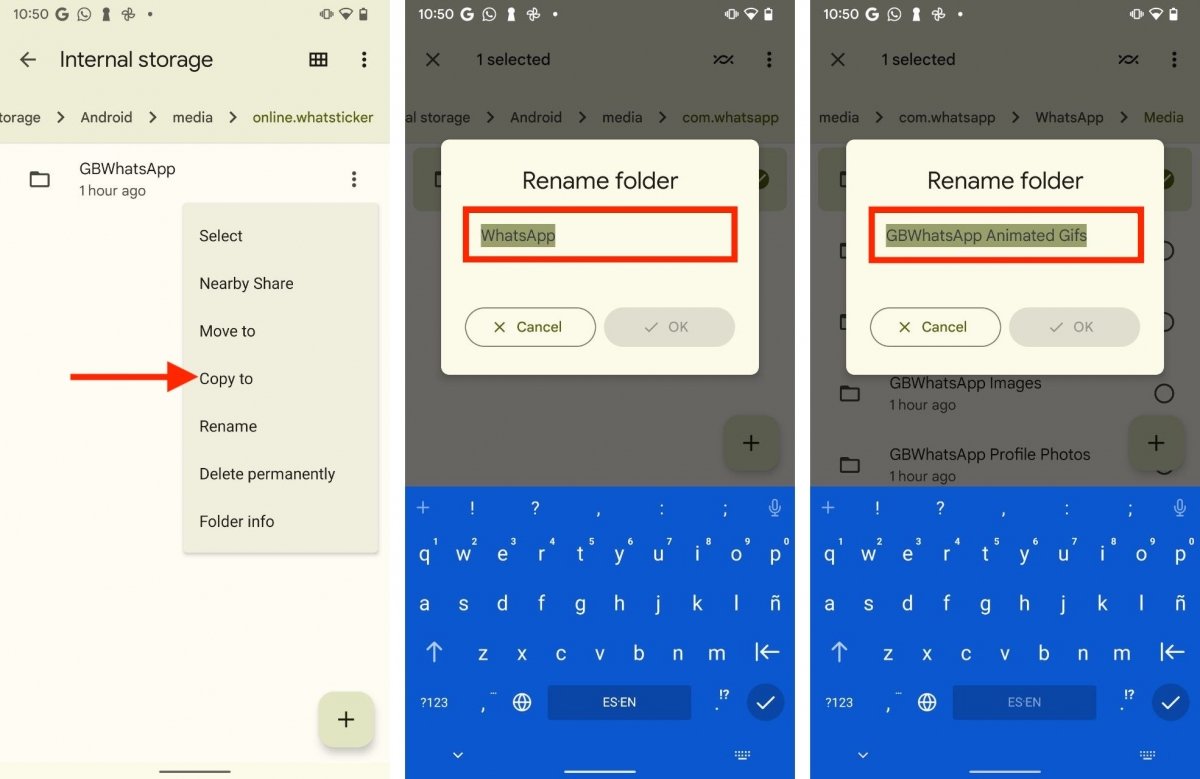 Modifying the GBWhatsApp backup to send it to WhatsApp
Just follow these steps:
Install the official WhatsApp application, but do not open it.
Open the Internal storage > Android > media > online.whatsticker directory.
Copy the GBWhatsApp folder to the Internal Storage > Android > media > online.whatsticker folder.
Rename the GBWhatsApp folder to WhatsApp.
Open the folder and access the Media subdirectory.
You will see a list of items. All of them start with the word GBWhatsApp. Rename all folders using the word WhatsApp. For example, change GBWhatsApp Animated Gifs to WhatsApp Animated Gifs.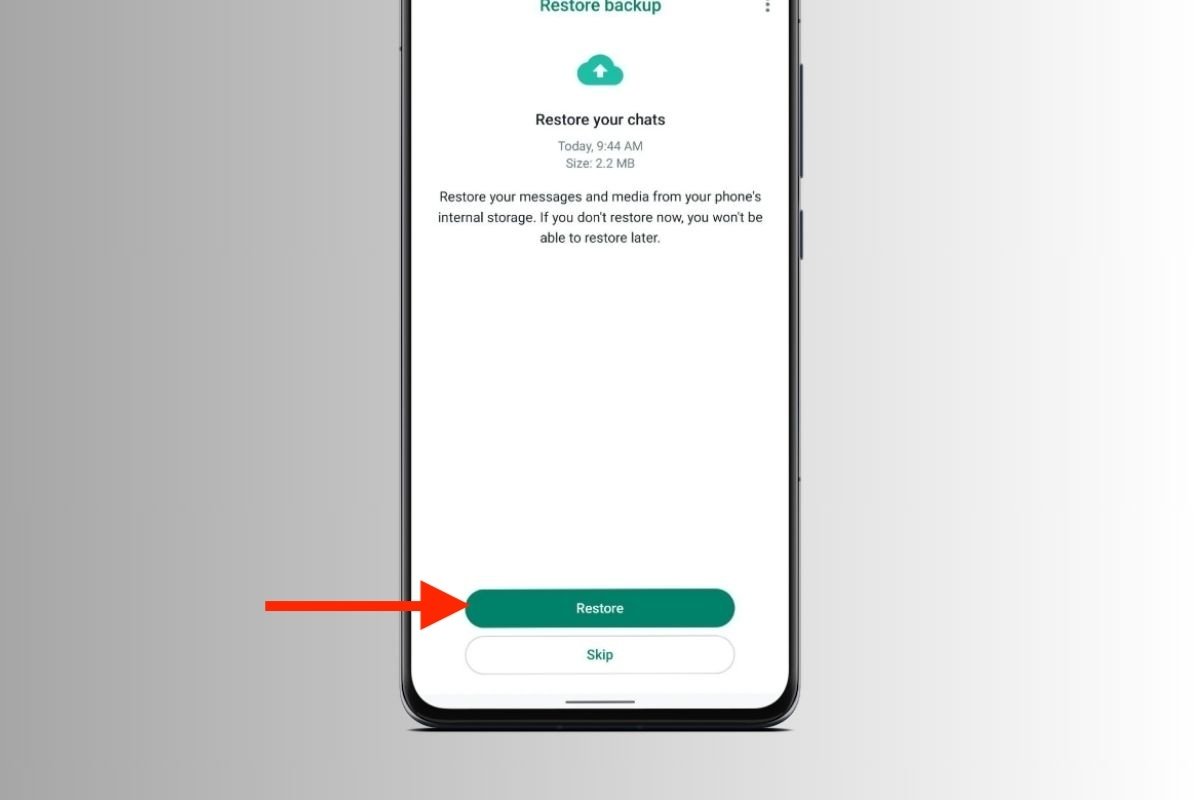 WhatsApp lets you restore your chats from GBWhatsApp
Now, open the official WhatsApp app and start the account setup process. Tap on Restore when this option appears. As you can see in the above image, WhatsApp will restore all your data from the internal storage, not from the cloud.
How to make a full copy of the entire GBWhatsApp app
Another option to make a copy of GBWhatsApp is to create a file with all the app information. This option includes not only chats and media files but also your settings and other application configurations.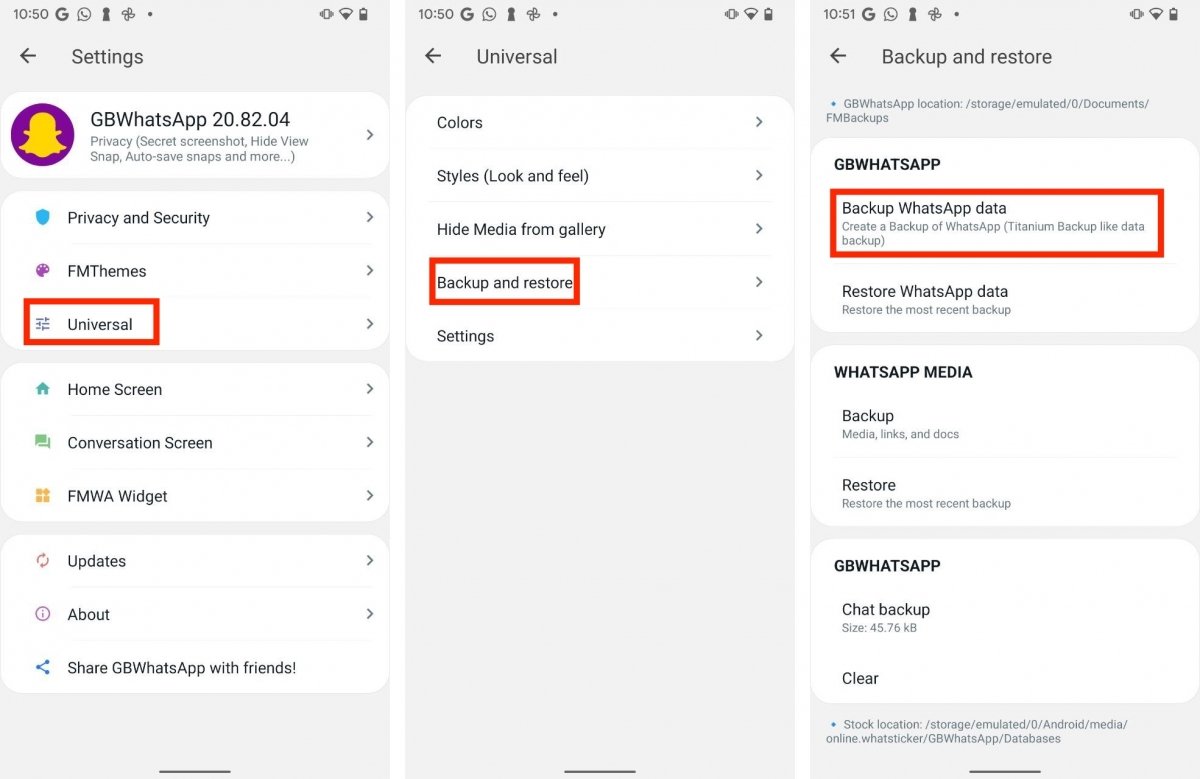 GBWhatsApp's own backup system that clones the entire app
All you have to do is follow these steps:
Open the main menu and tap on Mods.
Tap on Universal.
Select Backup and Restore.
Tap Backup WhatsApp.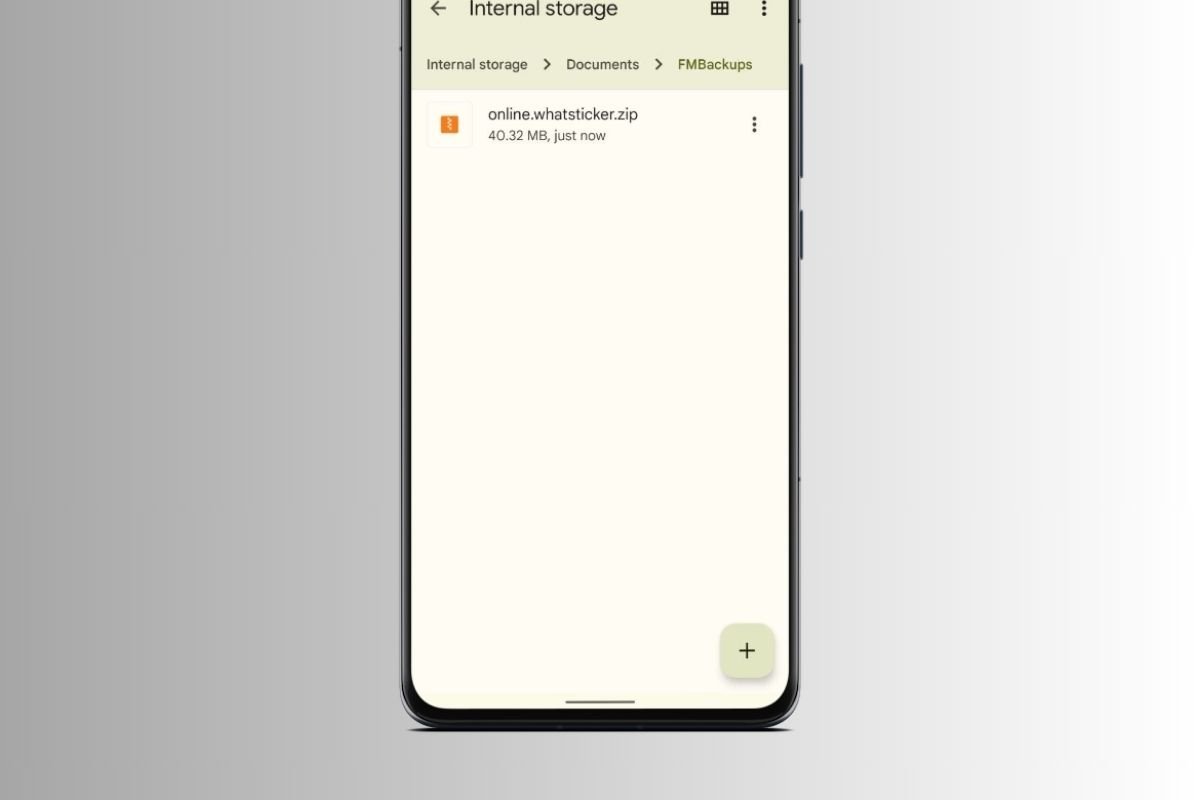 ZIP file with all the GBWhatsApp data
If you open the file explorer and go to Documents, you will see a new directory called FMBackups. The ZIP file that includes all GBWhatsApp data is stored in it. You can copy this file wherever you want.
To restore this information, tap the Restore button in the copy creation area. You can also create a directory called FMBackups on another device, copy the ZIP file, and load all your information to a new GBWhatsApp installation. Also, this method is compatible with other FMWhatsApp-based MODs, such as WhatsApp Plus.
How to back up GBWhatsApp media files
Finally, we will focus on backing up all the media files of your conversations. This includes the images and videos you send and the files you have received.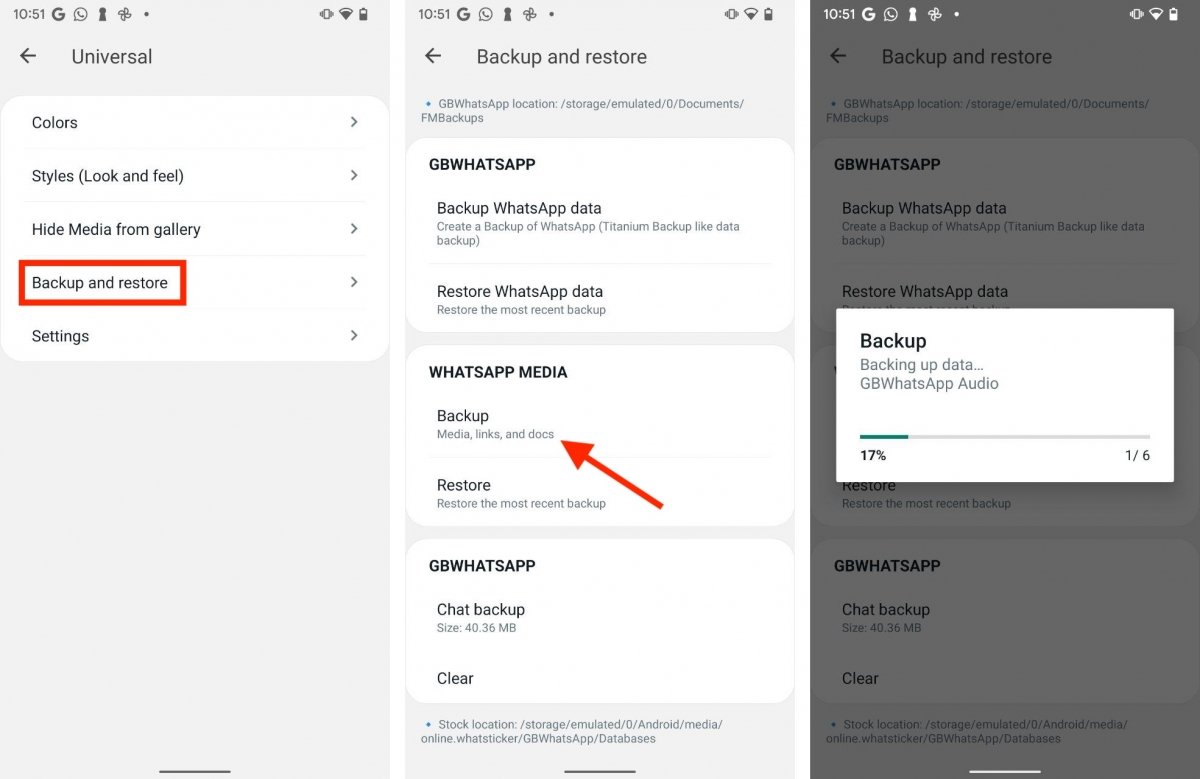 You can also backup all the multimedia files
It is as easy as doing this:
Open the Universal section in the Mods menu.
Tap on Backup and Restore.
Tap Backup under WhatsApp Media Files.
Again, all items are sent to the FMBackups folder in Documents. However, this time, you will see that a ZIP file has been created for each file type. This lets you save only those elements you are most interested in and discard the rest.
GBWhatsApp also lets you restore the media files in the FMBackups directory on the same phone or a different one.