Although we always tend to use the official versions of applications first, we cannot overlook the fact that there are some very interesting mods out there offering features that almost anyone will love. One of the apps with the most versions of this kind is WhatsApp, the star messaging app that almost everyone has installed on their smartphone. As we were saying, we have many options to choose from, but undoubtedly, one of the ones that stand out the most is WhatsApp Aero, an app with spectacular performance and many customization options. These options come from themes, and in this article, we will tell you how you can easily download and apply them.
How to download themes for WhatsApp Aero mod
As you might have guessed, the first thing we must do before applying a new theme in WhatsApp Aero is to download it. Being a mod of a popular app, we will have many options for it. Within the application, we will have over 4,000 different themes available, although we can also search in other sources if we do not find a theme we like despite all the options available. If we opt for the latter option, we must take into account that WhatsApp Aero will only recognize themes in two different formats: ZIP and XML.
The easiest and most direct way to download themes (also the most recommended) is through the application, and these are the steps to do it:
Go to the WhatsApp Aero main screen.
Once inside, tap on the three vertical dots at the top right.
In the dropdown menu, select the FMMods
This will let us access the settings of this mod. Tap on FMThemes.
Select Download FMThemes and search for a theme you like. You can scroll down the screen or use the search engine at the top of the screen.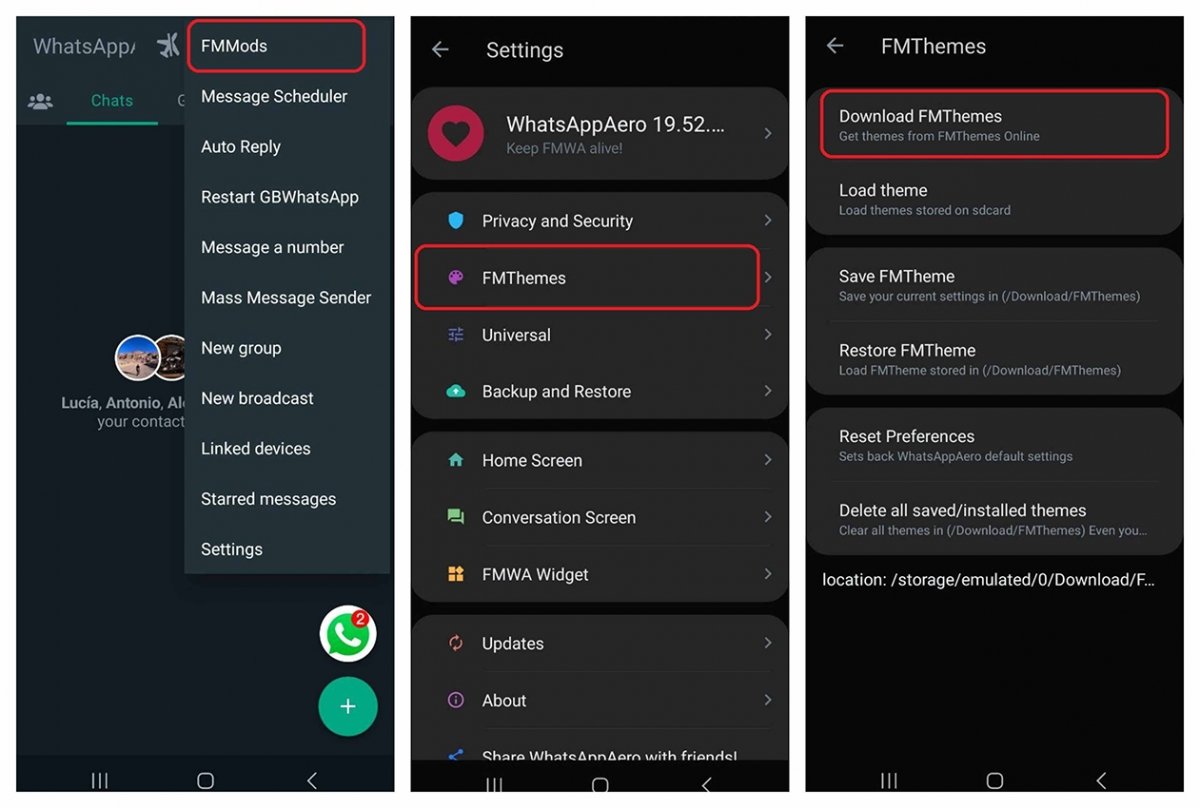 This is how we can easily download themes in the WhatsApp Aero app
How to install and apply themes in WhatsApp Aero
Now that we know how to download themes for WhatsApp Aero, it is time to talk about what to do to enjoy them. Just like when downloading them, the most convenient way to install them is to do it from the app's search engine, as in each theme, we will find an install button that will apply it effortlessly. When applying them this way, the app will warn us that we may have to activate and deactivate the night mode to be able to view the theme correctly, and we will do this by tapping the button that you will see highlighted in the following image.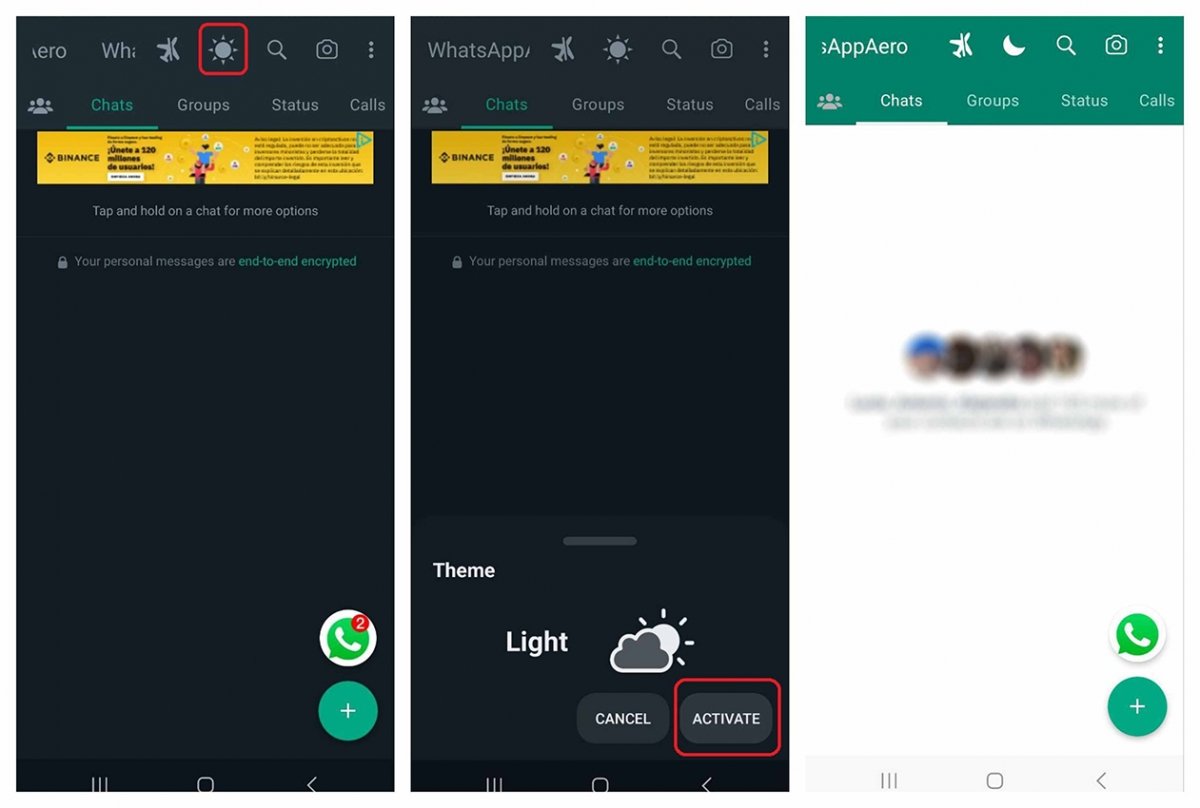 Switching between night and day mode will fix many of the theme problems
If we want to install a theme obtained from a different source or reinstall a theme already downloaded from WhatsApp Aero, we will have to do the following:
As before, tap on the three vertical dots at the top right of the main menu.
Tap on FMMods when the dropdown opens, and on the next screen, select the FMThemes option as before.
To apply a theme downloaded from the Internet, tap on Load theme. We will have to look for the path where it was saved (by default, in the Download folder).
On the other hand, if we want to reinstall a theme already downloaded from WhatsApp Aero, we must select the RestoreFMTheme option.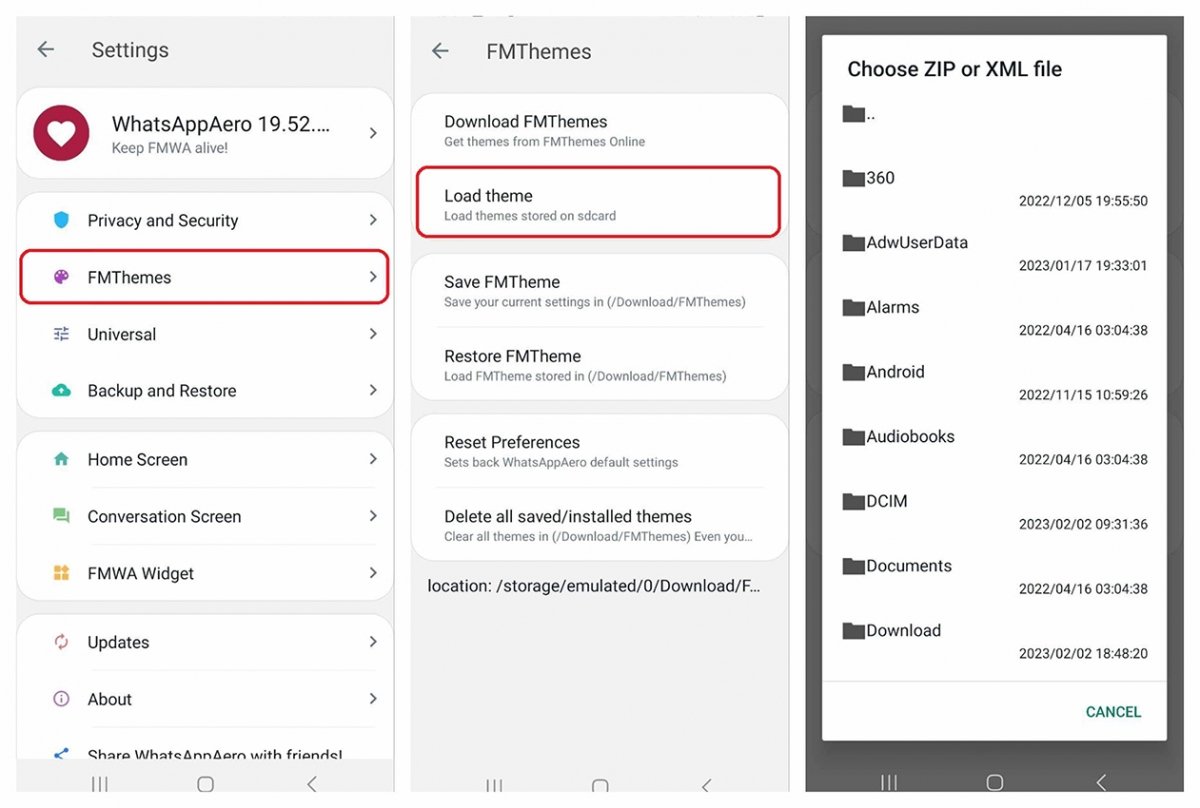 We only have to search for the WhatsApp Aero theme downloaded to our device
The best themes for WhatsApp Aero 2023
We have already told you that inside this fantastic mod, we can find over 4,000 different themes, but what we haven't told you yet is that most of them have outstanding quality. Some of them are so good that you will feel compelled to use the application even more, and, best of all, you have access to them completely free of charge. In the next section, you will find a selection of the best themes available for WhatsApp Aero this 2023.
Turn WhatsApp Aero into Telegram thanks to this theme
The most used messaging application on all platforms is indeed WhatsApp, but we cannot ignore the great success other apps enjoy, and one of them is Telegram. Putting both applications together is not possible, but thanks to a theme called YoTelegram, we will be able to have a version of WhatsApp that looks similar to its blue competitor.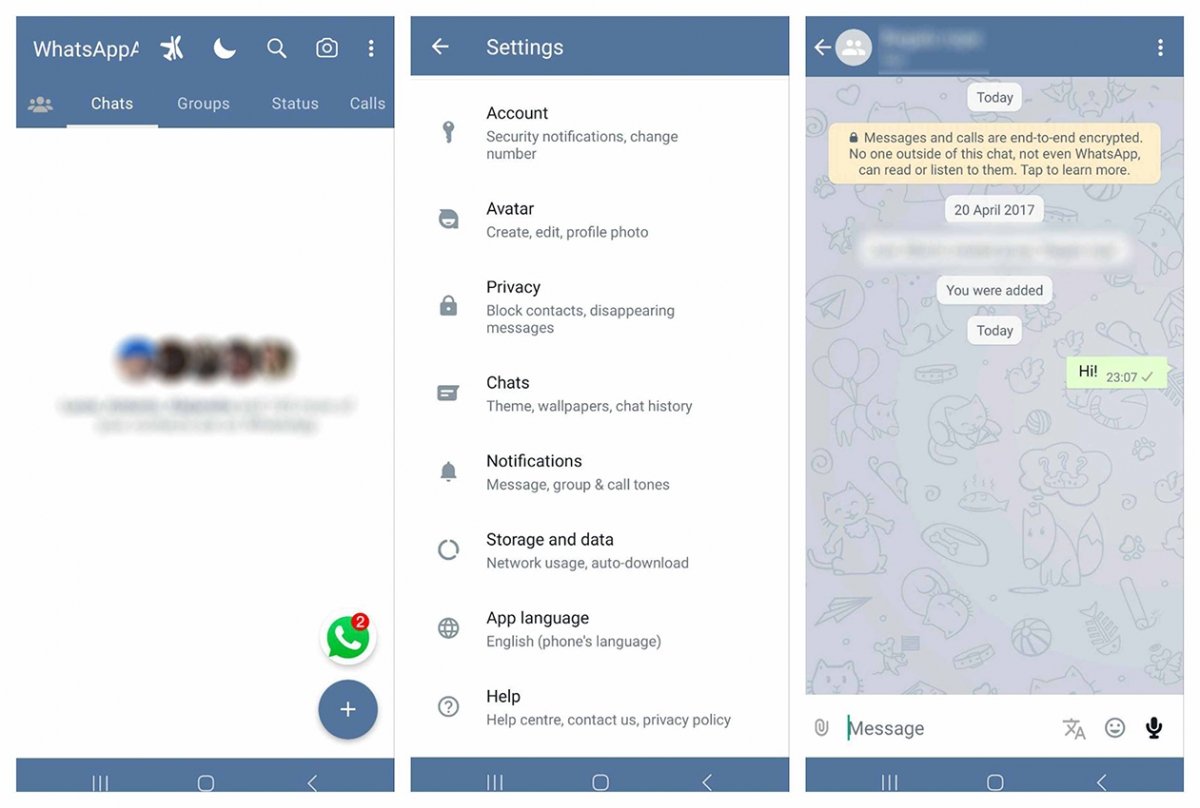 Our WhatsApp, almost as if it were Telegram
New interface and varied colors with this fantastic theme
Some themes found on the download section of WhatsApp Aero do not vary the interface, just the colors. However, with the YoNothing2_OneUI theme, we can change both, as this is a theme where the protagonists will be blue and pink colors that blend perfectly to offer an interface you will want to see more often.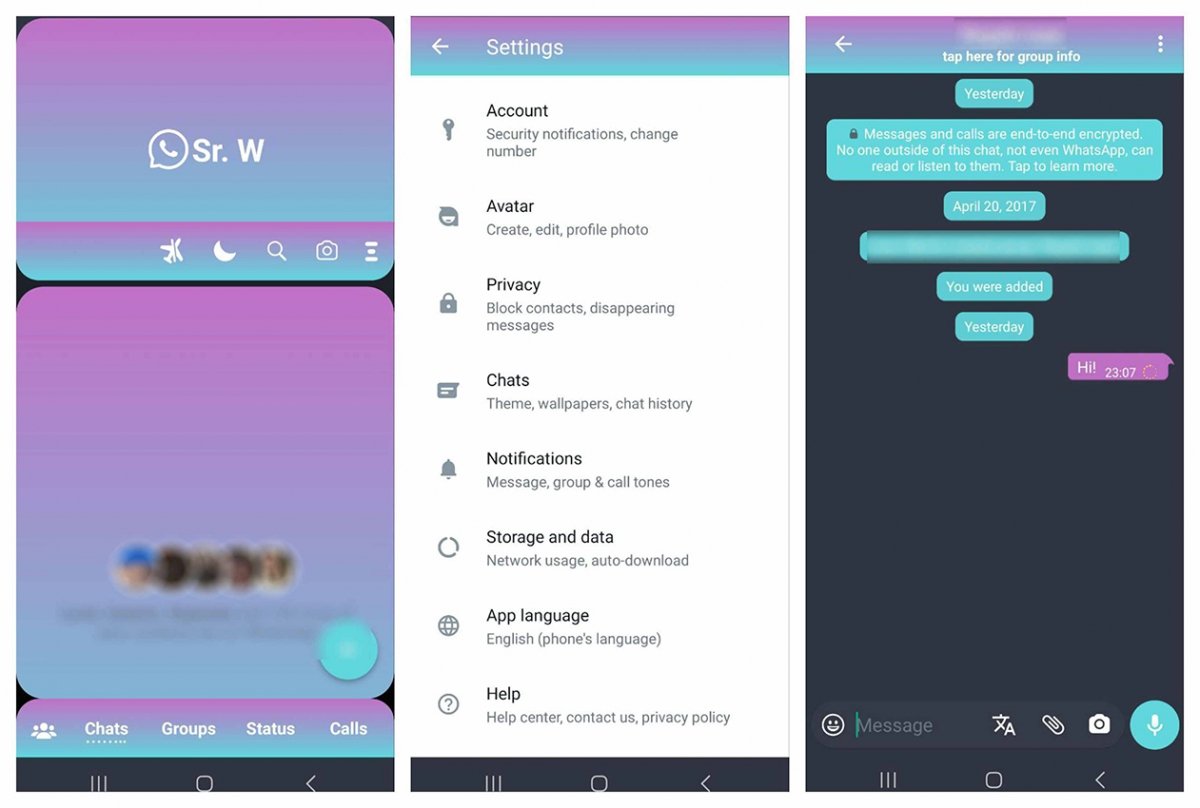 A slightly different interface with some really nice colors in WhatsApp Aero
This is the best way to give color and variety to your WhatsApp
WhatsApp has always been associated with the colors green and white, and since the application hit the market, the truth is that it has hardly made any changes. Thanks to WhatsApp Aero, we can now choose themes identical to the original but in other colors, such as yellow. If this is what you want, you should try the MaterialYellowDark theme.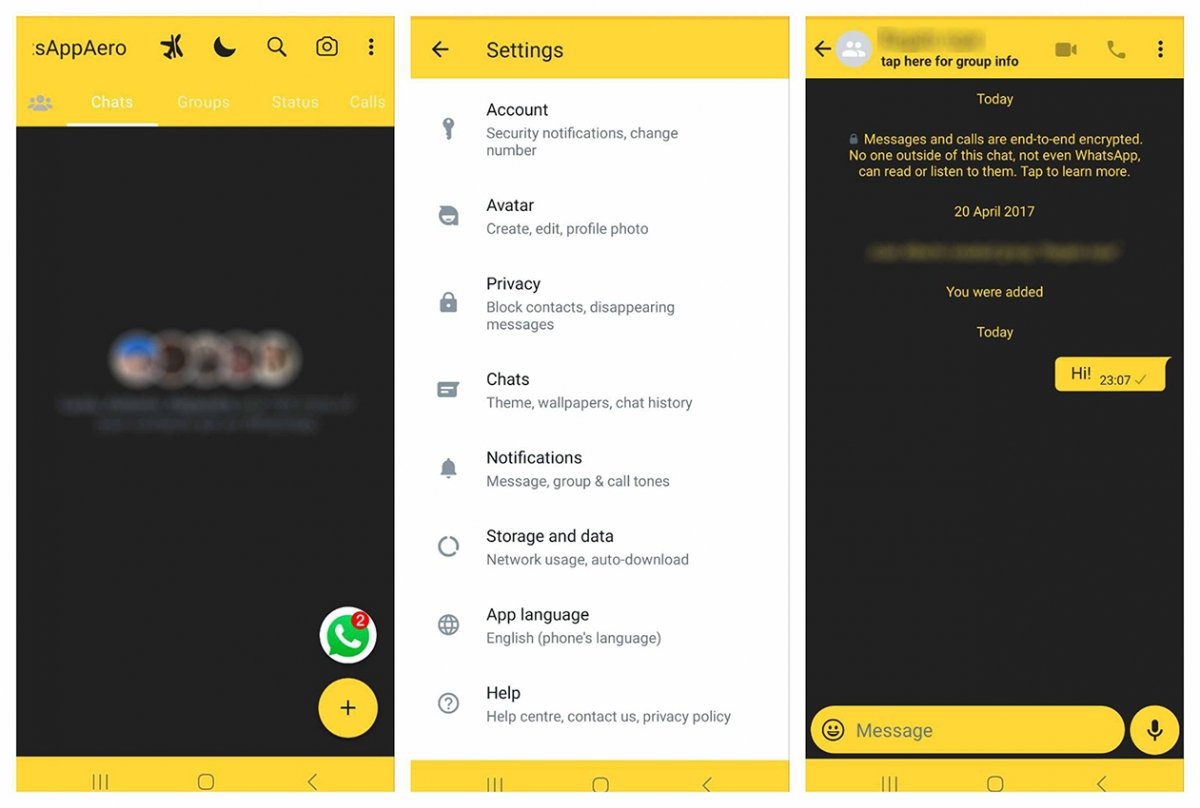 If you like the original WhatsApp Aero version, there are identical themes with other colors
Embrace minimalism with this theme
If, on the other hand, you are looking for a much simpler theme, we also have some very interesting options within the long list of themes offered by WhatsApp Aero. One that we particularly liked is MINIMALIST3, which mixes black and white very well in the menus and the conversations, giving at the same time a simple yet elegant look.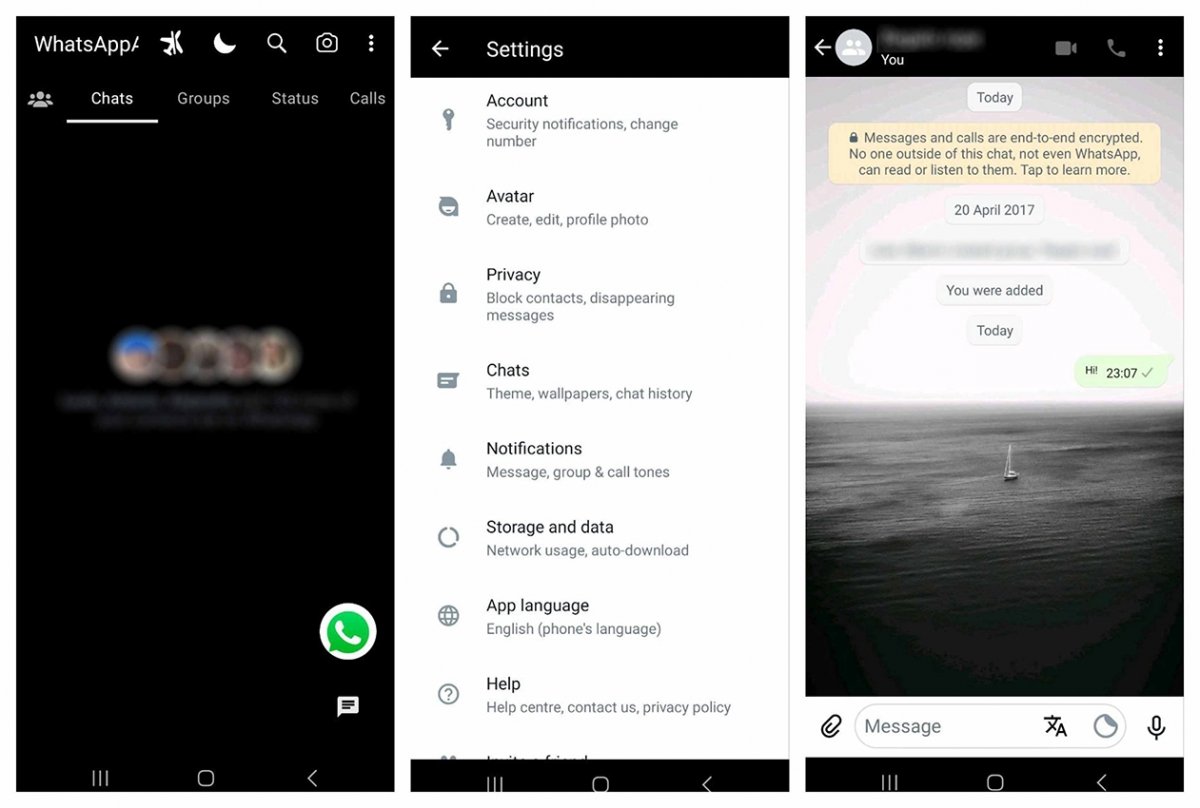 A very simple WhatsApp Aero theme for those who want something minimalistic
Make WhatsApp Aero look like Twitter
Finally, we must tell you about another theme that will make your application look like one of the most popular social media out there. We are talking about Twitter, and thanks to the YoTwitterBlue theme, we can have a messaging app very similar to the blue bird's social media. Blue and white colors predominate this theme, and they do it with a look that is also very simple but looks great.
A Twitter-like aspect is possible thanks to WhatsApp Aero's themes
To download any of these themes to your smartphone, all you have to do is enter their name in the theme search engine, either by typing their name in the search bar or copying and pasting the name.