You may not know it, but the world of mods can give us a new dimension to enjoy our favorite games and applications. Thanks to them, we can obtain exclusive functions or advantages that would not be available otherwise. The best source to find them is, without a doubt, HappyMod, a free store where you can find over 30,000 different mods. The problem with this platform is that since it is not available through official stores (such as the Google Play Store), some users might be reluctant to try it. Is it really safe to use HappyMod? We will tell you all about it right here.
Is it safe to download and use HappyMod on Android?
As we mentioned above, HappyMod offers us free mods for games and applications of all kinds, including paid ones. Installing these modified applications is a process that, unfortunately, is never risk-free. All applications and games have a series of policies that usually go against this kind of modification, so we must be careful of what we download and use.
However, despite this, the truth is that HappyMod is the best place to download mods of any kind. We will not find a site with more or better-modded applications while also providing a level of security that we will not find on APKs on the Internet. If we install HappyMod correctly, we will have access to a catalog of mods that keeps growing and improving, so we can say that it is completely safe to use and download this app store on our Android device.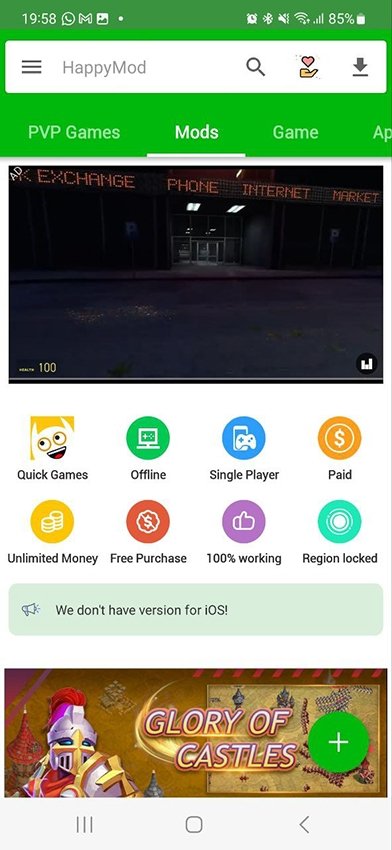 HappyMod is basically a store to download game and app mods
Is HappyMod APK trustworthy?
An important thing to consider before using HappyMod is where to download its APK. Because this application store does not appear in any official application store, such as the Google Play Store, we will have to go to an external website to search for it. It is fundamental to keep the latter point in mind since, from time to time, fraudulent "copies" of HappyMod appear in official application stores. If a person is unaware of this, they may be installing an app on their smartphone that might damage their device or, in the best case scenario, is loaded with advertising and will not let us do anything with it.
For this reason, the best thing to do is to go to a trusted site to download its APK, such as the HappyMod page on Malavida. The HappyMod APK that you will find there is safe (like all the ones we have), although obviously, you can scan it with an antivirus before installing it on your device. We have used the Virustotal portal to make a demonstration with an APK file, and as you can see in the following image, the portal proves that it is 100% safe.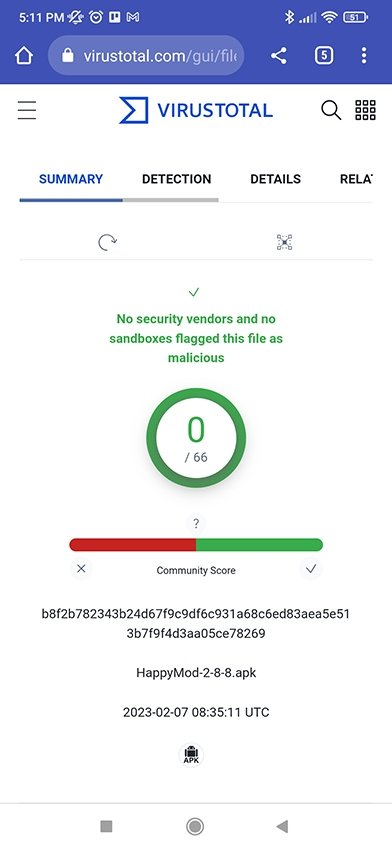 The HappyMod APK that we are offering you is completely safe
Is HappyMod dangerous? Does HappyMod contain any viruses or malware?
We have already told you about the dangers involved in downloading and installing HappyMod, but now it is time to talk more thoroughly about its contents. As you have read above, HappyMod is a platform similar to an app store where we will have access to game and app mods. These mods can also be found on the Internet, but searching for them ourselves on the net is much more dangerous. We recommend using the HappyMod system because it lets us see the rating and percentage of effectiveness of each mod. Thanks to this, we will always have a visual indicator to help us choose the ones with more positive ratings and, therefore, those previously tested by other users. This will help us know which ones work as intended and do not contain any virus or malware.
Despite this, it never hurts to follow certain precautions before installing or running anything you download from HappyMod. Follow these tips to increase the safety of this fantastic mod store:
Install a good antivirus on your device. In Malavida, you can find a great selection of antivirus for Android, and you can download them for free.
Always download mods tested by other users. It is vital to never download a recently uploaded mod.
Always look at the number of downloads and the "recommended" label. In each mod, we will see how many times its been downloaded, so we should choose the one that has more. In addition, some mods have a "recommended" label, indicating that it is the best one to download.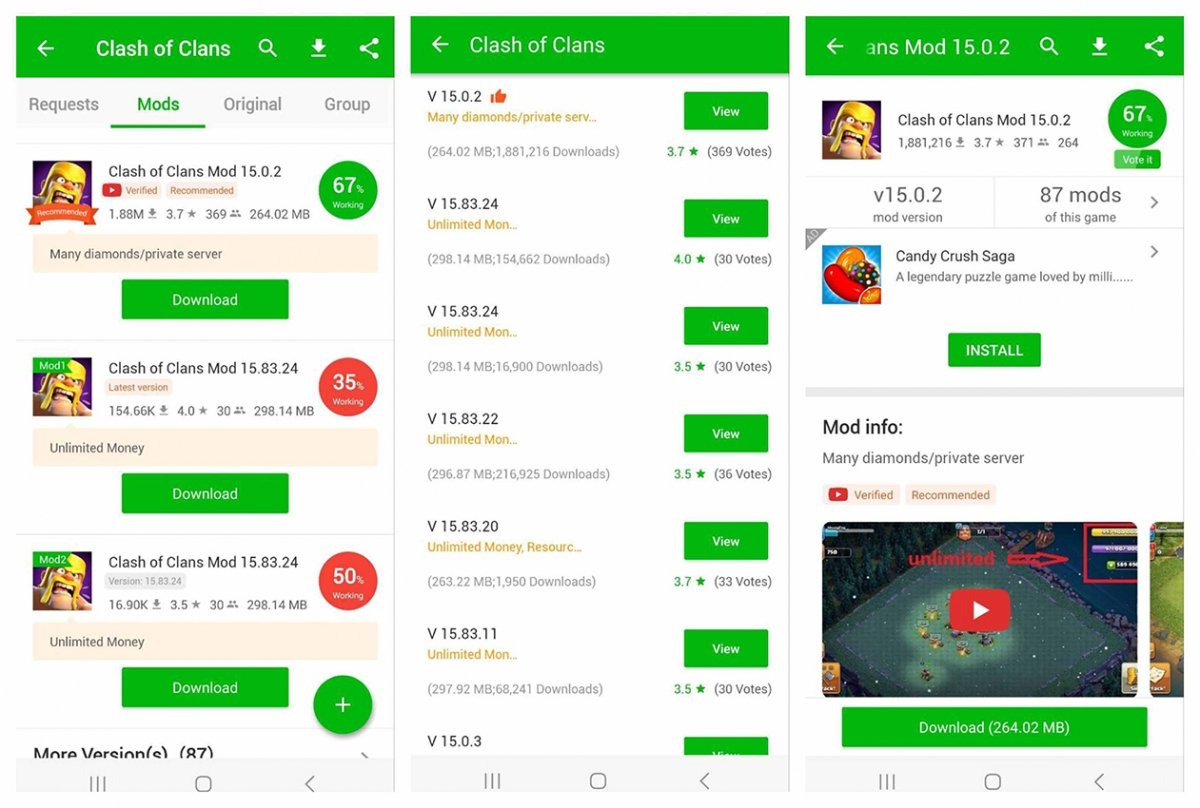 We can easily view the ratings and downloads of each Mod
Following these simple tips, we should not have any problems using HappyMod. Obviously, you can risk downloading a mod that does not have a good rating or a sufficient number of downloads but always proceed at your own risk.