Social media lets us share everything with our followers, who are people who decided that they are interested in our content, either because they are our friends or because they have found us through a hashtag or a third party. Twitter is one of the social networks where it is easier to find new followers thanks to the retweet and like features on the application.
Now, have you ever found yourself losing a follower? This can be really annoying, especially if you have a small number of followers, as this makes losing a follower hurt a little more. If you want to know how to see who has unfollowed you, we will tell you how to do it, and we will also show you some interesting apps to discover which users have "unfollowed" you.
How to find out who no longer follows you on Twitter
As we said previously, receiving a "unfollow" from a follower can be a bit awkward. The real problem is that Twitter does not have any native tool to tell us who has unfollowed us, which is somewhat disappointing. There are some ways to find this out, but always in a somewhat "rudimentary" way.
The most convenient and quickest way is to go to the "Following" tab, where we can see all the people following us, thanks to a label that reads "Follows you". If a person that we follow used to have this label, and now it is missing, this is a clear sign that this person stopped following us. However, as we said before, this is a somewhat rudimentary way to get this information, and it becomes tedious if we follow many people.
The other option we have is easier and more effective, but we will have to resort to a third-party tool. Using a tool will be a more efficient way to find out who has unfollowed us, and we have an exciting option in mind. It is called Unfollower Stats, and, as its name suggests, it will do exactly what we need. It is effortless to use, all we have to do is log into their website with our Twitter account, and we will automatically see who has unfollowed us (if someone has unfollowed us, of course).
Apps to view unfollows on Twitter
If you want to check if any of your followers have stopped following you from your Android device, you also can check this information with the help of an application. On Android devices, we can find in the Google Play Store some apps that work like a charm, so it is not necessary to root our device to use them with our Twitter account. These three apps work very well, and with them, you will not have any problem seeing all the "unfollows" that you have suffered.
The first of these applications is called Unfollow Today, and with it, we can easily see both the people who have stopped following us and those we follow and are not following us back. Additionally, it lets us establish an update frequency to keep us periodically informed of everything.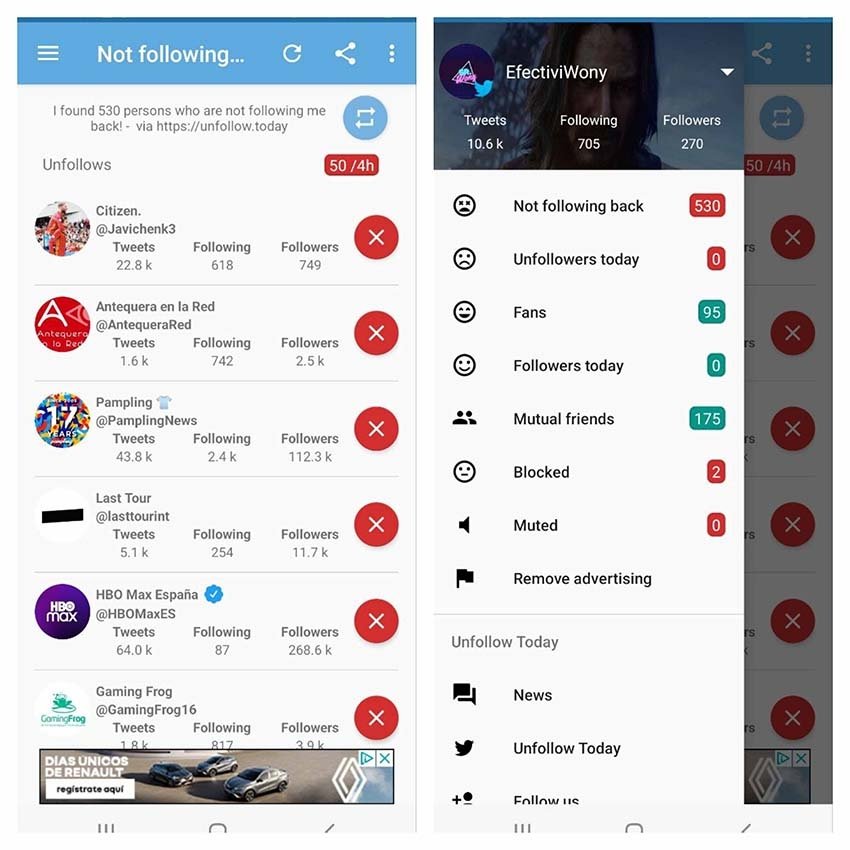 Unfollow Today shows you both who is not following you and your recent unfollows
Another quite interesting application is Followers Analyzer for Twitter, which is also one of the best-rated apps in the Google Play Store for this category. With this app, we will be able to keep track of all the new followers we have, as well as those who have stopped following us.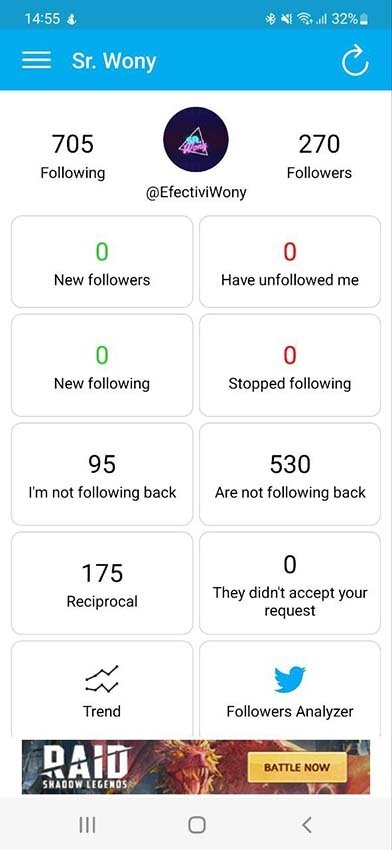 This screen updates according to your unfollows or your followers
The last of the applications we can use to discover "unfollows" is called Follower Checker for Twitter, and its name does not deceive, as it is very useful to see those accounts that have followed or unfollowed us.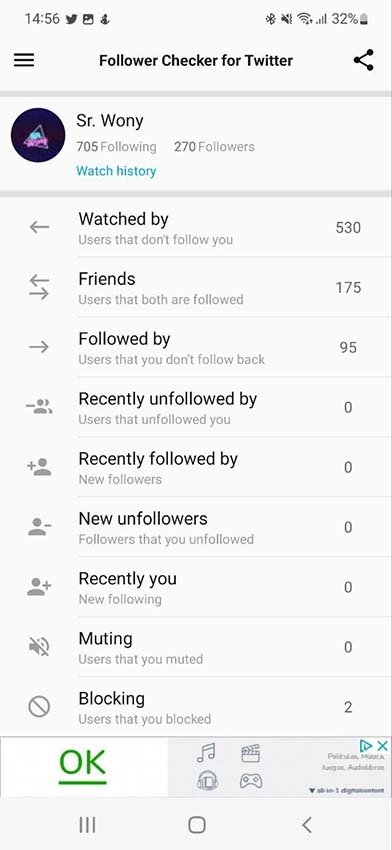 Follower Checker gives us plenty of information about our Twitter account
As we have said above, we can always resort to manually finding out those who unfollow us, but if you have a large number of followers, you are going to suffer trying to find them all. Therefore, we recommend using one of these Android apps, as it is the most convenient way to find this out without having to go to a computer or another device.