Twitter is one of the most used social media in the world thanks to its ease of use. It is really easy to tell a story or share a thought through it, but if it is long enough, we will not be able to tell it all in one tweet. This is precisely why we have Twitter threads, a feature that gives us this possibility. In this article, we are going to tell you a little more about them, as well as how you can create them from your Android device.
What is a Twitter thread and what is it used for
As we have said, one of the main features of Twitter is the character limit on each publication or tweet. As a general rule, the 280 characters that Twitter lets us use may be enough to publish a comment or a simple idea, but we may need a bit more if we want to tell a longer story. This is why Twitter threads exist, they are a "chain" of tweets that let users read them continuously and ignore the character limitations.
This functionality is nothing new, as it has been available since December 2017. Since then, users can create these Twitter threads, both from the Android app and from the web version of the app.
How to open a thread on Twitter for Android
Opening a thread on Twitter is really simple, as the process is relatively similar to the one used to post a regular tweet. As mentioned above, all Twitter users can create threads, so there is no limitation on this.
To create a thread from your Android device, we will have to follow these steps:
Open the Twitter application on your device.
Tap on the icon with a blue + symbol in the lower right corner.
Once tapped, we must tap "Tweet" in the drop-down menu that will appear, giving us access to the screen for us to write our 280 characters.
After writing the first tweet (which will serve as an introduction to our thread) we must tap on the + button that will also appear at the bottom right, causing a new tweet to appear.
We will be able to do this several times, and when our thread is finished, we will only have to tap on the button at the top right of the screen.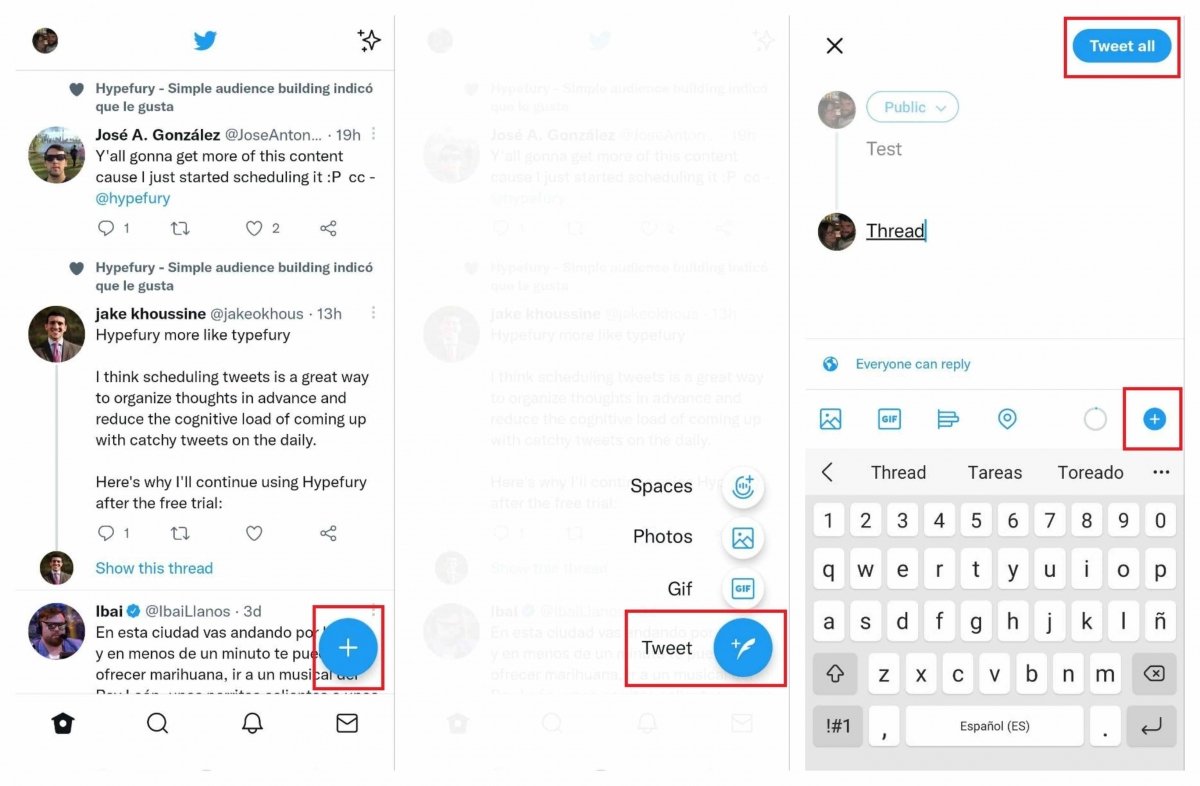 Sequence to create a Twitter thread
How to schedule Twitter threads on Android
Although we can natively create Twitter threads from our Android device, the app does not allow you to schedule them from this version or the web version. However, we can resort to a highly functional third-party tool that will allow us to do so. This tool is called Typefully, and to use it, we will have to access it through the browser of our Android device and connect it to our Twitter account.
Once we do this, we can create our thread. To do this, we will have to write our first tweet at the top, and, to link the other tweets, we will only have to tap on the button that you see marked in the following screenshot.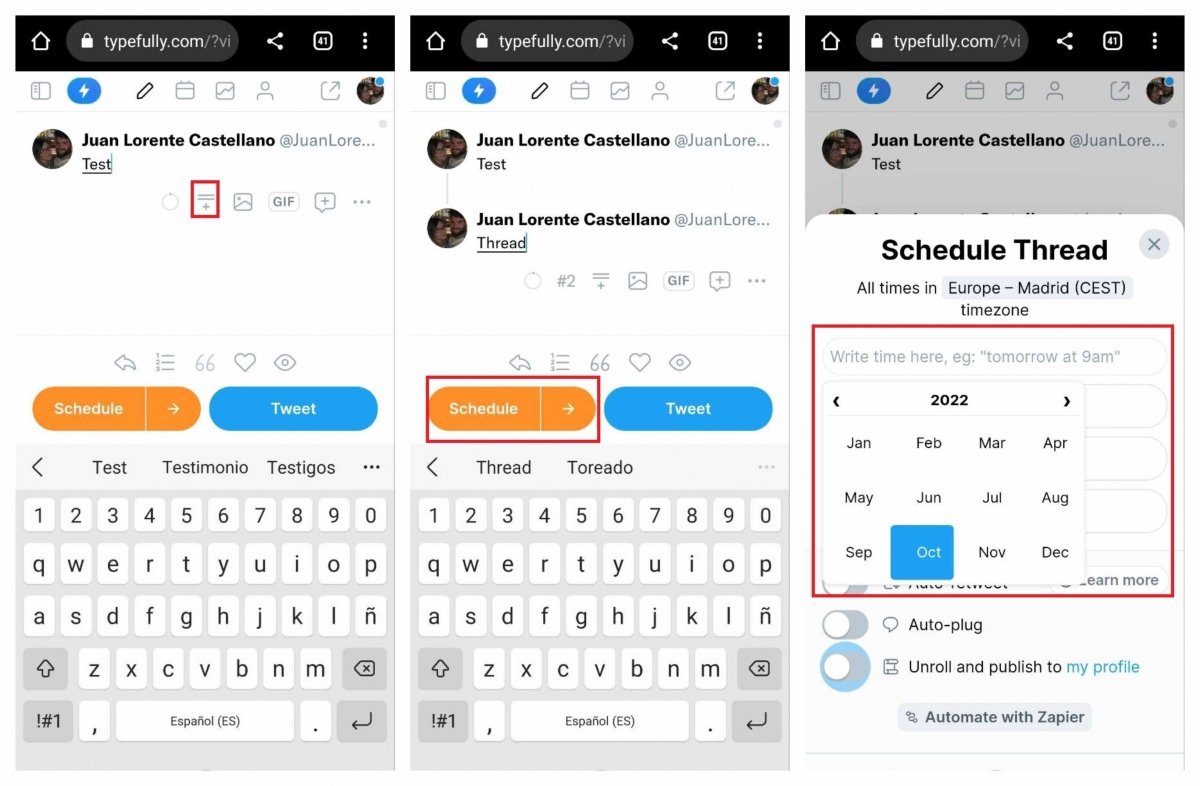 This is how Typefully functions to schedule Twitter threads
Once you have created the thread, we must schedule it. This is done through the "Schedule" button, where we can set the date and time we want.
With this, we will have programmed our Twitter thread, and we will not have to do anything else for it to be published on the date and time we have chosen.