Gmail is, on the one hand, an e-mail provider. And on the other hand, a mail manager to organize your messages from Gmail and other providers. In both cases, it is free, convenient, and easy to use. Likewise, it also makes it easier to organize messages so you never lose them, as they can be found with a simple search.
One of the most common tasks we perform with Gmail is replying to and forwarding emails. The action of forwarding an e-mail is uncomplicated. But in Gmail, we have two ways to do it. Depending on the needs of the person receiving the forwarded message, you will have to pick the most suitable method.
The first is the most common and is the one you will find in Gmail for Android. Both in the official app and the web version. It consists of attaching the content of the message in a new one. To do this, you have to go inside the message, tap on the More button, and then on Forward.
Forwarding an email in Gmail for Android
However, you can also attach an email to another email as a file. You may find this method useful to save messages on your computer or in the cloud separately from your Gmail account or the application itself.
This method lets you attach one or more e-mails. But the limit is on the file size of the messages. If they are larger than 25 MB, they will be sent through Google Drive instead of being attached to the email you send. The only downside is that you will only find this option in the web version of Gmail if you access it from your computer.
How to attach an email to another email in Gmail
To attach one or more emails to another email you will need to access Gmail from a computer. We have tried activating the desktop version of Gmail from Google Chrome for Android, but it does not work. It only opens the HTML version of Gmail, which does not include the Forward as an attachment option. So it is necessary to access Gmail from a computer.
When you forward an e-mail as an attachment, it will be sent in .EML format, which is a format that can be read by most mail servers. You will be able to save it and open it whenever you need it outside of Gmail. But keep in mind that the original email will remain in your Gmail account until you delete it by sending it to Trash.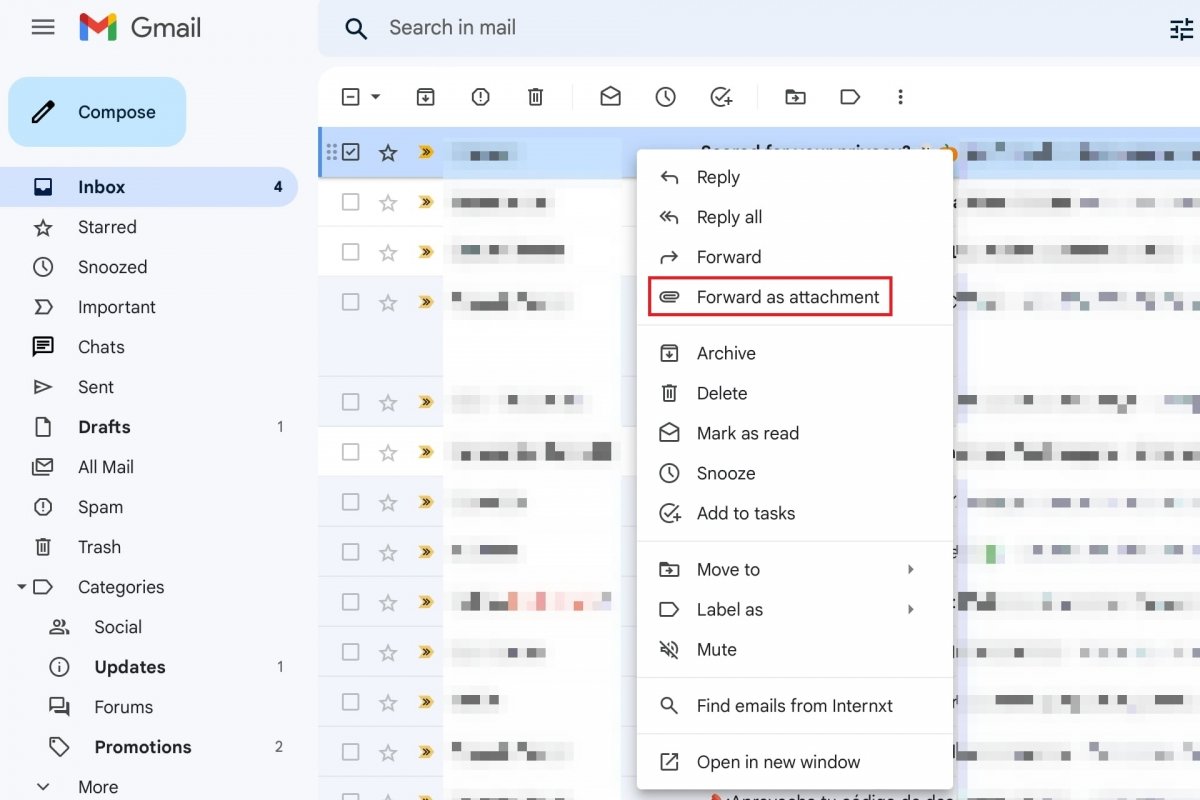 Forwarding an email as an attachment in Gmail
To forward an e-mail as an attachment, follow these steps:
Go to Gmail from a browser on a computer.
From the Inbox, check the box next to one or more emails to attach them.
Then click on More (three vertical dots) in the action bar.
You will see an option that says Forward as an attachment.
Fill in the To, subject, and message fields.
When everything is ready, click on Submit.
Another way to forward an e-mail as an attachment is to right-click on it and select the Forward as Attachment option. This alternative option will be useful if you only want to forward a single email.
You can even create a new message and, while composing it, attach e-mails by dragging and dropping them into the message window. Likewise, you can reply to an e-mail by attaching it as a file. To do this, right-click on it, click on Reply and, once the reply message is open, drag and drop the e-mail to attach it as a file.