When choosing a browser for our smartphone, we have many interesting options, but most people tend to choose Chrome, Google's proprietary browser. This is because we are facing what many consider the browser that offers the best features and performance, which are very similar to what we can expect in its desktop version. One of the functions that both versions have in common is the incognito mode, which lets users use search engines or browse the Internet without the browser storing any information about their activity. This mode, which seeks to give the user greater security when using Chrome, can not prevent somebody from taking our smartphone to see what we are browsing. Fortunately, we can solve this. Let us tell you how to do it.
How to protect your incognito tabs in Chrome with a fingerprint or PIN
As we said above, Chrome is the most used browser nowadays, not only because of the features it offers but also because of the effort put in by those responsible for adding improvements and new functions. One of the features that have taken a while to come to the application is the possibility of protecting our incognito tabs through the biometric security system of our smartphone or a PIN code.
Before we go on to discuss this function, we should make one thing clear: it is only available natively on iOS. This feature arrived on Apple's operating system in 2022, and to use it, you have to access the Privacy and Security tab within the application settings and activate the option "Block Incognito tabs when closing Chrome." As we said before, the only native way to access this option is to have a device of the Californian brand, but there is a little trick we can use if we are Android users.
How to enforce biometric protection of our incognito sessions in Chrome
This trick involves forcing this biometric protection on our device. To do so, we will use Chrome's flags. These are secret options hidden in Google's browser that let us access several functions not yet available, either because they are in the testing phase or are not yet stable enough. The flags are not exclusive to Google Chrome, as they are also available in other browsers that share its core, such as Microsoft Edge.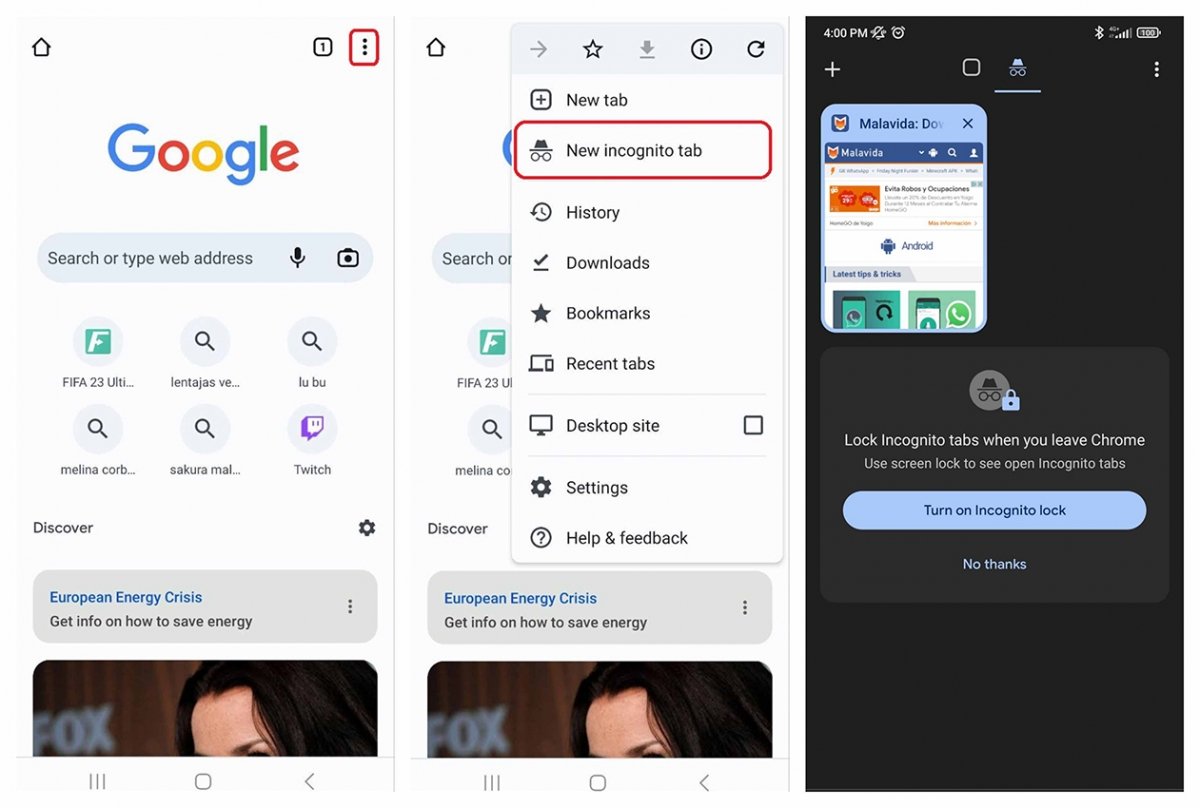 This is the aspect of the browser when we access and leave incognito mode in Chrome
The steps to force this protection are really simple, and you can see them right below:
Access the Google Chrome browser home page.
You must type or copy the following text in the navigation bar (without the quotes): "chrome://flags/#incognito-reauthentication-for-android"
Once this is done, the Chrome flags menu will appear on the screen with the one we are interested in marked in yellow. Tap on it and select the "Enable" option.
Once the option is checked, close the application and open it again.
Tap on the three vertical dots at the top right and select Settings.
Go to the Privacy and Security tab. Check the option "Block Incognito tabs when closing Chrome."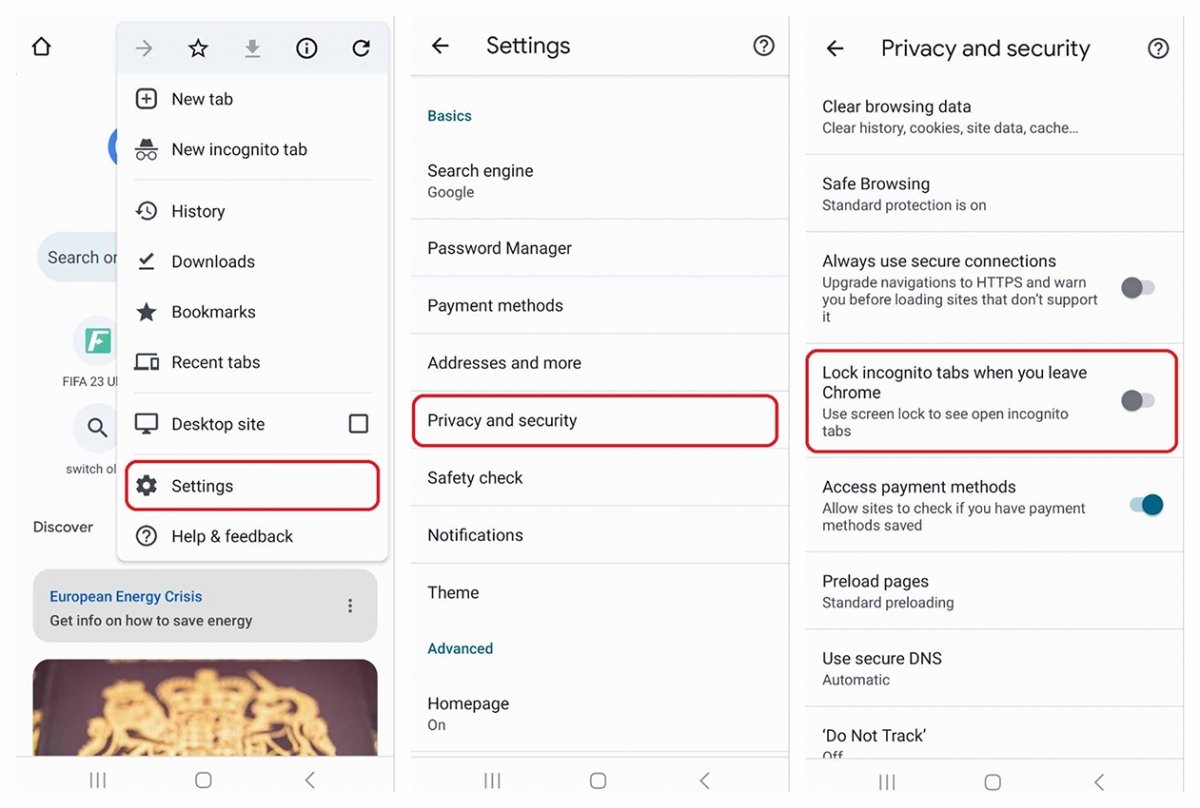 The steps to enable the option once we have activated the flag in our browser
By doing this, if we exit Google Chrome with an incognito tab open, we will have to enter our fingerprint, PIN code, or face to access it again. This cannot prevent a person with access to our PIN code from accessing these tabs, but it is certainly a great option that helps us navigate more privately using Google's browser.