Like everything in life, social networks have their upsides and downsides. Sometimes, for whatever reason, we need to pause to protect ourselves from the toxicity of these platforms.
For those occasions, Instagram offers two options: deactivate the account temporarily or delete it permanently. What is each one used for, and how do they work?
How to close or disable your Instagram account temporarily
If you need a break from Instagram, the most common thing to do is to start by deactivating or temporarily disabling your account. The downside is that we cannot do it from the app (at least for now). Instead, we have to access our profile from the browser. To do this, just follow these steps:
Access Instagram from the browser.
Log in to your account.
Tap your avatar in the lower left corner (if you enter from a smartphone) to open your profile.
Tap the Edit Profile button.
Scroll down to the bottom and tap Deactivate my account temporarily.
Enter a reason and your password.
Tap the blue button at the bottom.
Confirm your selection.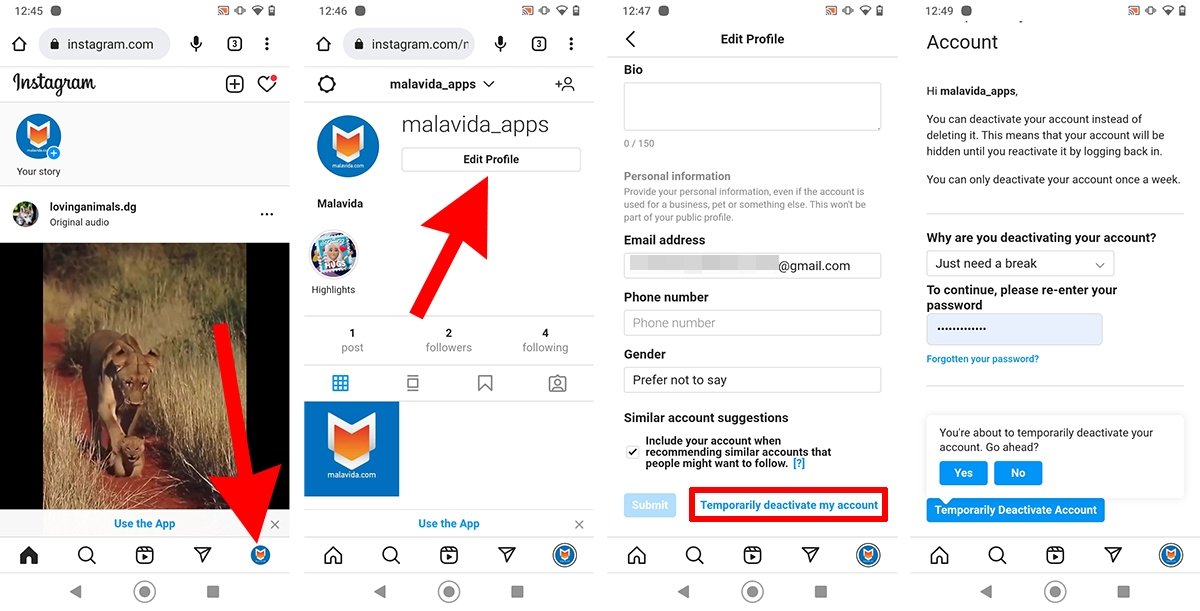 Guide to suspend yout Instagram account temporarily
If you followed all the steps correctly, your account is now deactivated. To reactivate it, all you have to do is log in again as usual (although it may fail during the first few hours). Users can temporarily disable their accounts whenever they want, but the option is only available once a week.
Differences between permanently deleting and temporarily suspending your Instagram account
However, if we want to erase our Instagram account forever, we always have the option to delete it. The main difference between suspending your account and deleting it is that the first let us recover it at any time, but erasing it will delete it forever. In fact, we will not even be able to re-register with the same username.
The problem is that the deletion option does not appear in the options menu. To delete an Instagram account, you must access a specific Instagram deletion page that the platform has made difficult to access. Here you only have to choose a reason for the deletion and enter your password.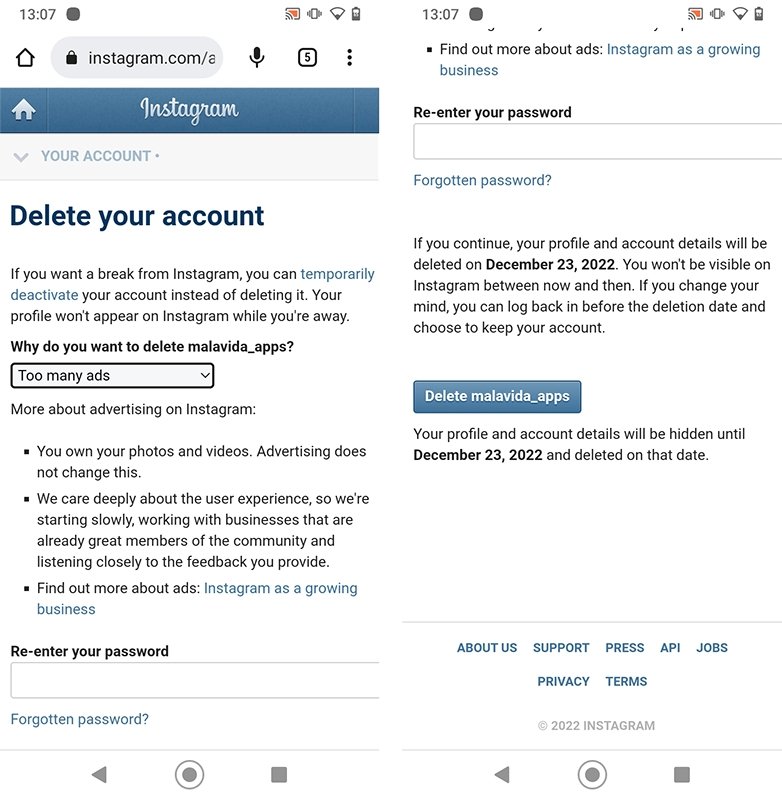 Page to delete an Instagram account
Note that deleting the account means that everything is erased forever. And there is no turning back. Once we complete this process, Instagram will make our profile invisible for one month. We have 30 days to repent. During this period, we can log in at any time to cancel the deletion process. Once the deadline has passed, our profile, interactions, and content will disappear completely from Instagram, and we will never be able to recover them.